Satvik- No Onion No Garlic Recipes
Jump to recipe
Indian cooking is unimaginable without Onion and garlic, mostly due to the flavours they impart. The festive season of Navrathri when the Goddess Shakthi is worshipped, is a time when most people abstain or try to avoid Onion and Garlic. Ayurveda also recommends avoiding Onion and Garlic, as they generate excessive body heat. While Garlic is used as medicine in Ayurveda, the dosage and combination with other components is decided by the Ayurveda doctor to bring out the desired result.
Traditionally, people do not consume non vegetarian diet,  onion and garlic, as they are all said to increase body heat. Increased body heat is believed to affect immunity. In some parts of India people also go on a grain free diet. Certain vegetables are also avoided. Well, the science behind this is that, we human beings abstaining from all the above food, allows livestock to regenerate and the grains and vegetables to regrow again. Because the balance in nature has to be maintained.
So during Navarathri most households including mine switch to a Satvik- No Onion- No garlic diet. To make it easy, I have brought here a collection of more than 30 recipes which you can refer to whenever you need inspiration for cooking a Satvik diet. You will find here recipes for breakfast, lunch, snack and dinner.
While you are here do check out the  Sundal Recipes which are popular during Navarathri in South India.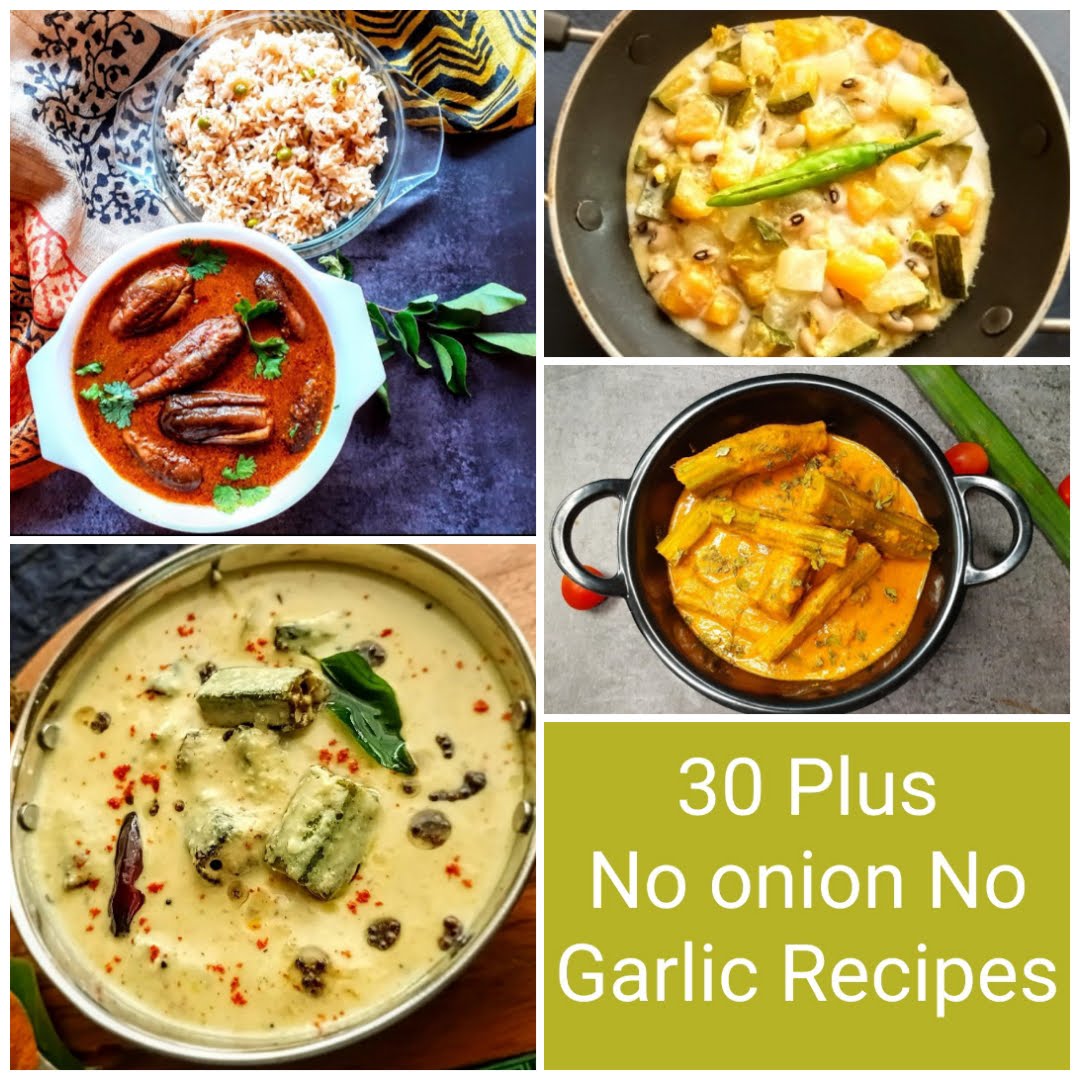 This Hariyali Paratha with Buckwheat and Raw Banana flours is a power packed lunch or dinner idea. Served with a Raita( yougurt dip) and Pickle, is a meal in itself. A dollop of butter wouldn't hurt. For recipe click here.

Kuzhi Paniyarams are basically Lentil and rice batter dumplings. The batter is fermented and then poured into a Paniyaram pan which gives them the shape. Most often in South Indian homes the Kuzhi Paniyaram  is made from the Idli batter itself. When the batter becomes a little sour it is made into Paniyaram. I have stuffed the Paniyaram with a mashed potato spicy stuffing which tastes wonderful, (Onions that I have added to the batter are optional. While making them on Puja days, I avoid using onion), other than that green chillies, ginger and curry leaves can be added to the batter. Click here for recipe.

Zucchini and Potato Wheat Dosa- Wheat Dosa is very common in south Indian homes. Most of the times jaggery is added to it and we call it Vella Dosai, meaning jaggery Dosa or sweet Dosa. The Dosa is healthy as it is made of wheat, I have included vegetables and the best part, because of all these reasons it could be served as breakfast, lunch or dinner. The vegetables used here are entirely customizable, but I would recommend adding a small potato, as I found it gives a good texture and softness to the Dosa. This dish is wholesome, no mess and quick fix. For recipe click here.

Besan Oats Cheela with Carrot Greeens- Chilla/Cheela is a savoury Indian Pancake. This is mostly made of a lentil or lentil flour batter. They are the easiest to make, need no prior preparation, resting the batter for 15 minutes to half an hour just helps in yielding the best results. In this recipe two flours-Besan/Chickpea flour and Oats flour combine to make a power packed dish. To add more nutrition in terms of greens I have added Carrot greens , which can be easily swapped with any herb like Cilantro or Mint. Click here for recipe.

Dhaniya Paneer Korma- This recipe of Dhaniya Paneer Korma is a subtly flavoured and mildly spiced dish. The Dhaniya/Coriander leaves lend a wonderful aroma and flavour to the dish. The Paneer is cooked in a Dhaniya/ Coriander leaves, and Curd based gravy. This dish can be paired with any Flatbread of your choice or Rice. Click here for recipe.

Kerala Olan- Olan is a Popular Vegan dish from the Kerala cuisine. Olan is a simple and easy dish that is more a stew than a curry. It is made with Pumpkin, Ash Gourd, Cowpeas and Coconut milk. For the recipe click here.

Mirchi Ki Subji- Banana Peppers or Banana chilli as it is called, is a huge light green and mildly spicy pepper. These peppers are mostly fried into fritters, pickled or cooked into a curry. I am sharing a simple recipe which is a no-onion-no-garlic subji which can be prepared within 15 minutes, if you have some roasted Gram/Chickpea flour ready.  In India during certain festivals people prefer to follow a Satvik diet sans garlic and onions. This is a perfect side dish for Rotis, Kuttu ke Parathe, Singadha ke parathe or even with Rice and dal. Click here for recipe.

Watermelon Rind Kootu- In south India, especially the Tamilnadu region, Kootu refers to any lentil based curry. There are many versions of Kootu cooked with a variety of lentils. Some are tamarind based(puli kootu), some milk based(pal kootu), some with spices and coconut gratings(poricha kootu). This Watermelon Rind Kootu, is such a sustainable and no waste recipe. Check out the recipe here.

Menthiya Keerai Kootu/ Methi Kootu- Menthiya Keerai Kootu is a simple south Indian style Methi dal. a ground paste of coconut and spices takes this simple dish to a different level. For all of us at home, this is soul food. Check the recipe here.

Mor Kuzhambu (with Okra/Ladysfinger)- This is a popular south Indian dish made with curd/yogurt and is the counterpart of the North Indian Kadi. In the North Indian Kadi chickpea flour or besan is used to give body to the dish, whereas in Mor Kuzhambu Chana dal and Tuvar dal( yellow lentils and gram) along with coconut are used to give body. The masalas used in Kadi are in powdered form, whereas in the South Indian Mor Kuzhambu the whole masalas are ground to a paste. Click here for recipe.

Bonda Mor Kuzhambu- This is another version of Mor Kuzhmbu/ Kadi, wheere in place of vegetables, fried lentil dumplings are added. Usually, Urad dal/ Black lentils are soaked and ground to a fine batter and then deep-fried in oil. There is a popular south Indian snack called Mysore Bonda, so these Bondas are put in the Kadi. I make this in a much simpler fashion though. Idli/Dosa batter is a staple in all our homes, I have used that to make the Bondas with a little additional flours. Checkout the recipe here.

Drumstick Curry- Here I bring to you a simple curry made from Drumsticks in curd and cashew-based gravy which absorbs all the flavours of the drumstick. A very quick recipe that gets done in 30 minutes. For the recipe click here.

Brinjal Pepper Masala- An everyday subji made from Brinjals and very simple gravy. Brinjals combined in a tomato and coconut gravy with some black peppers for spice. A very mildly flavoured dish, it has some Cashewnuts and Raisins too which enhance its taste. Click here for recipe.

Parupu Urundai Kuzhambu- Paruppu Urundai Kozhambu is a delicious traditional South Indian recipe. I learnt this from my mother in law and she was an expert at it. In this preparation, dumplings of Dal/ lentils are cooked in a tangy tamarind sauce. This dish is served with rice but goes well as a side dish for Dosas, Idli, Pongal etc. For the recipe click here.

Mixed Vegetable Curry- This recipe is absolute comfort food. On those, no masala days or on days when you are off onion and garlic, or even otherwise this Subji is a great option for Rotis and Rice. It's a colourful subji that will encourage children to eat vegetables and is also not very spicy. Since I have not used onions or garlic, milk cream forms the base of the subji. Click here for recipe.

Dal Makhni (2 ways)- Dal Makhni is a Punjabi lentil dish. It a family favorite of ours. I have shown how to make Dal Makhni in 2 ways- one with garlic, and the other without Onion or garlic. Checkout the recipe here.

Beans Parupu Usili-Paruppu Usli is a South Indian(Tamilian) dish made by crumbling dal. The crumbled dal is then added to cooked vegetables. A wide variety of vegetables like Banana flowers, Cabbage, Capsicum, Radish greens, and Beans can be added to the Usili. Click here for recipe.

Stuffed Karela/Bittergourd- In this recipe, I'm not going to stuff  the Bittergourd with regular Amchur powder, coriander, and red chilli powders. Iwill be  slow-roasting coriander seeds and lentils and spices along with tamarind to form a powder and fill the Karelas/Bittergourd with it. After stuffing them saute over a low flame until done and they get a beautiful glaze on them. Click here for recipe.

Roasted Eggplant(brinjals) 2 ways- This roasted Eggplant subji is the simplest to make as I roast/bake it in the oven. The actual recipe involves deep-frying this in oil, but these days most of us want food that is light on the oil. Moreover, I feel when deep-fried these Brinjals/Eggplants take in a lot of oil. So the best way to cook them is over a pan or in the oven. Once them I add tempering and its done. For the recipe click here.

Kurkuri Bhindi – Kurkuri Bhindi Or Karari Bhindi is an accompaniment served in most North Indian Thali's and Buffet. It adds some crunch to the food, can be a starter or even a side dish. A south Indian version of this is available in most south Indian sweet and savory shops. The difference between the North and South Indian recipes is mainly the batter. The south Indian version uses far too much batter, whereas the North Indian version just about coats it. So mine is a fusion of both. Check out the recipe here.

Parupu Vadai- Parupu Vadai or Dal Vada is a popular Prasad recipe (offering to God), during most South Indian Festivities. These Vadas are very commonly made for weddings and other religious functions too. While making these Vadas for a festival or wedding, no nions are added to them.  A Variation of the Parupu Vadai is the Masaal Vadai, which uses onions and other whole spices. The Masal Vadai is more poplar as street food or as a Breakfast item. Click here for recipe.

Brahmi Leaves Chutney- Brahmi is a wonderful herb known for its memory boosting properties. This Brahmi leaves chutney is a delicious accompaniment to Idli, Dosa, Paratha, and more. Checkout the recipe here.

 Coconut Tomato Chutney-This Coconut Tomato chutney is very easy to make. It is an extension of the regular Coconut chutney. I have added Tomato for the freshness and tang and so you don't have to add either tamarind or lemon as in the regular coconut chutney. Goes really well with Idli, Dosa, Pongal, Paniyaram etc. For the recipe click here.

Sweet Corn Seekh Kebabs- Sweet Corn Seekh Kebabs can be served as a starter or can go into a main dish like Pita bread or a roll. My favourite way to have them though, is as a starter with a nice spicy chutney. These Kebabs are easy to put together as they use easily available everyday ingredients. Try the recipe here.

Stuffed Sweet Peppers- These stuffed Sweet peppers can be a delicious snack or starter at your next Do. They come together in just 20 minutes, which is so ideal for a party isnt it ? Check out the recipe here.

Green/raw Tomato Chutney- This Raw Tomato or green Tomato chutney that is spicy and tangy. It goes perfectly well with Rice,Roti, Dosas and more. Green tomatoes are sour and impart a good flavour to the chutney. They are also high in Vitamin C, therefore they tick the healthy box too. Recipe is here.

Cabbage Rice – This simple Cabbage Pulav, is tasty and easy to cook. Even your fussy and picky eaters will lap this up. I have kept the recipe and Masalas very simple here, as this is planed as a simple everyday dish, and a whole meal in itself, which can be relished with just a Raita. Check the recipe here.

Broccoli And Zucchini Fritters- The combination of Zucchini and Broccoli is a match made in heaven. These two have been used in many dishes from Pastas, Pizzas, Salads and fritters. The current recipe is of fritters, which are very melt in the mouth and bursting with flavours. Usually fritters have egg added to the batter, but these are eggless fritters. They need not be deep fried at all, but just grilled on the Tava, which makes them healthy too. I had some leftover rice and added it to the batter to make them chunky and give a slightly crisp exterior, whereas the insides are soft. I have used onion in the hung curd dip, which can be avoided while making as a Satvik meal. Click here for recipe.

Dosakaya Chutney- This is a Andhra style chutney made with yellow cucumbers. Yellow cucumbers are found in some places, as a substitute Malabar Cucumbers can be used which are found in most places. This chutney is a spicy accompaniment to rice, Dosa, Uthappam and more. Check the recipe here.

Patra/ Alu Wadi- Patra or Patrode is a simple and healthy snack from western India. It is also called Alu Wadi in some regions. This dish is popular in karnataka too. I did not have Arbi/Colaccasia leaves while making this, so I decided to give the dish a twist by using a different leaf altogether.  Bok Choy, or Pok choy  is a type of chinese cabbage.  The leaves are thick and nice so I decided to give the Patra a try with these leaves. It was a huge hit in my house and everyone came back for more. Click here for recipe.

Tomato Rice – Tomato Rice is a very simple recipe and I love making it just for this reason. It is a quick fix in many ways. Whether I have to head out in a hurry or have to fix a lunchbox in a short time, this dish is always my option. This dish also necessarily does not need a side dish to go with it. Any stir fry will do, or just by itself, it is great too. This dish has all the goodness of tomatoes, so it is rich in vitamin C, in lycopene that is good for the skin, a decent amount of fibre. Find the recipe here.

Lemon Rice- Lemon Rice is one such recipe which is easy to make with minimum ingredients. It doesn't need any specific accompaniment. It can be had just like that or with Papad. It's the perfect lunchbox item. The zing and freshness of lemon is enough to bring everyone to your table for their share. Try the recipe here.

Aloo Methi Paratha- There is no doubt that Aloo Parathas are the king of Parathas. But once the Methi leaves season comes, I make these Aloo Methi Parathas which are healthy as the Methi leaves are rich in iron and fiber. They lift the regular Aloo paratha to a different level. The Methi leaves themselves are very aromatic and when added to any dish they enhance the flavour and aroma of that dish manifold. Click here for recipe.

Rasam Recipes- Rasam is soul food any day and most Rasam recipes are without Onion or garlic. Here are a few of our favorites.  Instead of putting them here individually, tagging them all here, click on the one you like for the recipe- Pineapple Rasam, Omavalli/ Ajwain Leaves Rasam, Drumstick Rasam, Betel Leaves/ Vetrilai Rasam.

Kothimbir Vadi- Kothimbir Vadi is a savory Maharashtrian snack. They are steamed cakes made from Coriander/Cilantro and Gram flour/ Besan/ Chickpea flour. Coriander as I have mentioned in my previous posts is my favourite herb. Traditionally, this snack is deep fried, but I have pan fried them, and the results were so good. Try the recipe here.

Coriander Rice/ Chutney Pulav- This Coriander Rice recipe is a simple one, and a great Lunch Box option for kids, and adults. This Rice Recipe is healthy too as Coriander is rich in fiber and essential nutrients. It aids in digestion as well. So why leave out such a beneficial herb from main course cooking and limit it to just being a condiment. For those looking for Gluten Free, Satvik Cooking, here is  another recipe for your to try. Click here.

Dahi Pohe- This recipe of the humble Poha(beaten rice flakes)/Aval soaked in curd is one of my favourites.  I make it whenever I have a lot of sour curd. Healthy and filling at the same time. It makes for a good breakfast or mid-evening snack(Tiffin) option. I make it for dinner too when lunch is heavy.  Click here for recipe.

Coconut Rice – This recipe of Coconut Rice is flavoured with freshly grated coconut and tempered with whole spices in coconut oil. The spices used here are very minimal. It makes for a good lunch box recipe. Check here for recipe.

I shall keep adding more to this collection, as and when I create more Satvik recipes. Hope you will keep coming back to the post, even when the festival time of Satvik eating is over.
Notes:
Contrary to popular opinion, there are loads of dishes that can be made without onion and garlic. I hope you have as much fun creating these recipes for your loved ones, as much as I did bringing them to you. Keep checking in here from time to time for newer No Onion- No Garlic Satvik  recipes.
Get yummy recipes delivered to your inbox!
Be the first one to know about our new recipes. Leave your email below and get notified as soon as new recipes are published!