Mirchi Ki Sabji ( with Banana Peppers)
Jump to recipe
Banana Peppers or Banana chilli as it is called, is a huge light green and mildly spicy pepper. These peeeprs are mostly fried into fritters, pickled or cooked into a curry.
Today I am sharing a simple recipe which is a no-onion-no-garlic subji which can be prepared within 15 minutes, if you have some roasted Gram/Chickpea flour ready.  In India during certain festivals people prefer to follow a Satvik diet sans garlic and onions. This is a perfect side dish for Rotis, Kuttu ke Parathe, Singadha ke parathe or even with Rice and dal.
Banana Peppers are rich in Vitamin C and the Gram flour used provides the protein, combined with a little yogurt/curd to bring the subji together, this is what comfort food is all about. Simple food, high in flavour. This recipe is also ideal for lunch box as it is quick to make,and no mess to pack.
While you are here I request you to take a look at other recipes on the blog like- Mirch ka Salan, One Pot Lauki Wadiyan Curry, Mirapakaya Bajji, Dal Makhni, Menthiya Keerai Kootu, Methi Chaman, and more.
Since this recipe is a very easy one step wise recipe is not given.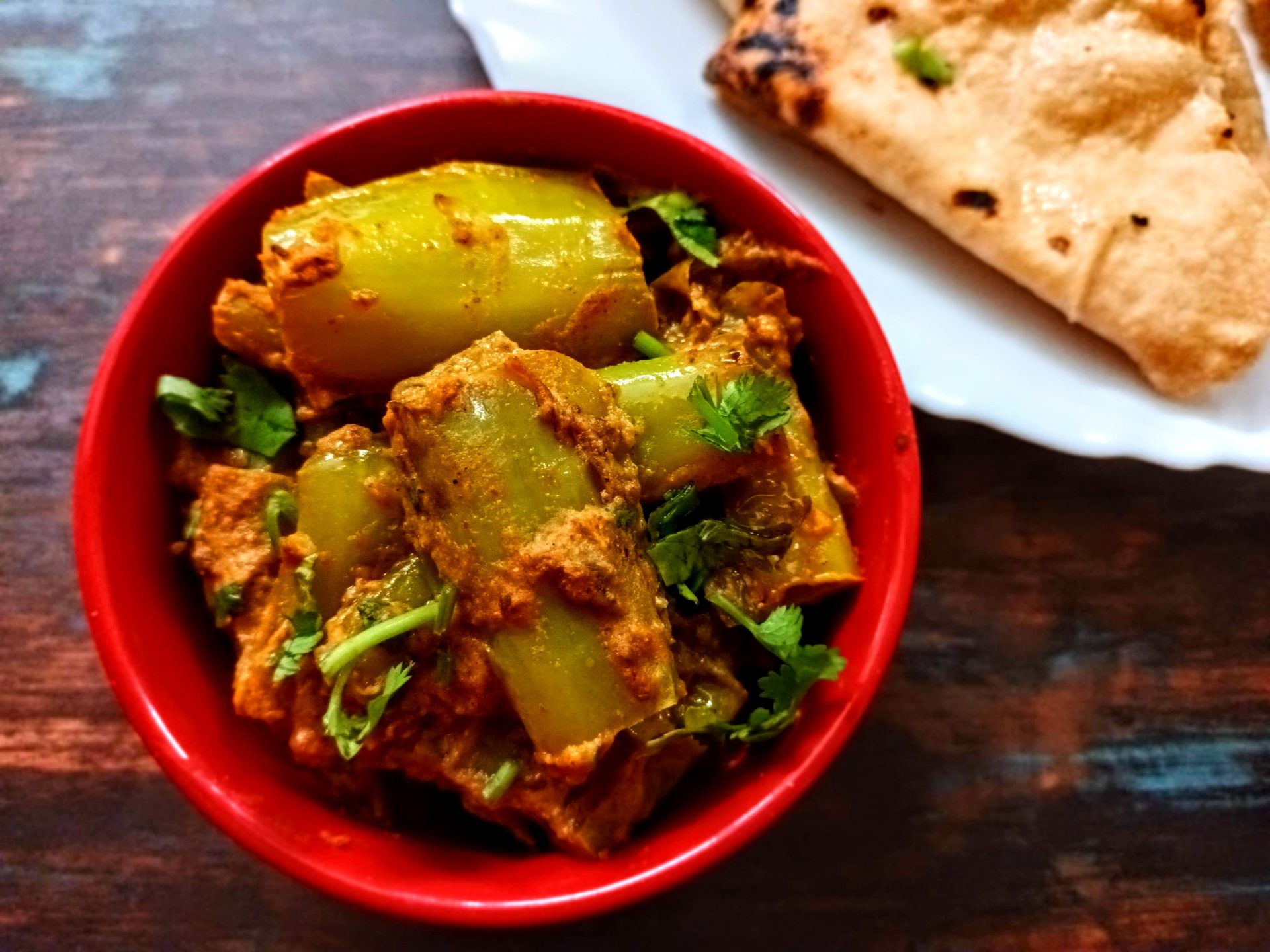 Ingredients
Banana Peppers/ Bajji Chillies 10 numbers
Gram flour/Besan 1 tbsp roasted
Salt as required
Red chilli powder 1 tsp
Fennel/ Saunf powder 1 tsp
Coriander powder 1/2 tsp
Turmeric Powder 1/2 tp
Amchur/dry mango powder 1 tsp
Garam Masala powder 1/2 tsp
Curd 2 tbsp
Oil for sauteing
Remove the seeds from the chillies and cut them to 2 inch pieces. Now take the Besan/gram flour in a pan and dry roast until you get a nice aroma. Take care not to burn the Besan. Continuous stirring helps. Set the Besan aside to cool. Now take oil in a pan or Kadai, warm it and drop the chillies in. Stir fry the chillies until half done.  Take care that you don't overcook them. Now add the salt, turmeric powder, red chilli powder, coriander powder, Fennel powder, and saute for a minute. Cook covered for a minute or two for the spices to infuse. Add a teaspoon or too of oil, if you find the mixture very dry. Now add the roasted Besan, and mix well. Saute for another 2-3 minutes and add in the beaten yogurt/curd. Mix well,and simmer for 2 minutes, add the Garam Masala and turn off the flame. Garnish with finely chopped Coriander leaves. Serve Mirchi Ki Subji with Rotis, or Paratha.
I served the Mirchi Ki Subji with Ghee Phulkas and Aate ka Sheera, to complete the meal. For Atte ka Sheera/Instant Wheat Halwa recipe click here.
Notes:
Take care while removing the seeds,as they have all the heat of the chilli. Leaving behind even a few will make the curry very spicy.
Take care while roasting the Besan. Incase you burn the Besan, then  roast another batch and use.
I always have roasted Besan/gram flour handy in my pantry, as I use it to thicken some Subjis instead of cream or Cashewnut paste.
The same recipe can be followed with other peppers/Chillies that are not very spicy.
Get yummy recipes delivered to your inbox!
Be the first one to know about our new recipes. Leave your email below and get notified as soon as new recipes are published!