Parupu Vadai/ Mixed Dal Vada/ No Onion No Garlic Vadai
Jump to recipe
Parupu Vadai or Dal Vada is a popular Prasad recipe (offering to God), during most South Indian Festivities. These Vadas are very commonly made for weddings and other religious functions too. While making these Vadas for a festival or wedding, no nions are added to them.  A Variation of the Parupu Vadai is the Masaal Vadai, which uses onions and other whole spices. The Masal Vadai is more poplar as street food or as a Breakfast item.
As popular as the parupu Vadais are, there are also numerous ways and proportions of the Dals recommended. As I said in my Rasam Post, like every house has their own proportion for Rasam powder, similarly every family has its own proportion for the Parupu Vadai. Without a doubt all versions taste good. In my own family, my Mom and my Mom-in-law follow different proportions. This recipe is my mothers version.
My favourite way to enjoy Paripu Vada is by dunking them in hot Rasam. Soak them for 30 minutes and enjoy. So, whenever I make these Vadas I make sure to set some aside for Rasa Vadai. However, when served at a wedding or religious function, I find dipping them in the Thayir Pachadi/ Raita to be delicious and easy to manage than the Rasam.
Few Tips to Make Crunchy Parupu Vadai
Soak the dals for just 1 and a half hours. S0aking them for a longer times means oily Vadas.
Once Soaked, drain water completely.
First grind the Ginger, green chilli, red chilli, and asafoetida together, and then add the Dal and grind.
Try your best to avoid adding water, however if you find it necessary, then use no more than  a tablespoon.
Do not grind them very smooth. A coarse paste will do.
 Soak all the dals together, except Moong Dal. Add the Moong Dal separately to the batter after grinding to give a nice texture and crunch.
After grinding add coriander leaves and curry leaves to the batter to make the Vadas flavourful.
 Oil temperature should be medium high. If the oil is too hot, turn off the flame for few minutes again and restart.
Parupu vadas are also a great Tea time snack, so don't wait for a festival or function to happen to try them.
While you are here I request you to look at other recipes like Semolina Cheese Balls,  Sugiyan, Moong Dal Kachori, Samosa Pie, and more…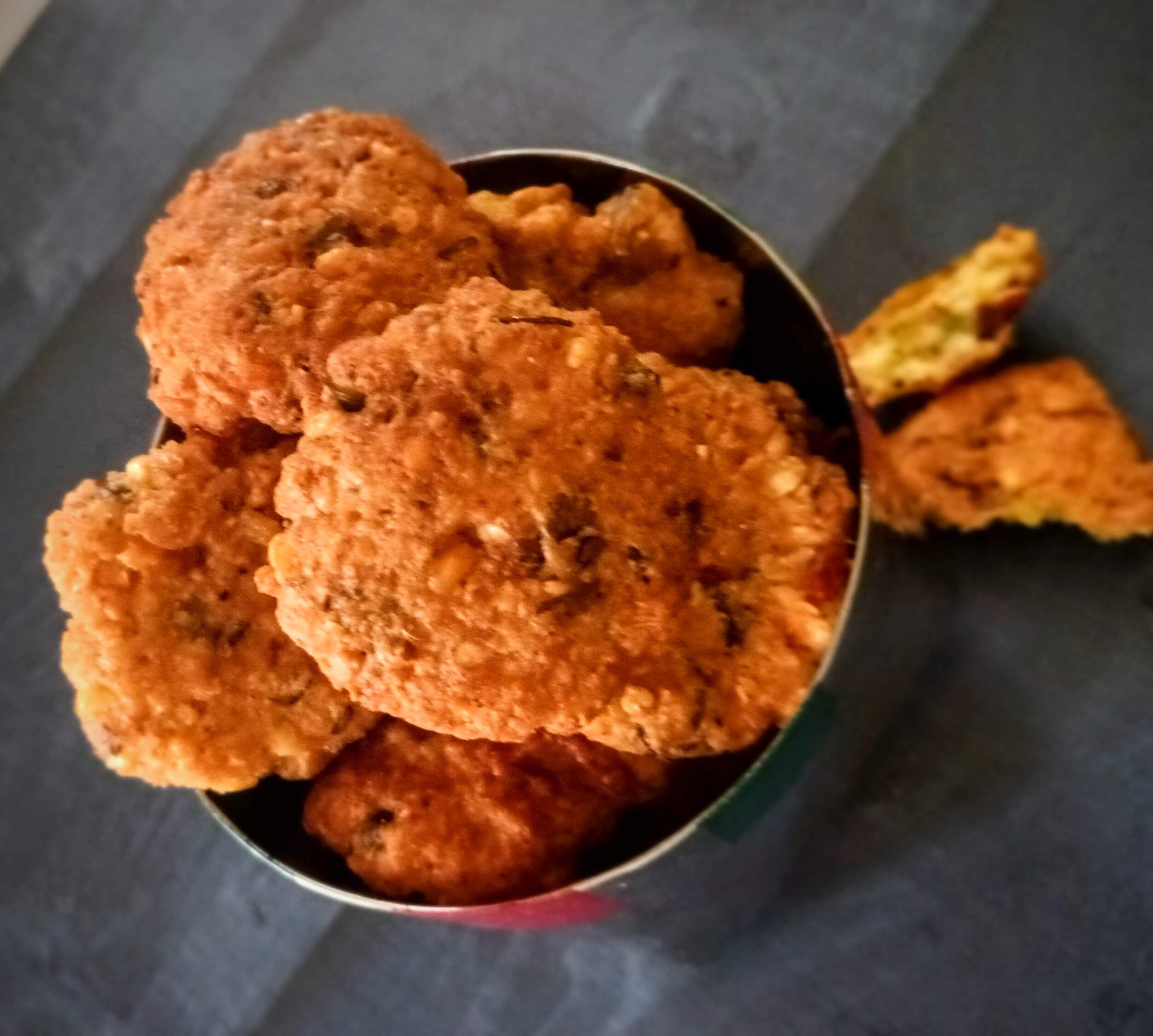 Ingredients
Chana Dal 1 cup
Tuvar Dal 3/4 cup
Urad Dal 1/4 cup
Moong Dal a handful
Green Chillies 2
Ginger 1 inch piece chopped
Dry whole red chillies 2 to 3
Coriander leaves finely chopped 2 tbsp
Curry leaves a few
Asafoetida 1/4 tsp
Water for grinding 1 tbsp (optional)
Salt as required
Wash, rinse and soak the Chana dal, Tuvar dal, and urad Dal together in a bowl for 1 and a half hours. Soak the Moong dal for the same amount of time in a separate vessel.
After 1.5 hours, drain all the water from the Dals.
To a blender jar add the green chillies, red chillies, ginger, asafoetida, and a little of the Dal mixture and grind. Add no water, just keep scraping the sides of the Jar from time to time.
Remove the ground mixture into a bowl, and similarly grind the remaining Dal also to a coarse paste. Please remember that we have not added Moong Dal yet.
Now to the ground Dal mixture, add the chopped coriander leaves, curry leaves, and salt and give it a mix. Finally, add the soaked and drained Moong dal to the batter, and mix with a light hand.
Heat oil in a Kadai/Pan for deep frying. Pat the batter into discs that are not very thick, neither too thin. You can shape them on a Banana Leaf or directly on your wet hand, and release them gently into the oil.
The oil should be medium hot. Fry the Vadas/fritters on both sides until all the bubbles in the oil subside, and the Vadas turn crisp and brown.
Serve with Coconut chutney or just as it. Don't forget to dunk some in Rasam.
Notes:
Soaking the Dals for 1.5 hours is enough. If soaked for long, the Vadas absorb more oil.
If you find it difficult to grind without adding water, sprinkle a little at a time and grind. But go no more than 1 to 1.5 tbsp.
If the oil is too hot the Vada will be raw/doughy inside. That's why it is recommended to fry until the bubbles subside. The oil temperature is important- drop a small bit of batter as a tester, if it sizzles and rises immediately, the oil is ready for frying.
Gallery
Get yummy recipes delivered to your inbox!
Be the first one to know about our new recipes. Leave your email below and get notified as soon as new recipes are published!