Stuffed Karela/Bitter Gourd
Jump to recipe
I have realized that people either like Karela/Pavakkai/Bittergourd or don't like it at all. There is no in-between here. Those who like it, love it. So here I bring to you an everyday subzi that is made in most houses, does that sound boring? Then read ahead and you will realize that I'm not going to stuff it with the regular Amchur powder, coriander, and red chilli powders. Ok, I'm using Coriander seeds and I shall make the stuffing from scratch, which makes it aromatic, and yes my favourite word flavourful.
 In this recipe, I slow-roast coriander seeds and lentils and spices along with tamarind to form a powder and fill the Karelas/Bittergourd with it. After stuffing them saute over a low flame until done and they get a beautiful glaze on them.
I am using the small Bitter gourds as then the filling is intact. But believe me, if you like this dish you are going to make it with the big ones too, and  I will tell you how to by the end of the recipe.
Here is the recipe of stuffed karela/Bitter gourd for you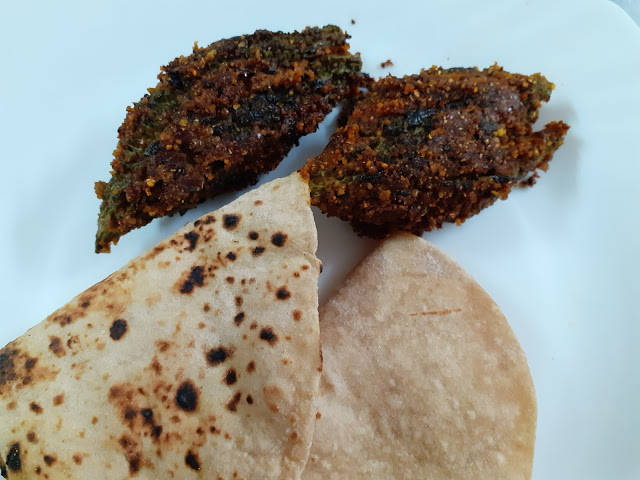 Ingredients
Ingredients
Small Bitter gourd 20 pcs
Coriander seeds 2 tbsp
Urad dal 1 tbsp
Chana dal 1/2 tbsp
Tamarind gooseberry size ball
Dry red chillies( whole) 5
Jaggery 1 tsp(optional)
Asafoetida 1/2 tsp
Turmeric powder 1/2 tsp
Salt as per taste
Oil for sauteeing
Assemble all ingredients. Slit the Karela/Bitterourd as shown in the picture, put in salted hot water and keep covered for 5 minutes. Drain the water and cool the bitter gourds.

In a pan add 1 tsp oil and on slow flame roast coriander seeds until you get a nice aroma or until it turns light brown. Now add the Urad dal and chana dal and roast until they turn light brown. Follow up with dry red chillies and roast until crisp. Finally, add the tamarind and fry for 30 seconds. Cool. Grind to almost fine powder, add turmeric powder, salt and jaggery if using) and give it a final spin in the blender.
Fill this stuffing(masala) into the bitter gourds. Reserve some stuffing.

Now in a Karahi take 1 tbsp oil and heat. Now drop the bitter gourds one by one into the oil and fry on a low flame. Keep covered to 2 minutes, open, give a stir and cover and cook again. Repeat this process until all the Karelas are cooked, but not limp and mushy.

Finally, add the reserved stuffing powder to the Karelas, stir and cook covered for a minute or two on low flame, to get that nice brown glaze.

Slit the Bitter gourd midway to form a +. Now put the slit Bitter gourds in hot water, add some salt and keep covered for 5 minutes. After 5 mins drain the water and cool the bitter gourds. Now in a pan add 1 tsp oil and heat. First, add the coriander seeds and fry for half a minute. Now add both the dals and fry until golden brown. Add the dry red chillies and fry until crisp, add tamarind and fry for 30 seconds and put off the flame( roasting of all these ingredients should be done only on low flame and take care not to burn them). Cool the roasted spices and grind to an almost fine powder. Add the turmeric powder, salt and jaggery(if using) and give another spin in the blender. Now fill this mixture in all the Karelas and set aside( if the filling is left, reserve it to add in the end for that lovely glaze, or better make a little extra of this powder). Heat oil in a Karahi/ pan, pour 1 tbsp oil and heat. Now slowly add the stuffed Karelas to the Karahi one by one and start sauteeing over a low flame. Cover for 2 minutes and stir again. Cover the karahi, let it cook for 2 minutes, then again open and stir. Repeat this until Karela are cooked well but not limp. They should retain shape. Finally, add the reserved stuffing to the Cooked Karelas and cover and cook for a minute on low flame. Put off the stove and its ready to serve.
Serving Suggestions: Serve hot with Rotis, Plain Parathas, Dal Chawal, Kadi Chawal and more…
Notes:
To make the same recipe with the big ones, cut them in halves and then slit then midway and fill. In this procedure, some stuffing will fall into the oil, but it is fine as long as you keep stirring it every now and then and don't allow it to burn.
The dish will taste good even without adding jaggery, so you can skip it entirely.
Once you grind the spices you can always check the taste and balance it, by adding red chilli powder or salt.
If you tried this recipe and liked it please comment below. I would love to hear from you.
In case you wish to receive recipes as an email, please leave your id on the homepage near the mail icon. Whenever Rajjo's Kitchen has a new post the recipe will be mailed to you.
Gallery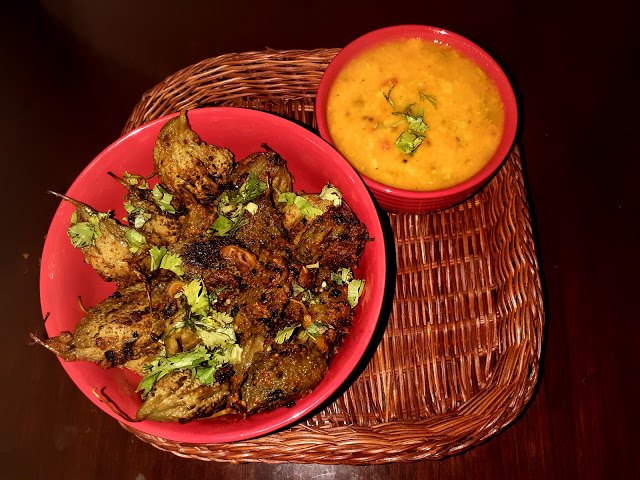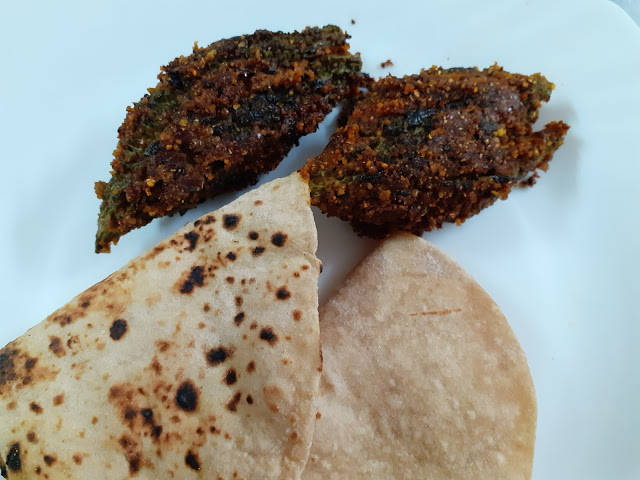 Get yummy recipes delivered to your inbox!
Be the first one to know about our new recipes. Leave your email below and get notified as soon as new recipes are published!