Coriander Rice/Chutney Rice
Jump to recipe
My love for this herb is perennial. I love adding it to Subjis not just as a garnish but a few springs just as one of the ingredients. There are many condiments made of this humble herb like Chutneys, Dips, Raitas, Pickle, etc;. This Coriander Rice recipe is a simple one, and a great Lunch Box option for kids, and adults. This Rice Recipe is healthy as Coriander is rich in fiber and essential nutrients. It aids in digestion as well. So why leave out such a beneficial herb from main course cooking and limit it to just being a condiment. For those looking for Gluten Free Cooking, here another recipe for your to try.
Try adding a few sprigs of it to any subji, not in the end but while cooking and see how the dish gets elevated in taste and flavour.
The colour, flavour, and aroma of this rice are just so refreshing. While you are here check out my other rice varieties like Coconut Rice, Masala Rice, Falvoured rice and, Lemon Rice.
Let's check out how to make this delicious, healthy and Gluten Free Recipe.
Ingredients
Ingredients
Coriander leaves 1 bunch finely chopped
Rice(regular) 1 cup precooked
Peanuts 1 tbsp
Cashewnuts a few
Green chillies 2
Cumin seeds 1 tsp
Fried gram dal(chutney chana)/Pottukadalai 1 tbsp
Turmeric powder 1 tsp
Mustard  seeds1 tsp
Chana Dal(Bengal gram) 1 tsp
Urad dal(black gram) 1 tsp
Dry red chillies 1-2 broken
Oil for tempering 1 tbsp
Tamarind Paste 1-2 tsp depending on taste (optional)
Assemble all ingredients. Chop coriander leaves finely, Cook the rice for 3 to 4 whistles, cool on a plate and set aside.

Put the chopped coriander into the blender along with the green chillies, cumin seeds and fried chana/pottukadalai. Without adding water pulse them once or twice. Now add some water and grind to a smooth paste. Set aside.

In a karahi or pan pour some oil for tempering. Fry the peanuts to a golden colour and the cashew too and keep aside. In the same oil put in the mustard seeds. Let them crackle then add Chana dal, urad dal followed by dry red chillies. Fry until golden brown and add the turmeric powder.

Now pour the coriander paste into the oil and fry the paste nicely for 2 minutes. Add salt and continue to fry for another 2 minutes. The moisture should evaporate and the paste should become a little dense.

Add 1 to 2 tsp of Tamarind paste,and let it cook another minute or two.

Add the cooked and cooled rice little by little to the paste. Mix well and switch off the flame. The flavourful Coriander rice is ready to serve.

Cook 1 cup rice in a pressure cooker( I used pot in pot method, you can cook directly too) adding 3 cups water for 3-4 whistles. Once pressure releases spread out the rice on a plate to cool and also drizzle 2 tsp oil over the rice so that the grains do not stick together. Put the chopped coriander, cumin seeds, green chillies and the fried chana/ Pottukadalai and grind at first without water, then after a spin or two add little water and grind to a smooth paste. In a karahi or pan pour some oil and heat. Add the mustard seeds, chana dal, urad dal, dry red chilli and fry until golden brown. Now add the turmeric powder, followed by the ground Coriander puree and nicely fry the paste in oil on low heat. The paste will get a little dense. Add salt and fry for another 2 minutes. Add a teaspoon or two of Tamarind paste, and cook for a minuteor two(this step is optional). Now start mixing in the cooled rice little by little into the cooked paste, and mix nicely so that the rice is nicely coated with the paste. Put off flame and garnish with peanuts and cashewnuts. The flavourful Coriander Rice is ready to serve. Enjoy the lovely green of the rice. Bon Appetit.
Serving suggestions: Raita, Potato fry, or Cauliflower roast or Colaccasia(Arbi/Sepankezhangu) roast and papad.
Notes:
While frying the paste in oil be careful not to evaporate it completely. The consistency should resemble sauce consistency.
Spread out the rice on a plate and drizzle oil or the rice will turn soft and lumpy once added to the paste.
If you tried this recipe and liked it then please comment below. I would love to hear from you.
Gallery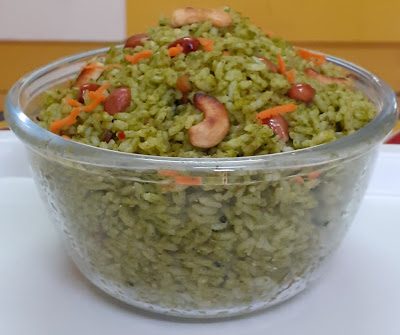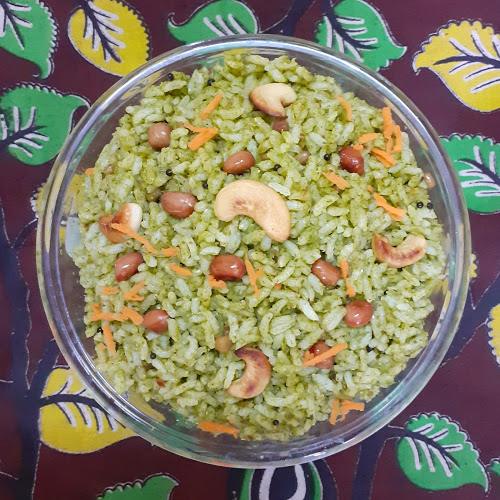 Get yummy recipes delivered to your inbox!
Be the first one to know about our new recipes. Leave your email below and get notified as soon as new recipes are published!