Besan Oats Cheela With Carrot Greens
Jump to recipe
Chilla/Cheela is a savoury Indian Pancake. This is mostly made of a lentil or lentil flour batter. They are the easiest to make, need no prior preparation, resting the batter for 15 minutes to half an hour just helps in yielding the best results. In this recipe two flours-Besan/Chickpea flour and Oats flour combine to make a power packed dish. To add more nutrition in terms of greens I have added Carrot greens , which can be easily swapped with any herb like Cilantro or Mint.
Chilla's are the perfect start to the day, and even good  to pack in the lunch box. The protein in the chickpea flour and the carbs from the Oats, keep one going for a long time. I have added yogurt for taste, but Vegans can avoid it and just make the batter with water. The dish is usually had with a green chutney and pickle. Since I made it for lunch, and wanted it to be more filling, I made  Paneer Bhurji(cottage cheese crumble with spices), as a stuffing. The stuffing is optional .
Other variations of the flours can be a mix of Oats and Millet flour, Wheat Flour and oats, Millet flour and Chickpea flour. And the same measures as this recipe will work for them as well.
The Carrot greens are something I have been obsessed with lately, and they keep finding their way into my dishes. If you haven't tried them yet, then you must. While I have added Indian spices here, feel free to experiment with other spices and flavours.
While you are here I request you to have a look at other recipes on the blog like- Bajra Ragi Cheela, Barnyard Millet Pongal, Semolina Cheese Balls, Easy Corn Fritters, Bajra and Almond Flour Cookies, and more…
Since this is a simple recipe no stepwise instructions have been given.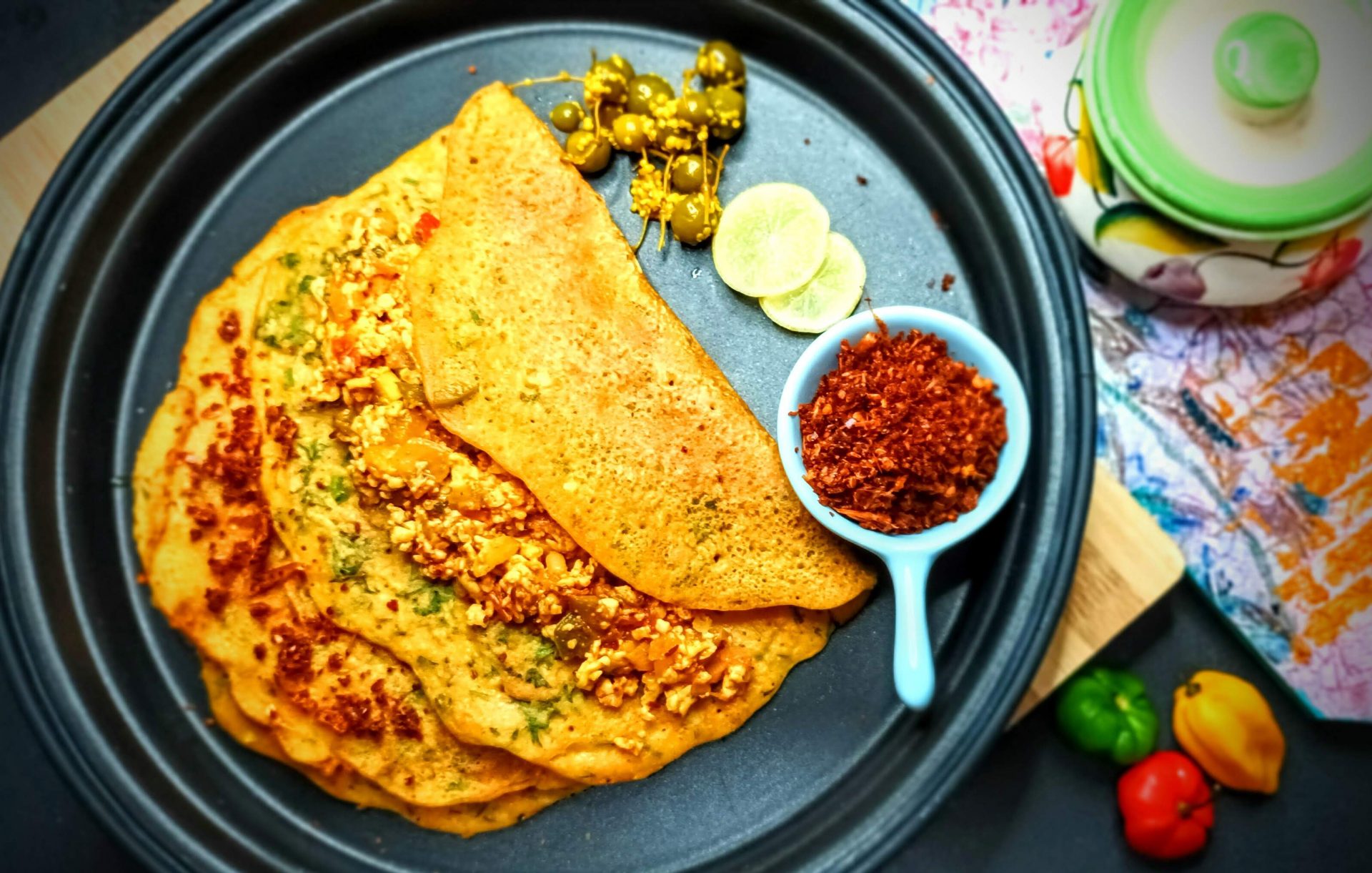 Ingredients
For the Cheela
Chickpea Flour 2 cups                                                                 1 cup= 150 ml
Oats (steel cut or instant) 2 cups powdered
Carrot Greens/ any herb (optional) 1/2 cup chopped finely
Yogurt/Curd 1/2 cup
Ginger 1/2 inch piece chopped finely
Green chillies 3 chopped finely
Salt as required
Red chilli powder 2 tsp
Coriander powder 2 tsp
Water 5 cups approximately to be poured in parts.
Oil for cooking the Cheelas/Pancakes
For the Paneer Bhurji (Cottage cheese Crumble):
Paneer/Cottage Cheese 200 gm grated
Bell Peppers/Capsicum 1 chopped finely
Onion 1 chopped finely
Tomatoes 2 chopped finely
Green chillies 2 chopped finely
Ginger-garlic paste 1/2 tsp
Red chilli Powder 1 tsp
Coriander powder 1 tsp
Fennel Powder 1/2 tsp
Salt as required
Oil for sauteing
Cumin Seeds 1 tsp
Garam masala powder(Indian spice mix)/ 1/2 tsp
For Cheela Batter:
Take both the flours in a big vessel. Add salt, followed by red chilli  powder, coriander powder, turmeric powder, and mix well.
Now add the green chillies, ginger, yogurt and give it all a good mix. Now adding 1 cup water at a time, stir well. Like this, add 3 cups water at this stage. Stir well, and allow the batter to rest.
Before pouring the batter on hot pan, add the carrot greens or other herbs.
For the Paneer Bhurji:
To a pan, add oil and heat. Add cumin seeds and when they crackle, add the onions and saute. When the onions start turning brown, add the ginger-garlic paste and fry for 30 seconds.
Now add the capsicum/Bell peppers and saute until done. Add the tomatoes, followed by salt and saute. When the tomatoes break and turn tender, mash with the back of a ladle to make them saucy.
Now add the red chilli powder, coriander powder, fennel powder, and stir. Finally, add the crumbled paneer/cottage cheese, and give everything a good mix. Cover and cook on low for 2 minutes.
Open the lid, sprinkle garam masala powder, and turn off the stove.
To Assemble:
To the batter add another cup of water and adjust consistency. A thick batter yields, fat Cheelas/Pancakes, whereas a thin batter(not runny) yields crisp pancakes. I added 5 cups of water in all. Add the Carrot greens or chopped herbs and mix lightly.
Heat a pan/girdle. Grease it with oil/butter. When it is medium hot, pour 2 ladles of batter and spread it evenly with light hands. Drizzle oil and cook on one side, now flip over and cook on the other.
 Now place the Paneer Bhurji stuffing in the centre of the Cheela/Pancake and cover with the other half. Serve hot with pickle or chutney. Bon Appetite!
Notes:
Paneer Bhurji(cottage cheese crumble), is an optional dish. Since I paired them that way, I am documenting it, so that if one wants to try the combination, they can. I assure you, you won't regret it.
Other variations of the flours can be a mix of Oats and Millet flour, Wheat Flour and oats, Millet flour and Chickpea flour. And the same measures as this recipe will work for them as well.
Ensure you rest the batter atleast for 15 minutes . We are not resting it to settle the gluten. There is no gluten in the flours. Resting the batter allows the Oats to soak up the moisture, and give a nice texture. Or else it could be grainy.
For cooking the Cheela/Pancakes I used Sunflower oil. You can use any neutral oil.
Other serving suggestions to go with the Cheelas are Pickle and Chutney, or even spiced hung curd.
Pro tip- adding 1 tbsp of Refined flour/Maida to the batter, gives the pancakes a smooth finish (optional).
Get yummy recipes delivered to your inbox!
Be the first one to know about our new recipes. Leave your email below and get notified as soon as new recipes are published!