Coconut Rice/Thengai Sadam
Jump to recipe
This is an easy and delicious South Indian Rice variety. The South Indian cuisine has a number of Rice varieties which are all very easy to make.  This recipe of Coconut Rice is flavoured with freshly grated coconut and tempered with whole spices in coconut oil. The spices used here are very minimal. It makes for a good lunch box recipe. Served with Potato fry and some Vadams(fries), and Raita it makes for a wholesome lunch idea. Leftover rice can also be given a makeover by making coconut rice.
Here's the recipe for Coconut Rice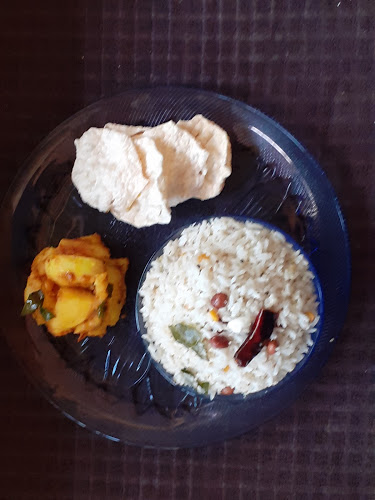 Ingredients
Ingredients
Rice 1 cup ( per cooked)
Coconut 1/2 of one whole coconut (grated)
Peanuts 1 tbsp
Chana Dal ( gram dal) 1tbsp( soaked in a little water for few minutes)
Urad dal 1 tsp( black gram)
Dry Red chillies 3 broken to bits
Mustard Seeds 1tsp
Curry leaves a few
Asafoetida 1 tsp
Salt as per taste
Assemble all ingredients. Precook the rice, spread it on a plate to cool and drizzle some oil over it.


Take some oil ( I have used coconut oil as it enhances the flavour of the rice) in a wok/ karahi and heat. Add peanuts and roast until they are a nice brown in colour.

Now add the mustard seeds, Chana dal( water drained) urad dal, dry red chillies broken to bits, asafoetida, curry leaves and fry them nicely until they are light brown in colour.

Add the grated coconut and continue to stir. Add a little salt and continue to stir until it turns light brown.

Add the cooked and cooled rice to this and mix well so that the tempering spreads evenly although the rice. The Coconut Rice/ Thengai Sadam is ready to relish.

Cook the rice in a pressure cooker. The Rice should be cooked but not lumpy or soggy. The grains should be separate. So once pressure from the cooker settles, transfer the rice to a big flat plate and spread the rice. Drizzle a little oil on it and leave it to cool completely. While it is cooling heat oil ( coconut oil in this recipe for the flavour) and add the peanuts and fry them. As they brown add the mustard seeds, Chana dal ( after draining the water), Urad dal, and asafoetida and curry leaves and start frying the tempering until they become light brown. Add the grated coconut now and continue until they are a little light brown in colour. Add salt mix and the cooked rice to the tempering and mix nicely so that the tempering gets evenly mixed with the rice and there the yummy and simple Coconut Rice is ready to serve. I usually serve it with Potato curry(  Urulaikazhangu Karacurry) and some Vadams( rice crisps). Enjoy. Bon Appetite.
Notes:
Coconut oil enhances and brings out the flavour in this rice, so I highly recommend using it either to drizzle over the rice while cooking or in the tempering or both.
Oil is drizzled over the rice while cooling so that the grains are separated and don't stick together while combining with the tempering,
This dish goes really well with Avial( South Indian mixed veg curry) you can check out the recipe here.
You can either grate the coconut in a grater or process it in the food processor, don't grind it too fine or the flavour will be lost.
To cook rice, I used the pot in pot method, you can cook directly in a pressure cooker too, but ensure it is dry and not starchy.
If you tried this recipe and liked it please comment below. I would love to hear from you.
Gallery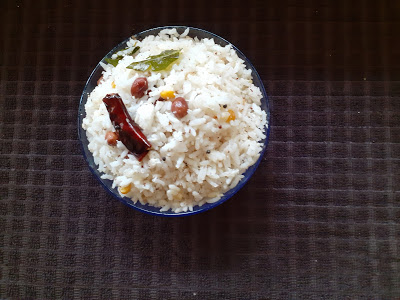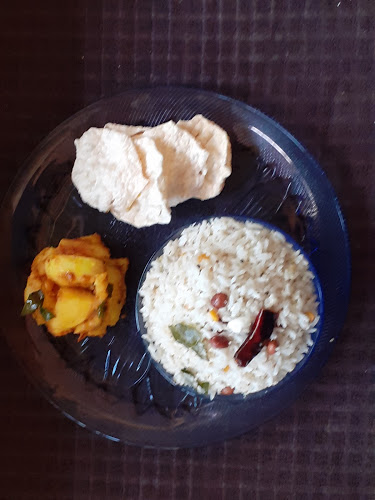 Get yummy recipes delivered to your inbox!
Be the first one to know about our new recipes. Leave your email below and get notified as soon as new recipes are published!