Low Carb Recipe Collection
Jump to recipe
While the world is moving towards Fad Diets, here is a collection of simple and easy Indian dishes that are low carb, and help achieve the Weight loss Goal, if you are looking for one. Fad Diets, not only  punch a hole in the pocket, but also make everything from sourcing ingredients to cooking so stressful, that the whole idea behind healthy eating is lost. Eating a meal that's stress free in itself is a feel good factor I feel.
While personally I do not follow any specific goal related diet, these Healthy Weight loss Recipes are made in my kitchen whenever we want a light Vegetarian Meal. You will find that my meals are usually well balanced, with indulgences now and then. I mostly share my meal patters on my Social media like Instagram and Facebook(care to follow me there? Click on the IG or FB icons on the main page to take you there). Since I had a lot of requests from friends and followers for low carb recipes, I have come up with a list of Low Calorie Vegetarian Recipes, that are made from everyday, easily available ingredients. If you readily don't have them at home, then I am sure you will not have to look beyond your local supermarket.
A meal is considered low carb, when it has about 40 percent carbs. If you are looking to cut back Carbs, or are on a low calorie diet, then you will surely find this collection useful. I have used ingredients like Oatmeal ,Millets and Rice, which though are carbohydrates, they also pack in a lot of nutrition. When these carbs, get mixed with a higher proportion of  Lentils or (and) vegetables, this effectively makes them low calorie, and low on GI too.
I would like to clarify that I do not promote or advocate any kind of diet, either low carb or any other. I cook these dishes to bring variation in our diet, and so that we are able to eat different grains, vegetables and lentils, which helps is better absorption of nutrients.
Come lets checkout some low carb vegetarian meals.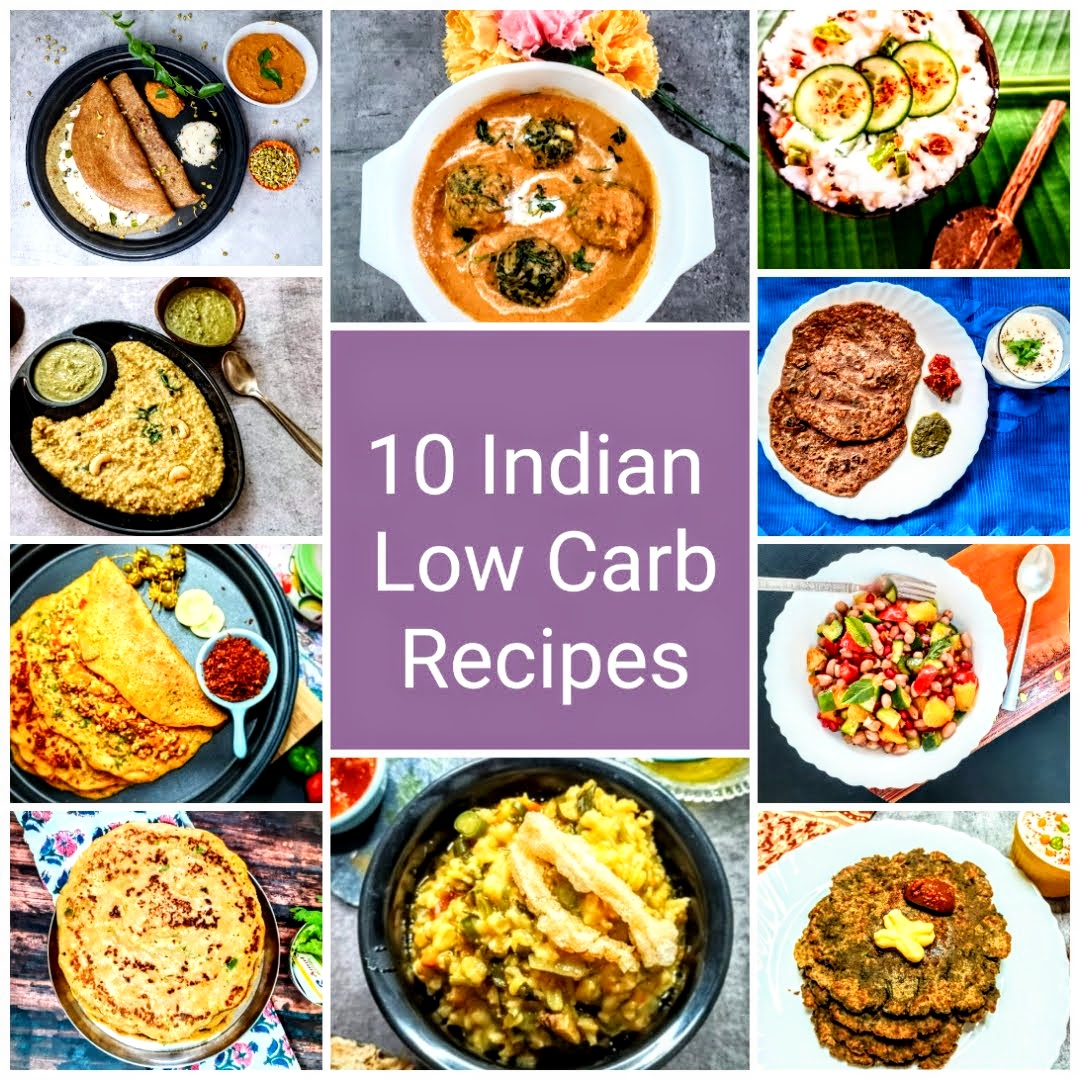 1.Barnyard Millet/Kuthiraivali Pongal: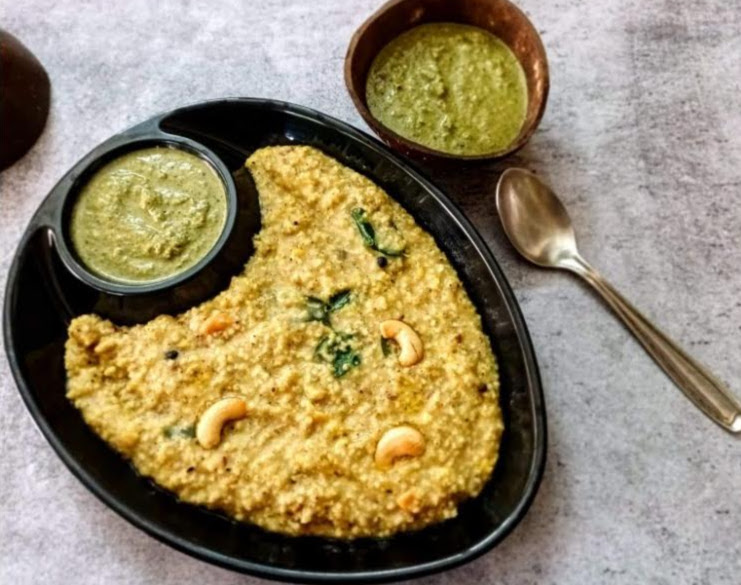 Barnyard Millet or Sanwa is a Millet rich in Protein and other nutrients. Barnyard Millet is low on carbs, and is naturally gluten free, and rich in fibre. It has a low Glycaemic index and is a good source of Iron. While i have used Barnyard Millet in this recipe, any other millet can used used in place of it.
Pongal is a savory dish of rice and lentils in South India similar to the Khichdi in the North. I have supplemented the rice with Barnyard Millet, called Kuthiraivali in Tamilnadu. These millets are high in fibre and are gluten-free. So for all the health freaks,  here's the recipe for you.  This is a simple one-pot recipe. It makes a great breakfast option as compared to the rice Pongal, as it is lighter. For recipe click here.
2. Bajra And Ragi Cheela: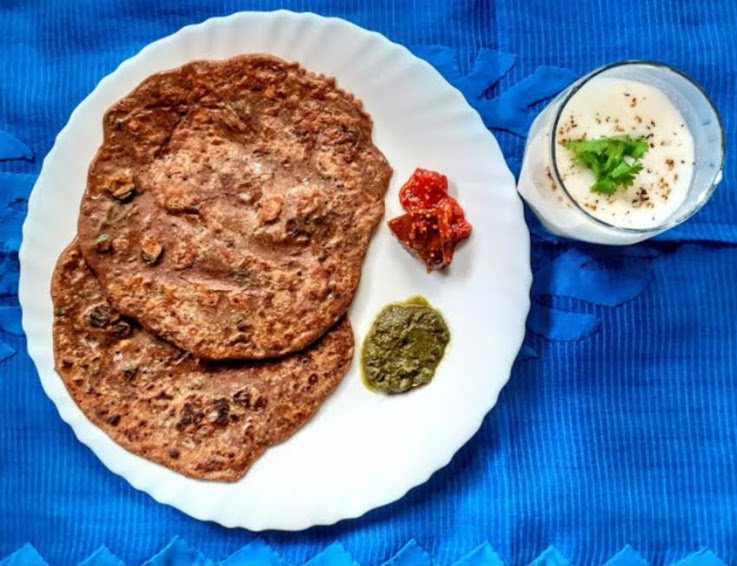 So, here is my take on the regular Besan Cheela, where I have added Bajra and Ragi flour to the Besan(chickpea flour). This breakfast dish keeps one satiated and is tasty too. It gets done with minimum oil and can be served with pickle, or a green chutney. Homemade butter goes well too. A glass of buttermilk to go with and a lovely breakfast platter is ready. For recipe click here 
3. Tandoori Peanut Salad: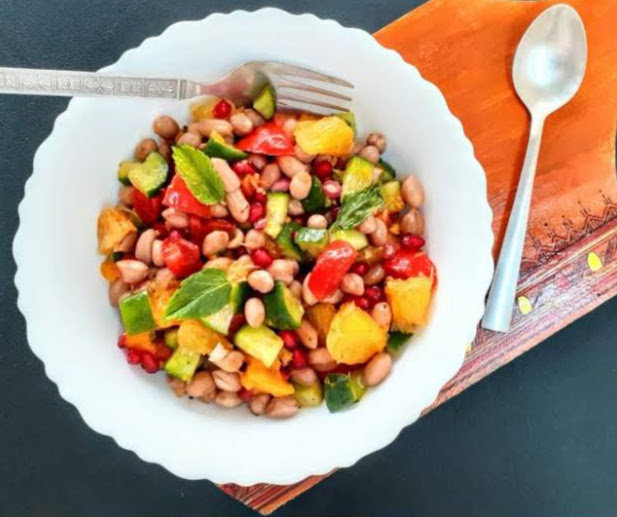 This Tandoori Peanut salad is a tasty combination of Soaked and cooked Peanuts, and some summer fruits and vegetables. The Tandoori masala takes this simple Salad to a completely different level. I prefer having this salad  for early evening or mid-morning hunger pangs. The recipe is also low carb, and has a high fibre and protein content. For the recipe click here.
4. MLA Pesarattu: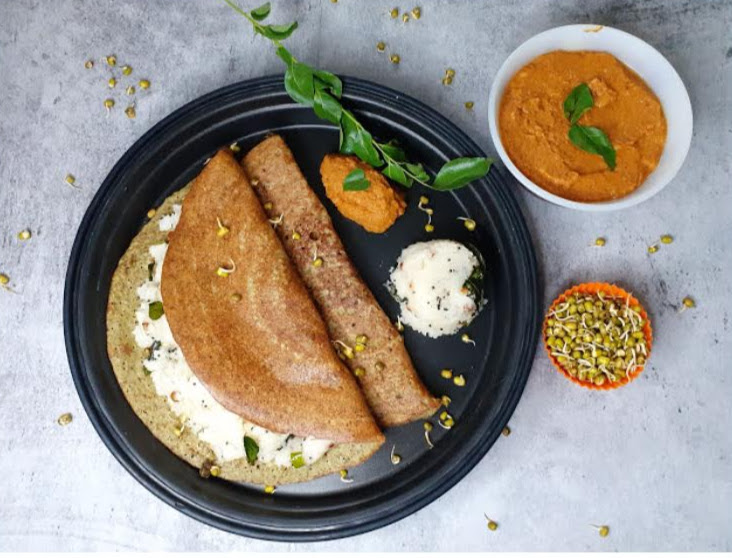 This recipe of soaked Moong beans and rice is one of my favourites as it is healthy and tasty at the same time. Simple recipe, just soak grind with ginger and spices and spread on the Tava like a Dosa/Adai and serve with Allam(ginger)chutney or any chutney. Yes, it is that simple. No fermentation. The recipe has minimum Carb, and is high in protein and fibre. For recipe click here.
5. Cool Tempered Curd Rice With Cucumber: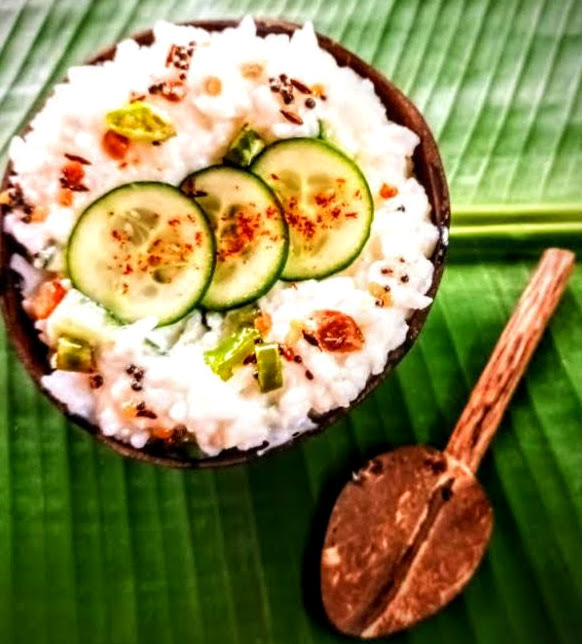 Curd rice is a south Indian dish prepared with pre cooked rice, yougurt, milk, and some tempering. South Indian food especially the Tamil Brahmin culture considers Curd Rice aka Thayir Sadam as a full stop to their meal. This is a simple meal in itself which can be paired with your choice of pickle to beat the summer heat.
The tempering and the add-ins to the curd rice are totally customizable to our preferences. Anything from grated carrots, shallots, curd chillies, green chillies, mango-ginger, grapes, pomegranate etc; can be added. In the current recipe I have used finely chopped cucumbers. While Rice is a complex Carb, the curd reduces the GI, however to make it low Carb, you can use cooked Millets instead of Rice. For recipe click here.
6. Paneer Palak Koftas(Steamed):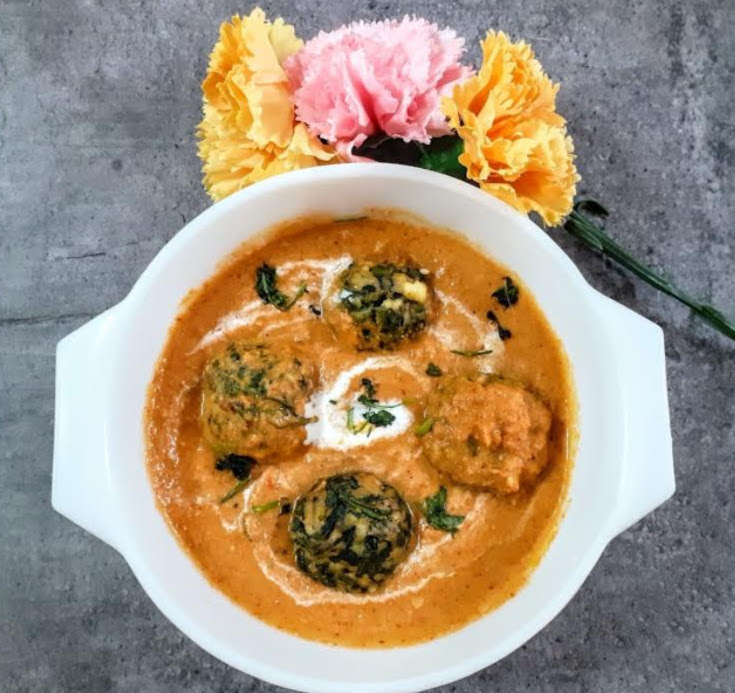 Vegetable Kofta is an exotic dish made with minced vegetables, that are fried into fritters and then dunked in an Onion -Tomato gravy. The gravy is spicy, tangy and creamy. There are many variations of koftas, and you can make them with any vegetable you prefer.
If you are thinking about what is new about these koftas, well they are a healthier version of the fried koftas. These dumplings are steamed and not fried, unlike the other koftas. The all-time favourite combination of Palak(Spinach) and Paneer (Cottage Cheese), form the steamed dumplings and of course the usual tomato onion gravy works well with this. It's an  easy recipe if you have all ingredients ready at hand. Rice flour and Chickpea Flour are used as binders for the Kofta balls, which are then steamed. For recipe click here.
7. Buckwheat And Raw Banana Flour Hariyali Paratha: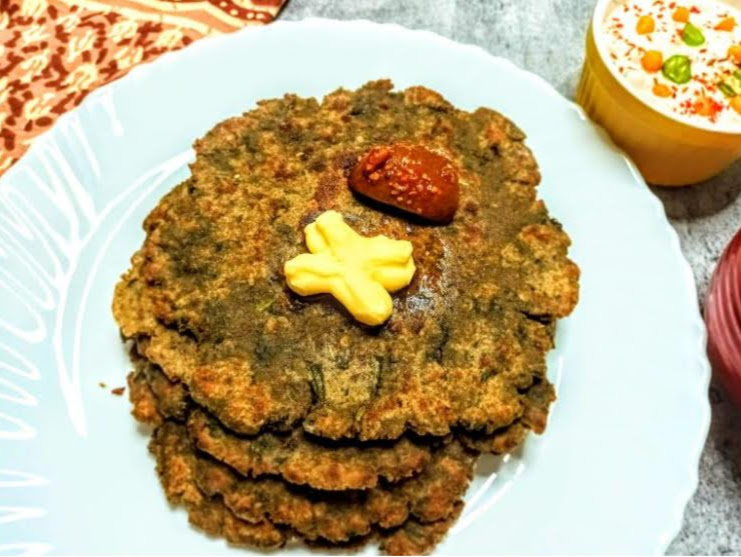 Buckwheat is a Pseudo Cereal. It has all the nutritional properties of a grain,but actually is a seed. It can be eaten whole after roasting, in the cracked form or one can use the flour. This is a super food that has been overlooked so far. In India people usually consume during certain festival when they are required to avoid grains.
Raw Banana Flour is soon gaining importance as a dietary fiber. It is used as a replacement for wheat flour in people having gluten intolerance. The flour has resistant starch which is why it acts as a dietary fiber. Though earlier it was used to thicken soups and stews, they can be used in making  Rotis(flatbread), Cakes and pies.
These Faltbreads with two superfood ingredients are so healthy and power packed indeed. For recipe click here.
8. Besan Oats Cheela With Carrot Greens: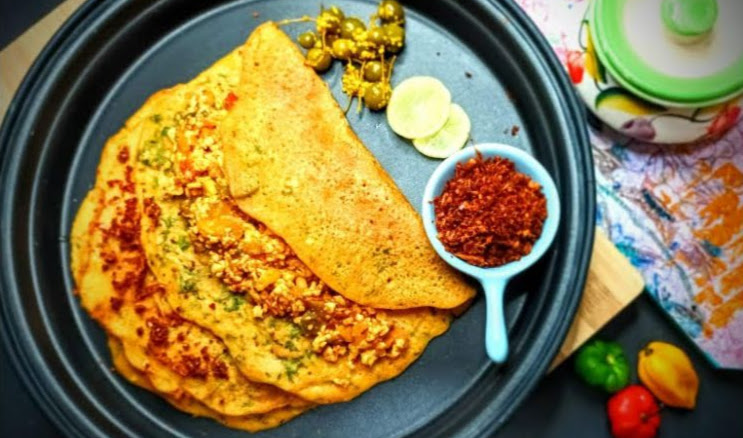 Chilla's/Cheela's are the perfect start to the day, and even good  to pack in the lunch box. The protein in the chickpea flour and the carbs from the Oats, keep one going for a long time. I have added yogurt for taste, but Vegans can avoid it and just make the batter with water. The dish is usually had with a green chutney and pickle. Since I made it for lunch, and wanted it to be more filling, I made  Paneer Bhurji(cottage cheese crumble with spices), as a stuffing. This is a optional dish, and both don't have to be paired together. Since I paired them that way, I am documenting it, so that if one wants to try the combination, they can. I assure you, you won't regret it. For the recipe click here.
9. Zucchini And Potato Wheat Dosa:

Wheat Dosa is very common in south Indian homes. Most of the times jaggery is added to it and we call it Vella Dosai, meaning jaggery Dosa or sweet Dosa. In recent times I have seen this as liquid dough Roti and I wonder how one calls it a Roti. In my understanding, what we knead is a dough, and what we pour is a batter, right? So, I console my self saying this name has stuck probably because it tastes more like a Roti/Paratha , but the texture is that of Dosa. Whatever it is Dosa or Roti it tastes good. It is healthy as it is made of wheat, I have included vegetables and the best part, because of all these reasons it could be served as breakfast, lunch or dinner. Adding Vegetables makes it more nutritious, just as I have Potato and Zucchini here. For the recipe click here.
10. Vegetable Oats Kichdi: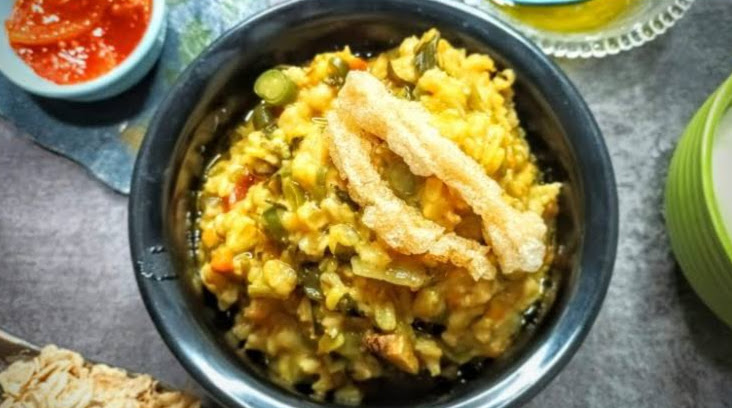 This Oats and vegetable kichdi is very simple to make and is a one pot recipe.  It can be customized to your preference be it spice or the vegetables added. In all it is a healthy, delicious and simple meal for the days you want a simple yet yummy meal. I usually make this for dinner on the days our lunch is heavy or make it as a quick meal after a shopping trip as it gets ready in a jiffy. Any variety of oats- rolled, instant or steel cut, will work for this recipe. Just remember to alter the water proportion. While Instant Oats may need only 1.5 cups water for 1 cup Oats, for Rolled Oats, add another Half cup, and for Steel cut Oats I recommend  1: 2.5 (I cup Oats and 2.5 cups water). You can add any of your favorite vegetables to the Kichdi. For the recipe click here.
Get yummy recipes delivered to your inbox!
Be the first one to know about our new recipes. Leave your email below and get notified as soon as new recipes are published!