Bajra & Ragi Cheela
Jump to recipe
A healthy breakfast is a beautiful start to the day. What better than millets to keep you satiated for longer, and lighter on the tummy too. Millets are in fashion now, but have been in our land for ages. Our ancestors used them extensively and then they kind of vanished from the scene owing to "ready to eat meals" revolution and the "instant meal" idea. After a long time they ( Millets ) are getting their due. As this generation falls prey to lifestyle diseases, the millets came to the rescue and they started trending all over again.
So, here is my take on the regular Besan Cheela, where I have added Bajra and Ragi flour to the besan. This breakfast dish keeps one satiated and is tasty too. It gets done with minimum oil and can be served with pickle, or a green chutney. Homemade butter goes well too. A glass of buttermilk to go with and a lovely breakfast platter is ready.
While you are here please check out my other breakfast recipes like Kuthiraivali Pongal aka Barnyard millet Pongal, Dahi Pohe, Rava Dosa and more….
Since this is a simple and mix everything together recipe I have not given stepwise pictures or instructions. Yes its that easy .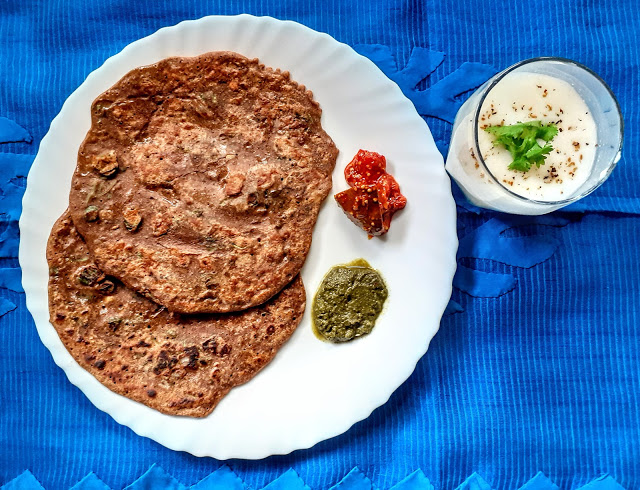 Ingredients
Ingredients
Besan  1.5 cups
Ragi flour/ finger millet flour 1 cup
Bajra flour/ pearl millet flour 1 cup
Salt as per taste
Curd 3 tbsp
Green chillies 2 or 3 finely chopped
Ginger 1 inch finely chopped
Ajwain/ carrom seeds 1 tsp
Fresh coriander a few sprigs finely chopped
Onion 1 finely chopped
Red chilli powder 1 tsp or as per taste
Coriander powder 1 tsp
Fennel powder 1 tsp
Water for making the batter
Oil for cooking the cheela
In a large bowl put in all the 3 flours. Add salt and all dry masalas like- Ajwain, red chilli powder, coriander powder, andfennel powder. Now add the chopped onions, green chillies, ginger, fresh coriander and mix thoroughly. Now add the curd and stir again. Now adding water little by little making a batter. The consistency should be like the Dosa batter, not too thick and not too thin. Let it rest for 10 minutes minimum. Now heat a girdle/ tava and  smear little oil. Pour the batter and don't spread it with a ladle, instead let it spread by itself( just like a pan cake). Drizzle little oil and cook on one side, flip and cook on the other and remove. Repeat for all the batter and serve with your choice of chutney or sauce.
Notes:
One can try the same with other millet flours too.
Millet flours don't absorb a lot of water, therefore while adding be careful and it's best to add a little at a time.
If you tried this recipe and liked it, please let us know in the comment box. I would love to hear from you. If you would like to receive our future posts on your mail, please leave your mail Id so that we can post it to you.
Get yummy recipes delivered to your inbox!
Be the first one to know about our new recipes. Leave your email below and get notified as soon as new recipes are published!