Cool Tempered Curd Rice With Cumumber
Jump to recipe
What comes to your mind when I say – soft, creamy and healthy? Curd of course! Curd is a staple in most Indian homes. We love pairing it with Biryani, Paratha, and for South Indians the mandatory curd rice. I am a Curd lover and if you have followed my Raita posts, the love for this delicious and healthy protein is evident.
Curd is a beneficial and most houses make homemade curds which is far more better as compared to store bought ones which have preservatives and chemicals to lessen the souring process. It is said that normal homemade curd cannot be called a probiotic because the amount of strain(bacterial strain) used differs from place to place.
Have you ever wondered what is the difference between Curd, Yogurt and Probiotic curd? Even I was not aware until recently. On research(from a lot of sites I concluded the following) I found that –
Curd, Is made by adding leftover curd to warm milk, thereby introducing the bacteria Lactobacillus which helps in coagulating the protein in milk.
Yogurt, Is almost similar to curd. It differs in the bacterial strains. In yogurt specifically Lactobacillus Bulgaris and Streptococcus Thermophillus are primarily used. Other bactrial stains may also be added to this.
Probiotic curd on the other hand, has live microorganisms which give the consumer health benefits when taken in in specific amounts. Also, the microbes used here are special ones which pass through the digestive tract unharmed and live and reach the intestines to help in proper digestion. The source of this informations comes from – – Chef Kunal Kapur's blog
Hope you must have found this information helpful. So, isn't it wonderful how our ancestors passed on this age old wisdom of eating gut friendly food in the age when research was not common. Let's talk about our current post Curd rice.
Curd rice is a south Indian dish prepared with pre cooked rice, yougurt, milk, and some tempering. South Indian food especially the Tamil Brahmin culture considers Curd Rice aka Thayir Sadam as a full stop to their meal. This is a simple meal in itself which can be paired with your choice of pickle to beat the summer heat.
The tempering and the add-ins to the curd rice are totally customizable to our preferences. Anything from grated carrots, shallots, curd chillies, green chillies, mango-ginger, grapes, pomegranate etc; can be added. In the current recipe I have used finely chopped cucumbers.
While you are here check out the different Raita varieties like Mint Raita, Baingan/Aubergine raita, Pineapple Raita, Green Apple raita and more…
Here is the recipe of Tempered Curd Rice with Cucumber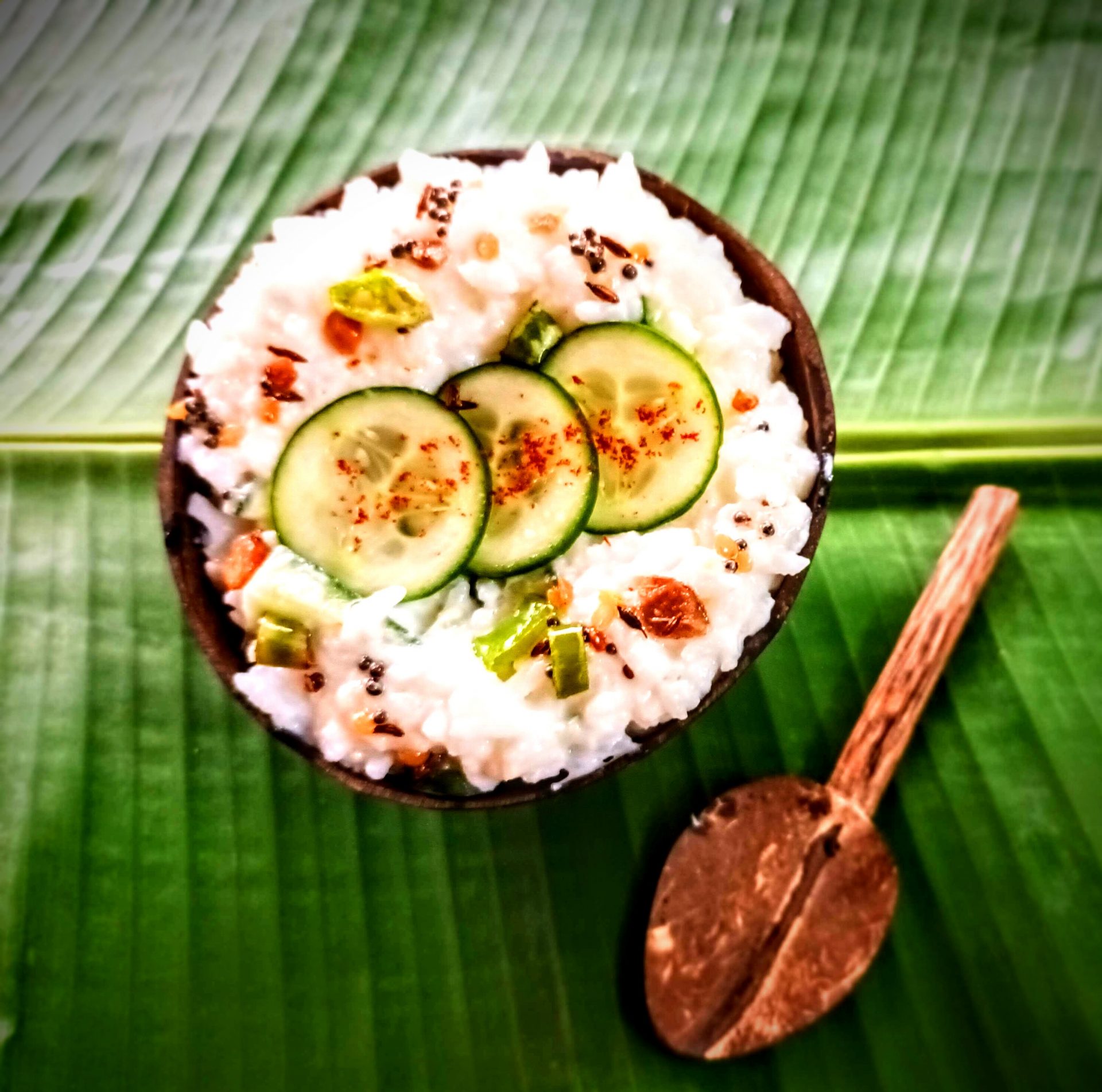 Ingredients
Ingredients
Pre cooked rice 2 cups I use small grained, non aromatic rice
Curd 2 cups
milk 1 cup
Salt as required
Cucumber 1 large finely chopped
Green chillies 2 finely chopped
Ginger 1/2 inch piece finely chopped
Curry leaves a few
Mustard seeds 1 tsp
Cumin seeds 1 tsp
Urad dal 1 tsp
Chana dal 1 tsp
Asafoetida 1/2 tsp
Fresh coriander leaves (optional)
Oil for tempering
Cook the rice and cool completely. Curd rice should be soft and not grainy, so add enough water and pressure cook rice. Remove the rice from cooker, mash well and cool the rice completely. Now add the chopped cucumber to the rice, followed by salt and mix well.

Now add the curd and give a mix, follow it up by adding the milk. If using coriander leaves, add now. Now take oil in a tadka kadai and heat. Add mustard seeds, and when they crackle add the cumin seeds, urad dal, chana dal, green chillies, ginger, curry leaves and asafoetida and fry until the dals turn a golden colour. Drop this tempering into the rice. Put the rice in the fridge until ready to serve. Add 1 tbsp curd and 1/4 cup milk and give it a mix before serving.

Notes:
Using small grained rice gives the curd rice the right texture.
The rice must be pressure cooked to a soft consistency that can be easily mashed.
To prepare curd rice with small grained rice(Sona masoori/Ponni) I use the ratio 1:4 of rice and water.
Chilled curd rice tastes divine on a hot summer day, so I always make a curd rice ahead and chill it, and add 1 tbsp curd and 1/4 cup milk and give it a mix before serving.
Get yummy recipes delivered to your inbox!
Be the first one to know about our new recipes. Leave your email below and get notified as soon as new recipes are published!