Kuthiraivali (Barnyard Millet) Pongal
Jump to recipe
Barnyard Millet or Sanwa is a Millet rich in Protein and other nutrients. Barnyard Millet is low on carbs, and is naturally gluten free, and rich in fibre. It has a low glycemic index and is a good source of Iron. While i have used Barnyard Millet in this recipe, any other millet can used used in place of it.
While cooking with Millets always ensure you soak them for 5 hours or overnight.
Why You Should Soak Millets- Soaking Millets overnight or for 5 hours at least ensures that the Phytic acid found in them is broken down. Phytic acid inhibits the absorption of minerals like Zinc and Phosphorus, that are required for the healthy functioning of the body. Soaking the millets also makes it easier for them to get digested.
How to cook Millets- always cook Millets in excess water. I follow the 1;2 or 21'2 proportion. They can be cooked in the cooker or over an open pan. Wash the Millet, put them in a pan or cooker, add the water and cook. For cooking in a pressure cooker, stop after 2 whistles. Allow pressure to release naturally, and then fluff up the cooked millet with a fork. For open pan cooking, cook on medium -low flame, stirring occasionally. put off the flame when done, cover and let it stand a few minutes. Fluff up with a fork and use as required.
Pongal is a savory dish of rice and lentils in South India similar to the Khichdi in the North. I have supplemented the rice with Barnyard Millet, called Kuthiraivali in Tamilnadu. These millets are high in fibre and are gluten-free. So for all the health freaks,  here's the recipe for you.  This is a simple one-pot recipe. It makes a great breakfast option as compared to the rice Pongal, as it is lighter.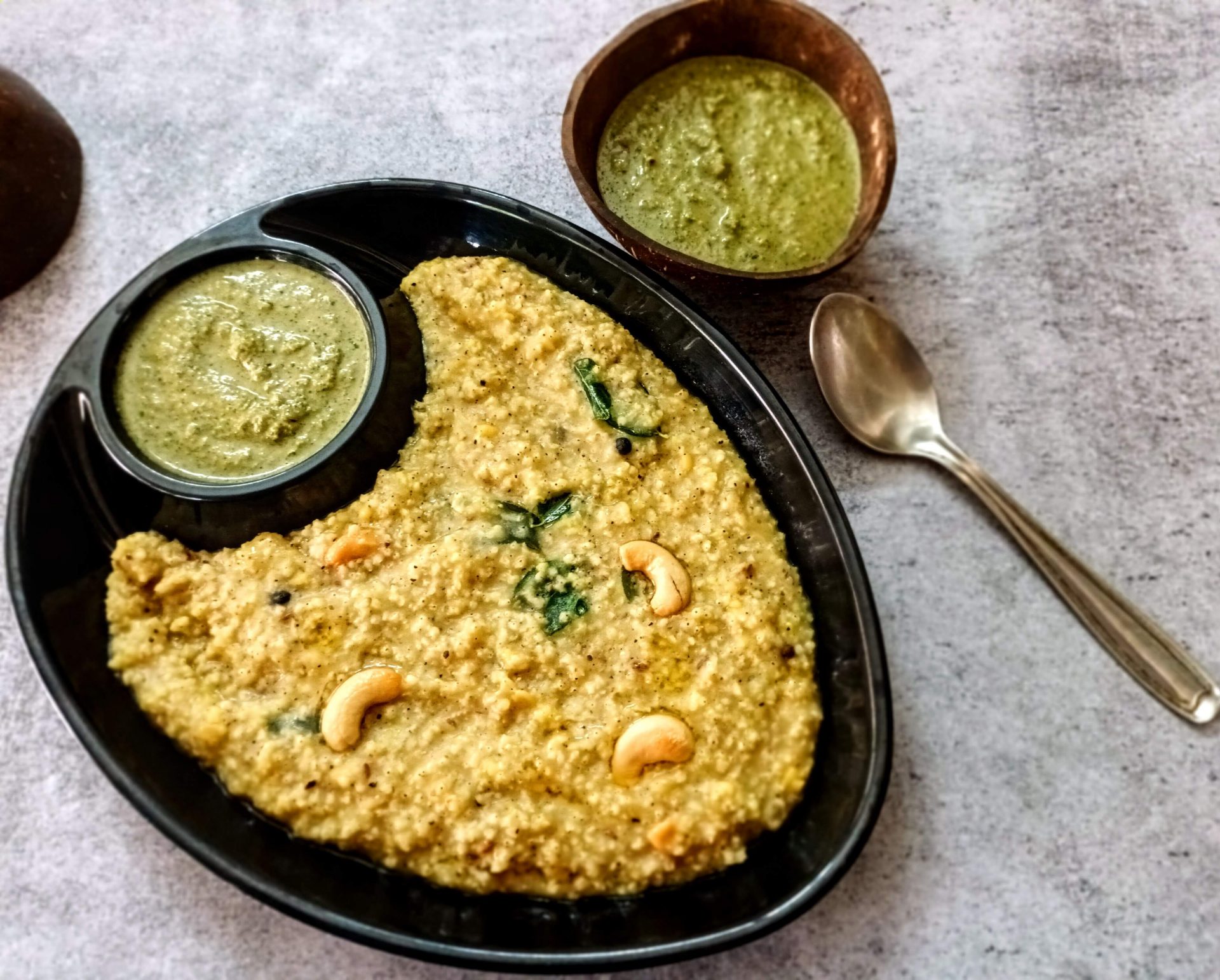 Ingredients
Ingredients
Kuthiraivali(Barnyard Millet) 1.5 cups
Moong dal/ split green gram 1/2 cup lightly roasted
Pepper-Cumin powder 2 tsp (dry roast in the ratio 2:1 cool and grind coarse)
Salt as per taste
Cashewnuts 6-7
Ghee 1 tbsp
Curry leaves a few
Ginger 1 tsp finely chopped
Asafoetida 1 tsp
Turmeric powder
Assemble all ingredients. Roast the moong dal and keep it ready. Soak the Millet for 3 hrs or overnight.

Wash the Kuthiraivali/Barnyard millet and moong dal and transfer them to a small pressure cooker. If using big cooker follow pot in pot method( that is putting the contents into a vessel and putting that vessel into the cooker). Pour 4 cups water and pressure for 5 whistles. Once the pressure releases check if the mixture is well cooked. They should be quiet soft, If not put back in the cooker for another 2 whistles.

The mixture will be a little solid, add around 1 to  1.5 cups of water, and loosen up the mixture.

In a tadka, Kadai, or small tempering pan add the ghee and let it heat. Add the cashews and fry to a light brown. Remove from ghee. To the same ghee add the cumin. Once they splutter add in the ginger, pepper-cumin powder, curry leaves, and asafoetida. fry nicely for a minute and pour it into the dal-millet mixture. The Kuthiraivali Pongal is ready

Roast the moong dal to a light brown. Put the Millet in a vessel add the roasted dal to it and wash them nicely. Now put them into a pressure cooker and add 4 cups water, the salt, and turmeric powder and cook for 5 whistles. Let the pressure release. Now open the lid and give a light mash to the millet- dal mixture. It would have absorbed all the water while cooking, so pour another 1 to 1.5 cups of water and stir nicely. Now in a small tadka kadai put in 1 tbsp of Ghee and heat. Put the Cashewnuts in and fry them to a light brown. Remove them from the ghee and set aside. Now to the same ghee add Cumin seeds, let them splutter add-in the ginger, pepper- cumin powder, asafoetida, and curry leaves and fry them well in the ghee. Transfer this into the cooker. The Kuthiraivali Pongal is ready. Serve with some coconut-coriander chutney.
Notes:
If using pot in pot method then after pressure cooking, you can make the tempering in a bigger pan and add the rice dal mixture to the pan.
While adding water to the Pongal after pressure cooking to loosen it, you can add hot water instead of room temperature one.
Always Soak the millet(any millet), for 2 hours minimum or overnight for best results. Soaking also makes them easily digestible.
Pepper-cumin powder  direction pictures below

If you tried this recipe and liked it please do comment below. I would love to hear from you.
Gallery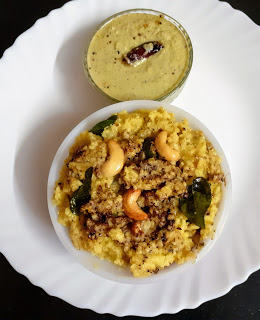 Get yummy recipes delivered to your inbox!
Be the first one to know about our new recipes. Leave your email below and get notified as soon as new recipes are published!