Missi Roti
Jump to recipe
Missi Roti is a simple Indian flatbread made from Besan(gram flour) and Atta(wheat flour), Spices and onions give this an amazing flavour. It is a popular dish in North India. Served with a dollop of butter and some pickle, it is a meal by itself. It can be served with curry varieties like Mixed Vegetable Curry,  Drumstick Curry, Matar Paneer, Palak Paneer Koftas, and Lauki Kaddu Ke Kofthey.
I had this Roti for the first time about 18 years ago in a remote township in Andhra, where the cook at the official guest house was from Bihar and had prepared this for a get-together. I liked this Roti so much that I asked him to teach it to me(as there was no internet those days and we learnt cooking from cookery books or a cookery show on television). The cook(Maharaj as they are addressed)obliged and I learnt this lovely flatbread recipe. I made it a couple of times after that and until recently it was forgotten . I chanced upon it while searching for another recipe in my book and the memories came flooding.
I have seen many versions of this recipe, but I am sticking to the way I was taught.
Serving Suggestion: Missi Roti with pickle and butter, Missi Roti with Paneer Butter Masala, Missi Roti with Kadai vegetable or Missi Roti with Dal Makhni/Choley etc;
My favourite combination is with pickle and butter.
Here's the recipe of Missi Roti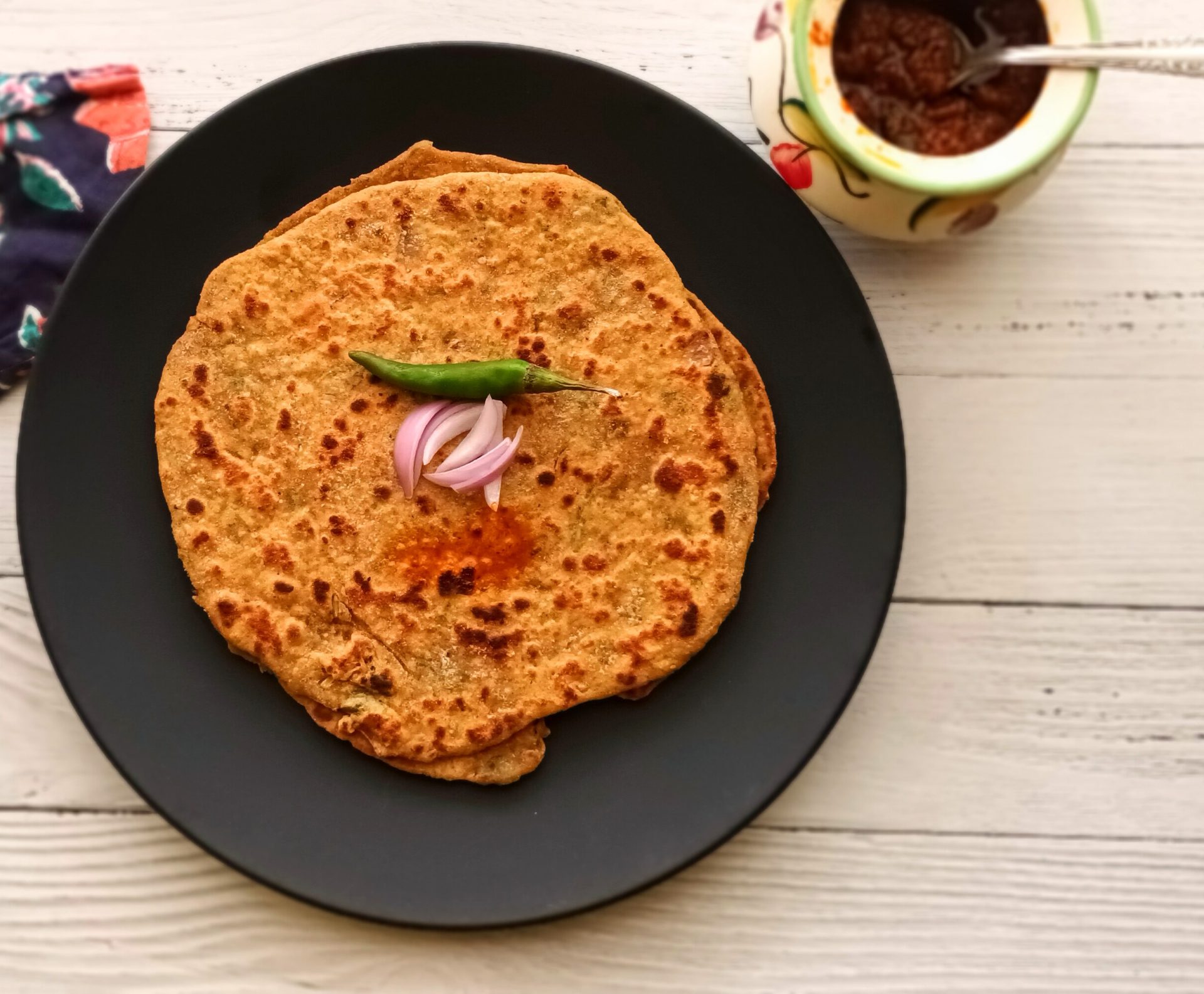 Ingredients
Ingredients
Besan/gram flour 1.5 cups
Atta/wheat flour 3/4 cup
Onion 1 finely chopped
Coriander leaves 1 tbsp finely chopped
Green chillies 3 finely chopped
Ginger 1/2 inch finely chopped
Salt as per taste
Oil 1 tsp for dough
Red chilli powder 1.5 tsp
Amchur powder/dry mango powder 1 tsp
Black pepper powder 1/2 tsp
Ajwain 1 tsp
Turmeric powder 1/2 tsp
Oil for roasting the Rotis
Assemble all ingredients.

Take the Atta and Besan in a dish.

Add all ingredients one by one and mix nicely with hand so that the moisture of the onion is absorbed by the flour.

Now pour water little by little and combine to form a pliable dough. It should not be too stiff. Cover and let it rest for 15 minutes.

Now pinch the dough into 8 portions to form roundels. Dust each with flour and roll them out into Rotis.

Put on hot Tava/girdle and cook one side, drizzle oil, flip and cook on the other side. Keep flipping until light brown spots are formed on the Rotis. Repeat for all roundels. Missi Roti is ready…Enjoy with any curry of your choice or pickle and butter.

In a dish take the Besan and Atta and add all ingredients one by one into it.  Mix nicely until the onion's moisture is absorbed by the flour. Now pour water little by little and combine to form a pliable dough, not very stiff. Keep covered for 15 minutes. Now pinch small portions of the dough to form roundels. You will get about 8 from this quantity. Now roll them out into Rotis gently. Since I have used more of Besan, it cannot be spread much unlike Roti. This bread is usually rolled small only.
Now heat a Tava/girdle and smear some oil on it. Put the roti on the tava and cook, drizzle some oil and flip over and cook the other side too. small brownish dots should appear on the Roti. Remove from heat and repeat the same for all roundels.
The aromatic Missi Roti is ready…some pickle and butter and  it is ready to tuck in…Enjoy. Bon Appetit.
Notes:
I have stuck to the proportion of more Besan that Atta because in Missi Roti the Besan Taste should dominate. More atta is used to make it pliable but the flavour gets compensated.
Usually, people are little reluctant to use Besan because of its gassy nature. That is why we have used Ajwain(carrom seeds) here. Little asafoetida can be added to the water that we are going to mix the dough with. This also aids in better digestion.
These Rotis can be made ahead and keep and they just need to be warmed before serving. The besan keeps the rotis soft.
If you tried this recipe and liked it please comment below. I would love to hear from you.
Gallery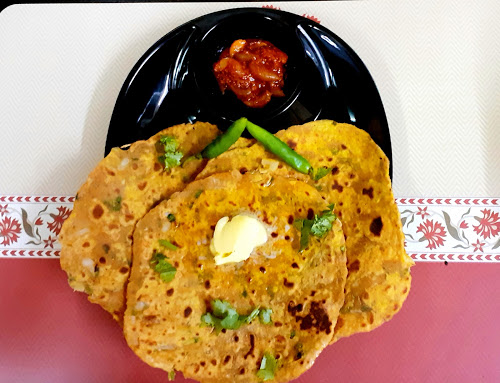 Get yummy recipes delivered to your inbox!
Be the first one to know about our new recipes. Leave your email below and get notified as soon as new recipes are published!