Tamil New Year Recipes/ Varsha Pirappu Recipes
Jump to recipe
Puthandu or Varsha Pirappu is observed to mark the beginning of the Tamil New Year. As per Mythology, Lord Brahma created the world on this day. Tamil New Year falls on April 14 th on most years. Other than Tamil Nadu and other southern states, many other states also celebrate their new year on this day. While in Punjab they celebrate Baisakhi, West Bengal celebrates Poila Baisakh, in the west Gujarathis celebrate Cheti Chand, and the Malayalis in Kerala celebrate Vishu. Whatever the name of the festival, the goal is one. Which is to bring in positivity, new hopes and dreams.
In Tamil Nadu an elaborate meal is cooked on this day and served in a Plaintain leaf. The Tamilian "Sapadu"/meal starts with a Sweet dish first, and is mostly Payasam/Kheer/milk pudding. So, on the leaf, first goes a trickle of Kheer(and it is just a trickle), then a stir fry Subji/Vegetable, followed by Kootu/ a mix of vegetable and dal, Morkhuzhambu/Kadi, Raita, Mango Pachadi (raw mango chutney is the highlight dish of New year, as on this day, Neem flowers are added to it. This Pachadi sums up our life which has moments of happiness, bitterness, fun and spiciness. ). Next Rice topped with ghee, plain untempered Dal, is served. Then come Sambar, which is followed by the Mor Kuzhambu, and Parupu Vadai( lentil fritters). Now the soothing Rasam is served. At this point, one is at mid meal. Now a huge serving of Kheer/Payasam is poured. (this is why it was just a trickle at the begining). However, scientific explanation to why Kheer is served after Rasam, and before Curd rice, is that, it does not obstruct digestion. Usually anything sour is avoided after milk based sweet dishes.  This is how much wisdom our ancestors had, even before  research in this direction began.
This blog post is for anyone who is looking  to create a south Indian meal, irrespective of whether it is New year or not. While you are here check out other Thali recipes like Palakkad Mini Thali, North Indian Thali, Paratha Mini Thali, Gluten Free Thali, and more…
Many more recipes will be added to thus collection in the future. Stay tuned. I hope you enjoy creating this meal for your loved ones, as much as I enjoy bringing them to you. Have a Happy New Year you All!  Puthandu Nal Vazhthukal !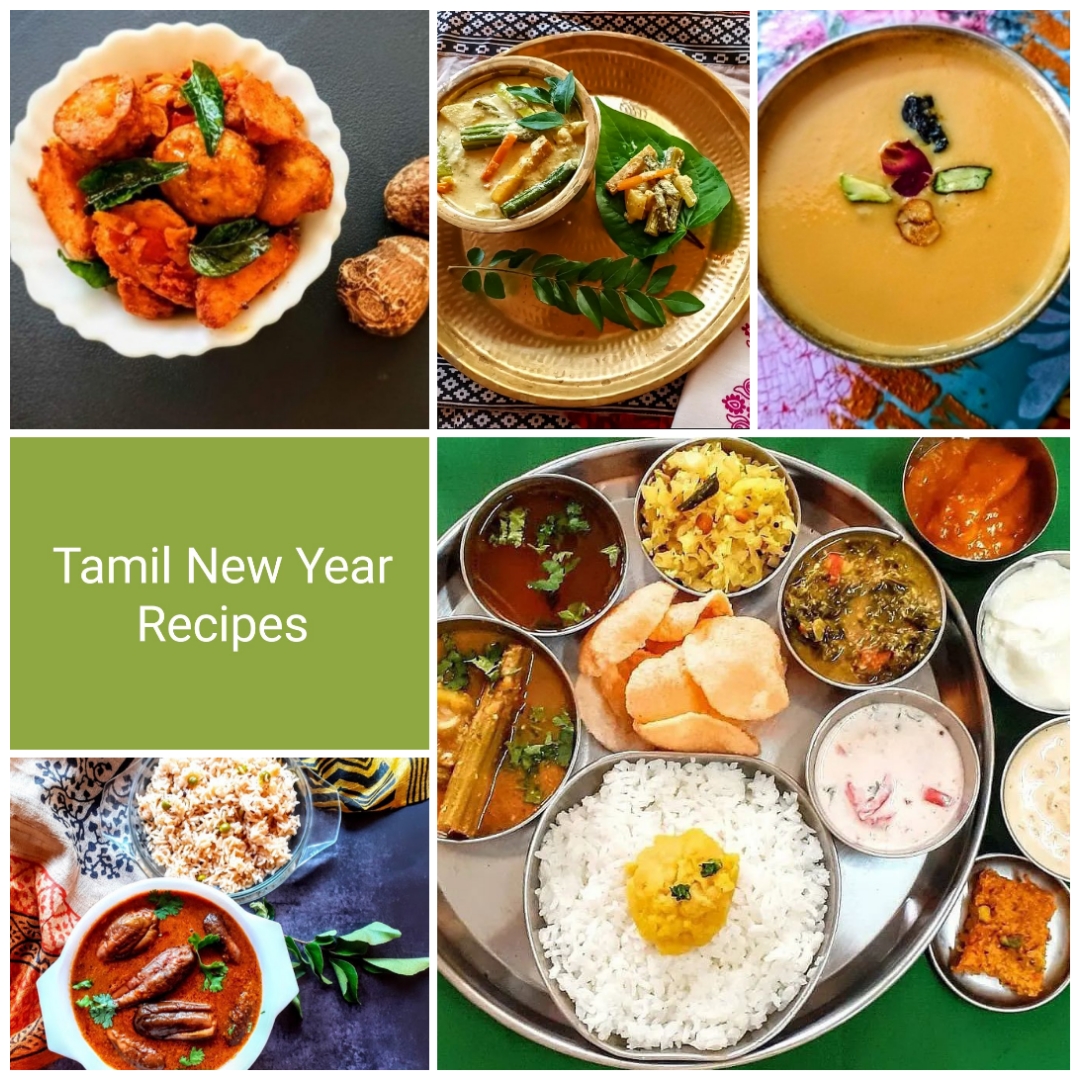 First comes the Sweet dish. In most parts of south India, a traditional meal always starts with Kheer/Payasam or any other sweet dish. Here are some traditional Sweet recipes that one can try.
Akkaravadisal: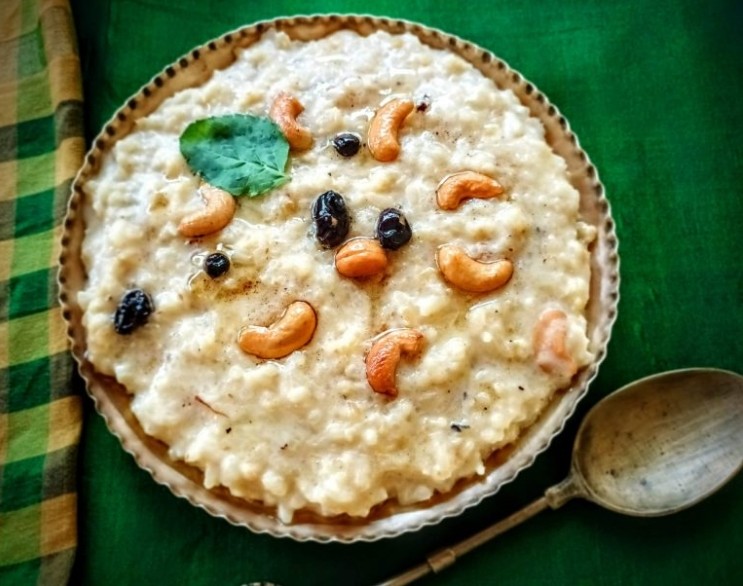 Akkaravadisal or Akkara vadisil,  is a very traditional South Indian sweet dish. Lord Mahavishnu is offered this sweet as prasad(holy offering), in the temples of Srivilliputhur and Sri Rangam. The main ingredients are Rice, moong dal, jaggery, milk and ghee. The ingredients are similar to the Sweet  Pongal but both taste very different. It tastes heavenly when served a little warm. A liberal amount of ghee makes it taste heavenly.
In the temple kitchen , it is slow cooked to perfection. In our everyday kitchen, there are a few tricks and tips to get it right.  Slow cooking does really enhance the taste. Cooked in a Bronze vessel ( called vengalam in Tamil), the taste intensifies. The Bronze vessels retain heat for a longer time, and being heavy,they don't let the milk burn easily. The texture is perfect when cooked in a bronze vessel.
Carrot Payasam/Kheer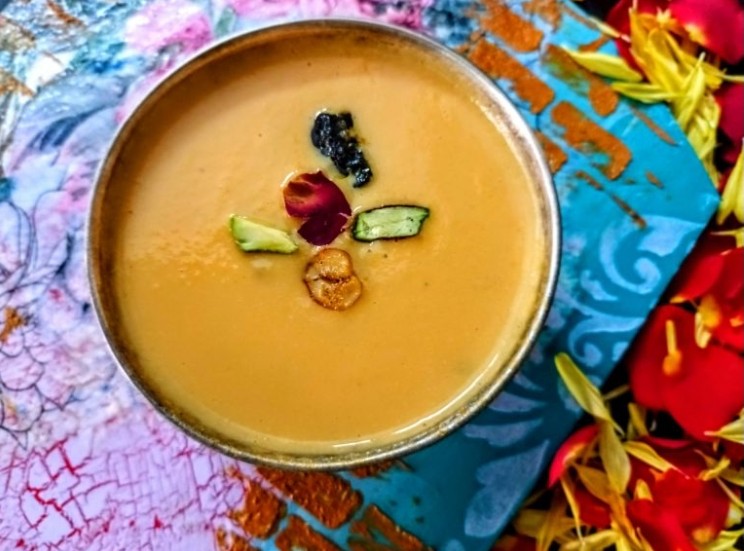 Kheer/Payasam is a popular part of Indian cuisine as a sweet dish. It is sometimes served at the beginning of a meal or as a finish off to the meal. Whenever there are festivities there is always kheer. There are many variations to the payasam, the popular ones being Rice Kheer, Semiya Payasam, Chana dal payasam, and many more.
Carrot Kheer is a dessert I have made time and again for friends and family on popular demand. I will also let you into my little secret that turns this recipe a stunner.
A simple dessert that tastes good both chilled and warm. This is a great recipe to make all the fussy about carrots and milk kids to get to eat both, as it a delicious way to have them. Any variety of carrot can be used for this kheer either Delhi Carrots or the English Carrots.
Pineapple Kesari: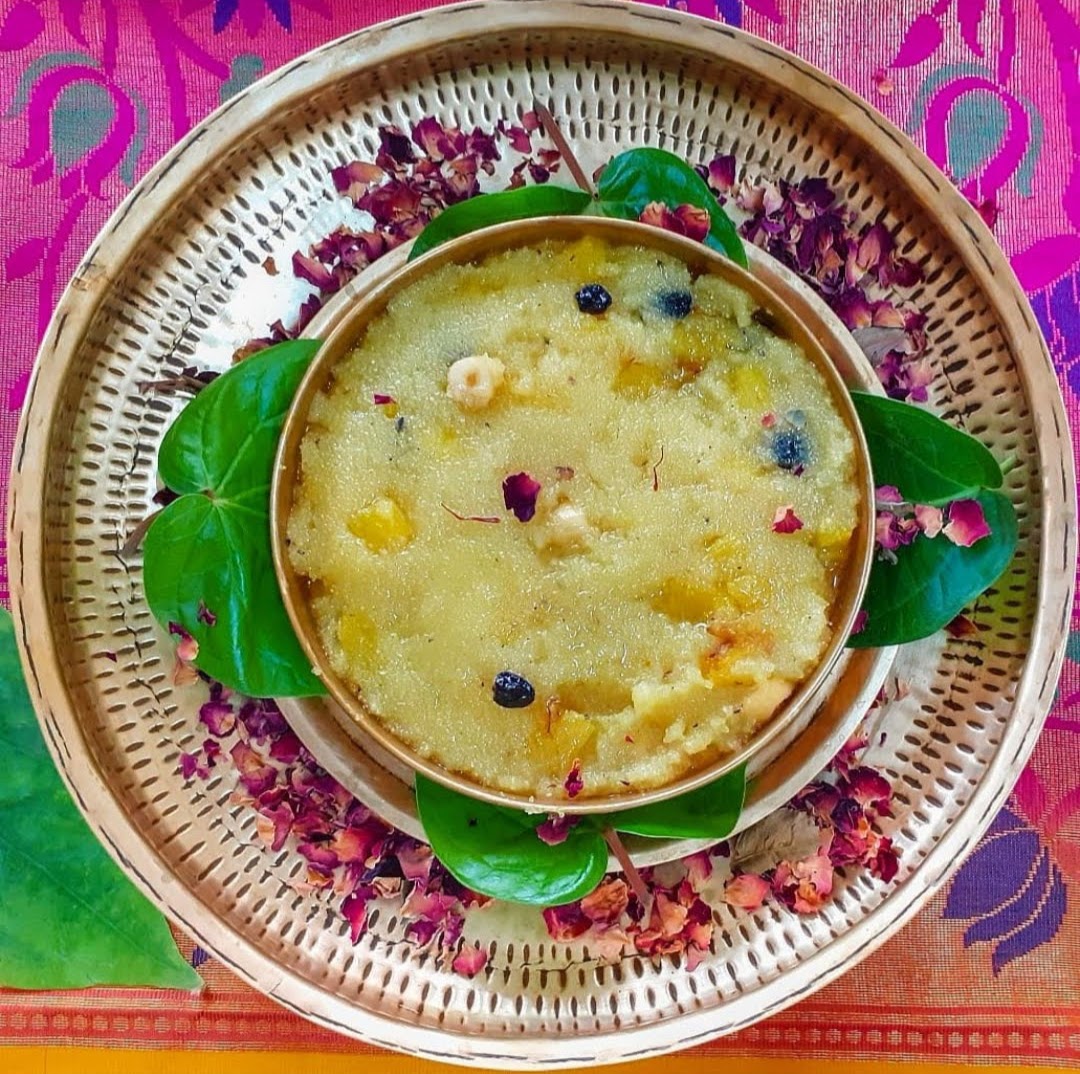 Pineapple Kesari is a variation of the South Indian dessert Kesari. Kesari is orange coloured semolina
pudding/Sooji Halwa, flavoured with saffron and hence the name. It doubles up as Prasad(holy offering), for religious functions and festivals. It is a part of festivities and feasts, such is the ease with which it can be made. With time and practise, the skill of turning out this pudding/Halwa perfectly only gets better.
This Kesari is made with fresh Pineapple pieces, instead of essence and is also naturally coloured with turmeric instead of yellow food colour. These little things really do make a difference and make the dish taste even better.
Rasam Recipes: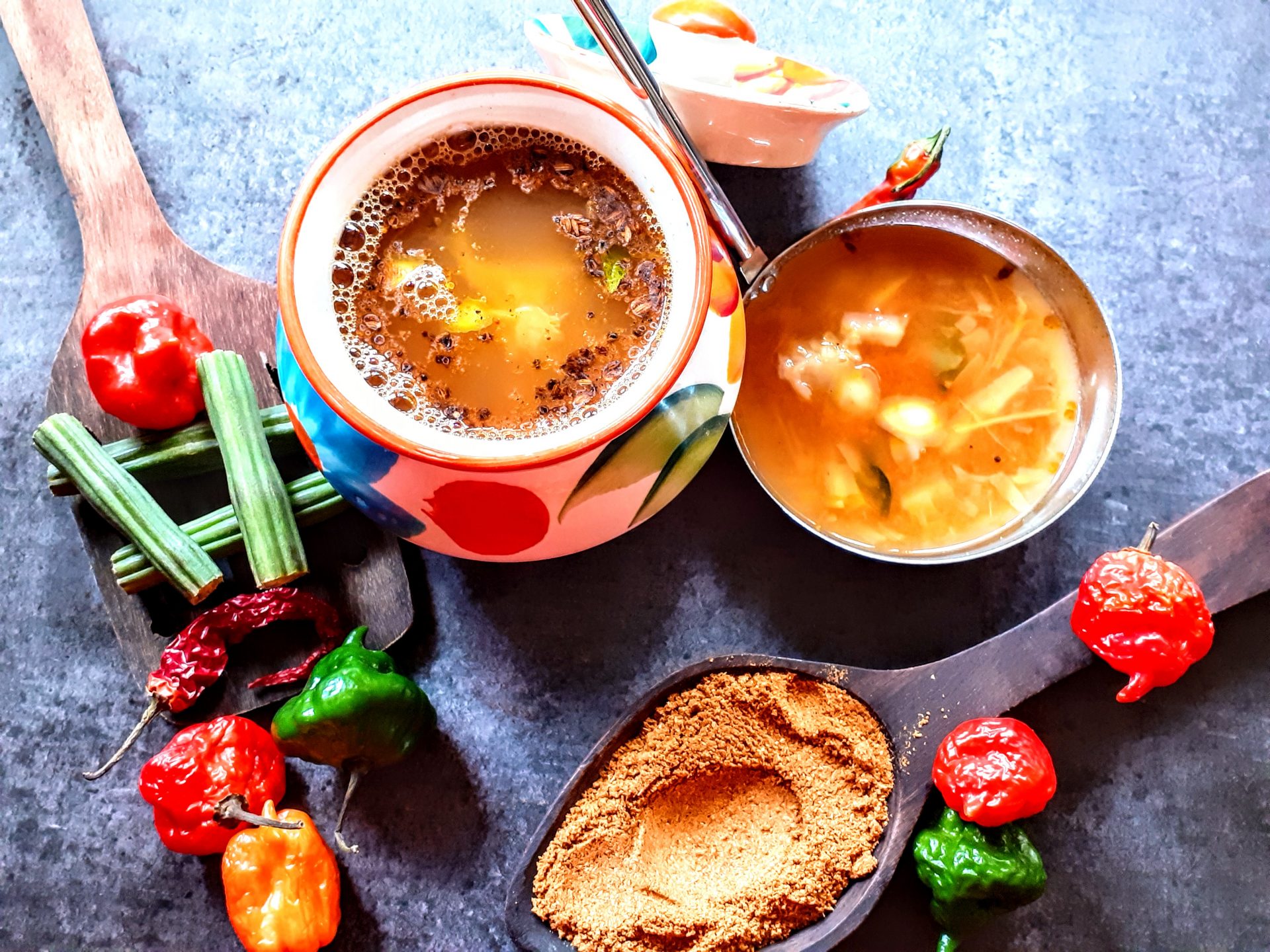 Rasam is a popular South Indian dish prepared with tamarind, tomatoes, and Rasam powder. There are many variations of this dish, and each South Indian household has its own recipe for the proportions of the ingredients of the rasam powder. Therefore though Rasam is almost a regular feature in all South Indian households its taste is unique to each. No two Rasam recipes taste the same. Rasam is also a sought after comfort food in South Indian households when one has a Cold(Common Cold) or is a little under the weather because it is made of simple ingredients that are easily digestible and pepper that helps in combating the cold.
Earlier the Rasam was an everyday feature in most South Indian households along with Sambar or Vatha Kozhambu or Moru Kozhambu and a part of the Main course. Some households follow it to this day, but as the eating patterns of people has changed and is now more global the humble Rasam has taken a back seat or is made on a festival day where there is a feast(Elai Sapadu) or sometimes is also being served as a soup in elite gatherings.
Click Here For Omavalli Rasam
Click Here For Pineapple Rasam
Click Here For Vetrilai/ Betel Leaves Rasam
Click Here For Drumstick Rasam
Mor Kuzhambu: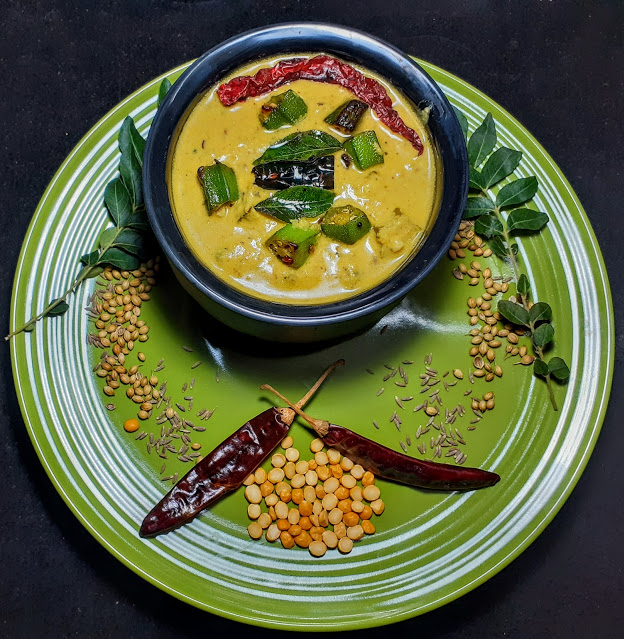 Mor Kuzhambu is a popular south Indian dish made from curd/yogurt and is the counterpart of the North Indian Kadi. In the North Indian Kadi chickpea flour or besan is used to give body to the dish, whereas in Mor Kuzhambu Chana dal and Tuvar dal( yellow lentils and gram) along with coconut are used to give body. The masalas used in Kadi are in powdered form, whereas in the South Indian Mor Kuzhambu the whole masalas are ground to a paste.
The array of vegetables that can be used in making this dish is huge. Vegetables like Plantains, Brinjal, Colaccasia/Arbi, Ash gourd, Pumpkin, Mango(ripe), Bhindi/Vendakai can be used to make this dish. These vegetables are used in a combination or individually to make the Mor Kuzhambu. Sometimes lentil fritters/ Bonda is also added to this yogurt curry instead of vegetables.  Here are two variations for the same.
Click Here for Vendakkai Mor Kuzhambu/ Okra Mor Kuzhambu 
Click Here For Bonda Mor Kuzhambu 
Kuzhambu/ Sambar/ Pappu: Refers to ant lentil and tamarind based curry. The Kuzhambu is served immediately after serving hot rice topped with ghee. I'm giving here three different variations of Kuzhambu. While Vatha Kuzhambu is not lentil based and made frequently,  Sambar is made for festivals.
Click Here For Kathrikai Masala Kuzhambu ( no onion- no garlic)
Click Here For Thakkali Aati Kachina Kuzhambu 
Kari/ Poriyal/ Usili: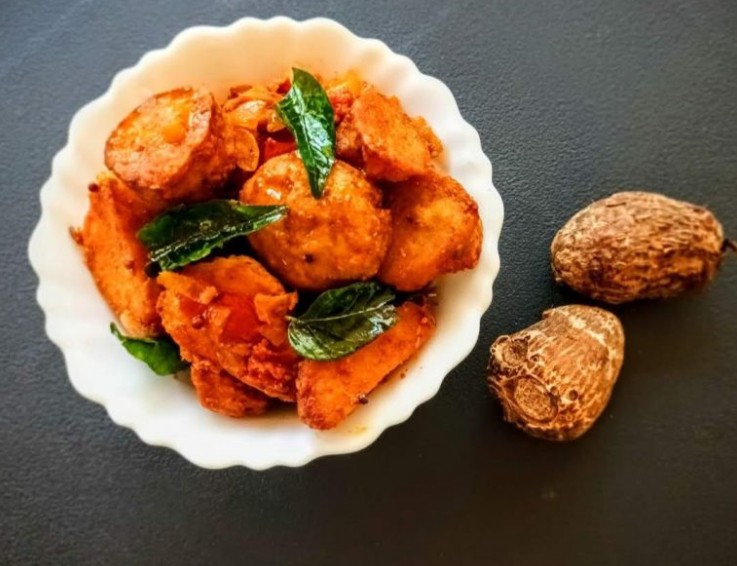 Refers to any dry subji that is stir fried or fried.  While the Potato Roast is the most popular Kari, I'm sharing here two other variations.
Click Here For Kurkuri Bhindi/ Okra Fritters
Click Here For Spicy Colacassia Roast/ Arbi Roast
 Click Here For Beans Parupu Usili
Kootu: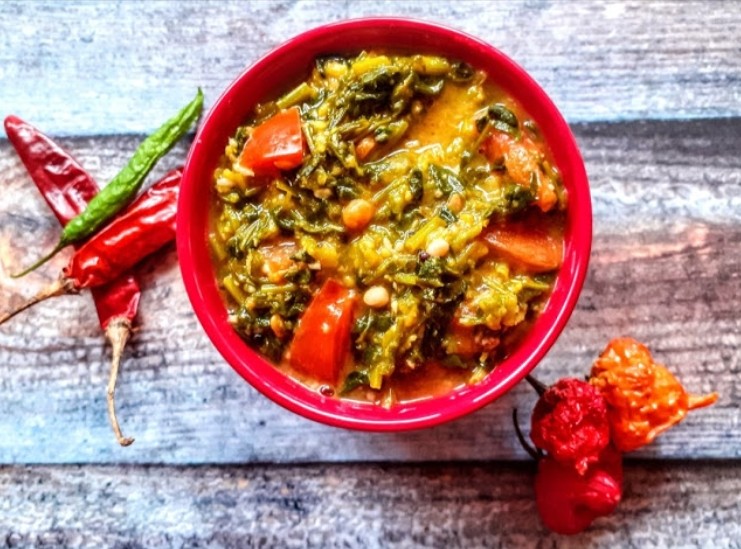 In south India, especially the Tamilnadu region, Kootu refers to any lentil based curry. There are many versions of Kootu cooked with a variety of lentils. Some are tamarind based(puli kootu), some milk based(pal kootu), some with spices and coconut gratings(poricha kootu). I'm sharing here two variations.
 Click Here For Watermelon Rind Kootu
Click Here For Menthiya Keerai Kootu
Thayir Pachadi/ Raita :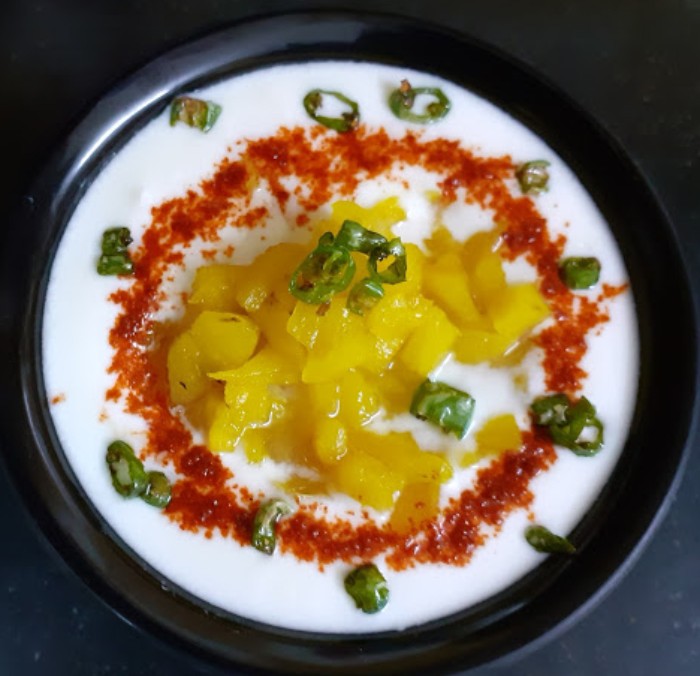 is a yogurt/ Curd based dip. Various vegetables or fruits can be used to make Raita. The Dal Vadas dipped in the Raita taste divine. Sharing a few Raita versions here.
Click Here For Pineapple Raita  
Click Here For Okra/ Bhindi Raita
 Kosambari/ Kosmalli, is another special dish made for Varsha Pirappu/ New Year. The dish is a salad made of soaked Moong Dal ( split dal).
Ingredients for Kosmalli-
Handful of soaked Moong Dal
1 Chopped Cucumber
1/2 Grated Carrot
1/4 finely chopped raw Mango
1/2 inch finely chopped Ginger
1 finely chopped Green Chilli
Salt as required
Oil for tempering
1/2 tsp Mustard seeds
1/4 tsp Asafoetida
Curry Leaves a few.
Grated fresh coconut 1 tbsp
Method– Drain out the water from the soaked Dal, now add all the chopped ingredients, salt, and give it a good mix. Finally, heat oil in a tempering pan, add the mustard seeds. When they splutter add the Asafoetida and curry leaves and turn off the flame. Add this to the salad and serve.
Another dish made for Varsha Pirapu/ New Year is Mangai Pachadi/ Sweet and sour Raw Mango chutney ( refer to introduction for history). On this particular day Neem flowers are added to the raw Mango chutney.
Ingredients for Mangai Pachadi – 
1 raw Mango skin peeled and diced ( choose a variety that isn't too sour.  I use Thothapuri or Kilimooku Mango)
1/2 tsp Turmeric powder
1/2 cup grated jaggery
Salt a pinch
1 tsp Red Chilli powder
2 tsp ghee
4- 5 Neem Flowers ( I use dried ones)
Mustard seeds 1/2 tsp
Method– Pressure-cook the peeled and diced mangoes with a little Turmeric powder. Allow pressure to release naturally. Remove the cooked mangoes and mash them lightly. In a thick vessel, take the Jaggery and add 2 tbsp water and put it on the flame. Stir to dissolve the Jaggery. When cool, strain the Jaggery water and keep aside. Now take the cooked Mango pulp in a pan add the Jaggery water and alow to cook for a couple of minutes, until the Jaggery is fully absorbed into the Mango pulp. Now add salt and red chilli powder. Let it cook for a minute more. Turn off the flame. Heat ghee in a tempering pan add the mustard seeds, and when they crackle, add the Neem flowers to the ghee. Pour this over the Mangai Pachadi and serve.
Dal Vada / Paripu Vadai–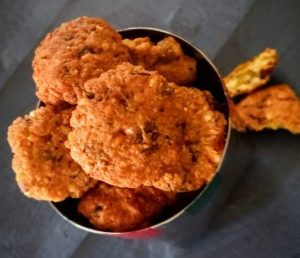 is another mandatory dish for New Year. Parupu Vadai or Dal Vada is a popular Prasad recipe (offering to God), during most South Indian Festivities. These Vadas are very commonly made for weddings and other religious functions too. While making these Vadas for a festival or wedding, no nions are added to them.  A Variation of the Parupu Vadai is the Masaal Vadai, which uses onions and other whole spices. The Masal Vadai is more poplar as street food or as a Breakfast item.
Notes:
A Thali is considered to be a complete meal.
To create a South India Thali, you can pick one dish from each section, and serve it along with Rice, plain Dal, papad and Pickle.
I have chosen only a few In each section. If interested you can further view the explore section in the main Page.
Get yummy recipes delivered to your inbox!
Be the first one to know about our new recipes. Leave your email below and get notified as soon as new recipes are published!