Pineapple Kesari/Pineapple Sheera/Pineapple Pudding
Jump to recipe
Pineapple Kesari is a variation of the South Indian dessert Kesari. Kesari is orange coloured semolina pudding/Sooji Halwa, flavoured with saffron and hence the name. It doubles up as Prasad(holy offering), for religious functions and festivals. It is a part of festivities and feasts, such is the ease with which it can be made. With time and practise, the skill of turning out this pudding/Halwa perfectly only gets better.
This Kesari is made with fresh Pineapple pieces, instead of essence and is also naturally coloured with turmeric instead of yellow food colour. These little things really do make a difference and make the dish taste even better.
I use double roasted semolina for this dish. In case you don't find them near you,just roast the semolina a little longer.  Stick as close to the recipe as possible for best results.
This recipe does not have stepwise instructions. Please feel free to ask queries if in doubt,and I shall respond as soon as possible. While you are here check out other dessert recipes like Moong Dal Halwa, Whole wheat Banana Bread, Whole wheat Blueberry Muffins, and more…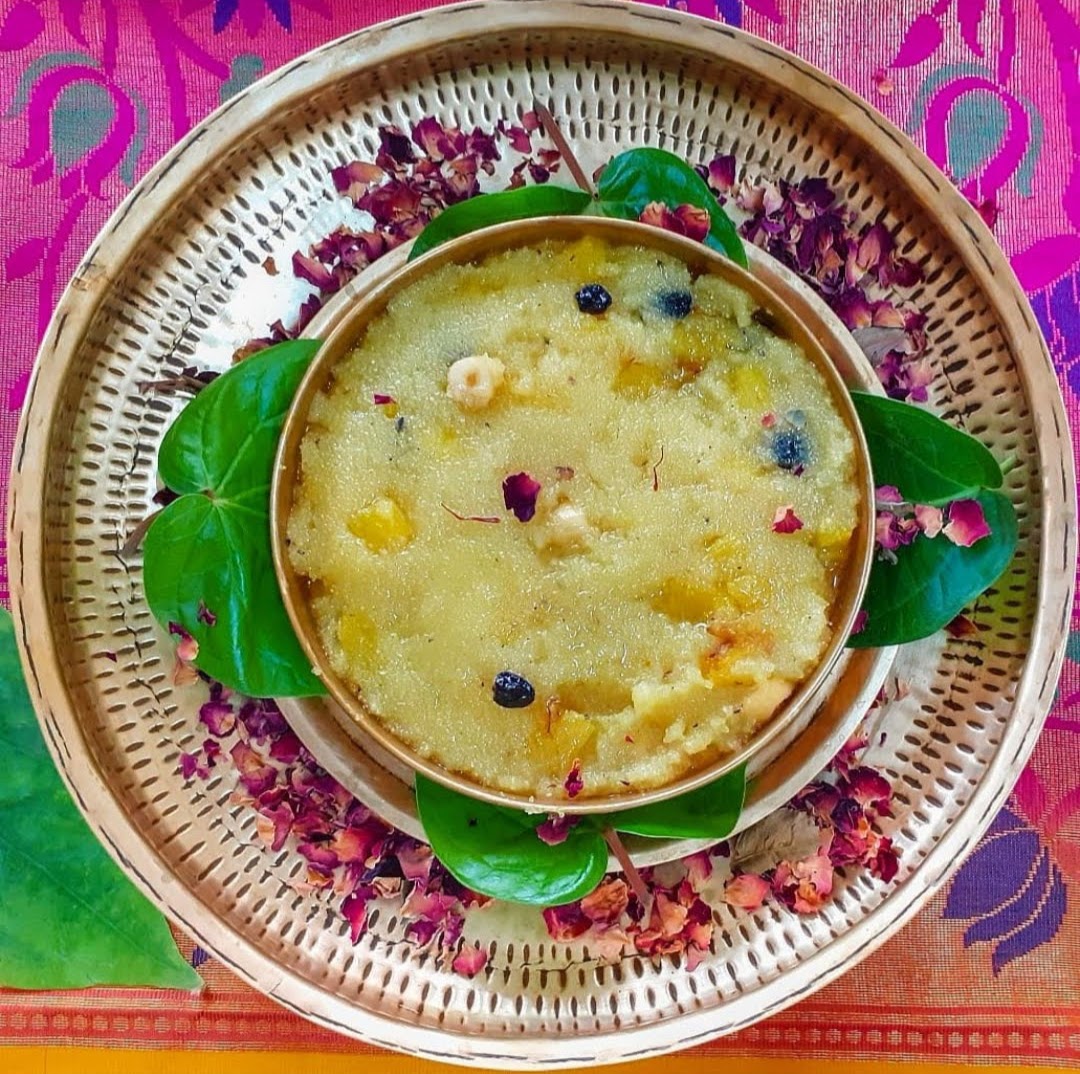 Ingredients
Pineapple Slices about 5 or 1 cup finely chopped
Sooji/Semolina 1 cup
Water 1.5 cups
Sugar 1 cup
Ghee/Calrfied butter 2 tbsp
Cashewnuts a few broken to bits
Raisins a few
Cardamom Powder a pinch (optional)
Turmeric powder 2 pinches
 Out of the 5 slices of Pineapple, puree 4 of them and finely chop 1 slice. Strain the puree and keep it aside.
  In a pan take 1/2 tbsp of ghee, add cashew nuts and raisins, and fry until the raisins fluff up. Add the sooji/semolina and fry for a minute. If using unroasted semolina, then fry a little longer(3 minutes approximately). Fry on low flame, until you get a sweet smell. it need not turn brown. Remove on to a plate.
In the same pan, add 1.5 cups water and the Pineapple Puree, the diced Pineapples, turmeric powder, and the sugar. Bring this to a boil, and add the Sooji/Semolina little by little, while stirring continuously. Lower the flame completely during this process, or turn it off completely. You can turn it on later. Once the Sooji is added, you can turn on the flame in case you turned it off.
The Kesari will come together and leave the sides of the pan when done.
Add the remaining ghee and serve it warm.
Notes:
I use roasted Semolina that is available in the stores. So it takes about 2 to 3 minutes of roasting for me. In case you don't find roasted semolina nearby, carry out the roasting process for a little longer. About 5 minutes on the whole.
You will know it is cooked when the pudding leaves the bottom of the pan, and (or), the semolina is not grainy, and can be mashed between the thumb and index finger.
Tinned Pineapple can also be used. Remove the chunks/slices from the can and dip it in plain water for a few minutes and then proceed with the recipe.
Get yummy recipes delivered to your inbox!
Be the first one to know about our new recipes. Leave your email below and get notified as soon as new recipes are published!