Pineapple Raita
Jump to recipe
Raita is a yogurt-based condiment. It usually contains cooked or raw vegetables/fruits/pulses, mixed with the Yogurt/Dahi and tempered with Mustard and Jeera. The Raita is usually served with Biriyani, Pulav, Parathas, Naans, or can be served as a dip for Kebabs too.
Raitas are a regular feature at my house. Whenever I make Parathas I usually pair it with a Raita instead of plain curd, and it goes without saying that Biriyani is almost always served with raita. I use raitas such as Mint raita as a dip for Kebabs too. I have different Raita varieties like Bhindi/Okra Raita, Mint Raita, Baigan/Eggplant Raita to my repertoire, please check them out while you are here.
This recipe of Pineapple Raita Is a very simple one and takes around 15 minutes to assemble. During the Pineapple season, I make this raita very frequently. It tastes good just by itself too, and I usually pair it with Parathas or Jeera Rice.
Here is this simple recipe for you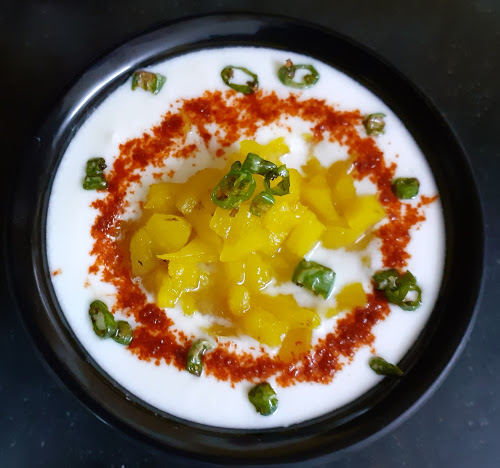 Ingredients
Ingredients
Pineapple 100 gm (if buying slices 3 slices)
Curd 400 gm
Sugar 2 tsp (divided)
Salt as per taste
Red chilli powder 1/2 tsp
Green chillies 2 chopped finely
Oil for tempering
Assemble all ingredients. Dice the Pineapple and whisk the curd and put it in the refrigerator until required.

Cook the Pineapple pieces in 1/4 cup water, add a pinch of salt and 1 tsp sugar to it. Cook until just done and cool them completely.

Now get the curd out and add salt, followed by red chilli powder. In a small pan/Kadai heat some oil. Add the finely chopped green chillies and fry for 10 seconds. Pour this tempering into the Raita and chill in the refrigerator until ready to serve.
Gently smoothen out the curd with a whisk. Be gentle and avoid over whisking. Just 3 whisks will do. Put the Curd in the refrigerator in the meanwhile. Now dice the Pineapple to small cubes and cook them with 1/4 cup water and a pinch of salt and a teaspoon of sugar. The Pineapple pieces should be just cooked, prick a knife/fork, and if it goes without resistance, put off the flame. Cool the cooked Pineapple completely. Remove the curd from the refrigerator, add salt, 1 teaspoon sugar, red chilli powder and fold nicely. Now stir in the cooled Pineapple cubes and chill in the refrigerator until ready to serve. In a tadka Kadai/pan add 1 tsp oil and heat. Add the chopped green chillies to this and fry for 10 secs. Pour this tempering into the raita. The delicious Pineapple Raita is ready to serve.
Serving Suggestions: With Parathas, Roti, Jeera rice, Masala rice or just by itself????.
Notes:
Over whisking the curd will make runny, so just smoothen out the curd with a ladle or whisk.
Adding sugar to the pineapple while cooking is optional, if the Pineapple is sweet, adding sugar can be avoided. I strongly recommend adding sugar to the curd though. The quantity of sugar in curd can be increased or decreased as per taste.
The green chilli tempering really elevates the raita to a different level, so try not skipping that step.
If you tried this recipe and liked it please comment below. I would love to hear from you. If you have a query about the recipe email us and ill respond as soon as I can.
If you would like to receive our recipes on your mail please leave your mail id at the homepage. Every time Rajjo's Kitchen has a new post we will mail the recipe to you.
Gallery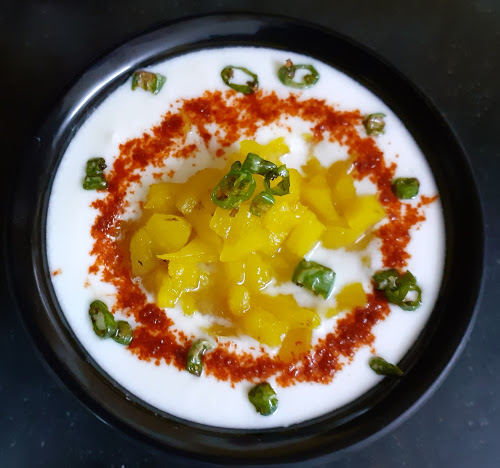 Get yummy recipes delivered to your inbox!
Be the first one to know about our new recipes. Leave your email below and get notified as soon as new recipes are published!