Recipes For Ganesh Chaturthi
Jump to recipe
Ganesh Chaturthi is one of the major festivals of India,  especially in Maharashtra. It is a 10 day festival, where a clay idol of Ganesha is kept in every home, and coloured clay idols in every street. Daily prayers are offered, and in the evening a many cultural activities are organised. The 10 days of festival that starts with Ganesh Chaturthi, comes to an end with the Ganesh Visarjan, where Ganapati Bappa(as he is fondly called), is bid adieu, and immersed in the sea. Most of us know that Modak is Lord Ganesha's favorite food, apart from Aval/Pohe. What is the significance of Modak and why is Modak offered to Him?
Folklore has it that, once Lord Shiva(Ganesha's father),along with Parvathi and Son Ganesha visited Anusuya. Anusuya is the wife of Rishi Atri. Anusuya said that she would feed the little Ganesha first ,and then Lord Shiva, and Parvathi. Anusuya offered many delicacies to Lord Ganesha (who was a child then). He kept eating whatever was offered, without getting satiated. Lord Shiva was getting impatient ,and wanted to leave(as per custom, we never send our guests away without feeding them). So Ausuya feeds Ganesha a steamed sweet dumpling, after which he burps loudly, signaling satiation. Parvathi wanted to know what is the sweet that finally made her son satiated. Upon learning that it is the Modak, she expresses that – from then on His devotees must offer Him Modak. This tradition from then on, has passed from one generation to the next.
In this post I am sharing not only Modak recipes, but also the entire range of Prasad/ Naivedhyam offered to Lord Ganesha during Ganesh Chaturthi. Every house has their own traditional set of recipes. Most south Indian homes will have a few of these on their list certainly. In our house we have the tradition of making Modak-both sweet and savaory, a Sundal which is a legume based recipe, a dish made of Poha/Aval/Rice flakes.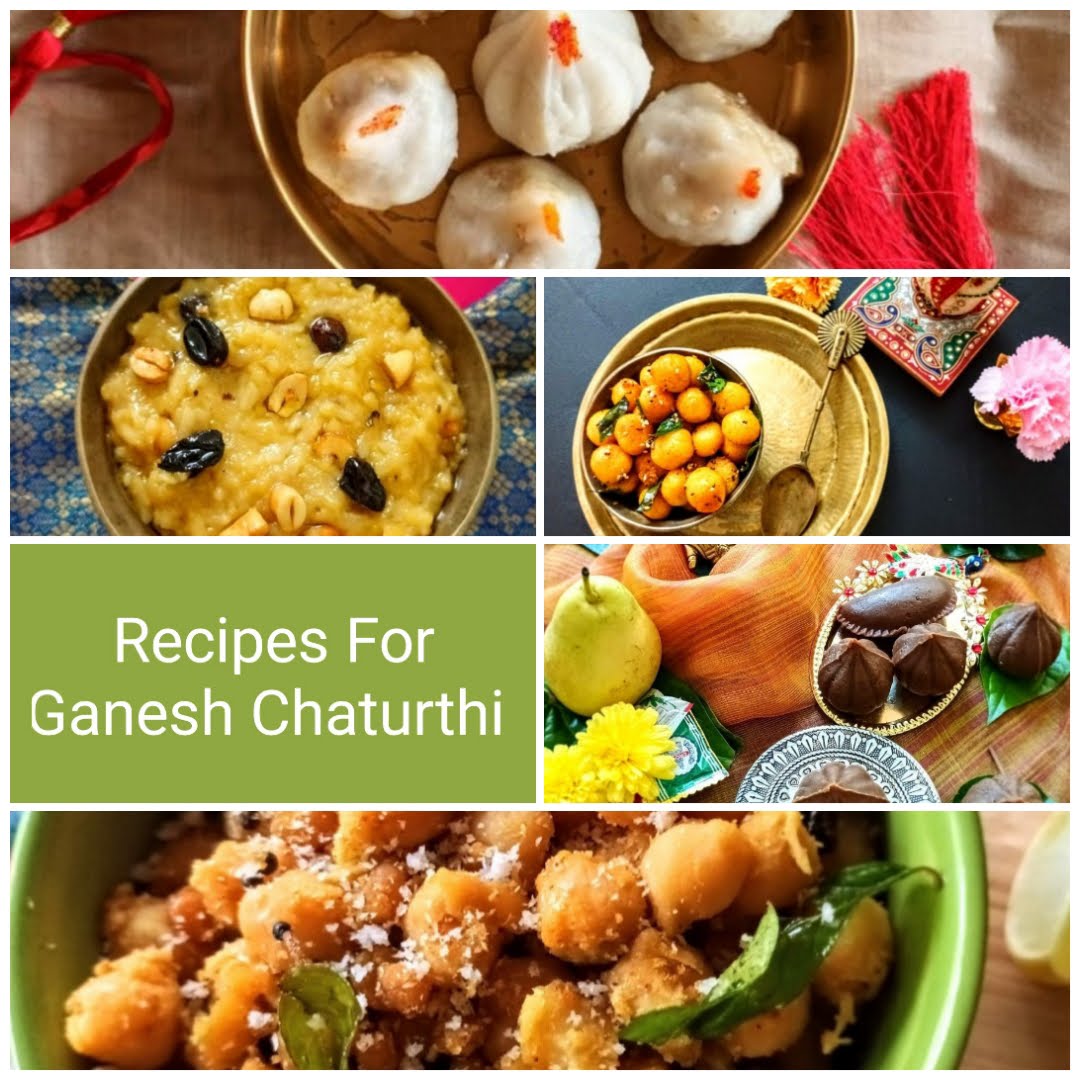 Modak/ Kozhakattai (sweet)- Modak is the Main Prasad/offering during Ganesh Chaturthi. Modak in Sanskrit means "a small bite of bliss". Which symbolises spritiuality. When you observe Ganesh closely, you observe that he holds a Modak in his left palm. This sweet with it's hard outer shell signifies the reward of the sweetness of knowledge that will give the spiritual seeker joy, satisfaction and contentment as he travels along the path of enlightenment. It also indicates the importance of eating the correct Satwik food in order to progress spiritually. For the Recipe of Modak click here.
Ammini Kozhakattai/ Savory Modak-Ammini Kozhukattai is a savory Modak (dumpling),made from Rice flour. It is usually made on Ganesh Chaturthi festival, from the leftover dough from the Poorna Kozhukattai(sweet Modak). My family loves these savory dumplings, and so I always make extra dough for making the Ammini Kozhukattai. Apart from the festival, these tiny flavour bombs make for a healthy and gluten free snack. For recipe click here.
Aval Sakkarai Pongal/ Poha Sweet Pongal-During Ganesh Chaturthi, the Sakkarai Pongal is offered, other than the Modak and Aval/Poha. So, this time around I thought why not make the Sakkarai Pongal with Poha/Aval(rice flakes), itself. This recipe is also a popular recipe in Karnataka cuisine and is called Sihi Huggi or Avalakki Pongal. For recipe click here.
Red Poha Ladoo/ Aval Ladoo- There are loads of sweets that can be made with less ghee like these Poha Ladoos. They need less sugar too, which makes them an ideal recipe for festivals. In this recipe, I have used the Red Poha that is available at all stores these days. These Poha/rice flakes are made from Red rice. Red rice does not undergo as much processing as regular rice.  Therefore it is rich in fiber, Vitamin B, and minerals like Zinc, Iron, and Magnesium, making it a healthier choice. This Ladoo is easy to make and gets done within no time. For recipe click here.
Appam/Unni Appam/ Sweet Appam- This Appam recipe is the Kerala style Appam, made with soaked raw Rice, Jaggery, Banana and Cardamom. It is one of the most simple recipes and is also one of the main offerings in festivals like Janmashtami, and Ganesh Chaturthi. In our house, it is also an instant snack that my mother would make in a jiffy apart from the soak time. Usually, an Appam mould/ Appa karai is required for this, but some also make it by directly pouring a ladle of batter into the oil and deep-frying. If fried without a mould the shape is flat like that of a Pancake, whereas the one made in a mould is round. It is best made with ghee, though oil too can be substituted for ghee. Appam is an important offering during Ganesh Chaturthi as well as Ganesha Homam. For recipe click here.
Kondakadalai Sundal/ Chana Sundal- Giving the recipe here directly for this Sundal, as just the Chana sundal is part of a Sundal recipes collection. Check it out here if you like.
Soak the Kabuli Chana/ Chana overnight or at least for 5 to 6 hours. Discard the soaked water, add fresh water and some salt and pressure cook until soft. Now drain almost all the cooked water, retaining about a tablespoon of it. Take oil in a pan or kadai, and add all the tempering ingredients to it. When the mustard splutters, add the curry leaves, turmeric and asafoetida powder. Now add the cooked Kabuli Chana along with the retained water and mix well. Add salt, Sundal Podi, Red chilli powder,and cook until all the water evaporates, and it looks dry. Now add fresh or desiccated coconut scrapings, mix well and put off the flame. The Sundal is ready. ( Here I have used sprouted Kabuli Chana).
Chocolate Modak-  Easy Chocolate Modak recipe is loved by kids and adults alike, and they make great edible gifts, because of their longer shelf life compared to the traditional Modak. Giving the recipe here for these beauties. These Modaks have to be shaped with a Modak mould.
Ingredients-
Khoya-200 gm
Condensed Milk 200 gm
Cocoa Powder 2-3 tbsp (as per liking)
Method- Take the Khoya/Mava in a pan and heat. Stir to make it lump free. Add the Condensed Milk and stir to form an even mixture, now add the Cocoa powder and cook the mixture stirring continuously until it thickens and leaves the sides of the pan. To check if the mixture is done- wet your hands and take a small portion of the mixture and try to form a ball. If it retains shape the mixture is ready to shape. If it slumps, then you have to cook it a little more. Allow to cool 5 minutes. Grease the Modak moulds, divide the mixture into equal portions and shape them by putting them into the greased mould. Allow to cool completely before storing.
Coconut Rose Modak- The Coconut filling is the most popular among Modak fillings and is also the traditional one. In this recipe I have used a filling made of coconut and rose syrup, which turned out to be so good. This recipe had dense coconut flavour with a subtle rose flavouring. The Roohafza is a popular summer drink concentrate in India, and I used it as flavouring. Any other Rose syrup can also be used. For the recipe click here.
Poha(Rice flakes) is my go-to food many times during the week. Sometimes as breakfast and sometimes as dinner and, sometimes as a quick dessert, or as a simple prasad. I like the fact that this humble ingredient is so versatile allowing us to create so many dishes from it. The Poha can even go into the Idli batter to make the Idlis soft and into the Dosa batter to make super crisp Dosas.Coming to the recipe of Red Rice sweet Poha, it is a quick recipe, gets done in 15 minutes, is healthy, delicious, and what more can one ask for? It is a great lunch box idea also, the sweet version plus a little of the Dahi Pohe will keep kids, as well adults for a longer time. For the recipe click here.
Parupu Vadai/Dal Vada-Parupu Vadai or Dal Vada is a popular Prasad recipe (offering to God), during most South Indian Festivities. These Vadas are very commonly made for weddings and other religious functions too. While making these Vadas for a festival or wedding, no nions are added to them.  A Variation of the Parupu Vadai is the Masaal Vadai, which uses onions and other whole spices. Though the Parupu Vadai is not a mandatory Prasad during the Ganesh Festival, most households do make them as a part of their festive meal. For the recipe click here.

Aval Kesari/ Poha Kesari-This recipe of the humble Poha(beaten rice flakes)/Aval cooked in sugar syrup is one of my favourites.  I make it whenever I have a sweet craving or as an offering(Prasad) for Pujas at home. It is similar to the Kesari Bath made with Sooji/Rava  Sometimes I make with a combination of other Pohe recipes, to serve during Navarathri when guests visit home. I also make this for Ganesh Chaturthi . For the recipe click here.
Get yummy recipes delivered to your inbox!
Be the first one to know about our new recipes. Leave your email below and get notified as soon as new recipes are published!