Aval Kesari/Poha Kesari
Jump to recipe
This recipe of the humble Poha(beaten rice flakes)/Aval cooked in sugar syrup is one of my favourites.  I make it whenever I have a sweet craving or as an offering(Prasad) for Pujas at home. It is similar to the Kesari Bath made with Sooji/Rava  Sometimes I make with a combination of other Pohe recipes, to serve during Navarathri when guests visit home.
Poha is also one of the main offerings during Janmashtami and Ganesh Chaturthi. Lord Krishna is known to have loved them and Pohe is what his friend Sudama got him as a gift.
Usually, during these two festivals, people just offer the Pohe and jaggery with coconut scraping as a dry mixture for Prasad. I have observed that though there are few who like it this way, many don't enjoy it dry. So what I prefer doing is putting it in sugar syrup and stirring it dry, with a dash of ghee, cardamom powder and raw camphor, it tastes absolutely divine.
This recipe is a simple one and gets done in 15 minutes. As I always say the tastiest dishes are usually the simplest. Let's get to the recipe right away.
While you are here please visit my other Indian sweet recipes such as
Here is the recipe of Aval Kesari/ Poha Kesari for you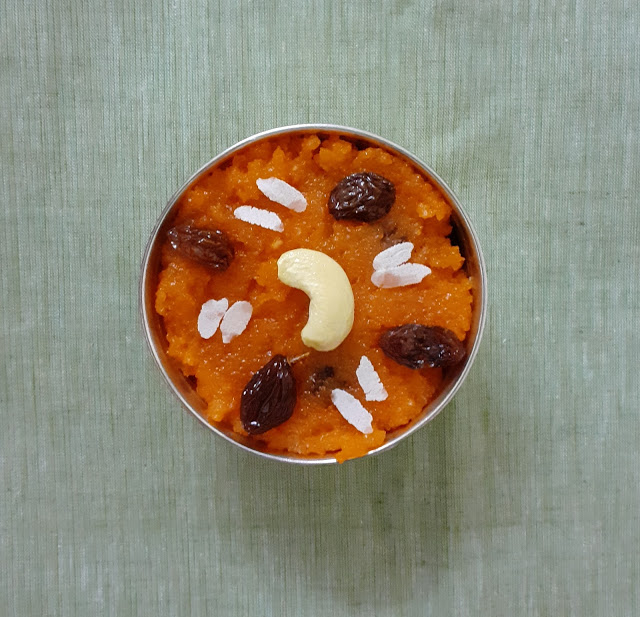 Ingredients
Ingredients
Poha (thin) 1 cup
Sugar 1/2 cup ( if you prefer less reduce to 1/4cup)
Ghee 1.5 tbsp
Water 1.5 cup
Raisins a few
Cardamom powder 1/4 tsp
Kesari colouring/ orange food colouring  1 pinch
Raw camphor a pinch ( optional)
Assemble all ingredients. Take 1 tbsp ghee, fry the raisins and keep aside.

To the same ghee add the Poha and fry nicely until crisp. Transfer it to a dry mixer and cool.

Now grind it to a Rava/ Sooji like texture and keep aside.

Now to the same karahi add 1.5 cup water, Kesari colour and sugar and bring to a boil. Add the raw camphor now if using.

When the water boils, slowly drop in the ground Aval/ Poha little by little and stir constantly. Keep stirring until the mixture thickens.

Now add the Raisins, cardamom powder and 1/2 spoon ghee to the Poha and mix well. The Aval Kesari is ready to serve to the guest, or to give as an offering.

Take 1 tbsp ghee in a Karahi and heat. Add the raisins and fry them until they fluff up. Remove from flame and keep aside. To the same ghee in Karahi add the Poha/ Aval and fry nicely until crisp. To be roasted on low flame, without burning them. Transfer to the dry mixer and cool for 5 mins. Grind it to a Rava/ Sooji like texture and keep aside. Now in the same Karahi add 1.5 cups of water and heat. Add the Kesari powder/ colouring and the sugar and bring it to a boil. Add the raw camphor nos if using. When the water starts boiling slowly drop in the grounded Poha while stirring constantly. Keep stirring until the mixture thickens and the Piha leaves the sides of the Karahi. Add the cardamom powder, followed by the raisins and 1/2 tbsp ghee and mix well. The Aval Kesari is ready to serve.
Notes:
Thick Poha/ Aval can also be used for this but the amount of ghee, water will double up.
The Aval is not to be soaked but roasted to get the desired texture.
I added 1/4 cup sugar which might be a little less sweet, so up to 1/2 cup sugar can be added.
If you tried this recipe and liked it please comment below. I would love to hear from you.
If you want the recipes emailed to you leave your id in the homepage near the????
icon. Whenever we have a new post the recipe will be mailed to you. Thank you for showing interest in Rajjo's Kitchen.
Gallery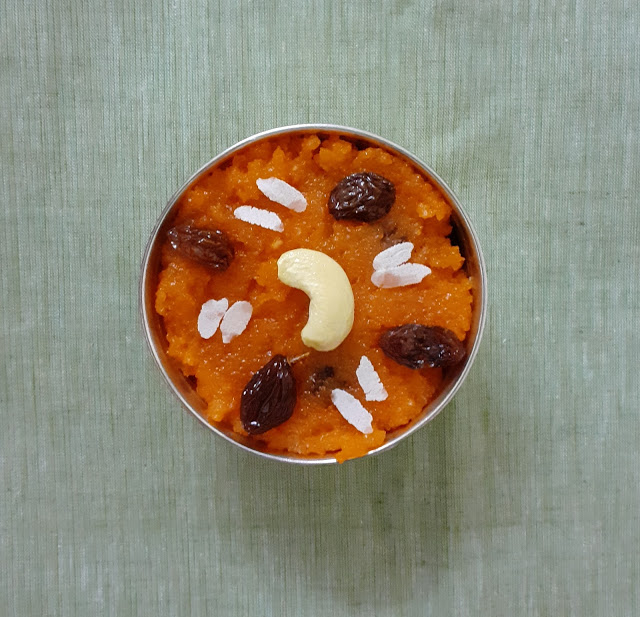 Get yummy recipes delivered to your inbox!
Be the first one to know about our new recipes. Leave your email below and get notified as soon as new recipes are published!