Aval Sakkarai Pongal/ Poha Sweet Pongal
Jump to recipe
The month of Aadi(as per Tamil calender) or Aashad is a very auspicious one in South India as it marks the beginning of festivals which begin with Ganesh Chaturthi and Janmashtami and goes up to Pongal in January which is the month of Thai(Tamil) or Paush. The Chakkara Pongal is considered to be the prime offering to the Mother Goddess. This sweet Pongal is also the offering to the Sun God on the Makara Shankranti day/Pongal festival.
This sweet Pongal Is offered as Prasad(holy offering), not only during the Pongal festival, but also for festivals like Ganesh chaturthi and Navarathri. The Naivedhyam for the Goddess Lalithambika/Durga is mostly Chakkara Pongal.
During Ganesh Chaturthi, as I said earlier, the Sakkarai Pongal is offered, other than the Modak and Aval/Poha. So, this time around I thought why not make the Sakkarai Pongal with Poha/Aval(rice flakes), itself. This recipe is also a popular recipe in Karnataka cuisine and is called Sihi Huggi or Avalakki Pongal.
In this recipe I have used the thick Pohe, as it gives good texrure, without having to fry the Pohe in ghee. The medium thin Pohe also can be used, but mostly turn mushy, therefore they have to be fried in ghee. The thick ones yield very good results.
While you are here I request you to have a look at other festival recipes like- Modak, Ammini Kozhukattai, Vella Aval, Sweet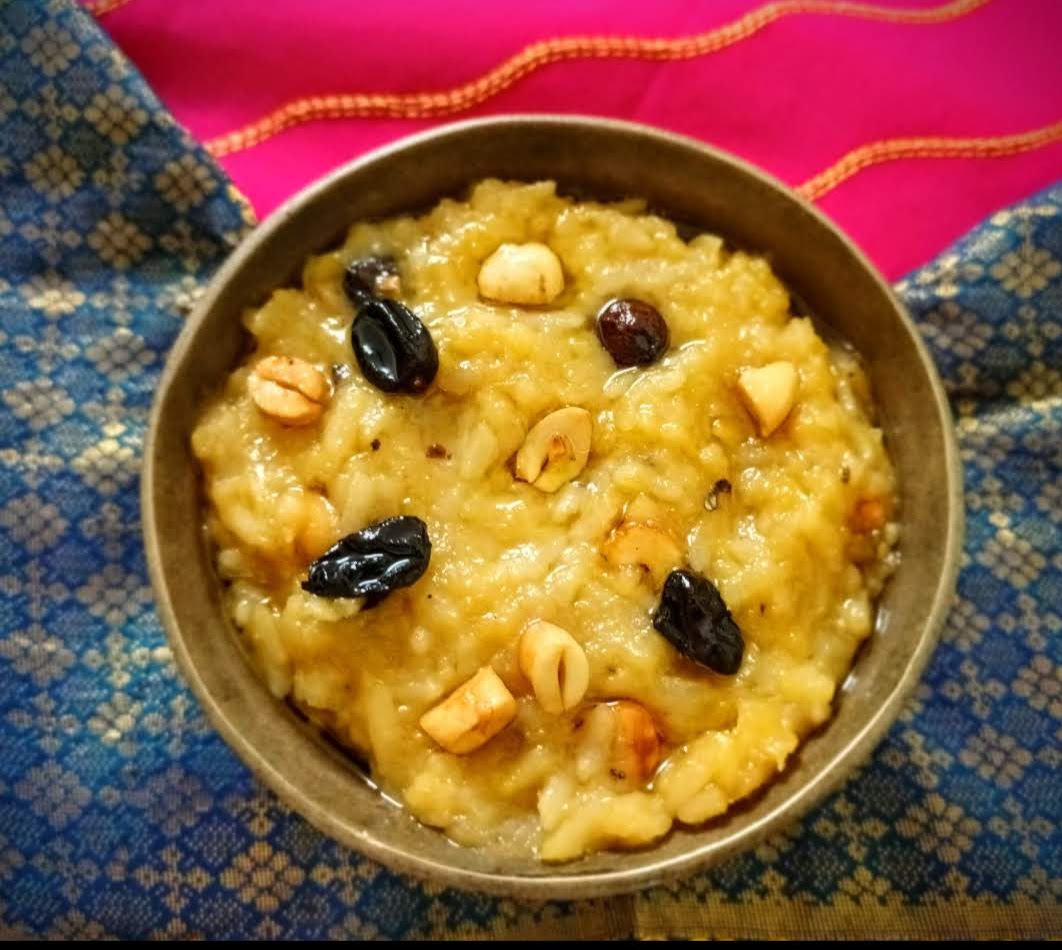 Ingredients
Thick Aval/Poha/Avalakki(rice flakes) 1 cup washed and drained (check notes)
Jaggery 3/4cup (1 cup for extra sweetness)
 Moong Dal 1/2 cup lightly roasted
Milk 1/4 cup
Ghee 2 tbsp
Brown sugar/white sugar 1 tbsp
Desiccated Coconut 1 tbsp (check notes)
Cashewnuts a few broken
Raisins a few
Cardamom Powder 1/2 tsp
Raw Camphor/Pachai Karpooram  a pinch
Take the thick Poha/aval/Rice flakes and wash them well. Drain water, and let it stand for 15 minutes. Lightly roast the moong dal (do not brown, it only has to become warm), and pressure cook in sufficient water until soft. In a heavy vessel, put the jaggery, add 1/4 cup water, and let it come to a boil. Stir nicely to dissolve the jaggery completely. Pass it through a strainer to remove impurities and keep aside. In a heavy bottomed pan or Kadai, heat 1 tsp ghee, and pour the cook dal into it. Further add the strained liquid jaggery and stir well. Now add Poha, after fluffing it up with your fingers,and mix well. Now add the milk, brown/white sugar, followed by the desiccated coconut.  Add the cardamom powder, raw camphor,and stir well. When the mixture solidifies a little, put off the flame. Now in a small tadka Kadai/tempering pan, take the ghee, warm it, add the raisins,when they fluff up, drop the cashews and fry until light brown. Pour this into the prepared Pongal and enjoy hot.
No step wise instructions for this recipe, as video is attached.
Notes:
I have used thick Aval/Pohe here. Medium Pohe can also be used, but need frying in ghee.
Thin Pohe will not work here.
When Jaggery based sweets are made, it is always recommended to add a tablespoon of sugar,as it deepens the sweetness.
Watch Video here:
Gallery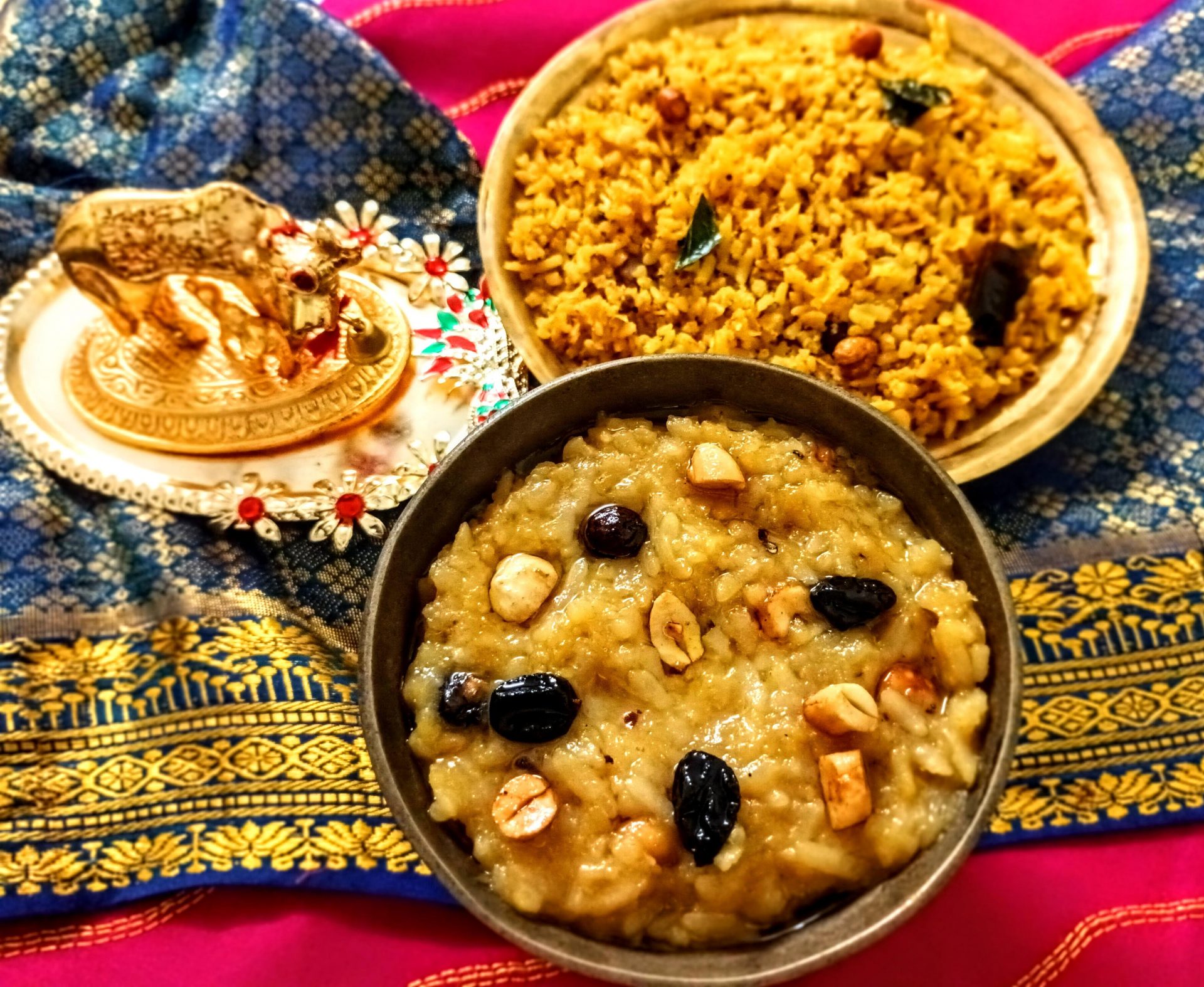 Get yummy recipes delivered to your inbox!
Be the first one to know about our new recipes. Leave your email below and get notified as soon as new recipes are published!