Popular Rakshabandhan Recipes
Jump to recipe
Raksha Bandhan is an Indian festival that commemorates and celebrates sibling love. On this day sisters tie a Band around their brothers wrist ensuring life long love and support. The brothers in turn pledge to support and take care of their sisters welfare at all times. This festival is mostly celebrated in North and West India.
Here's a little folklore and history behind celebrating this festival. Folklore has it that- Lord Krishna once hurt himself while spinning the Sudarshan Chakra, at the time princess Draupadi ties a small band of cloth around His finger to prevent the blood from rising. Lord Krishna is so touched by her gesture that he wows to take care and protect her from all evils of the world. ( source- financialexpress.com).
While it is usually the brother and sister that celebrate this festival, in todays modern context Rakhis/band are tied to distant relatives, and friends who one considers like their brother. Those who do not have siblings, visit a Krishna temple to tie the Rakhi to Him. In all this festival of sibling love is enjoyed by everyone with lots of lightheaded banter, family visits and exchange of sweets and gifts.
I have put together is collection of sweets that are easy to make, and what better than giving self made Mithai/ Sweets to your brother, and let him know you always have time for him.
You can also check out other Indian Sweet recipes like Red Poha Ladoo, Atte ka Sheera, Sweet Potato Puran Poli, Red Rice Sweet Poha, and more…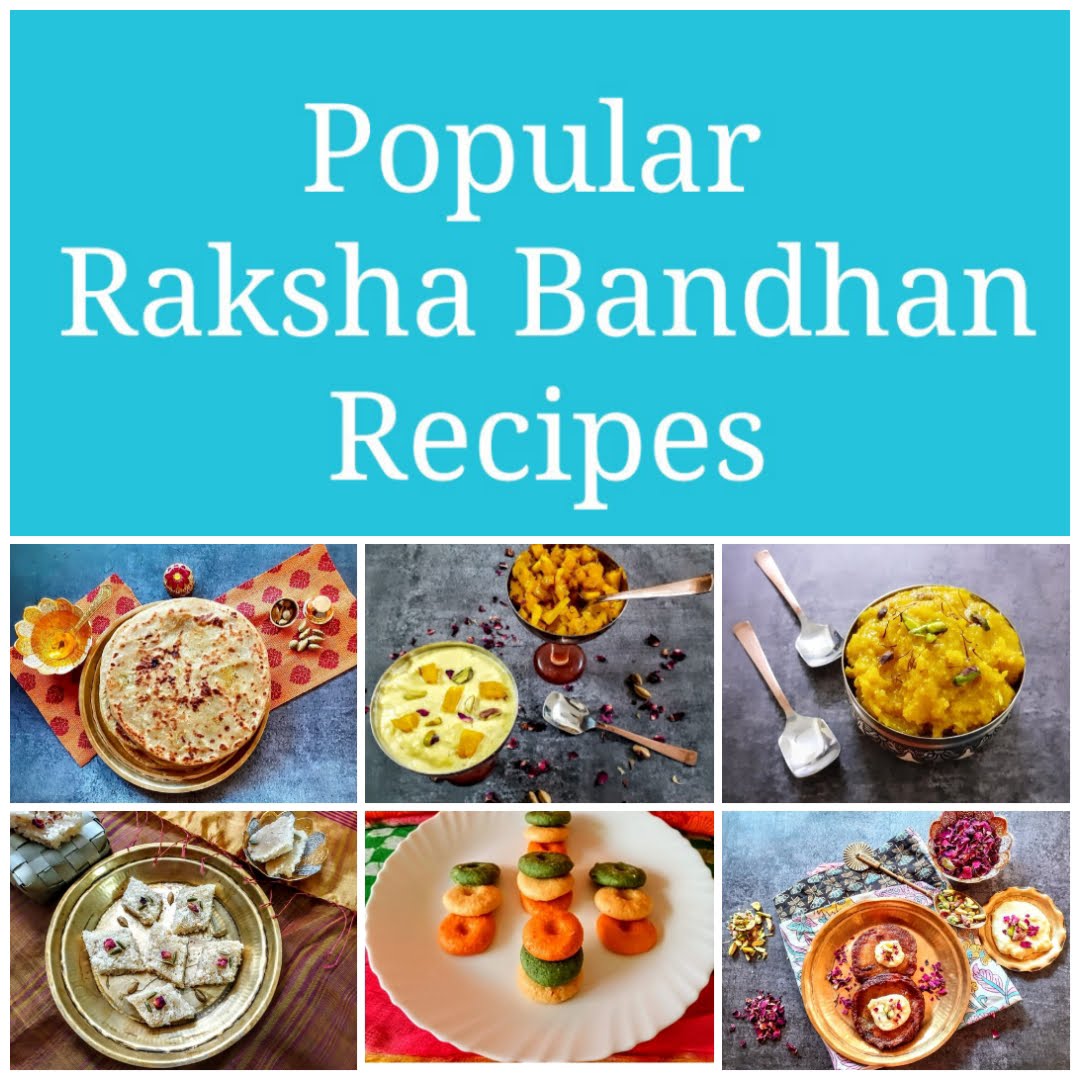 Coconut Barfi :


Coconut Barfi is the most commonly made sweet in South India. It is a favorite during festivals as it gets done very quickly. My grandmother would make this in a jiffy whenever there is excess coconut at home. There are many versions of this recipe. Some use fresh coconut, while some use  desiccated coconut. Using desiccated coconut has its own benefits. Firstly,the shelf life is longer and then the coconut flavour is dense in desiccated coconut. Finally, using desiccated coconut shortens the making time. It just takes about 15 minutes to make this delicious sweet.
For the recipe click here.

Bajra and Almond Flour Cookies:

Millets are rich in dietary fibre. They have high nutritional value and should be added to our diet as the insoluble fibre in them acts as a prebiotic, keeping our digestion on tract.Bajra or Pearl Millet is rich in Magnesium and keeps the heart healthy. In this recipe I have combined Bajra flour and Almond flour to make melt in the mouth cookies.For the recipe click here.
Sweet Potato Puran Poli:

Every year during Vaikunta Ekadashi and Shiv Rathri the elders in my family like to have Sweet Potato, as is the custom. Shiva Rathri and Vaikunta Ekadashi both are celebrated in winter and the carbs from the Sweet potato give the much needed warmth. This could have been the reason this custom was formed.So instead of just giving them the plain boiled one, I prefer giving it to them as these Puran Polis. This is quite a simple recipe and needs no pre planing. Sweet potatoes are also high on fiber and minerals, therefore they are perfect for people on a fast. Sweet Potatoes promote gut health, they support healthy vision and also support the immune system. Isn't this reason enough for us to include this healthy  tuber.For the recipe click here.
Whole wheat Blueberry Muffins:

If you haven't realised until now, I am a huge berry fan. Whatever the berry, I will think of a dessert to make. The berry recipes in this blog are proof for it. Berries not only provide our body with antioxidants, but also with micro nutrients, which are essential for a healthy body. so whenever you find berries include them in smoothies, pan cakes, lassi, compote, Jams and more…This time they had to be muffins as they can be picked off a box and popped in when hungry. They stay good in the refrigerator for upto a month. They are easy to pack up on a picnic, road trip and even for hostelers. These are the moistest cup cakes you will find and using good quality berries really enhances the flavour of the cake. I have used dried Blue berries, fresh ones can be used too.
so if your little brother is a Berry fan, this is the right edible gift for him. For recipe click here.
Pineapple Rabri:

Rabri is a sweet-dish made by boiling and reducing milk until it gets a thready texture and becomes dense. It is flavoured with cardamom and nuts and served chilled.I love making fruity desserts, and I have noticed that my guests always veer towards fruity desserts. I have been making Pineapple Rabri for many years now, and my daughter has always been a huge fan of this dessert. The first dessert I make during Pineapple season is always this one, followed by the Eggless Pineapple cake and then the Pineapple Kesari.For the recipe click here.
Moong Dal Halwa:

Moong dal Halwa is an Indian dessert made from yellow lentils. It is basically a fudge and is very rich because of the amount ghee/ clarified butter added to it. Though I make many sweet varieties and desserts, I'm not generally the one who will stay until dessert. I'm immensely intuitive while I create sweet dishes, but I don't crave sweets much. But this halwa is very close to my heart because it probably is the first sweet dish I ever liked.
For the recipe click here.
Kova Kajjikayalu:

This Indian sweet is so close to my heart as they bring back many memories of places, people and a different time altogether. Kajjikayalu in Telugu means Karanji or Gujiya.Kova Kajjikayalu or Kobbari Kova Kajjikayalu is a melt in the mouth sweet with a stuffing of coconut and jaggery, covered on the outside with sweetened Kova or Mava. This is a very easy to do recipe.For the recipe click here.
Pumpkin Halwa:

Its Pumpkin time again! That said, India always has a perennial supply of Pumpkin, and hence the vegetable is not restricted to a particular season. How versatile the Pumpkin is I always wonder. Anything from snack, to dessert to curry, and even breads, can be cooked with this vegetable. This Pumpkin Halwa or pudding recipe is so easy, delicious and healthy. Gets done with minimum, every day ingredients. Cooking takes a little longer though, but will be worth it I assure.There are two ways to cook the Pumpkin for this pudding. One is to grate the Pumpkin and cook it in milk, and the other is to cook/steam the pumpkin in the cooker and then cooking it in milk for a short time. I have followed the former. This is because, when the Pumpkin gets cooked in milk, it takes on such a delicious flavour, and texture. I prefer a slightly grainy texture,as compared to a super smooth one.For the recipe click here.
Eggless Pineapple Cake:

This Eggless Pineapple cake is simple and I have followed the same batter used for Upside down orange vanilla cake. I am giving you a base here to which you can add anything you like, be creative, and yet you will have a beautifully moist cake every time. Anyone can make this, no beating, no major whisking. You all know by now the recipes I choose to bake are mostly non-messy ones.For the recipe click here.
Malpua With Gulab Jamun Mix:

Malpua is a family favorite, and  I have tasted both the Bengali version and the ones made in the north. I like both of them equally. My hands have been itching to try out this recipe that I thought of and scoured the internet to find if such a one exists. There are a hundred recipes of Malpua with Gulab Jamun mix, but what makes this one different is the use of Paneer(cottage cheese) and Wheat flour. Using Paneer makes the Malpuas soft and fluffy on the inside and wheat flour gives it a little crunch on the exterior.
For the recipe click here.
Doodh Peda:

Milk Peda or Dhoodh Peda is basically milk fudge and an easy dessert to spin when you crave sweet.  It is also offered as a Prasad(holy offering)for Pujas. There are many methods to make this instant version, which use almost the same ingredients.The traditional recipe uses dehydrated milk or Khoya, which takes a long time to make, as reducing milk is quite a lengthy process. So, the modern instant methods involve a mixture of Milk powder and condensed milk. I have used a mix of Store bough Khoya, milk powder, and condensed milk.For the recipe click here.
Hoping you all will try a few recipes from this collection. Wishing you all a Happy Raksha Bandhan. Happy Festivities !!!
Notes:
I have tried to add a mix of Indian Mithai ( sweets) and cakes. So that it's easy to pick depending on what you are looking for.
While documenting this post I have chosen recipes that get done within 30 to 60 minutes. There are more Sweet/ Mithai recipes here. You can check them out through the Explore section.
Get yummy recipes delivered to your inbox!
Be the first one to know about our new recipes. Leave your email below and get notified as soon as new recipes are published!