Easy Corn Fritters
Jump to recipe
Corn Fritters are very simple to make, healthy and delicious and they get done in no time with no planning ahead needed. Isn't this the very reason, one should make this often? This recipe has been on my mind for a very long time and it is a contest on social media that finally got me making this.
Other than the Corn, all other vegetables used here are customizable to one's preference. I have used every day vegetables like carrots and capsicum. Grated Potatoes(after removing starch), Purple cabbage, Zucchini are other add ins that I usually use.
While you are here check out other snack recipes here like- Semolina Cheese Balls, Medu Vada, Potato Cheddar bake, Pepper vadai, Patra, Dhaniya wale Namak Pare, Oatmeal Cookies, Samosa Pie, and more…
Here is the recipe for Corn Fritters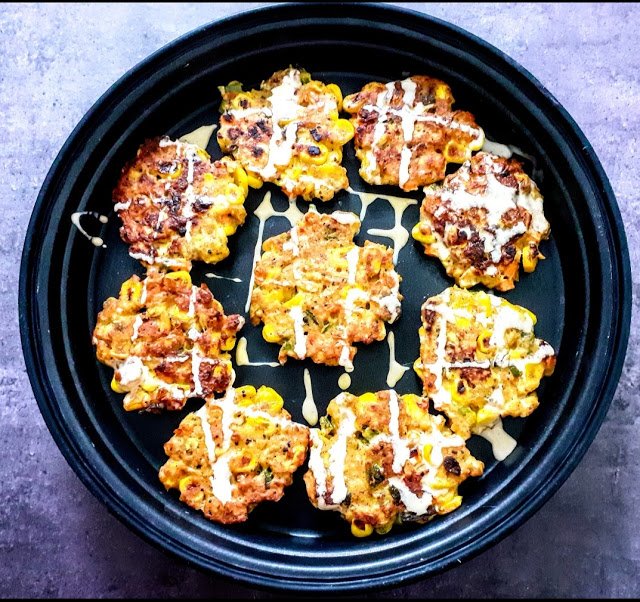 Ingredients
Ingredients
Sweet corn Kernels 20 gm (divided into 100 each) cooked and kept aside
Carrot 1 small chopped finely
Capsicum 1 small chopped finely
Refined Flour( Maida) 1/2 cup
Egg 1
Salt as per taste
Pepper powder 1 tsp
Red Chilli powder   1 tsp
Oil for shallow frying the fritters
Boil Corn and divided it into 2 halves. Crush 1 half in a mixie/blender to a coarse paste and keep the other half as whole kernels. To the mashed or crushed corn, add all the other vegetables like carrot, capsicum etc, add the flour and egg, followed by salt, pepper powder and red chilli powder. Add chopped coriander if you like(optional).

Mix well to make a thick mixture, and now add in the whole corn kernels, and mix lightly. Heat oil in a pan (2 tbsp will be enough, more can be added if required). Now drop small scoops of this corn mixture and flatten lightly with a spatula. Coo on one side and flip and cook on the other. Remove and enjoy with some sauce. I drizzled Cheese sauce over them. Alternately bake them in a pre heated oven, by spreading the mixture on a baking sheet, and bake at 200 C for 20 to 25 minutes. Since all oven work at different temperature ranges keep checking from 20 mins onward for doneness.

Notes:
A very simple and fool proof recipe hence no notes are needed.
For more quantity just double up the ingredients.
As for alternate to egg, Flax egg can be used, but I have not tried the version yet.
If you tried this recipe and liked it please comment below. I would love to hear from you. If you have a query about the recipe email us and ill respond as soon as I can.
If you would like to receive our recipes in your mail please leave your mail id at the homepage. Every time Rajjo's Kitchen has a new post we will mail the recipe to you.
Gallery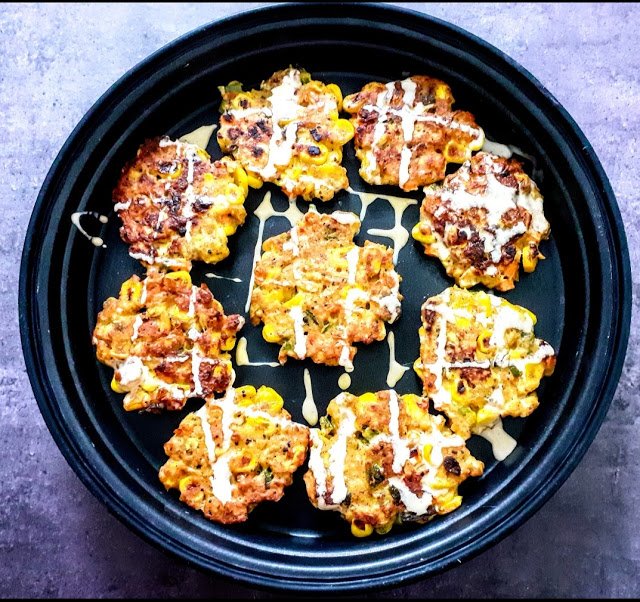 Get yummy recipes delivered to your inbox!
Be the first one to know about our new recipes. Leave your email below and get notified as soon as new recipes are published!