Homemade Authentic Thai Green Curry Paste
Jump to recipe
Try this flavourful  Authentic Thai Green Curry Paste, and make delicious and authentic Thai Green Curry at home each time.
We are a family of Thai food lovers. Earlier we would only taste them at restaurants, then I went on to buy store bought pastes and make Thai Green Curry at home. Well, this went on for a long time until I attended a Thai cooking class, and there has been no looking back since then.
Attending this class helped me to understand the ingredients better. it also gave an in depth idea of how to combine these ingredients to make the dish delicious. I enjoyed every bit of this class, and learnt to cook a full fledged Thai meal. Recently when a friend asked me to send the blog link for the recipe of this paste is when I realised that I'm yet to share this Vegan Thai Green Paste recipe on the blog.
Thai Green Curry Paste  is a popular dish from Thailand, and is used in Thai Green Curry Dishes. The paste is very fragrant, flavourful and spicy, and is actually the soul of a good Thai Green Curry. Once you try this Thai green curry paste at home, you will never go back to buying store bought ones. The paste can  be stored in the refrigerator for a few weeks.
Why I like making the paste at home-
Because it very easy
It is more flavourful than the store bought one
You get to control the spiciness
You make them with fresh ingredients
No chemicals or preservatives are added
While there are many  ingredients used in Thai green curry paste, it gets its distinct flavour and colour  from Thai Basil leaves, Kafir Lime leaves and Galangal. Apart from these many other Asian spices come together in making this flavourful paste.
There is more to come in this Thai series. Next up after this paste will be Thai Green Curry from the homemade paste. Do tune in soon to check out the recipe. Follow the blog, get notified by email or follow me on social media, so you don't miss a post.
While you are here try out other recipes like- Creamy Basil Lemongrass Dressing, Gulkand Shrikhand, Homemade Schezwan Sauce, Cauliflower Fried Rice, Homemade Pesto, and more.
This is a vegan recipe so no fish paste has been used.
Watch the making video in the Notes section.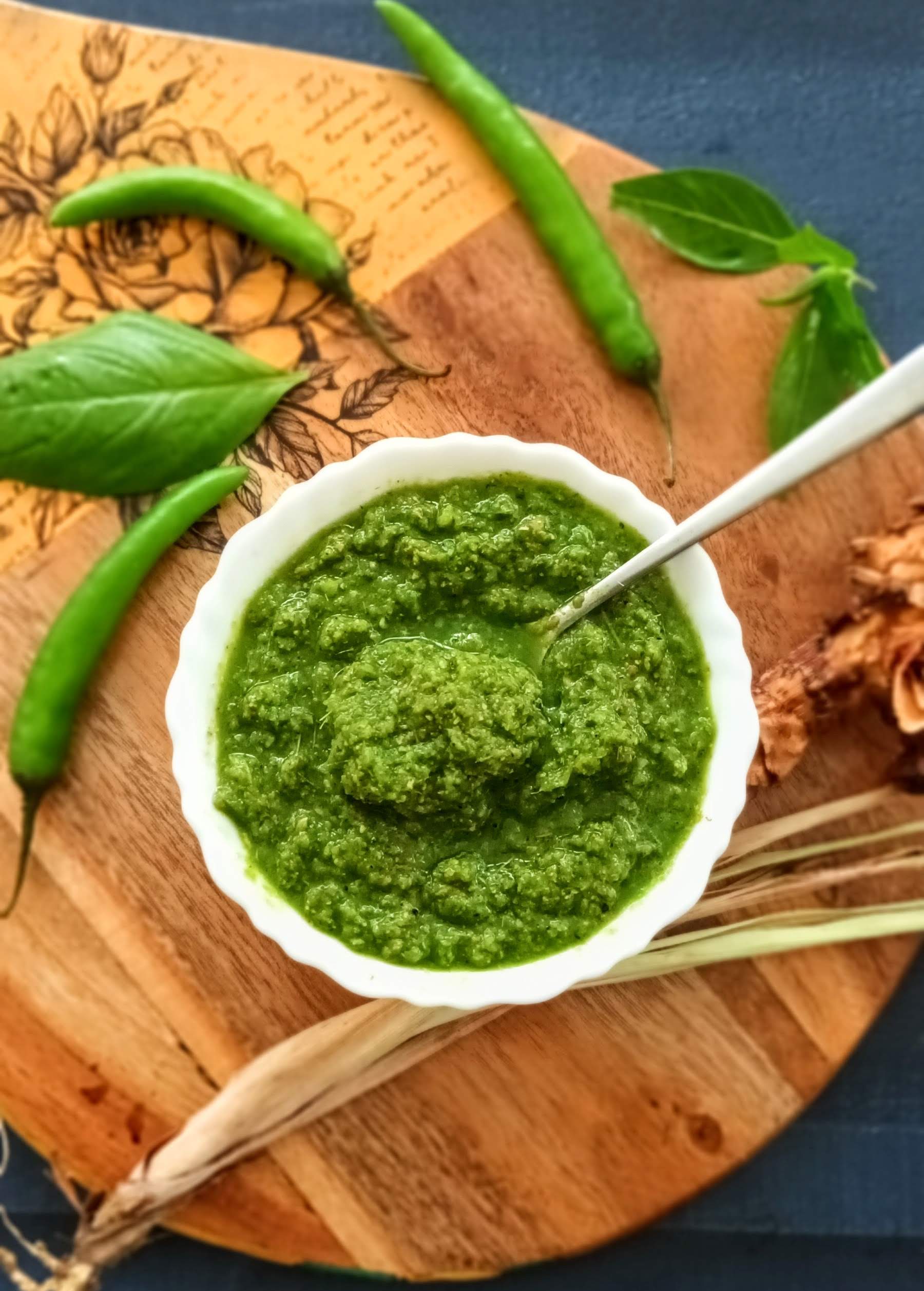 Ingredients
Green Chillies 5-6 chopped
Onion 1 small chopped
Garlic 3 cloves chopped
Ginger 1/2 inch piece chopped
Galangal/ Thai ginger 1/2 inch piece
Lemon Grass bulb(lower portion) 1
Turmeric powder 1/4 tsp
Salt as required
Peppercorns 12-15
Lemon Juice 1 tbsp
Coriander seeds 1 tbsp
Cumin seeds 1tsp
Lemon leaves 2-3 or Lemon rind 1 tsp
Basil leaves or Coriander leaves 1 cup
Water as required for grinding.
Dry roast the coriander and cumin seeds over a low flame until fragrant. Take care not to burn them. Cool.
Transfer them to a blender, and further add onion, green chilli, ginger, Galangal, garlic, lemon leaves or lemon rind, Basil or coriander leaves.
Next add salt as required, turmeric powder, Lemon juice, and water and blend them into a fine paste,
Store the paste in a glass jar in the refrigerator, and use as required.
Notes:
This is a Vegan Green Curry paste, therefore does not contain fish paste.
If you are looking at substitutes for a few ingredients- Basil leaves can be substituted with coriander leaves, Lemon juice with ACV, Lemon leaves with lemon rind.
While Galangal or Thai ginger gives a good flavour to the paste, if you are unable to find it, use double the quantity of regular ginger.
Video of Thai Green Curry Paste
Gallery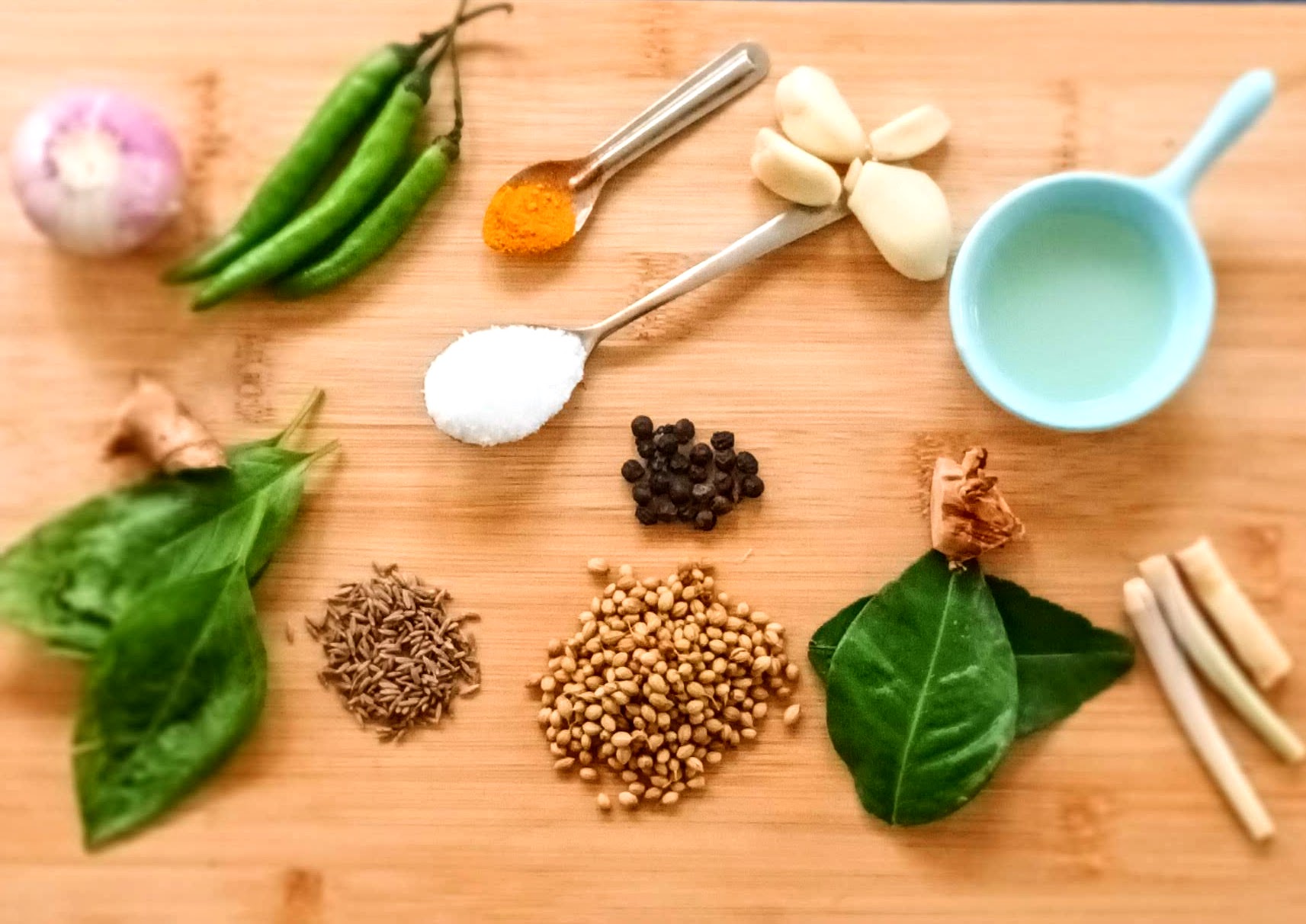 Get yummy recipes delivered to your inbox!
Be the first one to know about our new recipes. Leave your email below and get notified as soon as new recipes are published!