Homemade Pesto
Jump to recipe
Pesto is a simple sauce made of fresh Basil leaves, Parmesan cheese, pine nuts, garlic, Olive oil, pepper, and salt. Other greens like Spinach or onion greens can also be used. Basil is fragrant and imparts a lot of flavour so is more commonly used. Pinenuts can also be substituted with other nuts like walnut, cashew nut, etc.
I make this Pesto sauce very frequently as I like using it as a dip for finger food, as a spread on toast, and thin it down a bit and use it as a sauce for pasta. This is a simple 5-minute recipe and needs no cooking. Along with the Basil leaves, I have added Onion greens also. This is optional.
The basil leaves I have used here are Italian Basil. The commonly available ones are Italian Basil and Thai Basil. In Tamil, these are called Vibuthi Pachai and are medicinal.
While you are here also check out my Schezwan sauce recipe which is also a simple 5 minute one.
Here is the recipe for Pesto sauce for you. This does not have a stepwise recipe as it is a simple one.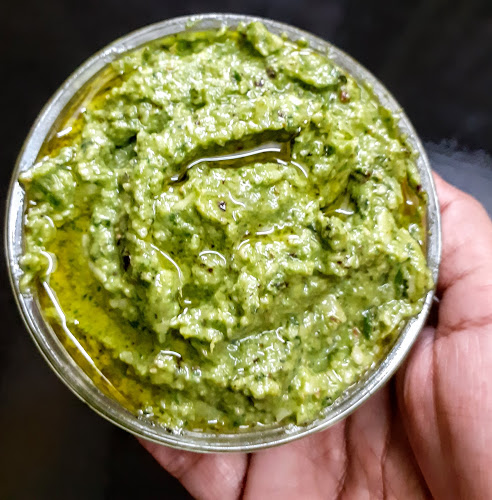 Ingredients
Ingredients
Basil leaves 1 cup
garlic 3 to 5 cloves
Parmesan cheese 1/2 cup shredded
pepper 1tsp
salt as per taste
Cashew nuts 6 nos ( for variations check Notes)
Onion greens one handful finely chopped
Olive oil 1/4 cup or more
Put all the ingredients in a blender except the oil and grind to a coarse paste. Now add half the quantity of oil and blend again. A slightly grainy Pesto tastes better than a smooth one. After grinding transfer to a container and top up with the remaining Olive oil and store. Use as required. Add more oil if required. The green and flavourful sauce is ready.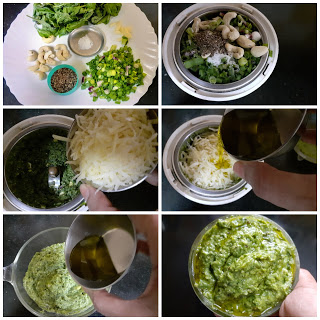 Notes:
Using other cheese like Cheddar will alter the taste a bit and the consistency will differ. Mozarella is not the preferred cheese for this recipe.
For that lovely green colour add other greens like blanched Spinach or Onion greens.
Be liberal with the olive oil, and use a good quality olive oil for better flavour.
4. Instead of Cashewnuts, Walnuts, Pistachios and Melon seeds can also be used. Recently I made Pesto with a mix of Walnuts and Melon seeds, and it turned out perfectly.
Gallery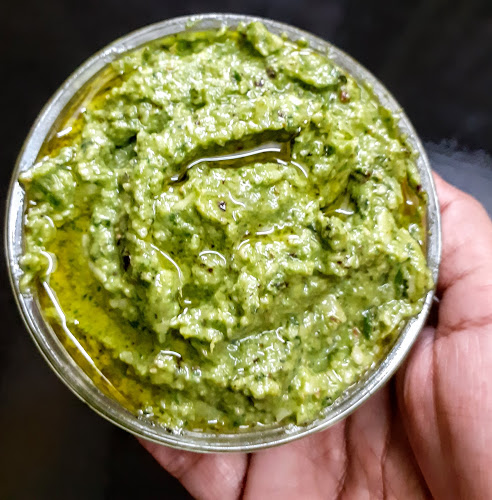 Get yummy recipes delivered to your inbox!
Be the first one to know about our new recipes. Leave your email below and get notified as soon as new recipes are published!