Gulkand Shrikhand (Flavored Yogurt Dessert)
Jump to recipe
Curd is such a versatile dish/ingredient, and has a special place in Indian food culture. While it can be had as is, it also is a main ingredient in some dishes, and is also used to adjust consistency or add sourness to a dish. When Curd gets transformed to a dessert, it tastes divine. Indian food culture has many dessert recipes using curd as the main ingredient.
Shrikhand is a Curd/yogurt based dessert from the western states of India. The dish is made by removing all moisture from curd, sugar is added, and the mixture is beaten until it turns creamy. A flavour of choice is added, and the dessert is served chilled or at room temperature. Shrikhand is also a side dish for flatbrreads like Poori and Chapati. For Kesar Shrikhand recipe refer here.
Gulkand is a Jam made of Rose petals. Only pink/Damask Roses are used to make this jam. Sugar is added to the petals, and is reduced until it comes to a jam like consistency. Dry coconut shavings/Kopra is added as a garnish to Gulkand. Gulkand is an integral part of a Beeda (Betel leaves filled with Betel nut, Gulkand, Fennel seeds, cardamom powder). The Beeda is a digestive, and is had after a heavy meal.
Is Gulkand Good For Health– Gulkand is used in Ayurveda, Unani and Persian medicine. It is used to cool the body. A mixture of Gulkand and Milk is an antidote for acidity.
In this recipe of Gulakand Shrikhand I have used Gulkand as a flavouring. I have used store bought Shrikhand.
Few pointers for buying the right Gulkand– While buying Gulkand from a store-
*buy from an Organic brand
* The colour must be  a dull brownish pink
* steer clear of bright coloured Gulkand, it certainly has artificial colours that could be harmful.
* as the Rose petals cook in the sugar, the colour fades away and the flavour intensifies, that's why a bright coloured Gulkand had mostly essence and no real petals in it.
I have used a few drops of Roohafza / Rose and Beet syrup for natural colour. If you can't find a bottle of Roohafza near you, just used a few drops of cooked beet juice. Using raw juice will give an earthy flavour to the Shrikhand, which might spoil the dessert.
Other recipes to check out while you are here- Choley, Moong Dal Halwa, Bhatura, Bazlama, Stuffed Aubergine Boats, Morkovcha, Garlic Lachcha Paratha, and more…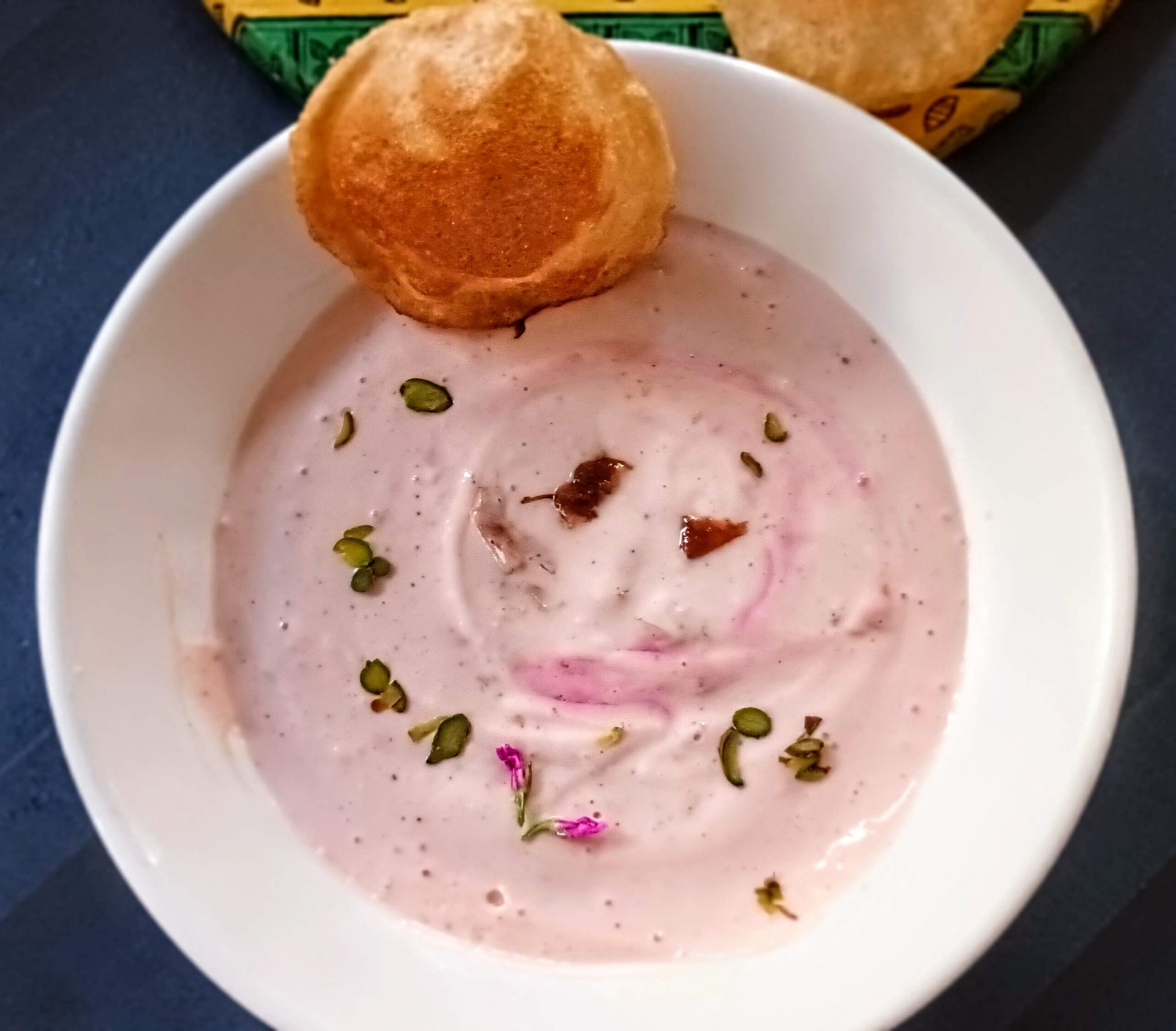 Ingredients
Curd 500 ml (tie in a muslin cloth and allow to drip for 3 hours or overnight to get hung curd)
Sugar 1/2 cup
Gulkand 1.5 to 2 tbsp (check notes)
Roohafza syrup 1 tbsp, adjust to suit how much colour you prefer (check notes for substitutes)
Nuts for garnishing
Take the curd in a Muslin or cheese cloth and allow excess moisture to drip overnight or for 3 hours. The hung curd is now ready.
Transfer the hung curd to a bowl, add the sugar and beat with an electric beater, until light and fluffy. I prefer to whisk with hand using a spatula.
Now add the Gulkand and the Roohafza syrup and whisk again lightly.
Garnish with nuts, and put in the refrigerator to chill.
Serve with hot Pooris, or as dessert.
Notes:
Use a good quality, organic Gulkand.
If Roohafza syrup is not available, add a few drops of cooked Beets juice. I reserve the water after cooking Beets to add as colouring.
If you are making this dessert on short notice, then use half and half of hung curd and Greek yogurt. This will speed up the process, as Greek yogurt has very little water content, and only half the quantity of curd needs to be hung, which reduces the draining time.
Gallery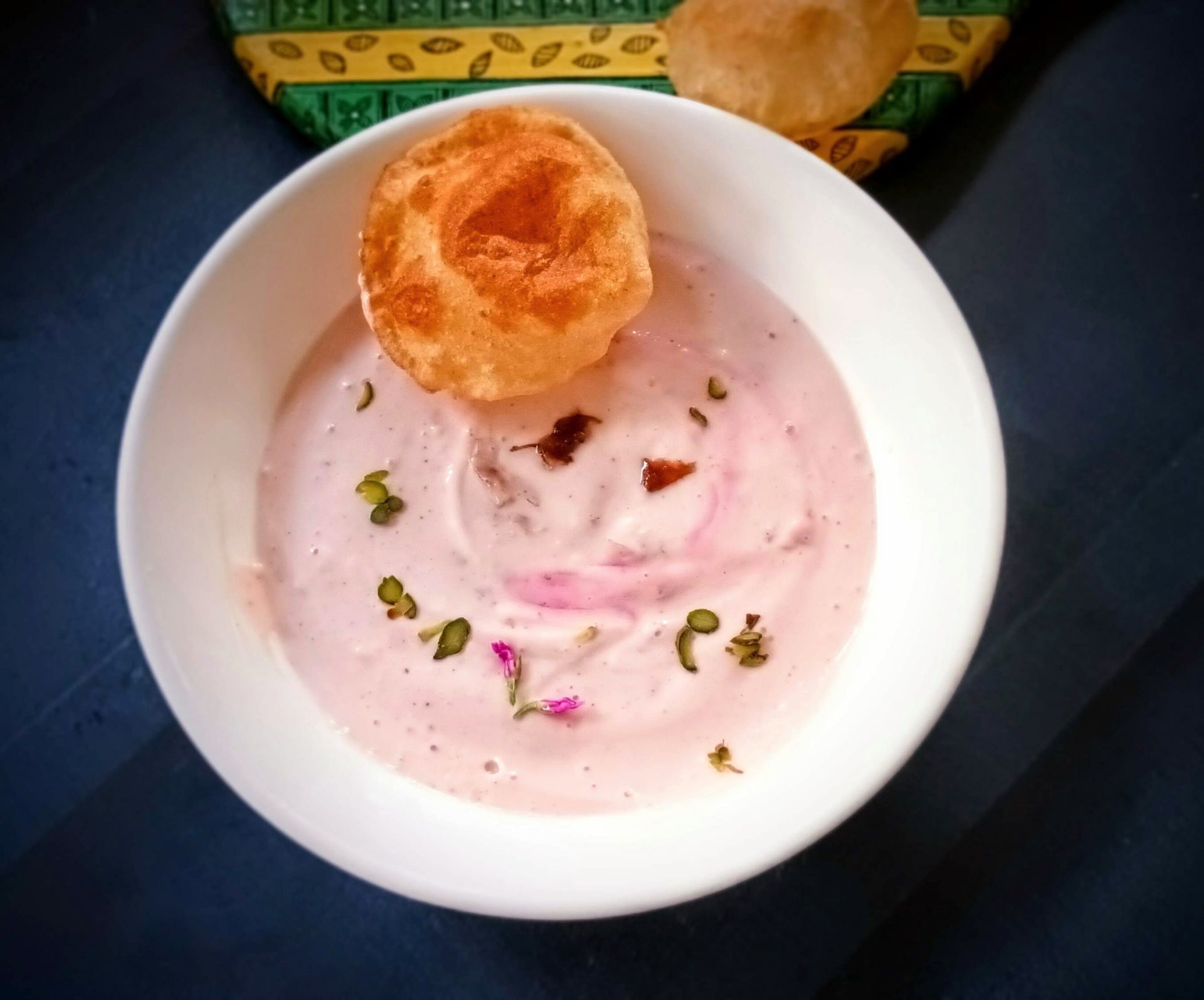 Get yummy recipes delivered to your inbox!
Be the first one to know about our new recipes. Leave your email below and get notified as soon as new recipes are published!