Lemon Poppy Seed/Khus Khus Salad Dressing
Jump to recipe
This creamy Lemon Poppy Seed/Khus Khus salad dressing is perfect for a veggie loaded salad you would want to have as lunch or dinner. This dressing is a great way to spruce up your salad.
This salad dressingrecipe I am giving here is a low carb version.
What I like in a homemade dressing is that you get to customize everything from the spice, salt and sugar. And this salad doesn't take any time at all. It is just a add everything to blender and blitz kind of dressing. This salad dressing comes together in just about 5 minutes. It stays well in the refrigerator upto 10 days and can be used as and when required.
Here is the recipe of Lemon Poppy seed dressing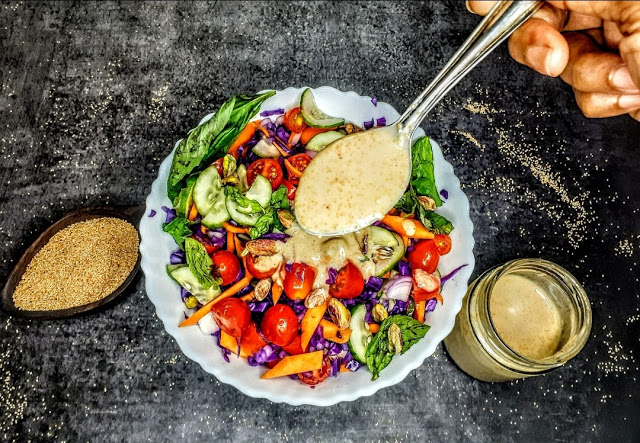 Ingredients
Ingredients
Poppy Seeds 1 tbsp (white/black)
Apple Cider Vinegar(ACV) 2 tbsp
Olive Oil 6 tbsp
Sugar powder/icing sugar 1 tbsp
Dijon Mustard 1 tsp
Salt 1/4 tsp
Lemon juice 2 tbsp
Garlic cloves 4 crushed
In a blender pour the ACV, Olive oil, Lemon juice, salt, sugar powder, crushed garlic cloves, Dijon mustard, and blend at high speed for 30 seconds. Stop and blend again for 30 seconds.

Now add the Poppy seeds and give another pulse for 30 seconds. The dressing is ready to use now. Store in a bottle and refrigerate.This can also be used as sauce for burgers and other breads.

Notes:
I could not find black poppy seeds her, otherwise they would have provided a great contrast. Anyway this doesn't affect the taste or flavour in anyway.
If you prefer a sweeter dressing, add one more tablespoon of sugar powder.
Gallery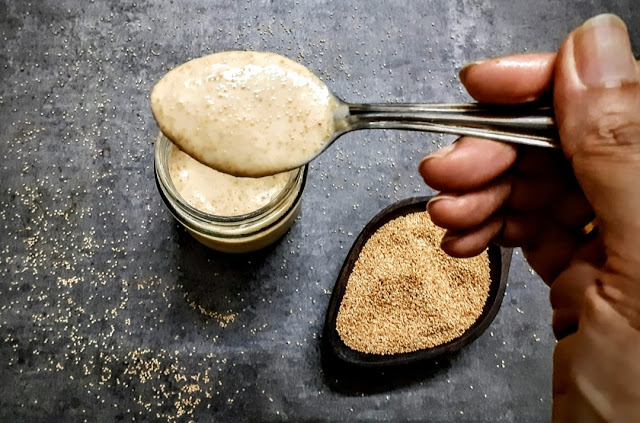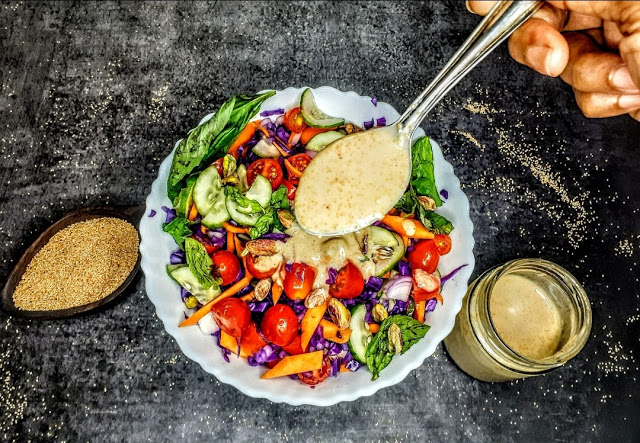 Get yummy recipes delivered to your inbox!
Be the first one to know about our new recipes. Leave your email below and get notified as soon as new recipes are published!