Creamy Basil Lemongrass Dressing
Jump to recipe
This creamy Basil and Lemongrass dressing is the perfect match to your Salad,  a sauce or dip to Nachos and other snacks. The dressing is so vibrant and packed with flavour, and gets done in just 5 minutes. The use of Greek Yogurt gives it great colour, and consistency.
Made without Mayo. this Basil Lemongrass Sauce is a healthier option and can be enjoyed guiltfree. The Greek Yogurt balances the flavours, and if you are not a Greek Yogurt fan, it can always be substituted with regular hung yogurt.
Fresh Basil leaves pack in a lot of flavour, and while using Basil, less is  more should be the motto. Same goes for Lemongrass. Make this sauce/dressing the same day you buy the Basil leaves. Basil leaves wilt very quickly, and so can change the flavour and colour of the dressing. If you are like me, who grows Basil at home, then no worries at all.
Which Basil To use– no worries here too. Either Thai or Italian Basil can be used.
Is Lemongrass a must– Yes and No. Yes because this Salad dressing  is a Basil and lemongrass dressing, and a very tiny portion of the bulb is used.  You can make do without it if you can't lay your hands on some. But you definitely will be missing those hints of refreshing Lemongrass flavour.
What are the Substitutes for Greek Yogurt– Hung curd can be used or even Sour Cream.
Can this dressing be made Vegan– Oh yes! substitute with Tahini . Measures given in notes section.
What can Lemon Juice be substituted with– Acid Cider Vinegar is a good substitute, and vice versa.
Where to use this dressing other than salads– This healthy Basil Lemongrass salad dressing is very versatile, and can be used for Salads, Pasta Salads, Sandwiches, Wraps, and as a dip for Roasted veggies and Nachos.
While you are here check out other recipes on the blog like- Red Chilli Chutney, Basil Pesto, Til Ki Chutney, Schezwan Sauce, Lemon Poppy Seed Dressing, and more.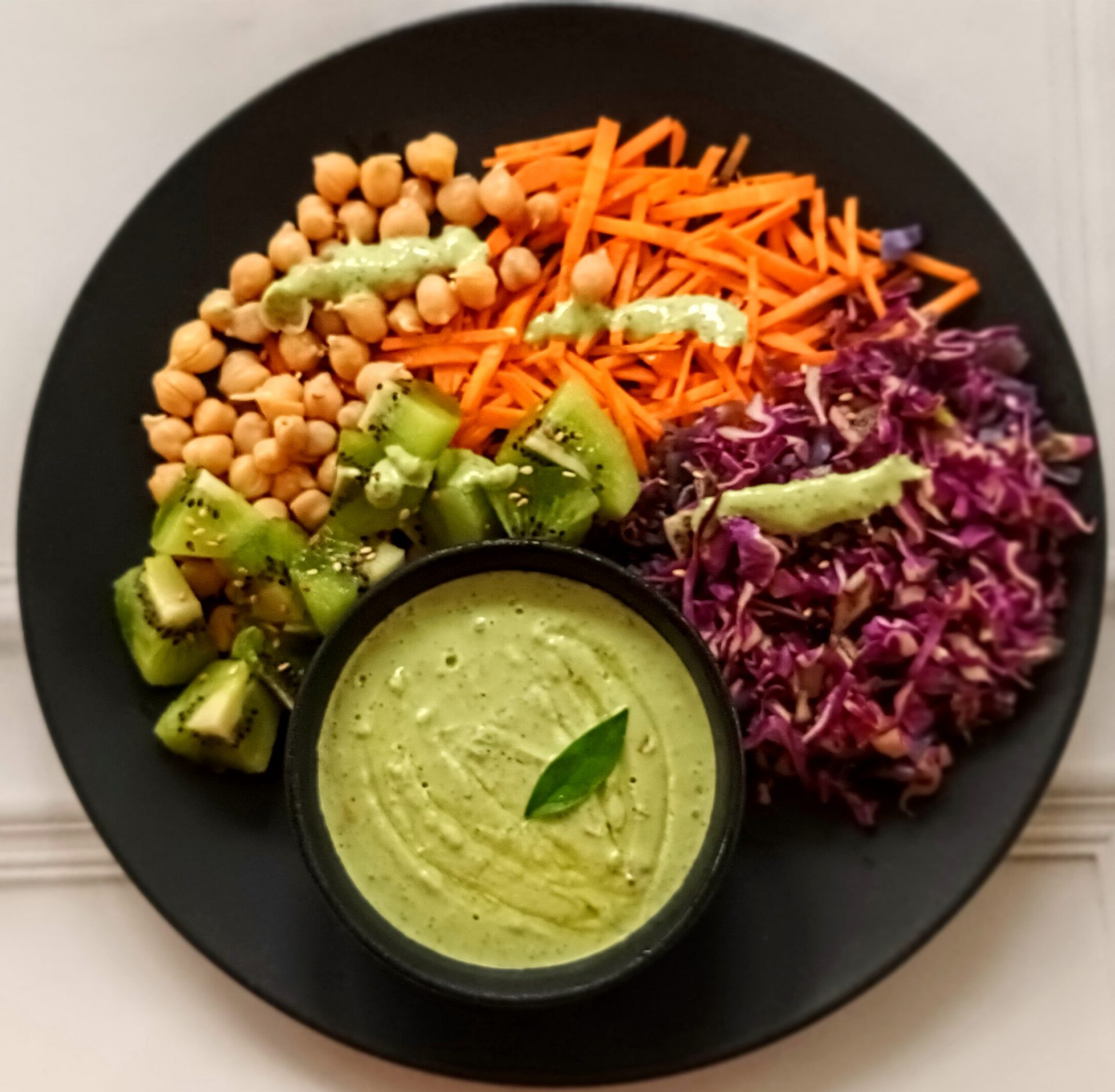 Ingredients
Basil Leaves (See Notes)- a handful
Lemongrass bulb 1/4 part of a whole bulb (do not use the leaves)
Greek Yogurt 1 cup
Lemon Juice of 1/2 a lemon
Green Chilli 1 whole
Red Chilli Flakes 1/2 tsp
Salt as required
Olive oil 1 tsp ( optional)
Put all the ingredients in a blender and speed blend for a minute. Dilute according to usage with water if required. After transferring into a bowl, drizzle a little Olive oil  if you like.
Notes:
Any variety of Basil- Thai or Italian can be used,
.Substitute Greek Yogurt with hung curd or Sour Cream
If using sour cream as a substitute, then add Lemon juice a little at a time, and judging by taste.
For making this a Vegan dressing, use 3 tbsp Tahini instead of Greek Yogurt.
Gallery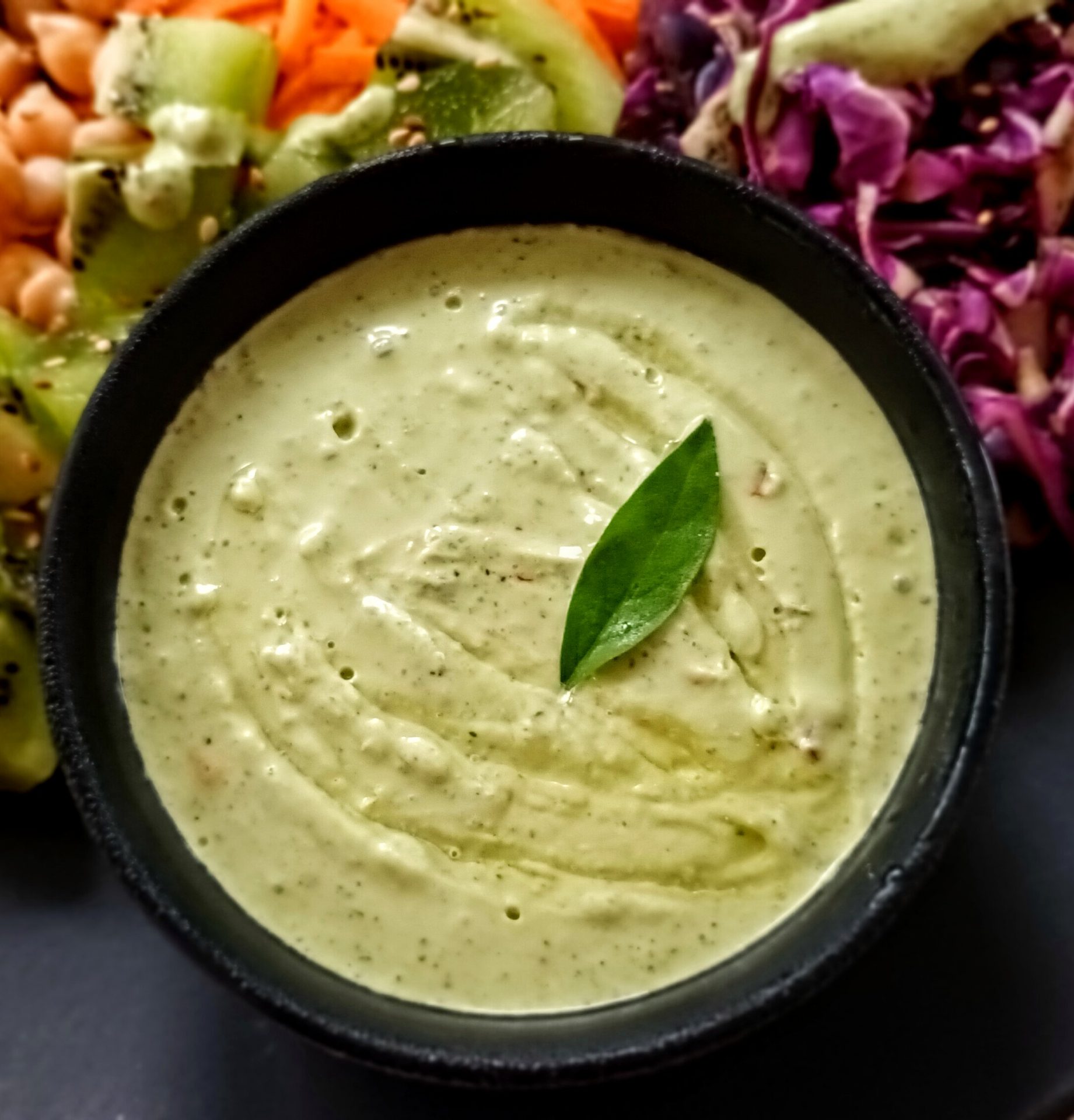 Get yummy recipes delivered to your inbox!
Be the first one to know about our new recipes. Leave your email below and get notified as soon as new recipes are published!