Choley/Chana Masala
Jump to recipe
Choley/ Chana Masala is one of the most popular dishes from North Indian cuisine. Made of Chickpeas it is a healthy vegetarian dish. It goes well with Rice and Indian bread alike. Everyone has their own recipe for Choley and there are many variations of it too. Some make use of tomatoes and some don't use them at all. To go with rice the gravy is made a little lose in its consistency, as compared to the Choley had with Bhaturas or other bread. This recipe is one I have come to follow after trying various versions. I'm sure you'll find it easy to make. Let's get to the recipe right away.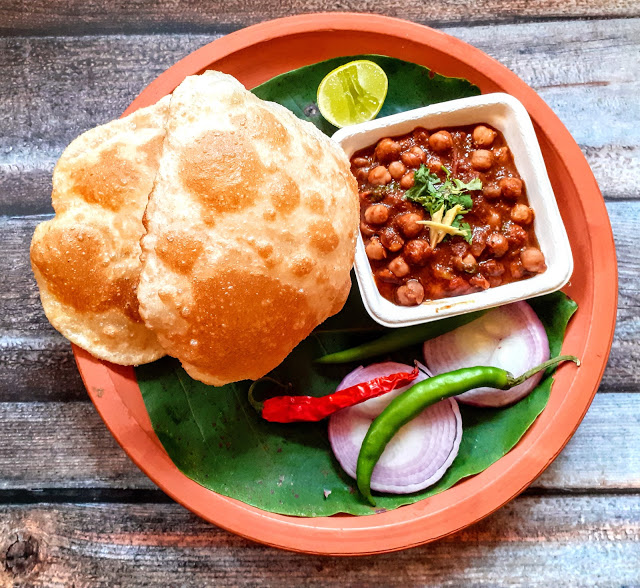 Ingredients
Ingredients
Chick Peas 200 gm soaked overnight, and pressure cooked.
Teabag 1(black tea, not green)
Onion 2
Green chillies 2
Ginger garlic paste 1 tsp
Tomatoes( local variety) 2 large
Turmeric powder 1/2 tsp
Salt as per taste
Cumin 2 tsp
Red chilli powder 1 tsp
Choley Masala 1 tbsp or Garam masala 2 tsp
Amchur/dry mango powder 1 tsp
Fresh coriander 1 tbsp finely chopped
Assemble all ingredients.

Chickpeas should be soaked overnight and pressure cooked with a teabag( this is done for the colour, it's optional).

In a blender put in the onion, cumin and green chillies and grind to a fine paste. In a pan heat oil and put in the cumin. Once they crackle add the ground paste and fry.

Add the ginger-garlic paste and fry constantly until the onions turn light brown. At this stage add the tomatoes and salt. Cover and cook for 3 minutes.

Now add in the spice powders, mix well and add the cooked chickpeas to this. Cover the pan and cook for about 3 minutes. Now pour the chickpea water( aquafaba) to adjust consistency and continue to cook for 10 minutes on low heat.

The Choley aka Channa masala is ready to serve. I served them with Flavoured rice( recipe in Rice section).

Soak the Chickpeas overnight or at least 6 hrs. Drain the water and put them into the pressure cooker, pour sufficient water, put the tea bag along with the water and cook for up to 8 to 10 whistles on low heat. Let the pressure come down. Open the cooker and drain water from chickpeas into a separate vessel. Put the onion, green chillies and cumin into the blender and grind to a smooth paste, without any water. Heat oil in a pan and add the Cumin, as they splutter add the onion paste and fry well for a minute. Add the ginger-garlic paste and continue to fry until the paste turns light brown. Keep stirring constantly or else the paste may get stuck to the pan. Add the chopped tomatoes to the browned onion paste. Add the salt and cover and cook for about 3 to 4 minutes. Open the lid, the tomatoes must have turned mushy. Mash the tomatoes well with the back of the ladle and continue to cook for a minute. Add in the dry spices- red chilli powder, Choley masala and amchur/ dry mango powder and mix well. Now add the cooked chickpeas to the onion tomato paste, cover and cook for about 3 minutes. Now add the reserved chickpea water and let it cook on low heat for about 10 minutes. Pan need not be covered now. Keep stirring every now and then. Finally, add some garam masala, put off the stove and garnish with some chopped coriander. The Choley is ready to serve. You can serve them with Rice, Rotis or  Bhaturas.
Notes:
Always drain out the water in which the peas were soaked. And do not throw away the water in which they were cooked. The chickpea water( aqua faba) can be stored in the refrigerator and used as broth and can be whisked with a beater to make the cream for frosting cakes.
Cooking with a teabag is optional, it's done to give the colouring to the Chana / Chickpea. Since I did not have a teabag I made a potli ( packet) with tea leaves.
You can replace the Choley masala with garam masala powder, but the quantity should be lesser than the Choley masala. About 2 tsp will be enough.
Adding garam masala at the end is optional.
I have numbered a few pictures to avoid confusion in steps.
If you tried this recipe and liked it, please comment below. Would love to hear from you.
Gallery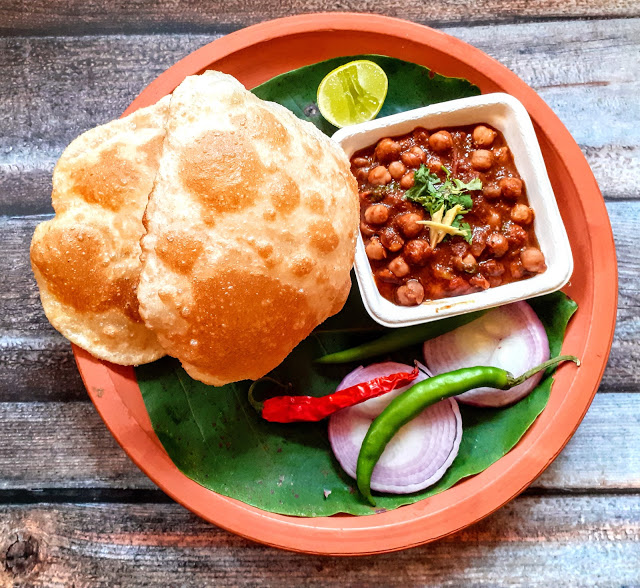 Get yummy recipes delivered to your inbox!
Be the first one to know about our new recipes. Leave your email below and get notified as soon as new recipes are published!