Bhatura Recipe
Jump to recipe
Bhatura is an unleavened fried flatbread. This is a popular dish from the Punjabi cuisine. While there are many ways of making Bhatura, like natural fermentation or instant ones, this method is easy as it uses yeast. The recipe is also mostly no fail, if you knead well. You can also use part Refined flour and part Whole Wheat flour (which is what I do most of the times, but not this time as my daughter said make the Haldirams style ones), and the Bhaturas will turn out perfectly. Bhaturas are usually served with Chole/Chana Masala– Chickpeas cooked in a spicy and flavourful gravy.
If you have tasted the Haldirams Chole Bhature, you will relate to what I'm saying. Crisp from the outside and pillowy and soft on the inside. Over the years Haldirams has been one of our favourite outlets to enjoy this dish. Of course there are other outlets too, but this place is a family favourite.
Why this Bhatura Recipe is the best?
If you don't have a starter for natural fermentation, then this is the best recipe. It is mostly no fail, and I'm sure no one minds yeast fermentation occasionally. Me? I don't mind it at all, though I love Sourdough. If you have to make Bhaturas on short notice( it takes about 4 hours for the dough to ferment, depending on the climate and temperature). So if you are planning to serve it to guests at dinner, it definitely is doable. This is a tried and tested recipe, so even beginners cannot go wrong.
How to store the dough for later?
Since I make Bhatura occasionally, once the dough is made we like to indulge for the next meal or the next day. So I put the extra dough in an airtight container, and put it in the first rack of the fridge. The one below the chiller. The dough will stay good for 2 days this way. Ensure you open the box, give it a knead and put it back. When you  are ready to use the dough, keep it out for 30 minutes, the dough will raise a little, sprinkle some flour and knead it for 2 minutes. Make fresh and pillowy Bhaturas.
How to store leftover Bhatura?
These Bhaturas are so addictive, I don't think there is a chance of any leftovers. However, in case you do have leftovers then take a sheet of parchment paper and cut into palm sized squares. Now take an airtight container and place one square of parchment paper, and place one Bhatura on it. Now place another square of parchment paper over it. This way alternate between Bhatura with parchment paper. This way they wont stick. When you are ready to eat, warm them in the microwave for 20-30 seconds alon with the parchment paper.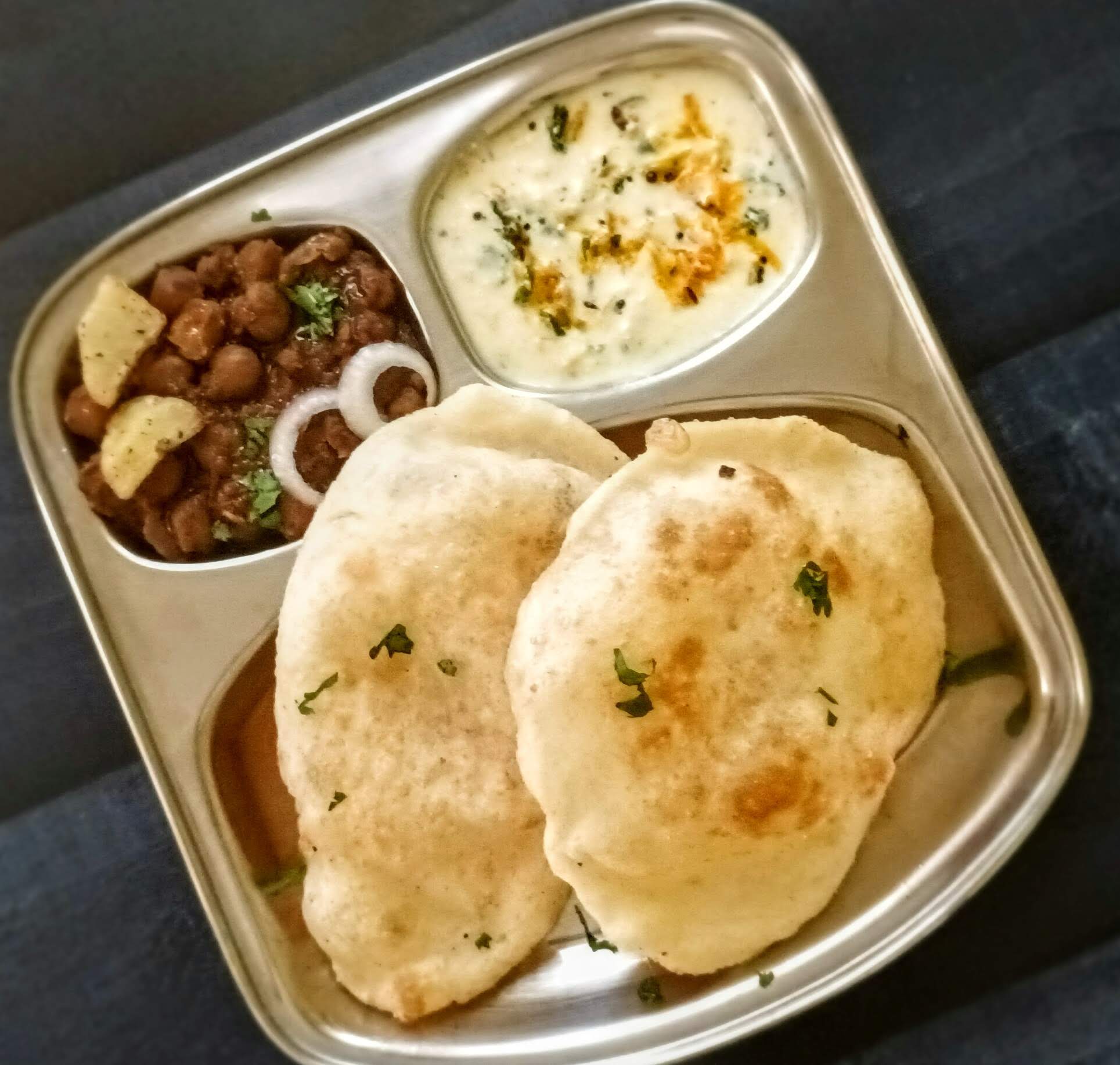 Ingredients
Refined flour 3 cups (or) 1.5 cup refined flour and 1.5 cup Whole wheat flour
Warm Milk 1/4 cup (1 cup = 200ml)
Active dry Yeast 1 tsp
Sugar 1 tsp
Salt 1/2 tsp
Water to knead as required
Oil (refined oil) for frying and some for kneading the dough
Take warm milk in a bowl (check notes), add the sugar and the Yeast (check notes). Let it stand undisturbed for 5 minutes. The mixture froths up. Your starter is ready.
Now in a large mixing bowl take the flour(s), add the salt and 2 tsp oil and mix well to evenly distribute the salt and oil. Make a well in the centre,
Now pour the activated Yeast mixture in the centre, and rub it into the flour using your fingers. Now adding water a little at a time, knead to make a stiff dough.
Make a stiff dough like Poori dough. If the dough is loose and moist, add more flour and knead again. Once fermented the dough loosens up a bit. Apply little oil on the surface of the dough, and keep covered for 4 hours, or as required.
The should have risen by now. Punch the dough back, remove from the bowl, and knead again. Now divide the dough into balls, grease your rolling surface with a little oil or flour(oil is better), and roll out each ball into round or oval shape. Roll them neither too thin nor too thick.
Heat oil in a Kadai. Bring it to smoke point, then turn down the flame. Now gently drop in one Bhatura at a time, press it down gently with your ladle, and release it immediately, the Bhatura puffs up. Now flip it over and remove within 10 seconds. Repeat this process for all the dough.
Enjoy Chole Bhature in the comfort of your home. For Chole recipe click here.
Notes:
Many times I'm asked how warm should the milk be. I too have wondered about this when I was new to cooking eons ago. So, the milk is at the right temperature when you are able to dip your little finger comfortably, and still is on the hotter side and not luke warm.
Here's what I do- Microwave room temperature milk to 30 seconds. Remove and stir, and keep it out for 2 minutes. Now add the Yeast and wait for 5 minutes. Within 2 minutes you will start seeing some activity, if you observe keenly.
How do you know the Yeast is still active and not expired? Firstly, once you buy Yeast always store it in the fridge, after transferring it into an airtight jar. If storing at room temperature, store it away from direct sun light. If in doubt always test- take warm water, add sugar and add 1 teaspoon of yeast, if it doesn't froth up in 5 to 10 minutes, it is time to buy a new pack of dry yeast.
Finally, for Bhaturas or Pooris to puff up, the oil should be at the right temperature. So bring the Oil to smoke point and turn down the heat, then start frying. After frying about 3 Bhaturas, increase the flame again, wait a minute or two and fry again,
Gallery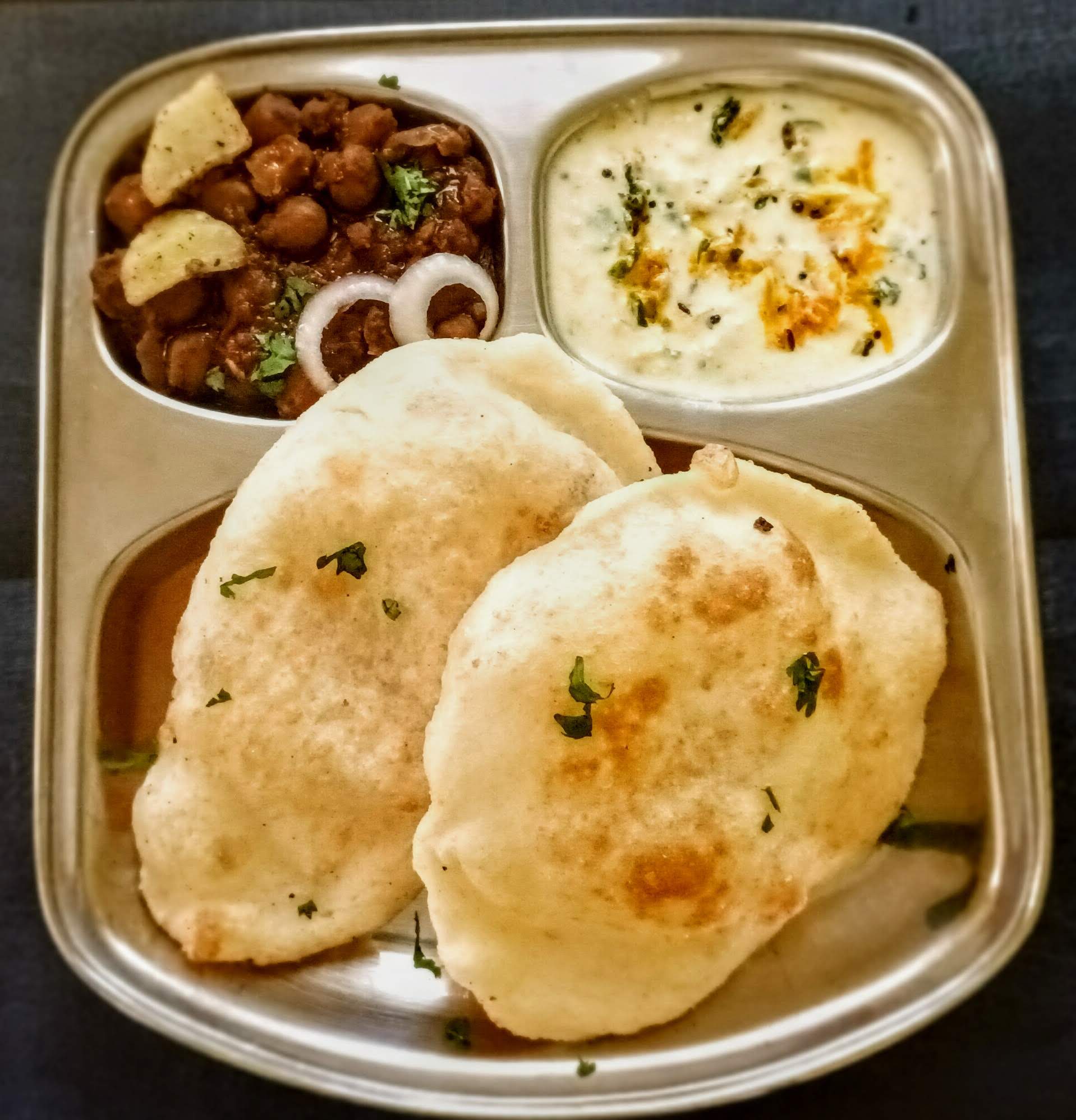 Get yummy recipes delivered to your inbox!
Be the first one to know about our new recipes. Leave your email below and get notified as soon as new recipes are published!