Beetroot Paratha
Jump to recipe
Parathas are flatbreads stuffed with grated or mashed vegetables. Sometimes the vegetables are not stuffed but mixed in with the dough. This Paratha is one such recipe.
I resisted making these parathas for a whole month. I like Beetroot Poriyal( dry subji) a lot and I love Beetroot Halwa, but the thought of Beetroot in paratha sounded a little off track. My girl kept trying to convince me that I should give it a try and I kept dodging, saying I couldn't imagine a sweetish paratha. The internet has a quite many beetroot paratha recipes, but I refused to look at them. Then one day when I ran out of options to cook dinner, I thought why not give it a try. But the challenge was to balance the sweetness with some spice and at the same time the beetroot is a mild vegetable and also spices do not go very well with it, so I decided to keep it simple.
I am more than willing to say I don't regret making the Beetroot Paratha at all. It tasted so good and the lovely aroma while cooking the parathas was difficult to resist. So much so RK who isn't a beetroot liker at all gave the parathas a thumbs up. Beetroot paratha is definitely becoming a regular at my house.
While you are here please check out other recipes on Rajjo's Kitchen like
Here is the recipe of Beetroot Paratha for you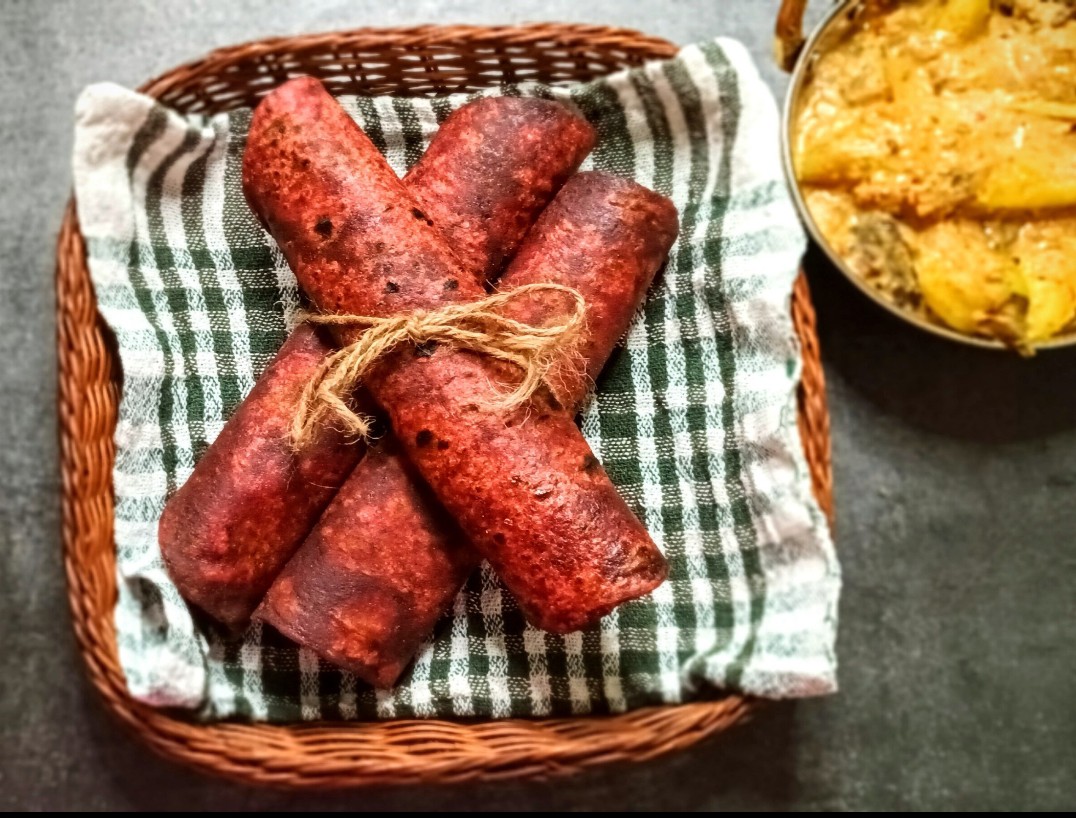 Ingredients
Ingredients
Beetroot 1 Medium  grated
Whole wheat flour 3 cups
Ginger 1 inch piece chopped
Green chillies 3
Salt as per taste
Red chilli powder 1 tsp
Coriander powder 1 tsp
Water as required for making dough
Ol for cooking Parathas
Assemble all ingredients. Grate the Beetroot, make a paste of the green chillies and ginger and keep ready.

In a bowl or dish take 3 cups of whole wheat flour. Add the red chilli powder coriander powder, salt plus the chilli- ginger paste to this.

Now add the grated beetroot and mix well. Don't add any water at this stage keep mixing it with your hands until all the moisture of the beetroot is absorbed by the wheat flour.

Now add water a little at a time and start combining to form a dough. The dough should neither be stiff not too loose. It should resemble the Chapati dough in consistency.

Now pinch small portions of the dough and shape them to balls. This quantity gives around 12 of them. Now dust each ball with flour and roll it out into a thick Paratha. Cook both sides on a hot girdle drizzling some oil, until tiny light brown dots appear. The yummy beetroot paratha is ready to tuck in.

Grate the Beetroot and keep ready. In a mixer grind the green chillies and ginger to a fine paste without adding water. Now in a bowl/dish take 3 cups of wheat flour, salt as required, red chilli powder, coriander powder and the green chilli- ginger paste. Now add in the grated beetroot and start combining with your hand. Do not add any water at this stage. The beetroot also will release some moisture. So once you have combined the flour, spices and the wheat flour nicely, then start adding water little by little. The consistency should be like that of Chapati dough. Rest the dough for 15 minutes and then pinch small portions of the dough and form balls. This quantity yields 12 Parathas. Now dust each ball with flour and roll out to form a medium-sized Paratha. The dough must be rolled out a little thick. The colourful and delicious Beetroot Paratha is ready. Enjoy this colourful and flavourful Paratha. Bon Appetit.
Serving Suggestions: Usually parathas are served with pickle, butter and raita or curd. For this particular paratha, I suggest excluding the pickle as they will be very diverse in taste.
Notes:
The flavour of this Paratha is very subtle, so the spice powders should be used minimally.
This is a no onion- no garlic paratha, it is best kept that way as the pungency of garlic may not go with the taste.
Coriander leaves could be added if you prefer, but I have not used them in this recipe.
If you tried this recipe and liked it please comment below. I would love to hear from you.
If you want the recipes emailed to you leave your id in the homepage near the????
icon. Whenever we have a new post the recipe will be mailed to you. Thank you for showing interest in Rajjo's Kitchen.
Gallery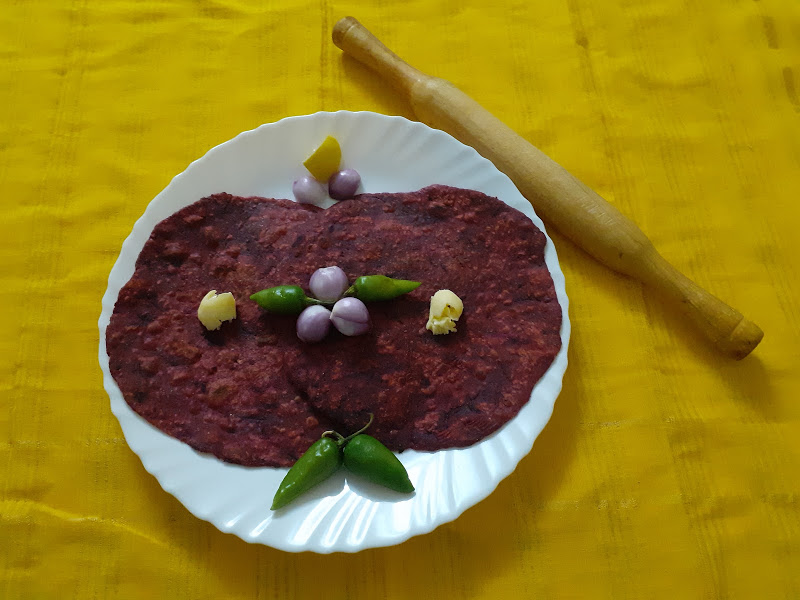 Get yummy recipes delivered to your inbox!
Be the first one to know about our new recipes. Leave your email below and get notified as soon as new recipes are published!