Korean Carrot Salad/Morkovcha
Jump to recipe
Spicy Korean Carrot salad or Morkovcha is a simple salad that is high on flavours. The combination of simple ingredients brings out the best flavours in the sweet carrot. Well, first let's talk about the salads name. Contrary to the name this salad has nothing to do with Korea or Korean cuisine, for that matter. It is believed that Korean immigrants to the then Soviet Union, were trying to create the Kimchi with what ever they could find, and that's how the Morkovcha or Korean carrot salad came to be.
When I tried out this salad recently, I wasn't sure how it would turn out and so the pictures taken were not in the least intended to be on the blog. But this salad turned out to be a hit in my home with everyone wanting more, the Mister wanted more acidity and that was easily managed,but it turned out yum. So the family said I must blog it, and here it goes.
Why and where I found this recipe? I had just bought some juicy carrots, but was so bored of the regular salad I made, which is to add lime juice and salt to grated carrots and temper with some green chillies, mustard seeds and asafoetida. As I scored the internet for a Carrot salad recipe that interested me, I found the current one on letthebakingbegin.com , from which I have taken inspiration and made some modifications.
While you are here check out other recipes on the blog like- Lemon poppy seed salad dressing,  Zucchini and Potato wheat Dosa, Goan style Lobia curry, Broccoli and zucchini fritters, Watermelon rind kootu, Vegetable oats kichdi,  and more…
Here goes the carrot salad recipe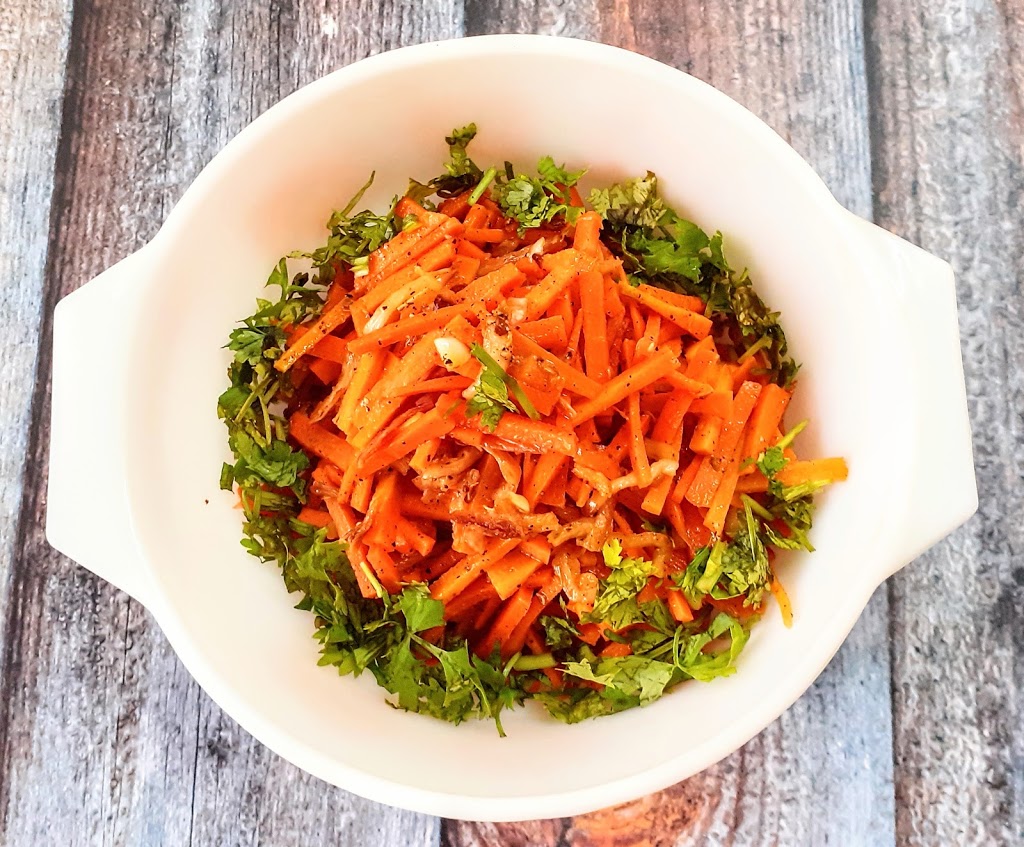 Ingredients
Ingredients
Carrots 3 medium sized, julienned or grated roughly
Caramelized Onions 1/2 cup ( I used store bought dehydrated onions)
Salt as required
Sugar 1 tsp
Garlic 4-5 cloves chopped finely
Pepper powder 1 tsp
Apple Cider Vinegar(ACV) 1 tbsp ( add more if you want more acidity)
Crushed coriander seeds/Dhania 1/2 tbsp
Olive oil (cooking oil, not extra virgin) 2 tbsp
Fresh Coriander leaves for garnish
In a large bowl, take the julienne/grated carrot. Add all ingredients to it except the olive oil.

Now in a small frying pan or tempering pan, take the olive oil and heat it to smoke point(be careful to not start a flame while smoking the oil. If the oil crosses smoke point, it can catch fire). Pour this smoking hot oil over the salad ingredients and give them all a good mix. The salad is ready to serve. We liked it chilled, so I put it in the fridge until ready to serve.

Notes:
Olive oil is the recommended for the exact flavours of the salad.
While bringing the oil to smoke point, be careful to not start a flame while smoking the oil. If the oil crosses smoke point, it can catch fire).
Apple Cider Vinegar (ACV) can be substituted with white vinegar. I would suggest adding it as per your taste.
Gallery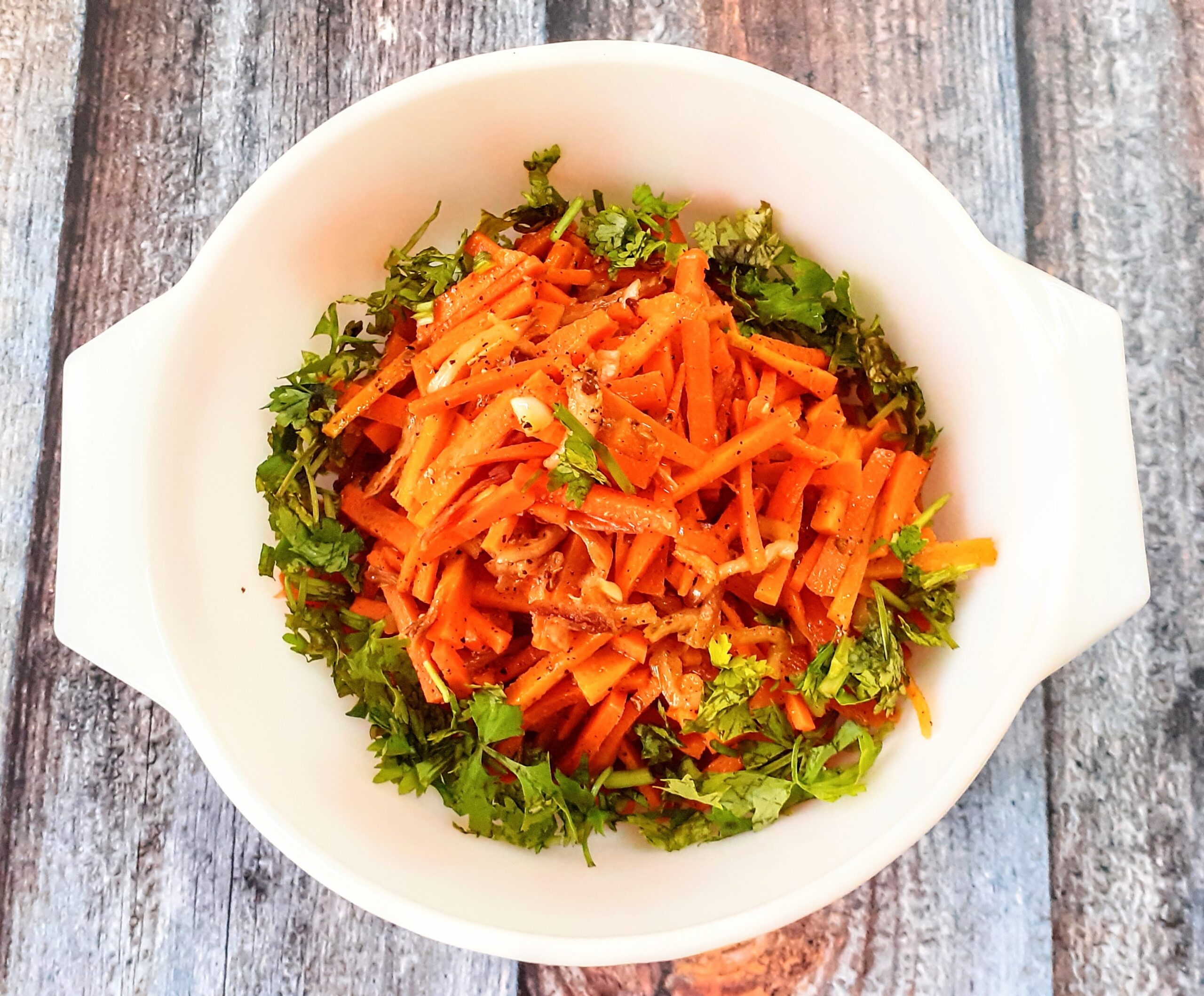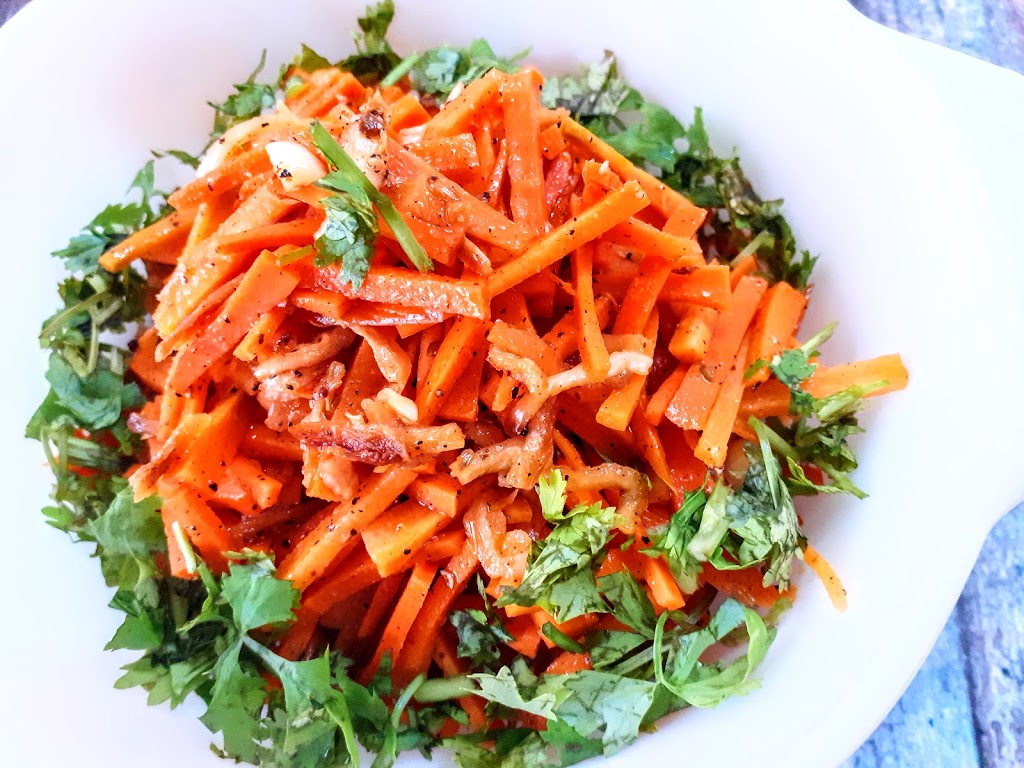 Get yummy recipes delivered to your inbox!
Be the first one to know about our new recipes. Leave your email below and get notified as soon as new recipes are published!