Pumpkin Raita/ Parangikai Thayir Pachadi
Jump to recipe
Pumpkin is an extremely nutrient dense vegetable. It is rich in minerals and nutrients. It has a good amount of Fibre, and is also weightloss friendly.
This mildly sweet vegetable is rich in antioxidants, and good for eyesight. There are many types of Pumpkin, but I prefer to use the one with green skin. That way the skin too can be used.
From a being a kid, who disliked the vegetable, to becoming an adult who loves it, I have come a long way, and this is because I never give up on a vegetable I don't like. I find a way to make it intresting to eat.
A Raita is a condiment that pairs well with Paratha, Pulav and other rice varieties. It is gut friendly and a probiotic. This recipe of Indian Raita comes together with easily available pantry ingredients.
This Pumpkin Raita is delicious with a mildly sweet taste, and mild heat from the green chillies. Try out this healthy recipe, and leave a comment to tell me if you liked it.
While you are here visit my other Pumpkin recipes like – Rasakalan, Pumpkin Kofta, Mathan Puli Pachadi, Pumpkin Halwa, Carrot Pumpkin And Almond Soup, and more.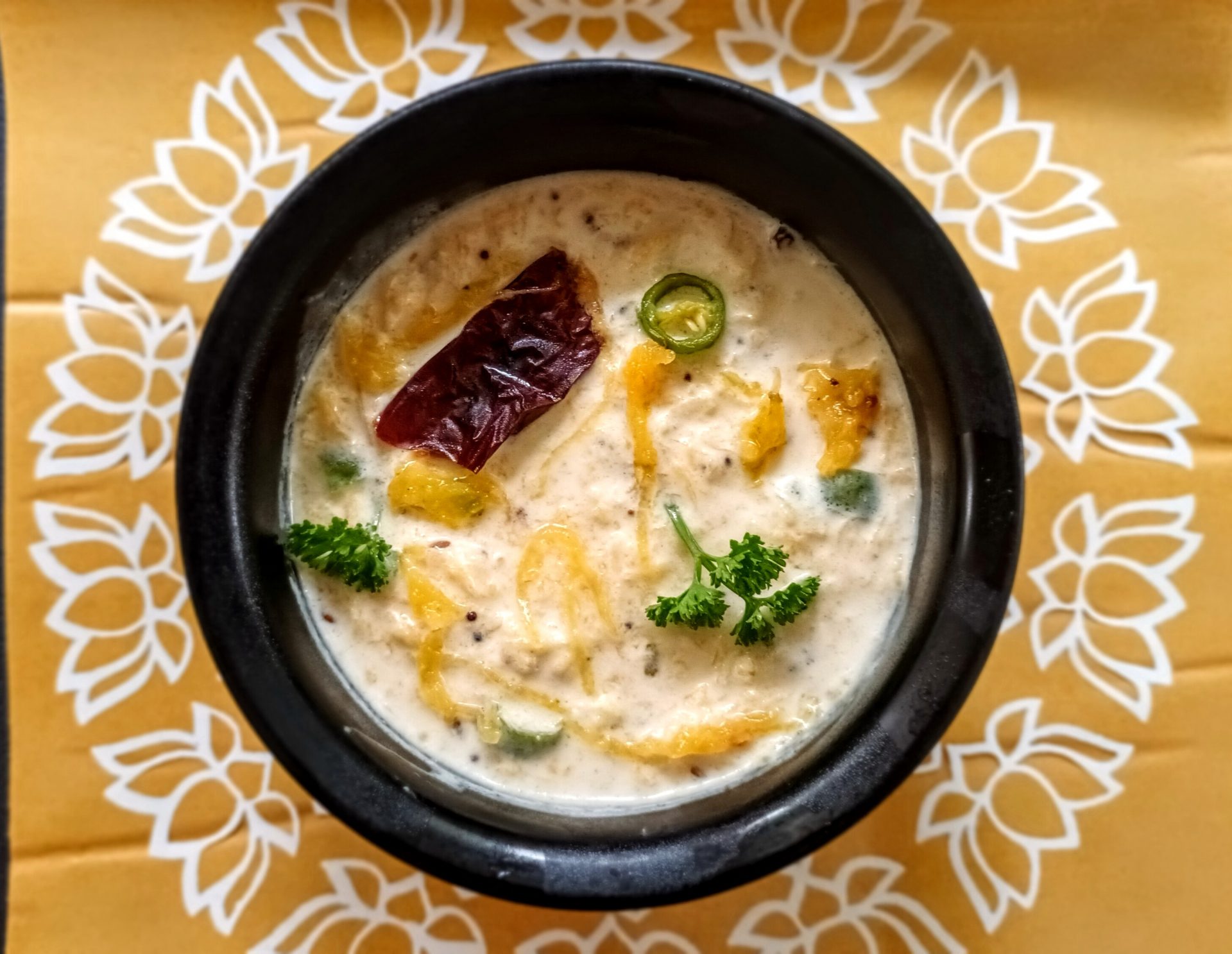 Ingredients
Pumpkin 100 gm grated
Green chillies 2 finely chopped
Thick Curd 2 cups
Salt as required
Mustard seeds 1/2 tsp
Cumin seeds 1 tsp
Whole dry Red Chilli 1 broken
Asafoetida 1/4 tsp
Red chilli powder 1/4 tsp
Take oil in a pan, and drop in the mustard seeds. When they splutter, add cumin seeds, whole red chilli, green chillies,  and asafoetida.  Now add the grated pumpkin, and saute for 2 to 3 mins. Add salt and saute another minute. Turn off the flame and allow it to cool down completely. Once cool, transfer to a bowl, and add the red chilli powder and the curd/ yogurt. Mix well. Adjust salt if required and put it in the fridge to chill. Serve with your favorite Raita or Rice.
Notes:
While I mentioned that I prefer to use the Pumpkin with green skin, it's perfectly fine to use any other variety too. If the skin is thicker, then remove it and then grate.
The green chillies really up the level of this Raita, so be sure to add some depending on your spice levels.
Get yummy recipes delivered to your inbox!
Be the first one to know about our new recipes. Leave your email below and get notified as soon as new recipes are published!