Palakkad Mini Thaali (Thali Ideas)
Jump to recipe
A Thaali is a 3 course(and above) Indian meal which features a combination of dishes that are wholesome, mix and match with each other in terms of texture and  flavour, and are balanced. India being a country with a huge food culture and heritage there are a great number of thaalis which can be cooked, either within a single cuisine, or a mixture of cuisines that match well.
This is an attempt by me to bring here as many Thaali ideas as possible for you all to create. We all want an balanced meal which takes very little time to create, and this is just that. The Thaalis in this series will range from simple to complex, and festive to on the go thaali's.
The below Thaali took me under 60 mins to create. All the recipes mentioned here are also available separately. But here I am giving the whole process of how I went about creating it, and also giving the recipes side by side.
Do let me know in the comment section if I should create more Thaalis like this for you to try. This current one is a simple working day thaali, which one can create before leaving for work(can pack this as lunch as well), or once back home, or any day.
Before I delve into the recipe I would like to give you a small introduction to Palakkad also called Palghat, which is a city in the state of Kerala. It shares its border with Tamilnadu and has a cuisine of its own. Many people are not aware of the amazing dishes this small district in Kerala has and so I am taking it on me to bring you all a few varieties from this cuisine.
This is a cuisine I was born into. Yes, on my paternal and maternal sides I am a Palakkad Iyer. We are a different breed by ourselves, and our cuisine is very unique.
Palakkad people are mostly vegetarians. The dishes are mostly cooked with coconut and usually tempered in coconut oil.
In the blog, I have recipes of Sukhiyan, Adai, etc, which belong to that cuisine. Like all cuisines, Palakkad cuisine also has some unique combinations. For example, this dish of Keerai Molagootal, meaning a spinach/palak based dal with spiced coconut gravy, tempered in coconut oil, and the Mathan Puli Pachchadi, which is a pumpkin chutney simmered in a tangy tamarind sauce with a small bit of jaggery is a unique combination. Here the dal is mildly spiced and flavoured and the chutney or pachchadi, as it is called is a sweet and sour one that perfectly balances the mildness of the Molagootal.
Molagootal is a dish that can be made with many varieties of vegetables like- Snake gourd, Ash gourd, or a combination of vegetables like yam, ash gourd and drumsticks etc;
Similarly Puli Pachadi is a dish can can be made with a variety of vegetables like Ladiesfinger, Brinjal, and  Ripe mangoes.
Planning goes a long way in creating a wholesome, and delicious meal. Please go though all recipes to check if you have all ingredients mentioned.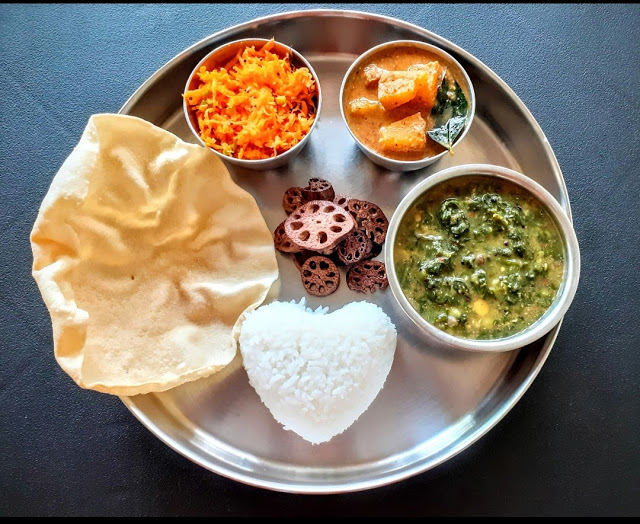 Pre-prep
Elements of this Thaali
*Carrot Salad, *White Rice, *Keerai Molagootal (spinach dal),  *Mathan Puli Pachadi, *Lotus stem crisps, and *Poppadum *Curd(not in picture)
Pre prep
All Vegetables were cut the previous day ( Julienne or Grate the carrot for salad. Chop the spinach finely, wash and drain, chop Pumpkin to cubes, and store in fridge.)
Prep & cook
STEP 1: Wash the rice and Tuvar dal and put them in individual vessels and cook in the pressure cooker upto 5 whistles. (alternatively use the method you regularly use to cook rice and dal).
STEP 2: Start cooking the Palak/spinach as per recipe
STEP 3: Start cooking the Pumpkin as per recipe
STEP 4: While the palak and Pumpkin are cooking, grate the carrot and finish the salad.
STEP 5: Temper both the Molagootal and Mathan Pachadi at the same time.
STEP 6: Fry the Poppadums incase using.
Keerai Molagootal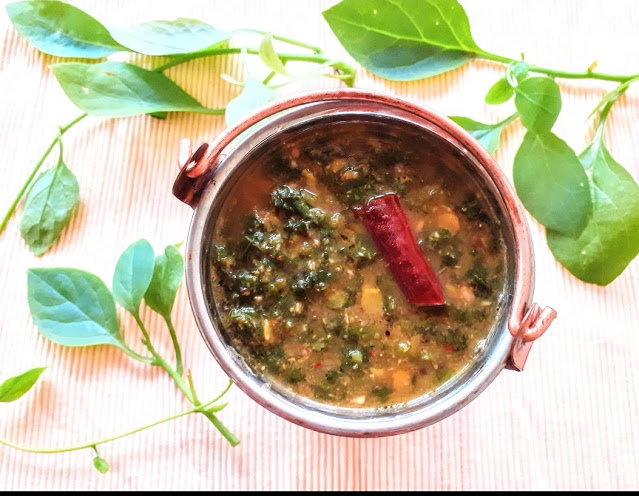 Ingredients
Spinach/Palak 1 bunch chopped finely
Tuvar dal/Toor dal 1/2 cup cooked soft in a pressure cooker
Grated coconut 2 tbsp
Cumin seeds 1tsp
Dry red chillies 1 or 2 depending on spice preference
Peppercorns 4 to 5
Salt as required
Turmeric powder 1 tsp
Ingredients for tempering
Coconut oil ( or refined oil) 2 tsp
Mustard seeds 1 tsp
Chana dal 2 tsp
Urad dal 2 tsp
Dry red chilli 1 broken to bits
Step-by-step
Chop the Palak finely, wash, drain the water and cook the palak with a small amount of water, salt and turmeric powder. Cook the Tuvar dal in a pressure cooker until soft and keep aside.

Grind the coconut, cumin seeds, peppercorns, and dry red chillies to a fine paste and keep aside.

Once the palak is cooked, add the ground coconut paste and allow it to boil for a few minutes( around 2 to 3 minutes will do).

Once the rawness of the coconut paste is gone, mash the cooked tuvar dal with the back of a ladle and add it to the palak and coconut mixture. Let it cook on low flame for 4 to 5 minutes. If it is too thick, add some water and dilute. Check for salt and adjust and put off the flame.

In a small tadka Kadai take 2 tsp coconut oil or refined oil and heat. Add the mustard seeds and as they splutter add the chana dal and urad dal followed by dry red chillies and fry until light brown. Drop this into the Palak and dal mixture. The simple and healthy Palak Molagootal is ready.

Notes
One can use refined oil if they don't prefer coconut oil. Coconut oil enhances the taste of the dish manifold.
The consistency of the dish should be like a dal fry and not too thin or too thick.
Add more coconut for the gravy if you prefer, but increase the spiciness by adding more chillies in case you are using more coconut.
The palak should not be overcooked and must retain its texture.
Mathan Puli Pachadi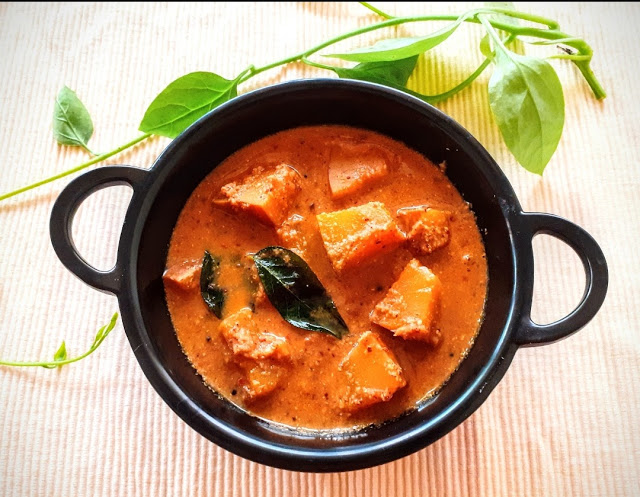 Ingredients
Mathan/pumpkin   200 gms chopped to cubes
Tamarind pulp   1/2 cup or make pulp from gooseberry sized bit of   tamarind
Asafoetida 1/4 tsp
Grated coconut 2 tbsp
Mustard seeds 2 tsp
Cumin seeds 1 tsp
Dry red chillies 2
Jaggery 1 tsp
Turmeric powder 1/4 tsp
Salt as required
Red chilli powder 1/4 tsp
Ingredients for tempering
Coconut oil or refined oil 2 tsp
Curry leaves a few
Mustard seeds 1 tsp
Urad dal 1 tsp
Dry red chilli broken to bits 1
In this recipe, we will be tempering first and then making the dish.
Step-by-step
Heat Coconut oil/refined oil in a pan for tempering(dish will be made in the same pan so choose appropriately). Now add all the tempering ingredients one by one starting with mustard seeds. Fry for 30 seconds. Add turmeric powder.

When the dals in the tempering turn light brown add the cubed pumpkin and saute for a minute or two.

Now add the tamarind pulp(should be dilute) and let the pumpkin cook in it. Add required salt while cooking, and 1/4 tsp of red chilli powder.

Grind the coconut, dry red chillies, mustard seeds and cumin seeds to a fine paste by adding little water. Add this paste to the cooked pumpkin and continue to cook for a few minutes, on low flame.

Finally, add the jaggery, few more curry leaves and drizzle some coconut oil(optional) stir well to dissolve the jaggery and put off the stove. The sweet and sour Mathan Pachadi is ready to serve.

Notes
This pachchadi can be made with other vegetables like Lady's finger, Brinjal, Ripe mango etc;
Maintaining the balance between the tanginess and sweetness is prime to this dish. so sticking to the quantities given will help.
Adding more mustard then required can turn the dish bitter.
Carrot Salad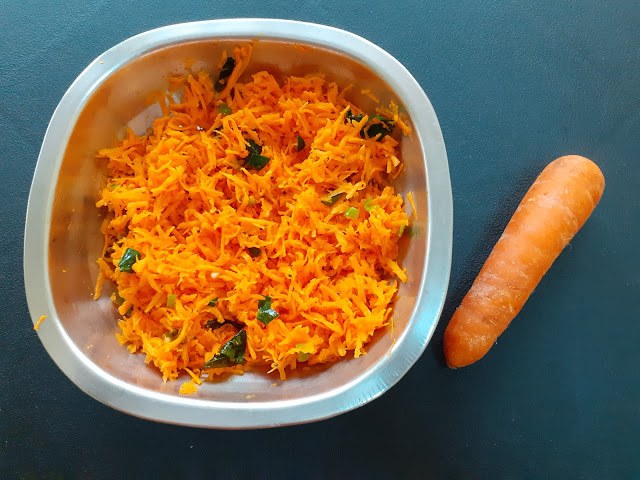 Ingredients
Carrots 2 meduium grated
Green chillies chopped finely
Curry leaves a few, chopped finely
Salt as required
Lemon juice 2 tsp approx
Oil for tempering 2 tsp
Mustard seeds 1/2 tsp
Asafoetida 1/4 tsp
Directions
Take the grated carrots in a bowl. Add salt and lemon juice. Now take oil for tempering and heat it. Add the mustard seeds, once they crackle add, green chillies and curry leaves to the oil followed by asafoetida. drop this tempering into the carrot and mix nicely. Healthy and delicious carrot salad is ready.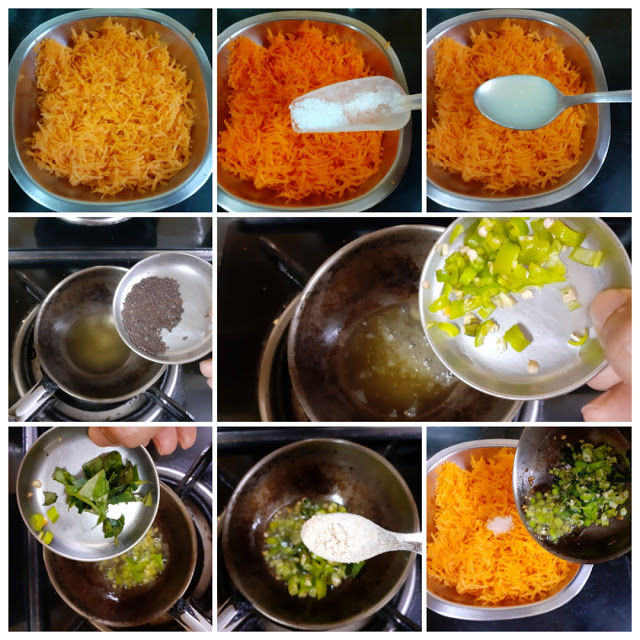 Notes
This same recipe can be tried with radish too.
Overall Notes
Planning goes a long way in creating a wholesome, and delicious meal. Please go though all recipes to check if you have all ingredients mentioned.
All vegetables can be chopped and washed and stored the previous day itself.
The Poppadum and other fries are completely optional. While at home we prefer eating that way, but while carrying it for work, I exclude the Poppadums.
The carrot for the salad can also be grated and stored the previous day.
Get yummy recipes delivered to your inbox!
Be the first one to know about our new recipes. Leave your email below and get notified as soon as new recipes are published!