Lauki Kaddu Ke Kofte
Jump to recipe
Vegetable Kofta is an exotic dish made with minced vegetables, that are fried into fritters and then dunked in an Onion -Tomato gravy. The gravy is spicy, tangy and creamy. There are many variations of koftas, and you can make them with any vegetable you prefer. The vegetables used are either minced or grated, a binding flour is added to them, then spices are added, patted into fritters and deep or pan fried in oil. These Koftas are then added to the gavy and served with Rice or Indian Flatbread.
Usually, these Koftas are made individually as either Lauki (Bottle gourd)Koftas or Pumpkin Koftas. Since I had a small quantity of Bottle Gourd  and Pumpkin, I thought why not combine the two, and I don't regret the result at all. The sweetness of the Pumpkin was well balanced by the Lauki(bottle Gourd), and I must say it was an ideal wedding between the two.
These Koftas can be made with Zucchini too.
Let's get to the recipe right away.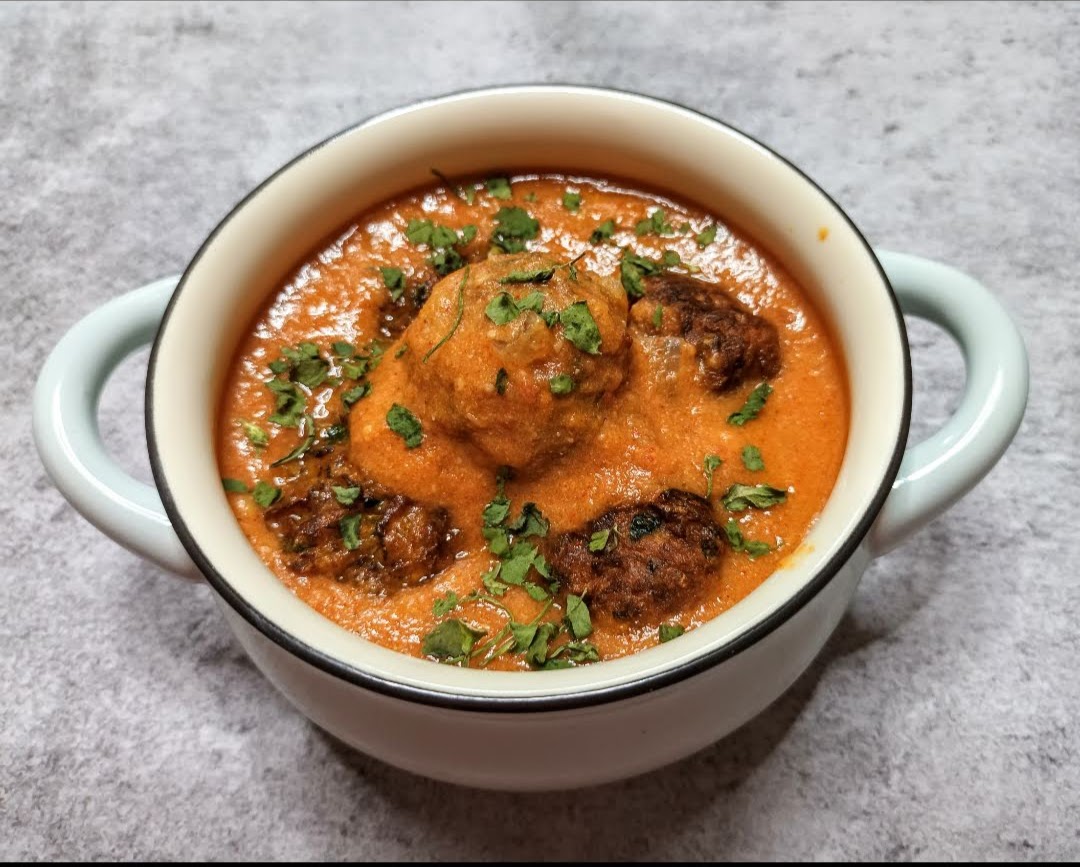 Ingredients
Ingredients for koftas
Lauki( Bottle gourd) shredded 2 cups
Kaddu(Pumpkin) shredded 1 cup
Besan(Gram flour) 1/2 cup (You can add more Gram flour for tougher Koftas)
Coriander(dhania) powder 1.5 tsp
Turmeric powder 1tsp
Red chilli powder 1tsp
Salt as per taste
Green chillies 2 finely chopped
Ginger 1 inch piece finely chopped
Coriander leaves few sprigs finely chopped
Oil for frying Koftas
Ingredients for the gravy
Onion 2 large chopped
Tomatoes 4 medium-sized chopped
Ginger garlic paste 1/2 tsp
Green chillies 2
Cashewnuts 8-10
Salt as per taste
Red chilli powder 1.tsp
Coriander(dhania) powder 2 tsp
Fennel(saunf) powder
Turmeric powder 1 tsp
Jeera/Cumin 1tsp
Elaichi/Cardamom 2-3 pods
Bay leaf(Tej patha) 1
Cloves 2
Garam Masala Powder 1/2 tsp
Oil for deep frying Koftas
1 Tbsp oil for sauteing the onions and tomato
Cream 1 Tbsp (optional)
Assemble ingredients.

To the grated Lauki and Kaddu add salt followed by all the spice powders mentioned in Kofta Ingredients.
Add the Besan/ Gram flour too and combine nicely. Don't add any water, the moisture in the vegetables will do.

Heat oil in a Karahi, shape the Koftas or drop them with a spoon carefully into the oil and fry them to a golden colour.  Drain them on absorbent paper.

Heat oil in a Karahi and add Jeera/ Cumin. As they splutter add the chopped onions and ginger-garlic paste. ( you can add the whole spices too in the oil if you don't want to chew on them while eating) . Add the 2 whole chillies too.

Saute well until the Onions start turning brown and add the chopped Tomatoes and Cashewnuts to this. Stir well and cook until Tomatoes break and turn mushy. Leave to cool.
Transfer to a blender and puree it.

Now take 1 Tbsp oil in a karahi and add the Jeera and whole spices mentioned in Gravy preparation.
( please don't add again if you had while sauteing the Onion tomato mixture). Once they turn aromatic put in the onion-tomato puree and stir well. Keep stirring for a few minutes.

Stir the gravy nicely and add all the spice powders mentioned in the Gravy ingredients. Cook for 2 mins and add 1.5 cups of water. Let it come to a boil and the gravy will start thickening. At this stage add Garam masala powder and put off the stove. Add the cream now and give a gentle stir( this step is optional).

Assembly of Koftas and Gravy-  In a flat dish arrange the Koftas and pour the gravy over them. Decorate with finely chopped coriander leaves and serve with Rotis, Phulkas, Naan, or Rice

Method for making Koftas
Combine the grated Lauki and Pumpkin and add all the dry ingredients including the Besan. The moisture in the vegetables is enough for formating the Koftas. Try not to add any water. Heat oil in a Karahi and when hot, reduce the flame to medium and drop the batter with a spoon, or shape them with hand and drop it in oil carefully. Fry until golden brown and repeat the same for all the batter. Put the fried koftas on absorbent paper for the oil to blot. Set aside.
Method for gravy
In a Karahi take 1 tbsp oil and heat it. Add all whole masalas one by one, fry for a minute and add onion and saute until a nice brown, add the Tomatoes, cashew nuts, and salt and saute further until the tomatoes turn mushy.
Cool the onion-tomato mixture and grind it in a processor until smooth.
In the same Karahi add 1 Tbsp oil and heat, pour the paste when the oil is hot, and stir nicely. Add all the powdered spices and mix well. Cook until oil is released. Now add 1 cup water, adjust consistency, and let it boil. When it starts getting thick again, sprinkle the Garam masala and put off the stove and add the cream(this step is totally optional). To serve arrange the Koftas in a dish and pour the prepared gravy over it, decorate with finely chopped coriander leaves and enjoy with Rotis, Chapati, Naan, Phulkas.
Bon Appetite!
Notes:
The moisture in the vegetables is enough for forming the Koftas.
If you choose to add the whole spices to the onion-tomato mix, you can consider straining the puree, to get rid of any unground spice.
If you are adding all whole-spices together to the oil directly, after making the gravy you can fish them out with a spoon if you don't want to chew on them.
If you try out this recipe, please comment below. I would love to hear from you.
Gallery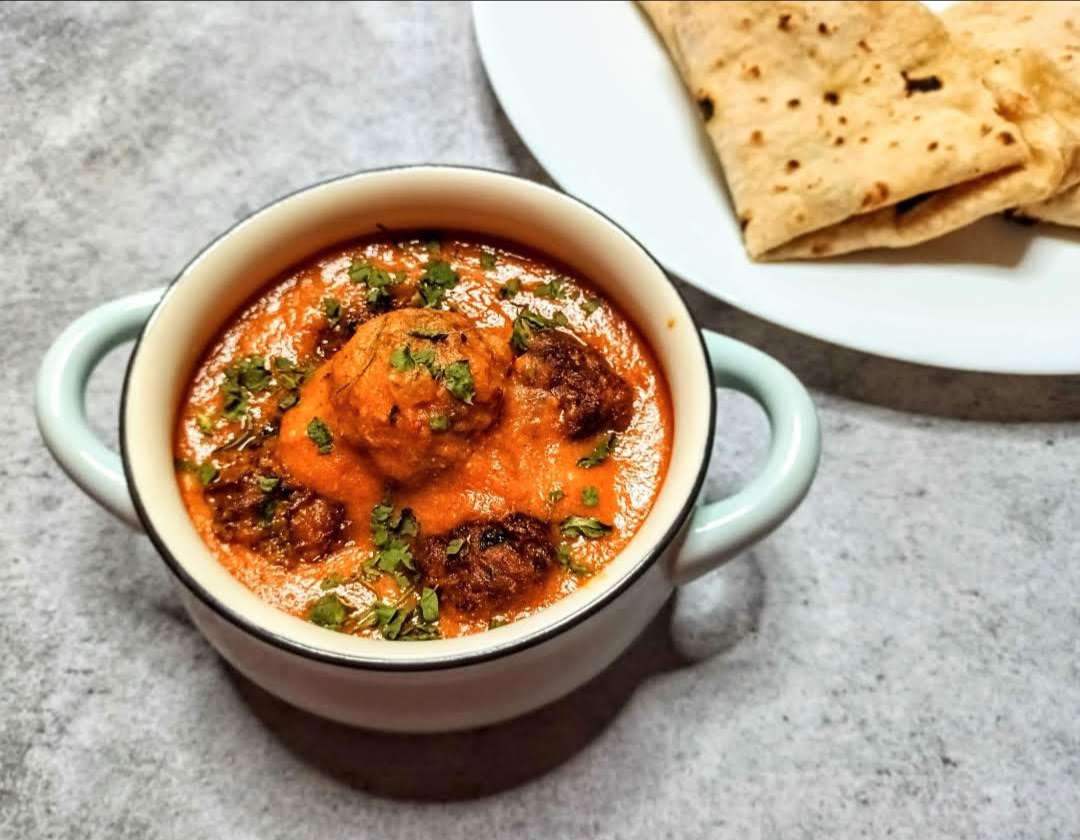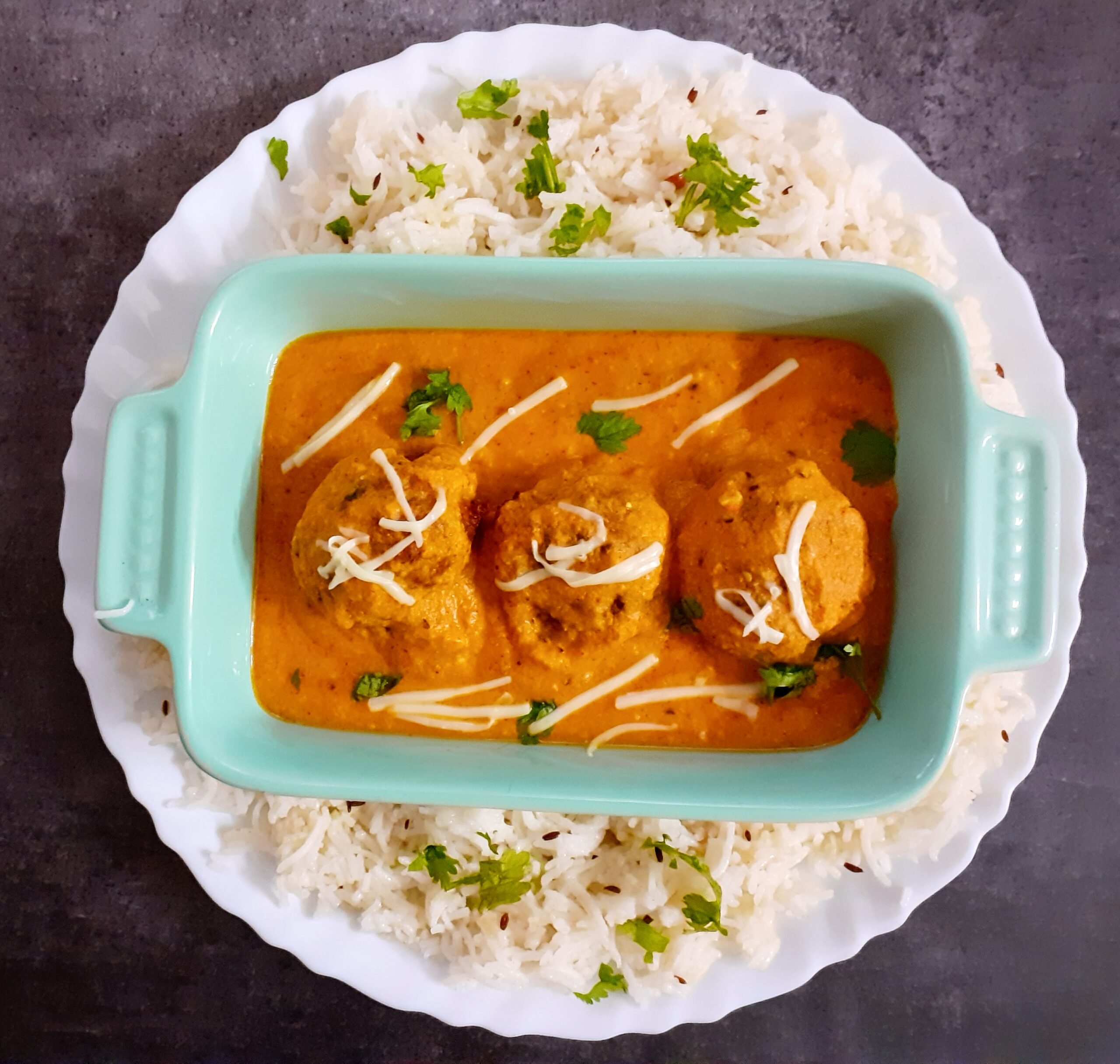 Get yummy recipes delivered to your inbox!
Be the first one to know about our new recipes. Leave your email below and get notified as soon as new recipes are published!