Kubani (Qubani) Ka Meetha
Jump to recipe
Kubani / Qubani Ka Meetha is a delicious sweet dish from the Hyderabadi cuisine made from Apricots. This dish comes together so quickly and is beginner friendly. An easy dessert, you can whip up for yourself and your loved ones. Apricots are loaded with minerals Potassium which maintains the electrolyte balance, and that's probably why this dish is a favourite during the fasting month of Ramzan.
Having been raised in Hyderabad, this dish is very close to my heart and I have also enjoyed it at many weddings in the city. Qubani Ka Meetha has always been on my to-do list, and finally I'm fulfilling this wish for Diwali this year.
History of Kubani Ka Meetha- Qubani is the Urdu term for Apricots. These Orange coloured small fruits, do not last long, and hence are dried to preserve them. It is said that Apricots were bought to India during Alexander's time, when he exported them to Europe via India. Coming to the dish itself, it is believed that Babur who was the founder of the Mughal dynasty, craved for them while he was in India during his conquests. He assumed it would be difficult to find Apricots in India, and was ecstatic when he found them during trade. The dish was taught to the Royal cooks of Hyderabad, and it came to be the favourite at Hyderabadi weddings.
What Ingredients go into making this Dessert– Well, just three- Apricots, water and sugar. So you see why this dessert is so fuss free and beginner friendly, don't you ? A dessert you will never go wrong with, and will impress all your guests and send accolades your way.
What type of Apricots suit this dish – You can use both, ones with seeds, and ones without. If using the ones with seeds, they need to be removed after soaking.
Can I use regular water or flavoured water – Around 1.5 cups of water is required to cook the dish. The water in which the Apricots were soaked is used, plus some more of Rose water or regular water can be added. I have not used Rose water in this recipe.
What kind of Sugar can I use for this dessert – All sugars work well for this recipe- white, brown or Demerara .
How long does it take to cook this dish – The Apricots  have to be soaked for 8 hours, or overnight. Thereafter, cooking takes about 40 minutes only.
While you are here I request you to take a look at other dessert recipes like- Gajar Halwa Barfi, Moong dal Halwa, Sabudana Kheer, Beetroot Halwa, Pistachio Cake with White Chocolate Glaze, Kova kajjikayalu, and more…
Watch how to make Qubani Ka Meetha in the Notes section.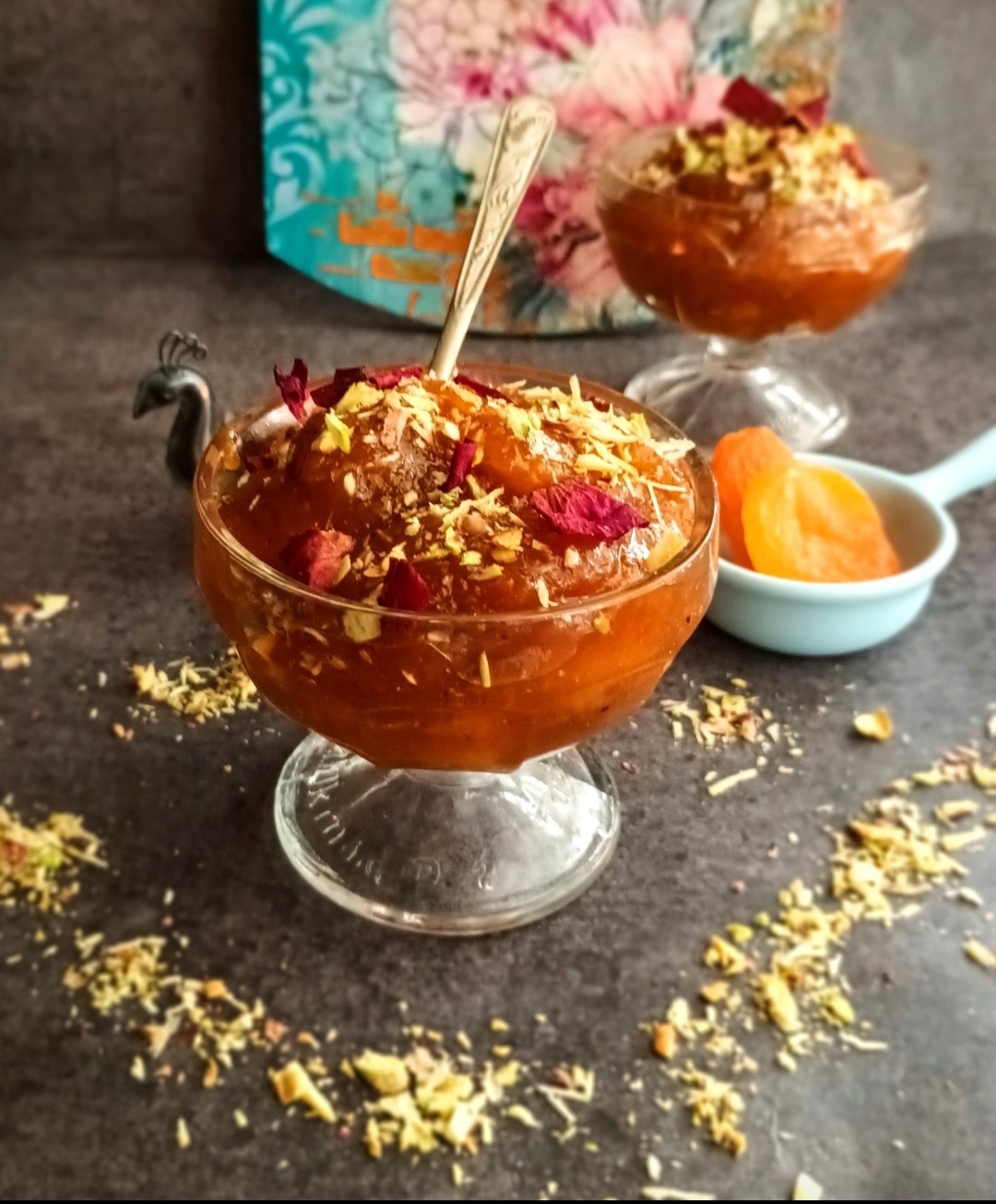 Ingredients
Dried Apricots 20 numbers soaked overnight or for 8 hours
Sugar 1/2 cup + 2 tbsp
Saffron 1 tsp soaked in 2 tbsp hot water
Water 1.5 cup ( Mix of soaked water and regular)
Cardamom Powder 1/2 tsp optional
Pistachios,- sliced a few for garnish
Soak the Apricots overnight, or for 8 hours minimum. If you used the seeded ones, then remember to de seed before proceeding with recipe. Soak the Saffron strands in hot water for few minutes.
Now take the soaked Apricots, 1/2 cup sugar, and water, in a Pan. Cook everything over a low flame, stirring from time to time until the mixture becomes a little thick. This takes about 8 to 10 minutes. Turn off the flame and cool.
Now transfer more than half the quantity of the cooked Apricots to a blender jar and grind to a fine paste without adding any water. Now transfer the whole cooked Apricots, and the pureed apricots to another vessel, add 2 tbsp sugar, 2 tbsp water, and cook over a low flame for 5 minutes. Turn off the flame, add cardamom powder, and garnish with nuts.
Serve warm with some fresh cream.
Notes:
Use good quality saffron, and no food colour for this recipe.
Good quality apricots also make a huge difference to the dish.
Instead of using plain water, Rose water can also be added.
The 1.5 cups of water should include, the soaked water, the saffron infused water, and more plain or Rose water to make up the 1.5 cups.
If you wish you can puree all the cooked Apricots, instead of leaving some whole. However, keeping a few of them whole, will give a nice texture to the dish.
Making Video
Gallery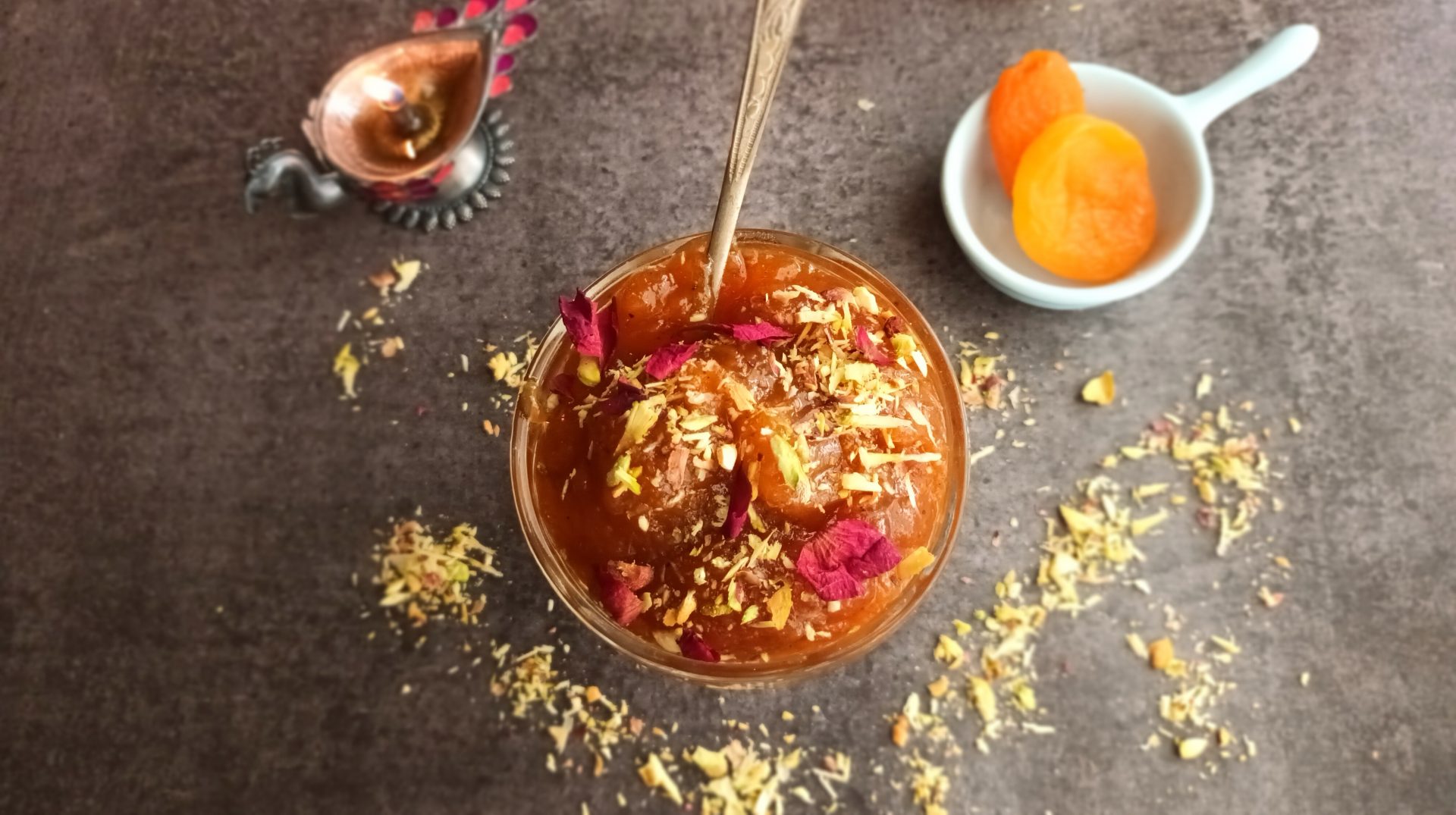 Get yummy recipes delivered to your inbox!
Be the first one to know about our new recipes. Leave your email below and get notified as soon as new recipes are published!