Semolina (Suji) Cheese Balls
Jump to recipe
This is a desi version of American Corn Cheese balls sans the corn. It's a no Maida recipe. I made this recipe the first time today and they turned out very well, and hence decided to blog them. They are the perfect tea time snack. I have stuffed the Sooji balls with a seasoned cheese mixture. The cheese mixture is enclosed in a Suji and potato jacket. The use of Suji has made the balls very light and crisp at the same time. Here's the recipe…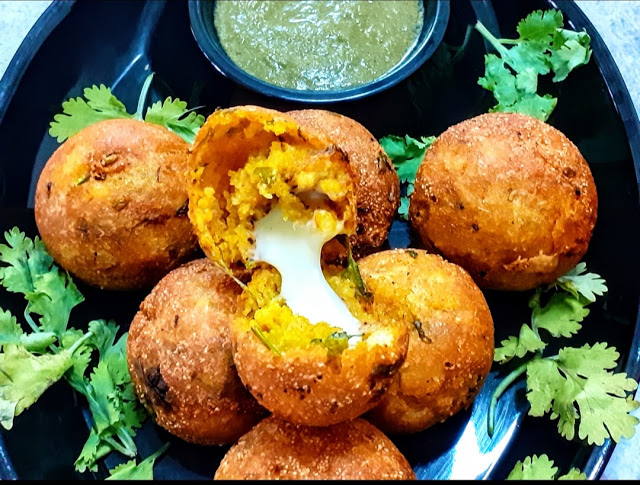 Ingredients
Ingredients
Semolina( Suji) 1 cup
Potatoes 3 medium size boiled and grated
Cheddar cheese 1 cup grated
Coriander leaves 1tbsp finely chopped
Green chillies 3 finely chopped
Salt as per taste
Coriander powder 2 tsp
Fennel powder 1 tsp
Red chilli 1 tsp
Garam masala powder 1/2 tsp
Pepper powder 1/4 tsp
Red chilli flakes 1/2 tsp
Assemble all ingredients. Boil and grate potatoes and grate the cheese.

Make the filling by adding Red chilli flakes and pepper powder to the cheese and diving the cheese mixture into 12 tiny balls which will fit into the Suji balls.

In a small pan or vessel boil 1.5 cups of water with 1/4 tsp of salt.  Once it starts bubbling slowly pour the Suji little by little and stir simultaneously ( like cooking Upma). Once the water absorbs all the Suji and dries up( it should be cooked- colour changes and it becomes pale) put off the stove and cool. This step can be done ahead and kept.

In a big bowl put it the cooked Suji, grated potato followed by green chillies, chopped coriander, and all dry masalas and salt and combine all of them well to form a big ball. Divide the ball into 12 smaller portions.

Now take one Suji ball at a time and make a cavity( hole) in the centre with your thumb and widen it. Put in the tiny cheese ball into this cavity and seal well. Likewise, repeat for all the 12 portions. ( please check point 5 in notes, as I have updated it recently).

Heat oil for frying in a karahi and get it medium hot. Now drop the cheese-filled Suji balls gently into the oil and fry. You can fry a few of them at a time. Get them to a nice brown colour and remove from oil and drain on absorbent towels. Repeat for all 12 portions. Serve. hot with some tomato ketchup. ( please refer to note 6 here).

Directions for filling
Grate the Cheddar cheese, add chilli flakes and pepper and mix well. Make tiny balls of them for stuffing and keep aside.
Directions for Suji balls
In a pan take 1.5 cups water and put it to boil. As it starts boiling slowly start pouring the roasted Suji into the water( like making Upma) and keep stirring simultaneously. Stir until all water is absorbed and it becomes dry. Boil the potatoes mash them. In a big bowl put in the cooked Suji, the grated potatoes, green chillies, coriander leaves and all dry masalas- red chilli powder, coriander powder, fennel powder, salt and garam masala and combine all together such that all masalas are well mixed well. Form into a big ball. Divide this into 12 medium-sized balls and keep aside. Take one ball at a time and make a cavity into it with your thumb and widen it, put it the cheese mixture and nicely seal the ball well. Repeat with all balls. Now heat oil for deep frying in a karahi. It should not be too hot. When it is medium hot drop the balls gently into the oil a few at a time and fry them on medium heat until they are nicely brown and crisp. Drain the oil on absorbent paper and serve hot with a bowl of tomato ketchup. The yummy Suji Cheese Balls are ready. A cup of tea to go with it makes for a monsoon time snack. Children too will like this snack.
Notes:
The Suji can be cooked well in advance. The potatoes too can be boiled and grated much ahead.
Do season the cheese with chilli flakes and pepper or it may taste bland.
Don't overheat the oil or the insides will remain raw. At the same time, the oil should not be under heated, or the Suji will absorb more oil. To test drop a tiny bit of the mixture, if it rises up gradually it is the right temperature.
These Suji balls can be made into bite-sized balls and served as starters for a party or get together.
When I made these the next time, I quartered a cheese cube and dusted it with pepper powder, and stuffed it into the Suji balls . If you don't want to grate cheese, this is an alternate. And the cheese was more melty this way.
Instead of deep frying I tried using a Appe pan ( Appa chatty/ Paniyaram mould) and the outcome was very good. For a less oil option, one can do that too.
If you made this recipe and liked it please comment below. I would love to hear from you.
Get yummy recipes delivered to your inbox!
Be the first one to know about our new recipes. Leave your email below and get notified as soon as new recipes are published!