Aam Ras ( Mango Pulp)
Jump to recipe
Aam Ras is every ones  favorite summer fruit dish in India. Which actually is just Mango pulp blended with a little bit of sugar and some milk. Mostly served cold or at room temperature, a Gujarathi or Maharashtrian meal is never complete without this. The beauty of this simple dish is that it serves asan accompaniment as well as dessert. Who would not like to relish Puris(fried indian flatbread)with Aam Ras. I could just have it by itself or with Rotis. Come mango season and everyone binges on this. Have you wondered why milk is added to it? By nature Mango fruit is considered as a heat giving fruit. So to reduce its heat(not spice, its natural quality), milk is added,which balances it out. Some people also immerse the mangoes in water for a couple of hours for the same reason.
Choose juicy, sweet and non fibrous Mangoes.
While you are here I request you to checkout my chutney recipes like- Roasted Bell Peppers Chutney, Dosakaya Chutney, Aati Kachina Thakkali Kuzhambu and more.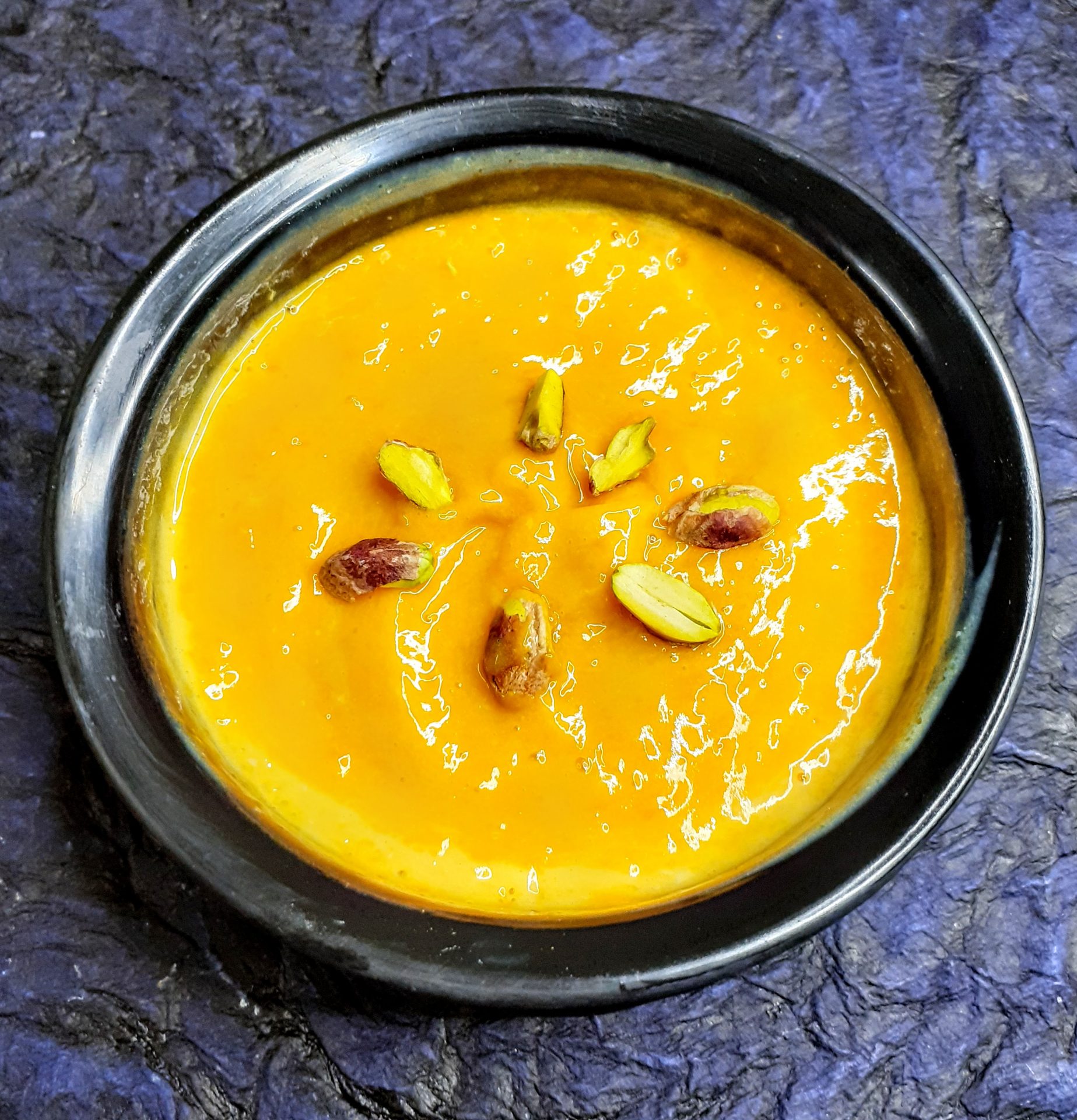 Ingredients
Ripened Mango 1 large
Sugar 3 tsp (optional. Can avoid if mangoes are very sweet)
Milk 1 cup
Pistachios, a few for garnish (optional)
Chop the Mango into cubes and put it in a blender. Add the sugar and blend to a smooth puree. Transfer the puree to a bowl.

Now to the blender jar add half a cup of milk and blitz (this way the mango pulp stuck to the blender will not get wasted). Pour this into the puree and mix well. Add another half cup of milk and adjust consistency (skip adding more milk if you have your required consistency). Top up with some chopped nuts and enjoy as dessert or on the sides with any flatbread.

Notes:
Choose juicy, sweet and non fibrous Mangoes.
Mango varieties like Alphanso, Dussheri, Mallika, Kesar work best for this. But I do make it with Banganapalli Mangoes too.
If the pulp is too thick add more milk to dilute.
Saffron added milk gives the Aam Ras an exotic feel.
For a vegan version of Aam Ras Soy or Almond milk can be used.
Get yummy recipes delivered to your inbox!
Be the first one to know about our new recipes. Leave your email below and get notified as soon as new recipes are published!