Baigan Raita/Kathrikai Thair Pachchadi
Jump to recipe
Raita is a yogurt-based condiment. It usually contains cooked or raw vegetables/fruits/pulses, mixed with the Yogurt/Dahi and tempered with Mustard and Jeera. The Raita is usually served with Biriyani, Pulav, Parathas, Naans, or can be served as a dip for Kebabs too.
Raitas are a regular feature at my house. Whenever I make Parathas I usually pair it with a Raita instead of plain curd, and it goes without saying that Biriyani is almost always served with raita. I use raitas such as Mint raita as a dip for Kebabs too.
This recipe of Baigan raita is a very simple one, gets done in 15 minutes, at the end of a tiring working day when one wants to eat veggies but isn't up to cooking a proper subji, is when this Raita comes in. I have used the Big Bharta Baigan(Kathrikai) in this recipe. The small ones will work fine too, but the big ones give it a special taste.
This method of making the Raita really gives a very nice flavour and taste.
In South India this Raita is usually made by roasting the Eggplant over a flame, mashing it, and then adding it to curd along with a tempering of green chilies and ginger.
The big Baigans get mushy too soon, so the trick lies in cutting them appropriately(mentioned in the recipe), the rest is just whisking the curd and adding the masala and the raita is ready.
While you are here please visit other Raita recipes of mine like Bhindi Raita and Mint Raita more Raita recipes will be uploaded soon.
Here is the recipe of Baigan Raita for you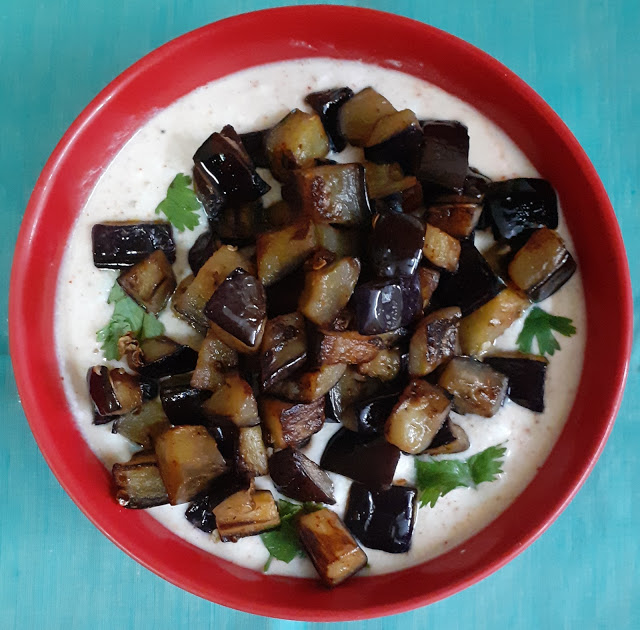 Ingredients
Ingredients
Baigan/Kathrikai(big one/Bharta Baigan) 1 medium-sized
Curd 500 ml
Salt as per taste
Red chilli powder 1 tsp( for more spice can add more)
Roasted Cumin/Jeera powder 1 tsp
Sugar 1 tsp
Assemble all ingredients. Cut the eggplants/Baigan as stated in the directions for cutting above.

Now in a Kadai or pan take 1 tbsp oil and heat. Put in the Cubed Baigan and fry on high flame adding a minute amount of salt. Do not add too much salt. The Baigan should get a light brown tint, should be cooked, and yet retain its shape and not turn limp.

Now lightly whisk the curd. Add the salt, red chilli powder, roasted cumin powder, sugar and stir nicely.

Add the cooled and cooked Baigan pieces to the curd mix and refrigerate until ready to serve.
Cutting of the Baigan: Big Eggplants/Baigan tend to get very mushy when cooked. So it is important to cut the Baigan such that every piece retains the peel(skin). The Baigan must be cubed into small pieces. Cutting in a way that every cube has the peel ensures that they don't get mushy, and cubed Baigan must be fried in 1 tablespoon oil on high flame until they get a light brown tint. Add a small amount of salt while frying them. The Baigan/ eggplant must not lose shape. It should have cooked, but remain firm. Set these fried pieces aside to cool.
Now take the curd in a bowl and lightly whisk it, just smoothening it will also do, as too much whisking will make the curd runny. Add the salt, red chilli powder and roasted cumin powder, sugar and mix well. Now add the cooled and cooked Baigan pieces to the curd and spice mix and put it in the refrigerator until you serve. The delicious Baigan Raita is ready.
Serving suggestions: Parathas, Kebabs, Biriyani, Pulav, Jeera rice, coriander rice, Masala rice, Flavoured rice, and other rice varieties.
Notes:
If using the big Eggplants cutting them as recommended is a crucial step.
Adding sugar gives a very nice taste to the Raita, so try not skipping this step.
If you tried this recipe and liked it please comment below. I would love to hear from you.
If you want the recipes emailed to you,  leave your id in the homepage near the????
icon. Whenever we have a new post,  the recipe will be mailed to you. Thank you for showing interest in Rajjo's Kitchen.
Gallery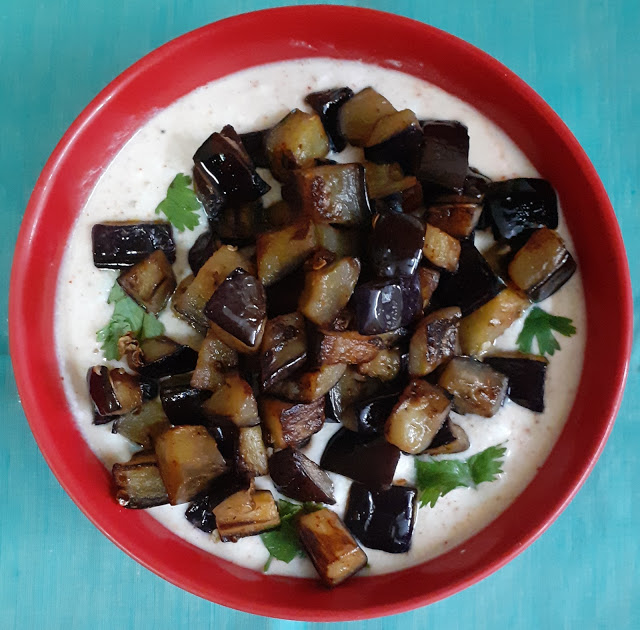 Get yummy recipes delivered to your inbox!
Be the first one to know about our new recipes. Leave your email below and get notified as soon as new recipes are published!