Rice Recipes For Aadi Perukku
Jump to recipe
Aadi, the fourth month of the Tamil calendar, is also known as Kataka or Karkataka because it is when the Sun moves into the Cancer zodiac sign. Aadi falls between mid-July to mid-August.
During Aadi, the Devas (celestial beings) worship Shakti (the Goddess Gowri), marking the beginning of their nighttime. As the Devas cannot bless people on Earth while they are engaged in worship, auspicious ceremonies like marriages and Upanayana are not performed.
There are several festivals and special days celebrated during the Aadi month.  I'm documenting the recipes / dishes, that are cooked for the Aadi Perukku festival here.
Aadi Perukku, also known as Padinettam Perukku, is the 18th day of the Aadi month. On this day, people offer prayers to the perennial river basins of Tamil Nadu, praying for a good monsoon and fertile land. Rice dishes like coconut rice, lemon rice, and tamarind rice are cooked and offered as Prasad. People also gather around water bodies like waterfalls, rivers, and springs to enjoy these rice dishes.
Aadi Velli or Fridays of Aadi Month are considered propitious to offer prayers to thebdivine Goddess. Every Tuesday, friend Sunday of thus month special prayers are offered, and delicious Prasad is offered to the diety. I have already documented the recipes for these here.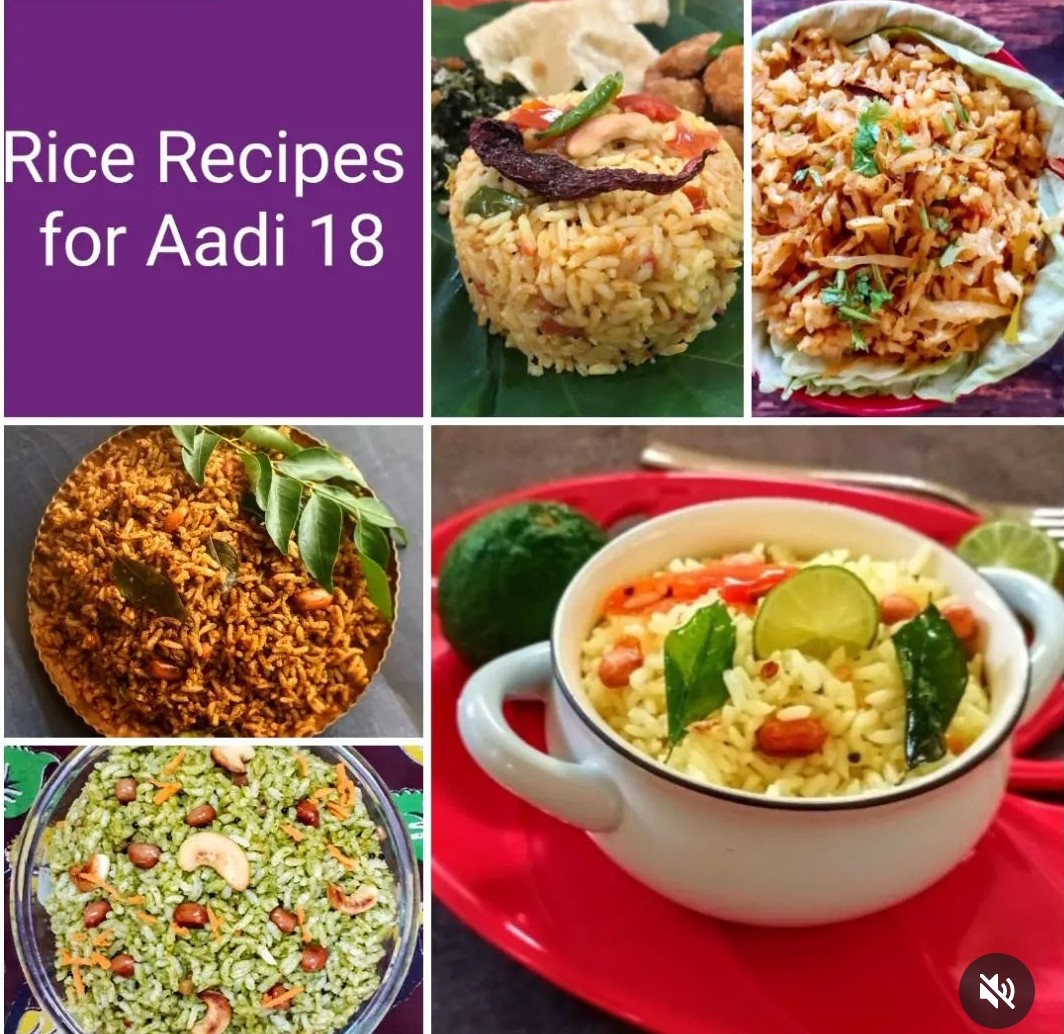 Bisi Bele Bath –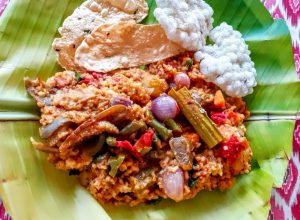 Bisi Bele Bath is a popular dish from the Karnataka state in South India. It is a rice and lentil dish cooked in a tangy tamarind sauce, with a lot of seasonal vegetables. What gives this dish a unique flavour and taste is the Bisi Bele Bath masala. On festival days Onions can be omitted from the recipe. Find the recipe here.
Lemon Rice –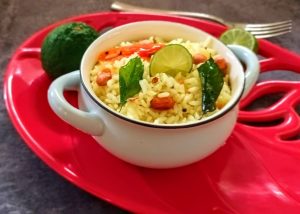 Lemon Rice is one such recipe which is easy to make with minimum ingredients. It doesn't need any specific accompaniment. It can be had just like that or with Papad. It's the perfect lunchbox item. The zing and freshness of lemon is enough to bring everyone to your table for their share. Find the recipe here.
Tomato Rice –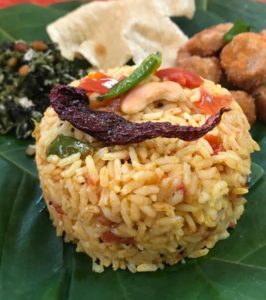 Tomato Rice is a very simple recipe and I love making it just for this reason. It is a quick fix in many ways. Whether I have to head out in a hurry or have to fix a lunchbox in a short time, this dish is always my option. Find the recipe here.
Coriander Rice/ Chutney Rice-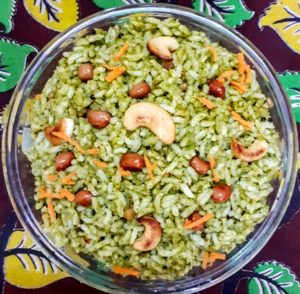 This Coriander Rice recipe is a simple one, and a great Lunch Box option for kids, and adults. This Rice Recipe is healthy as Coriander is rich in fiber and essential nutrients. It aids in digestion as well. So why leave out such a beneficial herb from main course cooking and limit it to just being a condiment. For those looking for Gluten Free Cooking, here another recipe for your to try. Find the recipe here.
Masala Rice-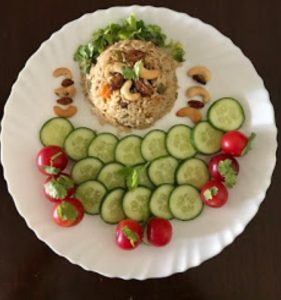 Masala Rice is flavourful rice with vegetables and a ground paste. The aroma that fills your home while making it will bring in everyone to the kitchen. On festival days the garlic can be omitted from the recipe.  Find the recipe here.
Cabbage Pulav –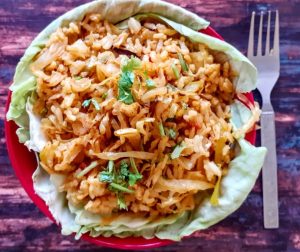 This simple cabbage pulav  is tasty and easy to cook. Even your fussy and picky eaters will lap this up. Made with Cabbage and a few everyday Indian spices, thus dish is simple yet delicious. Find the recipe here.
Coconut Rice –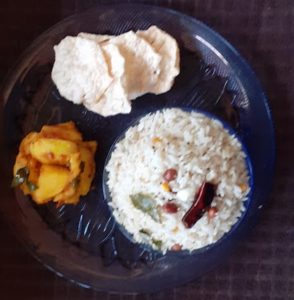 This recipe of Coconut Rice is flavoured with freshly grated coconut and tempered with whole spices in coconut oil. The spices used here are very minimal. It makes for a good lunch box recipe. Served with Potato fry and some Vadams(fries), and Raita it makes for a wholesome lunch idea. Leftover rice can also be given a makeover by making coconut rice. Find the recipe here.
Notes:
While making variety rice, it us important to cook and cool the rice ahead.
I prefer to pressure cook rice, allow natural pressure release, and then spread on a large plate to cool off. Drizzling a little oil on the rice while cooling ensure, the grains don't stick together.
To get perfectly cooked rice in a pressure cooker, use short grained rice in the ratio if 1:3( please note that this may vary depending on the variety and quantity of shirt grained rice). Switch of the cooker as soon as 3 whistles have passed, and allow pressure to release naturally.
I recommend not using Basmati Rice while making South Indian style variety rice.
Get yummy recipes delivered to your inbox!
Be the first one to know about our new recipes. Leave your email below and get notified as soon as new recipes are published!