Masala Rice
Jump to recipe
Masala Rice is flavourful rice with vegetables and a ground paste. The aroma that fills your home while making it will bring in everyone to the kitchen. It is a very simple Rice and wholesome too. Just serve it with Raita and papad and all hungry souls will be content.
Let's get to the recipe right away.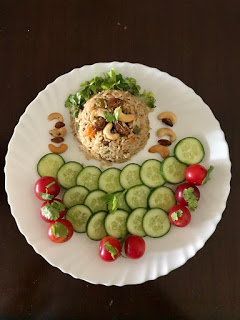 Ingredients
Ingredients
Uncooked Rice 1 cup (Regular/ Basmathi, both are fine)
Water( to cook rice, 2.5 cups for regular rice and 2 cups for Basmati)
Carrot 1 small
Potato 1 medium
Beans 4 long
Brinjal/Eggplant(any variety other than globe)
Red chilli powder 1 tsp
Garam masala powder 1/2 tsp
Coriander/ Dhaniya powder 1 tsp
Cloves 3
Cardamom/ Elaichi 3
Cinnamon 1 inch stick
Saunf/ fennel seeds 1/2 tsp
Star anise 1
Peppercorns a few
Fresh Coriander leaves finely chopped
Oil for tempering
Cashewnuts 5 to 6
Raisins  5 to 6
Paste ingredients
Coconut 3 Tbsp
Green chillies 2
Garlic 5 to 6 cloves
Ginger 1 inch piece
Assemble all ingredients.

Wash the rice and soak it for 15 minutes.

Take a deep Karahi, you can use a cooker too. Pour in 2 Tbsp oil and heat. Add the Cashewnuts and Raisins, fry and set aside. To the same oil as all whole masalas and fry until aromatic.

Add in the Vegetables and saute for 2 mins. Add the soaked rice after draining the water and saute all of them together.

Add all masala powders to this and mix well. Add the water now, give it a nice stir and lower the heat of the stove.

Grind a smooth paste with all the paste ingredients and add the paste to the rice. Now increase the heat and cover the Karahi/ cooker and cook the rice. Takes up to 15 mins. If using cooker put off the stove after 3 whistles.

Masala rice is ready, garnish with some coriander leaves and the Cashewnuts and Raisins kept aside.

Wash rice and soak for 15 minutes. Cut vegetables into cubes and keep ready.
In a deep Karahi take about 2 Tbsp oil . Once it's hot, add all whole masalas like Cardamom, Star anise, Cinnamon, Fennel, Peppercorns, and Cloves. Fry until they turn aromatic. To this, add the cut vegetables and saute for a few minutes. Now add in the soaked rice after draining the water. Saute all of them for a few minutes. Add all the masala powders like coriander powder, red chilli powder, garam masala powder and mix well. Add water and put the stove on low. Now put the coconut, ginger, garlic and green chillies into the blender and give it a nice turn. Add some water and grind it to a smooth paste. Add the paste to the Karahi, stir all the contents well and close the Karahi with a lid. The rice takes up to 15 mins to cook. Keep stirring the rice every now and then so that it doesn't stick to the bottom of the Karahi. The Masala Rice is ready. Enjoy with Bhindi Raira( recipe in Raitas section). Bon Appetit.
Notes:
You can cook the Masala rice in either a Karahi or Cooker. If using cooker put off in exactly 3 whistles, otherwise, rice may get soft.
You can use regular rice or Basmati. I have used the regular one.
Don't hesitate to add vegetables of your choice.
Serve Masala rice with Bhindi Raita( recipe in Raita section) and papad.
You can roast the nuts and Raisins in ghee too.
If you tried this recipe and liked it, comment below. Would love to hear from you.
Gallery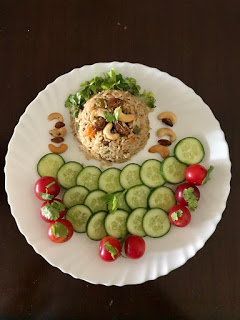 Get yummy recipes delivered to your inbox!
Be the first one to know about our new recipes. Leave your email below and get notified as soon as new recipes are published!