Homemade Blueberry Yogurt
Jump to recipe
Do you love Berry Yogurt, and yet cringe every time you have to shell out a big sum, just for yogurt? Your search ends here. Make easy Berry Yogurt at home at half the price, and enjoy it everyday.
Yogurt/ Curd is set by introducing good Lactic acid bacteria( which we get from an older stock or a starter). The proteins coagulate and set as curd. Curd is highly beneficial for gut health. In the Indian culture, having a spoon of Dahi- Cheeni ( curd and sugar), before setting out on any important work is considered auspicious.
Blueberry health benefits- Blueberries get their colour due to flavanoids called anthocyanins. This is what makes Blueberries rich in antioxidants. Blueberries contain Iron and Phosphorus, which makes them good for bones. These berries are rich in Vitamin C, hence good for skin, and immunity. Blueberries are helpful in maintaining BP levels.
Difference between Honemade curd and Probiotic curd– to begin with,  it is cheaper than store bought yogurt or probiotic yogurt. You can may low fat yogurt at home, whereas store bought ones are not necessarily low far.
Store-bought Probiotic yogurt is higher in protein, and that's why  it is sought by weight watchers and gym enthusiasts. Probiotic yogurt uses specific cultures of bacteria to get that consistency, and taste.
Conclusion, for this recipe you can either make homemade yogurt and make the recipe from scratch, like I have done,  or can buy store bought Probiotic yogurt, add the Blueberry compote and proceed with the recipe.
Where to use the Blueberry Yogurt- it can be enjoyed as is, as a low fat ( incase you plan to use low fat milk to set curd) low sugar dessert( exactly why I like homemade, because you can control the sugar, too). You can top the Berry yogurt over Muesli, you can even dip your Roti's or Paratha in them.
To watch the recipe video scroll down 
While you are here take a look at other Berry recipes like – Whole Wheat Blueberry Muffins,  Blueberry Cheesecake, Berry Smoothie icecream, Homemade Strawberry Conserve, Strawberry Lemon Loaf,  and more.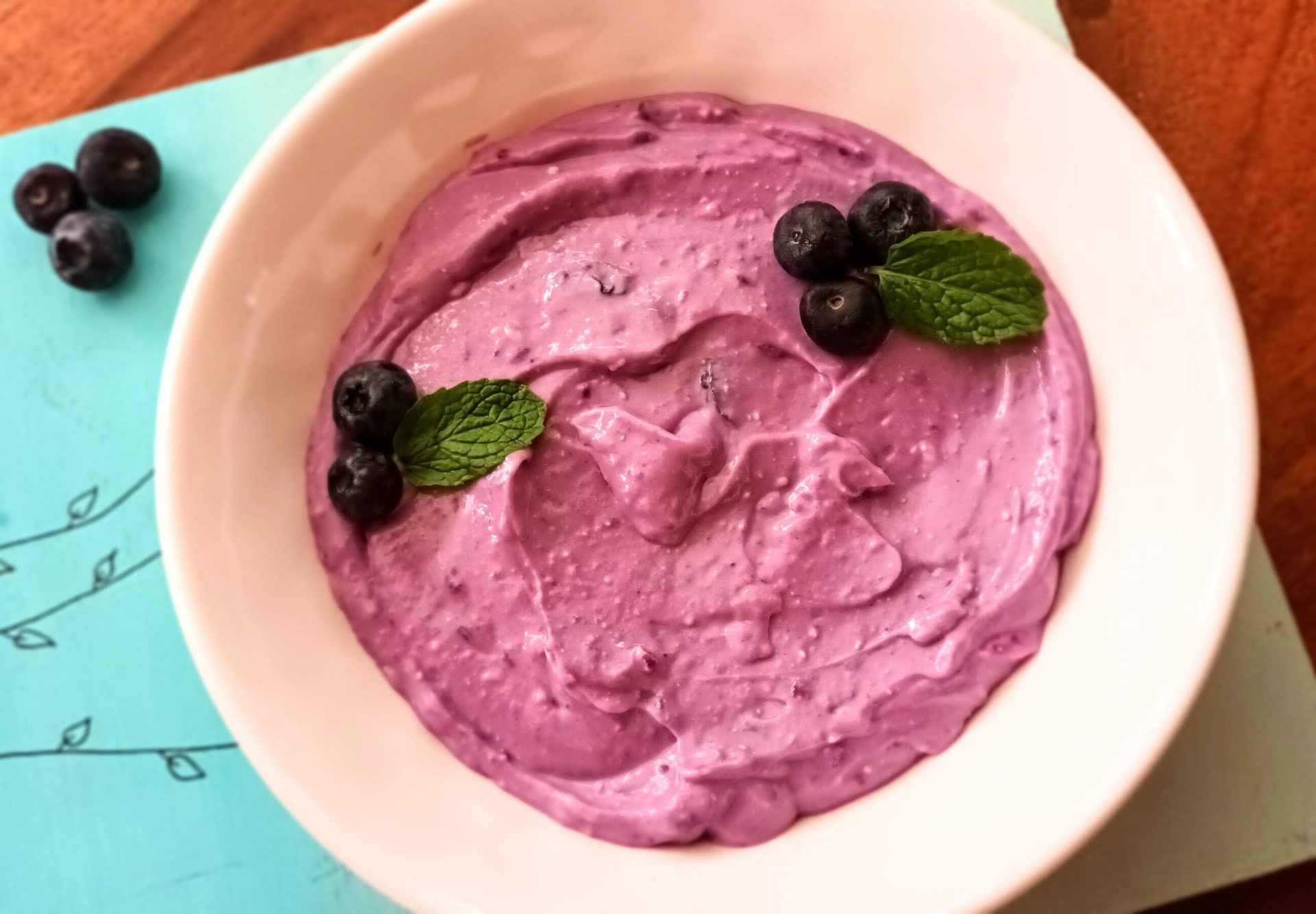 Ingredients
Fresh Blueberries 100 gm
Sugar 1/2 cup
Juice of 1/2 a Lemon
Cornflour 1 tbsp
Cold water 1 tbsp
Hung Curd from fresh Yogurt/ Curd 150 gm
Condensed milk 1/2 a tin/ 200 gm
Take the Blueberries in a pan, add the sugar and lemon juice and turn on the flame.
Cook until the berries disintegrate, and a sauce consistency is formed. Takes about 7 minutes.
Now mix the cornflour in water and make a slurry. Pour the slurry into the Blueberry sauce snd stir. Keep cooking on a low flame, until the mixture comes together, and begins to leave the sides of the pan. Cool and store the Conserve.
Make curds from 500 ml milk. Once set, pour the curd into a muslin cloth, and hang overnight or until all the water has drained.
Take the hung curd in a bowl, add the condensed milk, and beat the mixture using an electric beater. Beat until you get a smooth, cake batter like consistency.
Now add 1/2 of the prepared Blueberry Conserve and stir nicely with a spatula. Add more Blueberry Conserve for an intense flavor and colour.
Chill the Berry yogurt for an hour and serve.
Notes:
Any fresh berries can be used instead of Blueberry.
Incase using dried berries, soak them in water for couple of hours and then proceed with the recipe.
Store bought Greek Yogurt or Probiotic yogurt can also be used. In that case the Berry Conserve can be prepared and added to the store bought yogurt.
Top up the Berry yogurt with Muesli and nuts to make a Parfait, freeze it to make Froyo bites or just scoop them as is for a healthy dessert.
Recipe Video
Get yummy recipes delivered to your inbox!
Be the first one to know about our new recipes. Leave your email below and get notified as soon as new recipes are published!