Green Apple and Sabja Seed Mojito
Jump to recipe
Mojito is a Cuban drink made of Alcohol ( mostly Rum), Lime juice, any herb like Mint, sugar and Soda water. My recipe of Green Apple and Sabja Seed Mojito is a non Alcoholic one. This drink is so refreshing to beat the summer heat, and it tops my list of favorites.
Green Apples are sweet and sour, and this combination works wonders for this drink. Green Apples are rich in fiber and antioxidants.
Sabja/ Sweet Basil seeds are full of health benefits.  They are used after soaking.  Sabja seeds are packed with proteins, fiber, carbohydrates and essential fats.
Sugar- I have used white sugar which can be swapped with brown sugar, coconut sugar, Palm Jaggery or honey.
Mint leaves add flavor and zest to the drink.
Lime juice gives the drink that citrusy taste. Though other citrus fruits can also be used, usually Lime juice is used in a Mojito.
Soda Water- carbonated water makes the drink fizzy. Though a non fizzy version can be made using plain water instead of  Soda water, I would highly recommend Soda water.
While you are here I request you to check out other recipes like Amla Sherbat, Apple Tea Cake, Berry Smoothie Ice Cream, Plum Ice Cream, and more…
Since it is very easy to put this drink together,  I'm giving the recipe directly without a stepwise procedure.
Photo Credits go to @ketokrish who is a Keto blogger and photography enthusiast.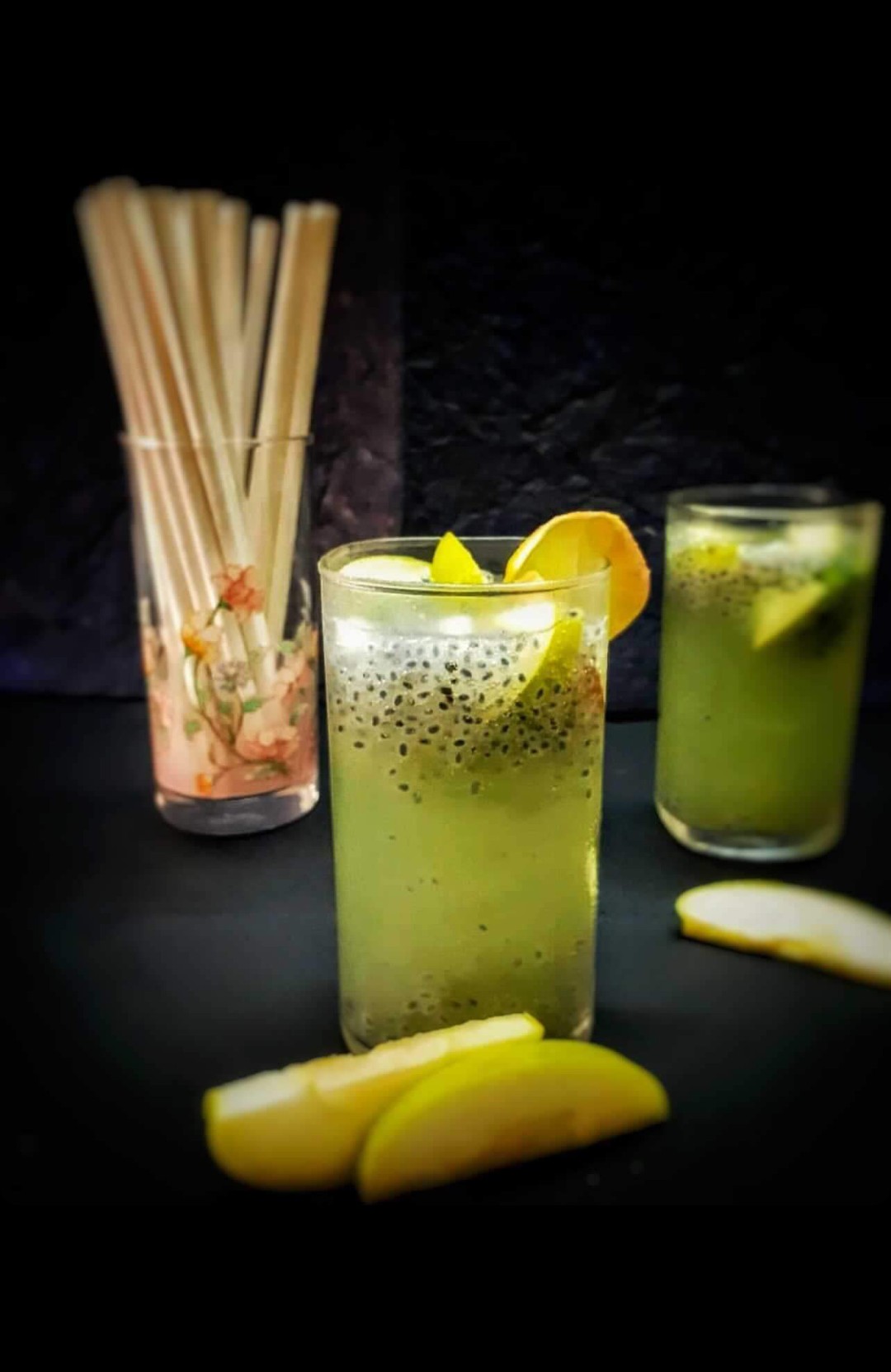 Ingredients
Green Apples 3 pureed with skin

Basil/ Sabja Seeds 3 tbsp soaked for 10 minutes.
Sugar/ Honey 2 tbsp
Lemon Juice of 1 whole lemon
Soda Water 200 ml
Ice Cubes a few
Mint sprigs a few
Green Food colour ( optional) less than a drop
Soak the Sabja/ Basil seeds in water for 10 minutes. Discard any leftover water after soaking. Puree the Green Apples  along with a few springs of Mint leaves,  in a blender to a smooth paste.  Now add the puree to a pitcher, add the sugar, and stir to dissolve. Drop in some ice cubes, top up with some chilled Soda water, until the glass is full.  Enjoy this refreshing drink.
Notes:
If the Apple puree is not very smooth, pass it through a sieve before you proceed with the recipe.
Basil seeds can be substituted with 1 tbsp Chia seeds.
If serving for a get together,  pour the soda water just before serving.
If using food color, use it sparingly. Less than a drop should be fine, or you'll end up  with an unnatural color.
Get yummy recipes delivered to your inbox!
Be the first one to know about our new recipes. Leave your email below and get notified as soon as new recipes are published!