Apple Crumble (Eggless Dessert)
Jump to recipe
A Crumble is a dessert with all the goodness of a pie sans the effort of making a pie crust. They are very easy to make and can be made with a large variety or combination of fruits. Berry crumble, Pear Crumble, a combination of pear and almond can also be done. Today I decided to make the Crumble as I have been craving it for long, and so I gave in to temptation.
As I think of Apple Crumble a feeling of warmth always spreads over, as this also is a dessert that is served warm, usually with icecream. But believe me when I say, by itself, it is too good to resist. Apple Crumble is a dessert with cinnamon apple filling with a crumbly crunchy crust. As it bakes the apple filling gets jammy and saucy and the aroma that fills the house while this is cooking is so inviting. It's a very simple dessert and has no eggs. Usually, plain flour is used for this recipe, but I have used half of the plain flour and half of wheat flour, and since this dessert turned out quite well, next time I'm trying out a full wheat flour one..my love for wheat flour is unbeatable.
I'm soon planning to make the Berry Crumble and you,  my dear friends will get the first preview I promise. In the meanwhile, as you look up my website check out my recipe for Pineapple Tart and Savoury Muffin recipes.
Here is the Apple Crumble recipe for you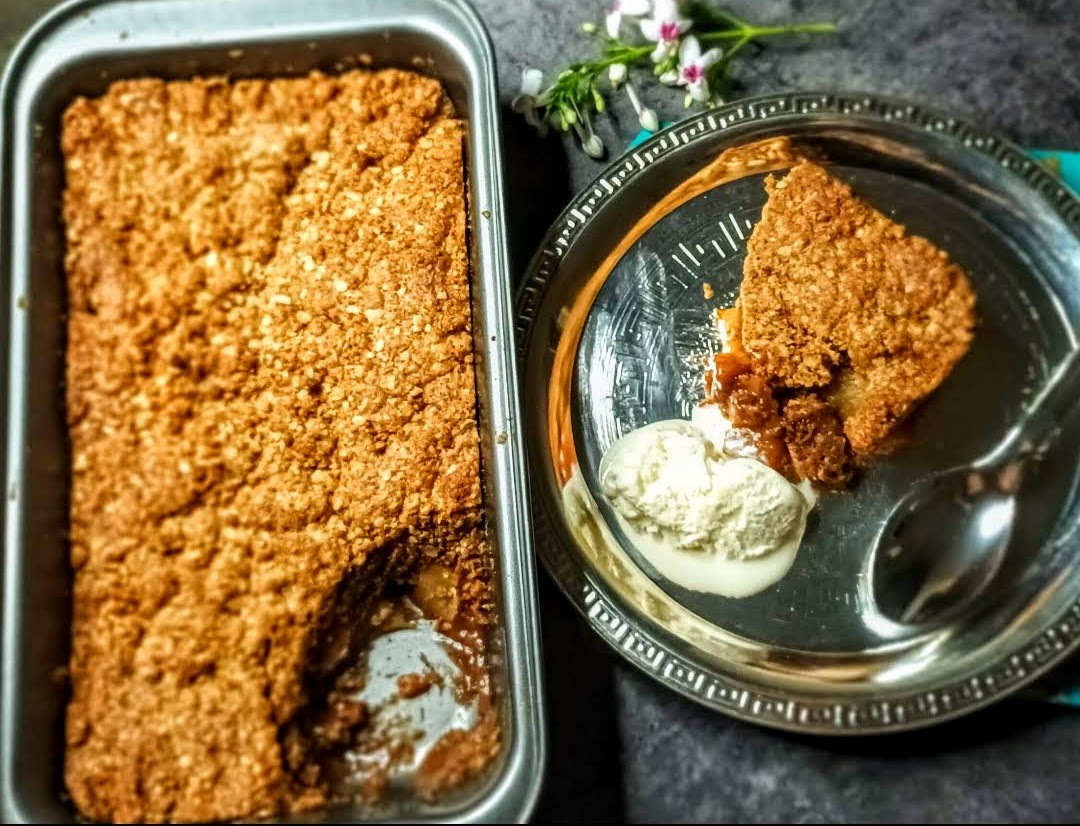 Ingredients
Ingredients for filling
Apples 2 any variety (firm ones preferred) chopped
Cinnamon powder 2 tsp
Plain flour/refined flour 1 tbsp
White sugar 1/4 cup
Lemon juice 1 tsp
Ingredients for the Crumble
Wheat flour 1/2 cup
Plain flour 1/2 cup
Oats 1 cup rolled or instant
Butter 120 gms  chilled, cut to pieces( refer note 4)
Brown sugar 1 cup
Cinnamon powder 2 tsp
Baking powder 1/2 tsp
Salt 1/4 tsp
Requirement: 1to 1.5 litre Pie dish
Before making the crumble mixture put the oven to preheat at 180 degrees.
Assemble all ingredients. Chop the apples, powder the cinnamon, put the oven to preheat at 180 degrees.

In a bowl combine all the ingredients given under filling put it in the Pie dish and arrange evenly and set aside.

In another bowl add the flours( you can stick to a single variety too), the Oats, cinnamon powder and the chilled butter and start rubbing in the butter into the flour oats mixture. By the time the butter combines with the flour, it should appear crumbly.

Now add in the baking powder, salt, brown sugar, to the flour-butter mixture and combine again. Now it starts resembling wet sand.

Start covering the apple filling with the crumble mixture and gently press down with your palm.

Put it in the preheated oven and bake at 180 C or 350 F for 40 minutes, until the crust turns golden brown.

Remove from oven and wrap the dish with aluminium foil to retain the heat for 15 minutes. Serve warm as it is or with ice cream.

Directions for filling
In a bowl put in the chopped apples(skin intact), add 1 tbsp flour, lemon juice, sugar and cinnamon powder and mix well. Spread this mixture into the Pie dish and keep aside.
Directions for the Crumble crust
In a bowl take both the flours, oats and add the cubed butter and start rubbing the butter into the oat-flour mixture. As the butter mixes with the flour its appearance becomes crumbly. After all the butter is rubbed in add the baking powder, salt,  sugar and cinnamon powder and combine. The mixture should look like wet sand. Now take this flour mixture little by little and start covering the filling in the pie dish. Cover the whole filling compactly and press it down with you palm a bit. Put in the Crumble into a preheated oven and bake at 180 C for 40 minutes. After the oven beeps, get it out, cover with aluminium foil for around 15 minutes and serve warm. Serve with Icecream or just plain. Nutella lovers can drizzle some on top. Enjoy…I'm already craving dessert. Bon Appetit.
Notes:
I have mixed  wheat flour and plain flour, you can use just  Plain flour too.
White sugar can be used in both filling and crumble top and so can the brown sugar in both.
Preheating the oven is critical for any baking recipe as this can affect the quality of the dish.
For a crisp/ crunchy crust use chilled butter as per recipe. For a chewy crust use melted butter at room temperature. Rest of the recipe remains the same.
YouTube video available for this recipe. Link below
If you tried this recipe and liked it please comment below. I would love to hear from you.
Get yummy recipes delivered to your inbox!
Be the first one to know about our new recipes. Leave your email below and get notified as soon as new recipes are published!