The Paratha Collection
Jump to recipe
Parathas are unleavened Indian flatbread, that are made with Whole Wheat flour or refined flour. They are predominantly made in Indian households  as one of the meals in a day. Parathas have proven to be the any time meal across the Indian sub continent and  neighbouring countries like Nepal and Sri Lanka.
They are so versatile that they can be made for breakfast, lunch or dinner. Parathas can be plain,  stuffed with a vegetable  or stuffed with a protein like lentils.  Sometimes the vegetables are mixed along with the flour, instead of stuffing them. Parathas can be cooked over a Tava or in a Tandoor. The best part about cooking Parathas is that, a separate side dish need not be made. Just Raita(yogurt dip), and pickle are the perfect sides.
There is no limitation to what you can stuff in a Paratha. Creativity is the limit. In my house, we are a bunch of Paratha lovers, and Paratha is made almost every other night for dinner. Therefore, you will see a lot of Paratha posts if you are following me on my social media pages (if not, just click the icon on home page). I keep adding them to the blog from time to time.
Here I am sharing some popular Paratha recipes based on how well they were received by people.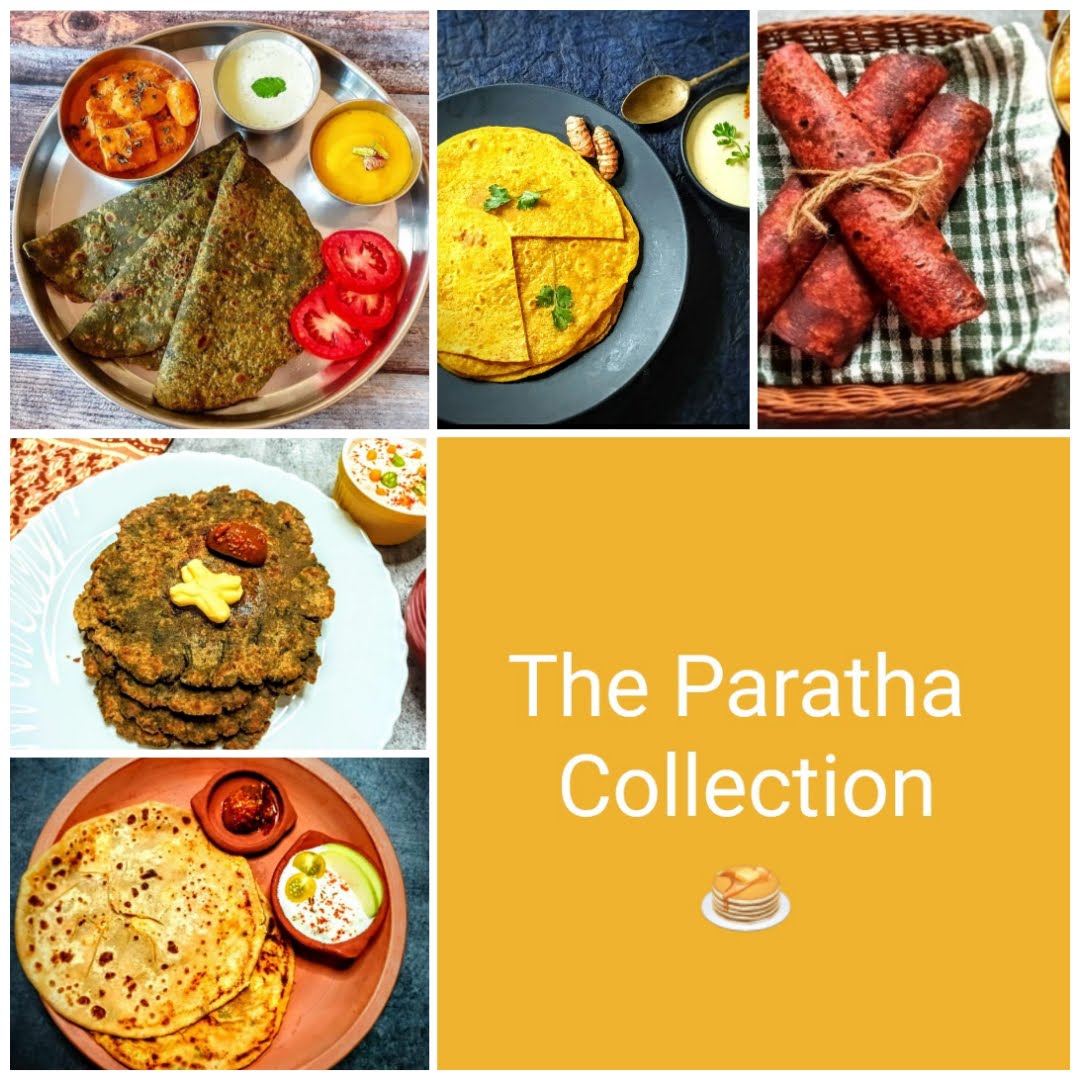 Palak Paratha:

Palak/Spinach is a very versatile green. It is mineral rich, healthy and fibrous. Any add-in that goes into it, gets its flavour enhanced. One of my favourite Palak/Spinach recipes is this simple Palak Paratha. Parathas are my go too dish for working day dinner as they combine the goodness of vegetable and roti. This simple palak paratha  can be served with raita and pickle or with any gravy based vegetable. I served it with some peas masala, though many times I resort to just pickle and curd .                                                    Click Here For Recipe
Paneer Paratha:
Paneer or cottage cheese Parathas are quick to make and need minimum prep work if using  store bought Paneer. If you plan to make it with homemade Paneer then you might need to make the Paneer a couple of hours  ahead and store it in the fridge until use.In India during certain festive months, people usually follow a Sathvik diet without onion and garlic. Paneer Paratha, Aloo Methi Paratha ,are easy to make at that time. Personally, I am a Paratha lover and this dish is a staple in my house. Every other day I make some type or Paratha or the other for dinner. The stuffed version of Paratha dosen't  need a side dish at all, just some curd and pickle.                                                                                                                                           Click Here For Recipe
Kachchi Haldi Paratha:
Fresh Turmeric/ Kachchi Haldi/Pacha Manjal is a Rhizome, that has been used in India from thousands of years. Though it has been used in India to flavour and give colour to most curries, it has become popular world over, owing to the health benefits it has to offer. Pongal/Makar Shankranti Indian festival) is the time when fresh Turmeric is harvested. Many Chutneys, Pickles, Curries are made during this time. The tubers are also sundried and powdered to be used through out the year. It was during this time that the idea of this recipe took form in my mind. What's more, then I had to try it out. But a coincidence happened, where we ordered take away one day, and on the restaurants menu I found a similar recipe. We ordered it, and as I enjoyed that super soft Paratha, with  turmeric notes that were so fresh, I knew this recipe was a must have on the blog.Click Here For Recipe
Buckwheat And Raw  Banana Flour Buckwheat Parathas:

Buckwheat is a Pseudo Cereal. It has all the nutritional properties of a grain,but actually is a seed. It can be eaten whole after roasting, in the cracked form or one can use the flour. This is a super food that has been overlooked so far. In India people usually consume during certain festival when they are required to avoid grains. Buckwheat flour has no gluten, and the raw banana flour gives it the right binding, therefore it is fairly easy to shape these Parathas. The trick is to use a butter paper to roll the dough, and keep turning the butter paper instead of the dough while flattening it with a rolling pin. So this Hariyali Paratha with Buckwheat and Raw Banana flours is a power packed lunch or dinner idea. Served with a Raita( yougurt dip) and Pickle, is a meal in itself. A dollop of butter wouldn't hurt.                   Click Here For Recipe.
Aloo Methi Paratha:

There is no doubt that Aloo Parathas are the king of Parathas. But once the Methi leaves season comes, I make these Aloo Methi Parathas which are healthy as the Methi leaves are rich in iron and fiber. They lift the regular Aloo paratha to a different level. The Methi leaves themselves are very aromatic and when added to any dish they enhance the flavour and aroma of that dish manifold.Aloo Methi is a popular north Indian subji that I have stuffed into these Parathas. which makes this dish a wholesome lunchbox option for kids and adults alike. It is also a good way to make kids eat the Methi/Fenugreek  leaves.Click Here For Recipe.
Beetroot Paratha:

I resisted making these parathas for a whole month. I like Beetroot Poriyal( dry subji) a lot and I love Beetroot Halwa, but the thought of Beetroot in paratha sounded a little off track.

The internet has a quite many beetroot paratha recipes, but I refused to look at them. Then one day when I ran out of options to cook dinner, I thought why not give it a try. But the challenge was to balance the sweetness with some spice and at the same time the beetroot is a mild vegetable and also spices do not go very well with it, so I decided to keep it simple.

Chinese Paratha:

This recipe is one that has been sitting in my recipe book for the past 20 years. This fusion recipe is a Paratha(Indian bread) with stuffed Veg Hakka noodles. Millet Noodles can also be used in place of regular noodles yo make it a healthier version.
Click Here For Recipe.
Notes:
The Paratha dough must always be kneaded to a soft yet firm dough for stuffed Parathas, so that the filling does not come out.
The dough must always be rested for 15 minutes atleast.
While making Parathas that are not stuffed, but the vegetable is kneaded with the flour, spice it well with masalas.
Cook Parathas until black spots appear on both sides.
Get yummy recipes delivered to your inbox!
Be the first one to know about our new recipes. Leave your email below and get notified as soon as new recipes are published!