Sundal Podi
Jump to recipe
Navarathri Is the festival that celebrates "Shakthi"-the feminine energy. It also declares the end of summer in India and the commencing of winters.  In Tamilnadu the festival is celebrated by arranging a "Golu" aka a display of dolls. The women folk visit each others houses in the neighborhood to receive Tamboolam( Vermillion,Turmeric, Betel nut and leaves, Glass bangles,which symbolise prosperity). While people visit each others homes to receive Tamboolam, Sundal is distributed as Prasad(holy offering).
A little planning goes along way in enjoying a stress free festival. I am documenting here a series of Sundal recipes that can be made for Navarathri oe even otherwise as a healthy snack.
Sundal is a dry dish made of Legumes or lentils. You could call it a dry salad without a dressing and only tempering. Apart from the soak time of the legumes,the dish needs only 30  minutes of cook time. A simple tempering is all this simple dish needs to make it delicious.
Sometimes a Sundal Podi/Powder is added to give some oomph to the delicious Sundal. The trick is to add this powder in moderation, so that it doesn't over powder the Sundal,which is mildly spiced. As for me I add this powder to some Sundals,while I skip it for some.
While you are here I request you to checkout other Masala Powders/spice powders recipes like Sambar Powder, Rasam Powder,Thengai Molagapodi, Bisi Bele Bath Powder,and more…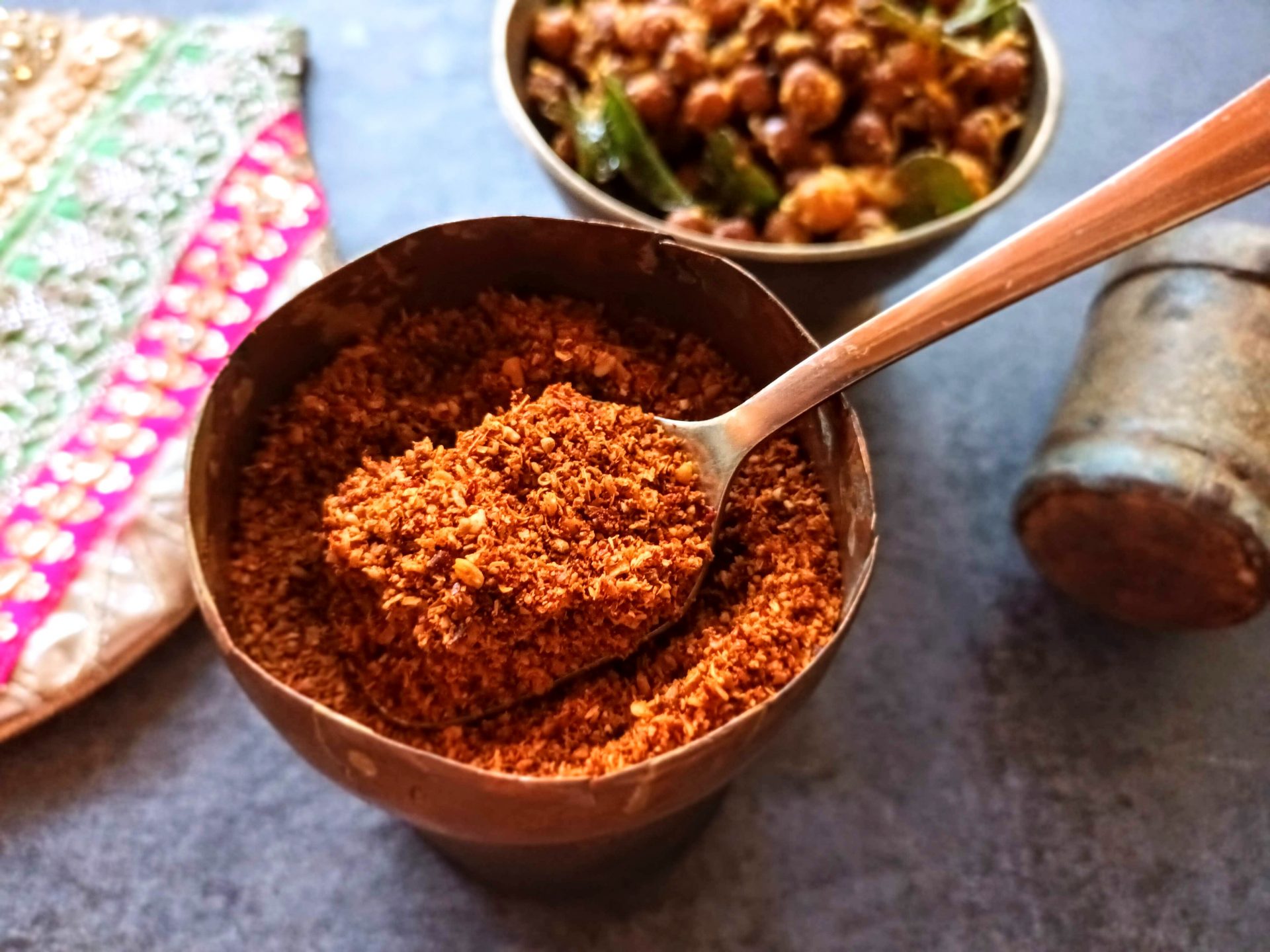 Ingredients
Whole Coriander Seeds 2 tbsp
Whole Fennel/Saunf Seeds 1 tbsp
Whole Dry Red Chillies 10-15 numbers
White Til/Sesame 1/2 tbsp
Dry roast the whole coriander seeds, fennel seeds,dry red chillies, and cool them. Blend them to a coarse powder(see picture for texture). Now separately dry roast the Til/Sesame seeds until they puff and splutter, cool them, add them to the coarse powder and give a single spin in the blender. The Til should get crushed, and yet coarse bits should be visible.
Notes:
Since this is an easy recipe I have not given step wise procedure.
The quantity can be easily doubled if required.
Some recipes recommend adding few peppercorns.It can be done if you like the taste of pepper in Sundal.
A coarse powder gives better flavour than a fine one.
Use the powder in moderation. About 1/2 tsp for 200 gm of Sundal will do.
I use this powder to sprinkle over other dry Subjis too.
Get yummy recipes delivered to your inbox!
Be the first one to know about our new recipes. Leave your email below and get notified as soon as new recipes are published!