Sambar Powder
Jump to recipe
Sambar,  South India's most popular food often served with rice and also as an accompaniment for Dosa, Idli, Paniyaram, Pongal and many such recipes. What gives the Sambar its flavour and taste? But of course the Sambar Powder. Every South Indian household has its own proportions of the ingredients for the Sambar Powder. The main ingredients being the same, there may be some differences based on the region.
This recipe of Sambar powder can also be used to make Vatha Kozhambu a traditional South Indian preparation. You can check out the recipe of Vatha Kozhambu
here
.
Sambar powder is used to make Rasam too in some households, but I strongly recommend not to use Sambar powder for Rasam, as though most ingredients are same the addition of pepper gives the Rasam powder a different taste and flavour altogether. I will post the Rasam powder recipe soon.
This recipe yields about 250 gm of powder, which can be stored in an airtight container as used when required.
Here is the recipe for Sambar Powder which makes delicious and flavourful Sambar.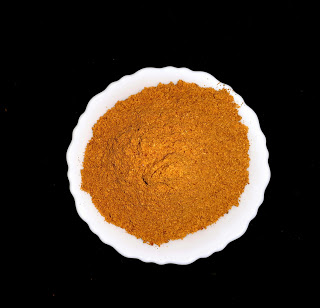 Ingredients
Ingredients
Coriander seeds/ Dhania seeds 2 cups
Urad dal 3/4 cup
Chana dal 1/2 cup
Tuvar dal 1/4 cup
Fenugreek seeds/ Methi seeds 1 tbsp
Dry red chillies 150 GM
Turmeric powder 1 tbsp
Red chilli powder 1 cup
Each ingredient except turmeric powder and red chilli powder should be fried in a karahi separately to golden brown colour. Dry roast, no need of oil. The red chillies should turn crisp. Cool all of them after frying and grind them to a fine powder. Now add the turmeric powder and red chilli powder to the ground powder and mix well. Store in an airtight container.
2 tbsp of this powder will make Sambar to serve 5 people. The powder will last 6 months or more when stored in a cool dry place.
During peak summer you can also keep all ingredients except turmeric and red chilli powder directly in the hot sun for 2 hours and grind when still crisp.
Notes:
I am not giving step by step photos for this recipe as it is quite easy to follow. Each ingredient to be slow-roasted in a Kadai separately, or to be kept in the sun, each in a separate flat plate so that they are even heated.
If you tried making Sambar with this proportion of Sambar powder please comment below. I would love to hear from you.
Gallery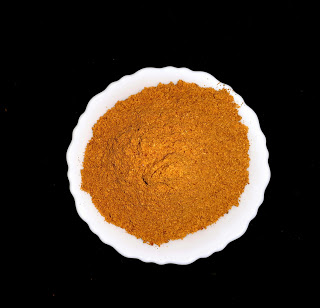 Get yummy recipes delivered to your inbox!
Be the first one to know about our new recipes. Leave your email below and get notified as soon as new recipes are published!