Thengai Molagapodi (Coconut Gun Powder)
Jump to recipe
Molagapodi or south Indian Gun Powder as it is referred to is an everyday accompaniment in every southindian household. It also goes by the name Idli Podi or Dosai Molagapodi.
In my house we make this powder every other week. In this recipe I am adding coconut to the gun powder/ molagapodi and this gives a very nice flavour and texture to the powder.
Usually making Thengai Molagapodi is a ritual for me after the Navarathri celebrations, as a lot of coconuts get accumulated at home, owing to visits to friends and family for accepting the Vethalai Paaku or Haldi Kumkum. So many coconuts cannot be consumed at a time, but ofcourse grating them and storing in the freezer is an option, but I prefer making the Thengai Molagapodi instead as then I don't have to make a chutney everyday ????.
The procedure of making it is very simple. Therefore I am giving the stepwise recipe directly.
While you are here please check out my other Podi and sauce  recipes like Rasam Powder, Sambar Powder, Karuvepilai Podi/ Curry leaves powder, Homemade Schezwan Sauce, Homemade Pesto and more…
Here is the recipe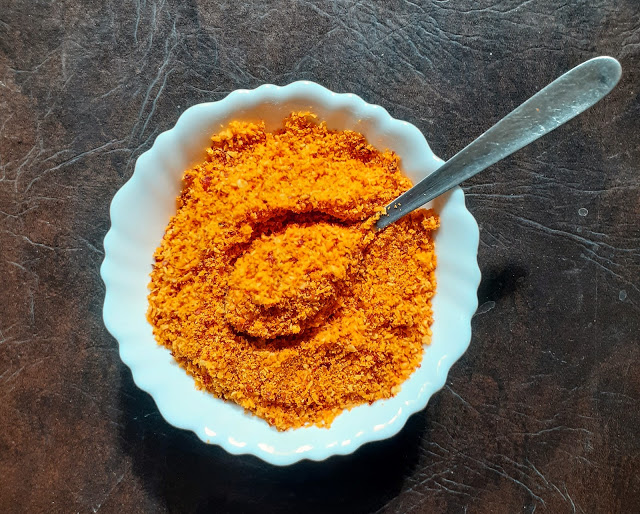 Ingredients
Ingredients
Coconut 3 whole grated
Urad dal 2 cups
Chana dal 1/2 cup
Salt as required
Asafoetida 1 tsp
Dry red chillies whole 150 gm
Oil 1 tbsp for frying the dals
In a Kadai/ pan heat oil. Put the Urad dal and Chana dal and start roasting on low flame . Add Asafoetida 5 mins into the roasting process.

Roast the dals until they turn light brown in colour. Keep the flame low while roasting and keep stirring so that the dals fry evenly. Transfer to a plate and cool.

Now put the dry red chillies after removing the stems and roast on low fire for a minute. Put of flame let them stand in the hot kadai for few minutes. Cool completely.

Now put the grated coconut in the kadai and start roasting it. If you prefer do it in batches. The coconut should not burn or else the taste of the  powder will be ruined. Keep roasting until it turns light brown. Transfer to a plate and cool completely. Once cooled pick out any big pieces of coconut gratings you may find.

Now in your dry grinding jar put the dals and the chillies and grind to a fine powder. Do it in batches if you prefer. As you keep grinding keep transferring the ground powder to a big bowl. Now add the required salt and the grated coconut and start mixing with a spatula/ spoon. If you find the powder is a little coarse for you preference after mixing in the coconut, then just blitz it once again. The spicy and yummy Thengai Molagapodi is ready. Serve with Idli, Dosa, Kuzhi Paniyaaram, Rava Dosa, Adai and more.

Notes:
Patience while roasting the dals and the coconut will yield best results.
Salt and spice can be adjusted as required. The spice can be a little more as the sweetness of the coconut subdues the spice.
Choose coconuts that are mature and will have a thick inside. The tender ones which are light brown will not have the texture required for this recipe and you will also have to roast it for long as the moisture content will be high.
If you tried this recipe and liked it, please let us know in the comment box. I would love to hear from you. If you would like to receive our future posts on your mail, please leave your mail Id so that we can post it to you.
Gallery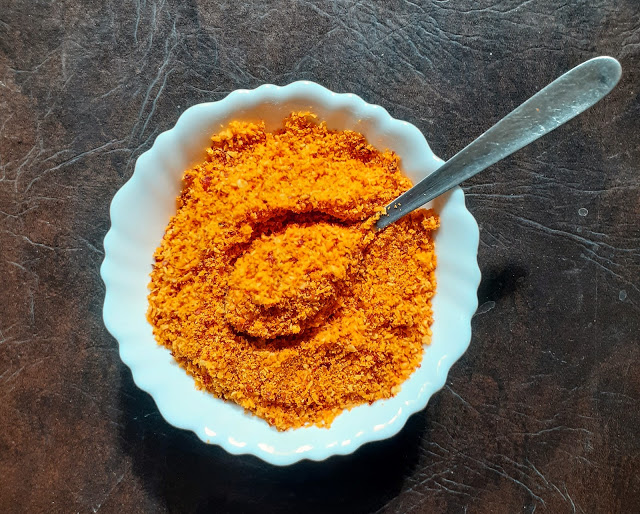 Get yummy recipes delivered to your inbox!
Be the first one to know about our new recipes. Leave your email below and get notified as soon as new recipes are published!