Bisi Bele Bath Masala (Powder)
Jump to recipe
Bisi Bele Bath is a popular dish from the Karnataka state in South India. It is a rice and lentil dish cooked in a tangy tamarind sauce, with a lot of seasonal vegetables. What gives this dish a unique flavour and taste is the Bisi Bele Bath masala.  A good masala makes a lot of difference. Needless to say, homemade Masalas are always the best, as the freshness is intact.
Here's bringing you the Bisi Bele Bath Masala/Powder as promised in my previous post. I Use this Masala to make Vangi Bath(another Karnataka dish) also. This post does not contain any step wise pictures as it quite simple to make. I have included a video at the last of the making.
While you are here check out other Masala and spice powders here- Sambar Powder, Rasam Powder, Homemade Schezwan Sauce and more.
Ingredients
Coriander Seeds 2 tbsp
Chana dal 2 tbsp
Urad dal 1 tbsp
Dry Whole red chillies 4-5
Kashmiri Red chillies dry 4
Cumin Seeds 1 tsp
Black Peppercorns 1/2 tsp
Cardamom 3-4
Cinnamon stick 1 inch piece
Cloves 3-4
Poppy Seeds 2 tsp
Methi Seeds 1/2tsp
Curry Leaves a few (about 2 sprigs)
Asafoetida 1 tsp
Desiccated Coconut 3-4 tbsp
Kashmiri Red chilli powder 3 tbsp
Oil for roasting 2 tsp
To a pan add 2 tsp oil and heat. To this add the coriander seeds, chana dal and urad dal,and roast until light brown. Now add the whole dry red chillies and the dry Kashmiri red chillies and continue to roast until they turn crisp. Transfer to a plate to cool. Later transfer this to a blender and keep aside. Now to the pan add all the whole spices- Cumin seeds, black pepper, cardamom, cinnamon stick, cloves, poppy seeds, methi/fenugreek seeds, curry leaves and asafoetida, and dry roast until fragrant. Now add the desiccated coconut and roast another 30 seconds. Transfer to a plate and cool. Now transfer everything to a blender and grind to a smooth powder. Further, add Kashmiri red chilli powder and blitz once in the blender. Cool the  powder and store it in an airtight jar. Use it to make delicious Bisi Bele Bath or Vangi Bath
Notes:
Choose Ingredients which are of good quality and are fresh for best results.
Grind the masala to a fine powder, but not super fine.
Watch Video for the making.
Gallery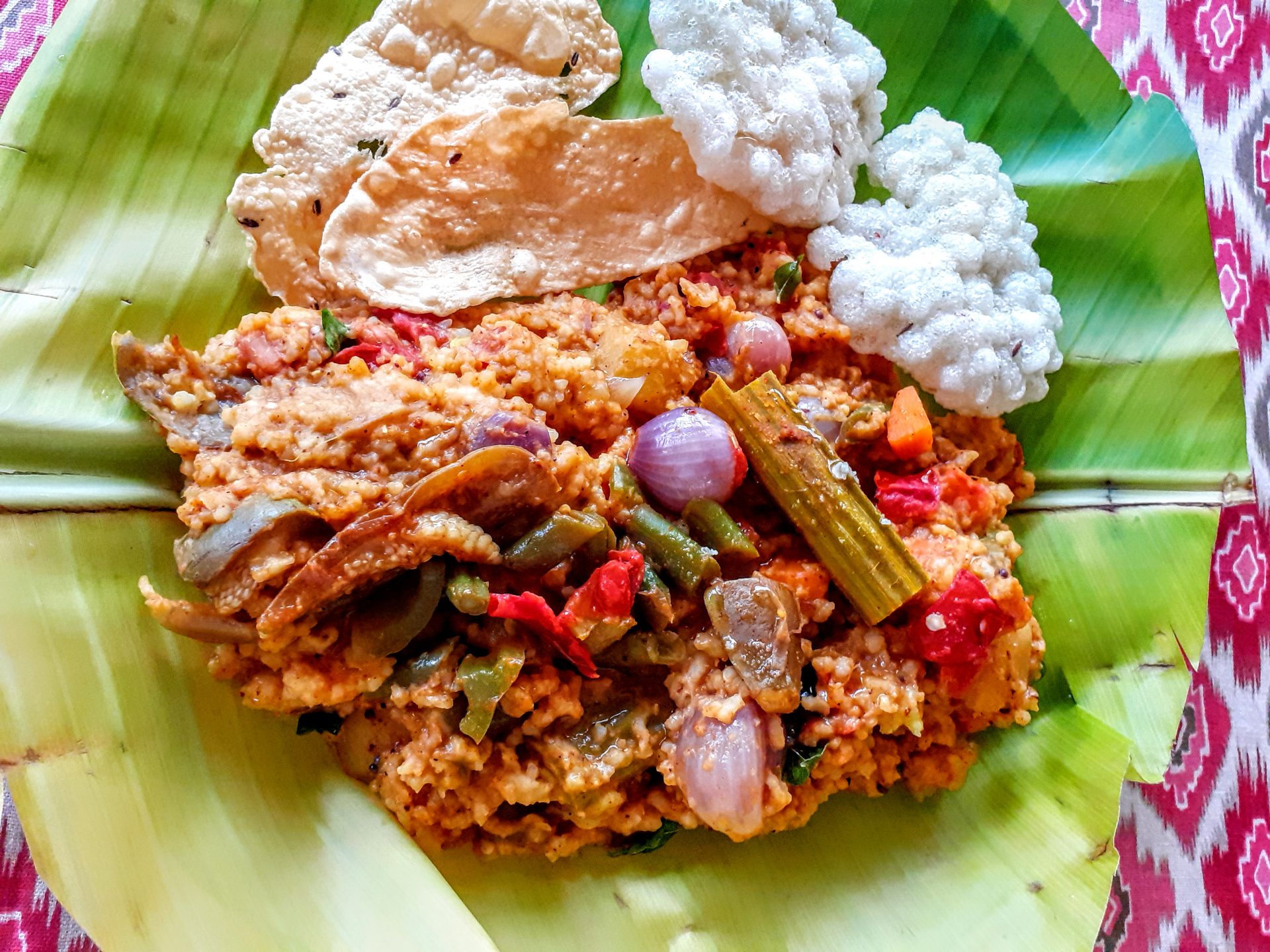 Get yummy recipes delivered to your inbox!
Be the first one to know about our new recipes. Leave your email below and get notified as soon as new recipes are published!