Ragi Laddu/ Nachni Ladoo
Jump to recipe
Ragi Laddu is a delicious, healthy and nutrient dense Indian sweet, made with Ragi ( Finger millet) flour, ghee, unrefined sugar, cardamom powder, and toasted nuts.
These healthy Ladoos are low on sugar and ideal for diabetics. These Laddus are rich in iron and Vitamin B. This Ragi Laddu is also a good choice for pregnant women, compared to sugar laden sweets in the market.
Ragi/ Finger Millet is said to have originated in South Africa and brought to India about 4000 years ago. There are many Indian dishes dedicated to this nutritious Millet.
The protein content of Ragi is said to be at par with Rice, and in addition to proteins they have certain beneficial compounds like Tryptophan, Cysteine, etc which are not found in other cereals. This makes Ragi a super cereal. And this also is one of the reasons for us to make it a part of our diet.
With the Millet revolution on the go, many people are substituting wheat flour and Refined flour with Millet flours. I have always wanted to try this Ragi Ladoo, and have planned it for Diwali this year.
While you are here do check out other Indian sweet recipes like Gajar Halwa, Moong Dal Halwa, Pineapple Rabri, Kova Kajjikayalu, Mohan Puri, and more.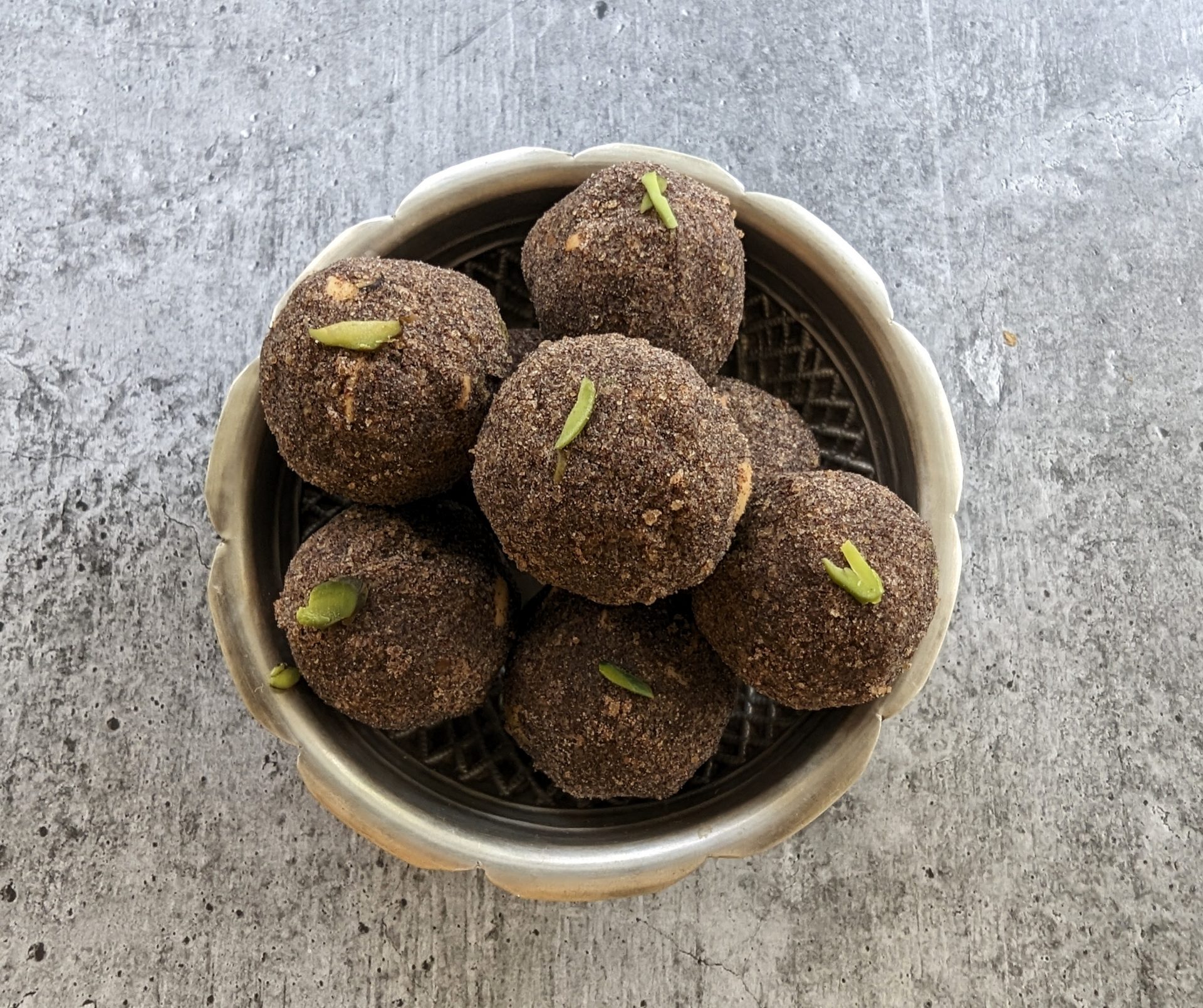 Ingredients
Ragi/ Finger Millet Flour 1 cup
Ghee/ clarified butter 1/2 cup approx
Brown sugar/ Khandsari sugar 3/4 cup (I have used super fine Khandsari sugar/ cane sugar).
Cashews a few broken to bits
Cardamom powder 1/4 TSP
Nutmeg powder a pinch
Heat a pan, add 1 tbsp ghee to it and lightly fry the Cashew Nut brokens. Remove once light brown.
To the same pan add the Ragi/ Finger millet flour and start roasting it on low flame. ( do not be tempted to increase the flame to finish the process in a hurry).
Keep adding ghee at intervals while roasting, until you get a wet sand texture. ( do not be tempted to add all the ghee at a time, you may not need 1/2 cup fully).
Keep stirring continuously to avoid burning the flour. When you get a nice nutty aroma, turn off the flame. Let the mixture cool until you can handle it with your hands. ( The mixture should not cool completely or the sugar won't bind. So medium warm is what we are looking for). Read notes.
Now add the sugar, cardamom powder and nutmeg powder and mix well. Add the toasted nuts as well.
Now start shaping the mixture into equal sized balls. If your mixture has cooled too much pop it in the microwave for 10 to 20 seconds and then shape the balls.
Leave the balls to firm up for couple of hours. They are now ready to eat. Ragi Laddus make great edible gifts for festivals. They are healthy and nutritious.
Notes:
The roasting process of the Nachni/ Finger Millet Flour is very important. Always roast on a low flame and keep stirring continuously. This way the flour will get evenly roasted.
Add only 1 tbsp of ghee at a time, while roasting the flour and aim for a wet sand texture.
After roasting the flour cool until you can comfortably handle the flour with your bare hands. If you put the sugar when the flour is too hot, it will liquify and Ladoos cannot be shaped.
I have used super fine Khandsari sugar ( cane sugar). If yours is granular, then make a coarse powder of it.
You can also use white powdered sugar.
Gallery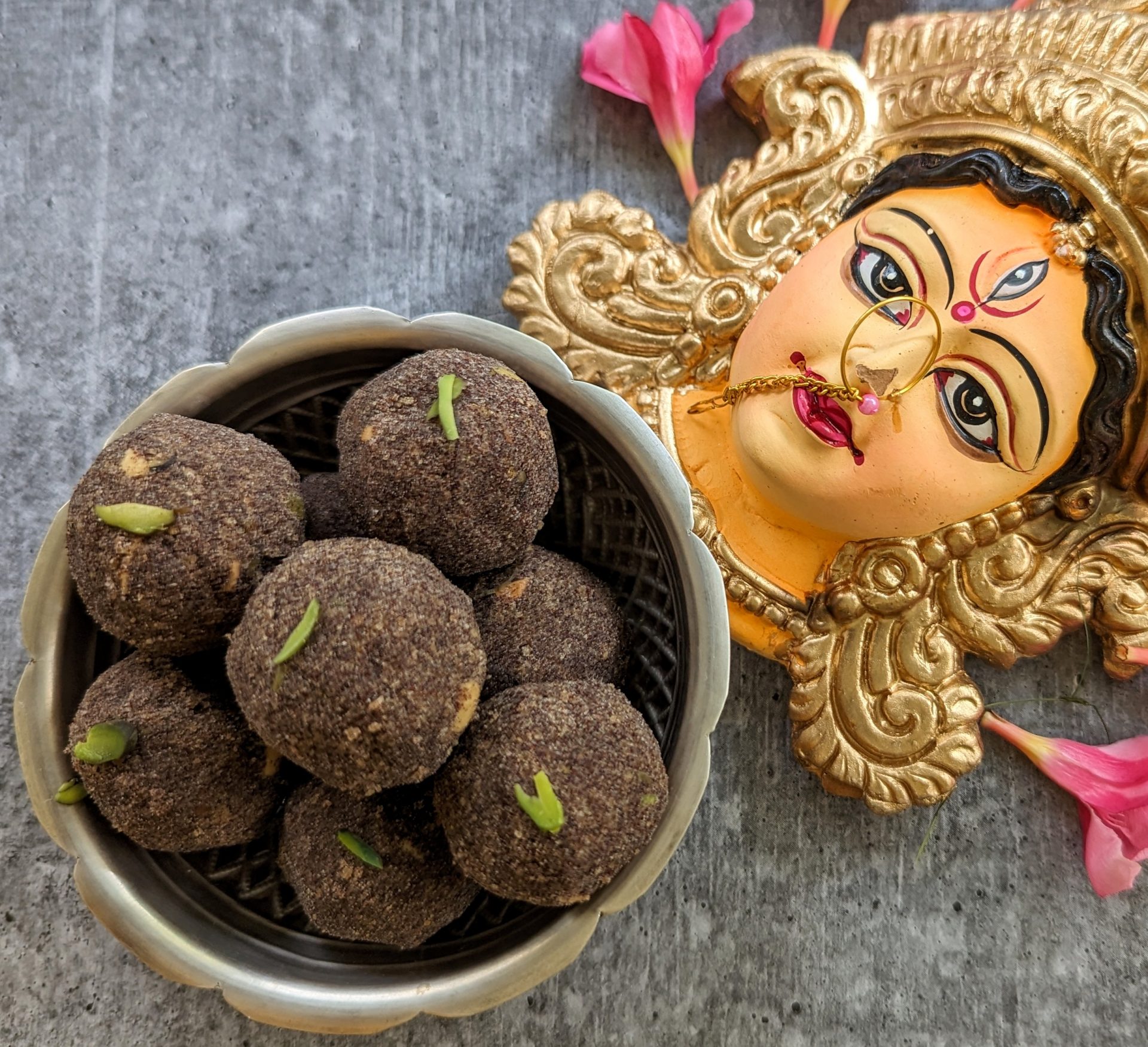 Get yummy recipes delivered to your inbox!
Be the first one to know about our new recipes. Leave your email below and get notified as soon as new recipes are published!