Eggless Ragi Chocolate Pancakes
Jump to recipe
Ragi/ Finger Millet is said to have originated in South Africa and brought to India about 4000 years ago. There are many Indian dishes dedicated to this nutritious Millet.
The protein content of Ragi is said to be at par with Rice, and in addition to proteins they have certain beneficial compounds like Tryptophan, Cysteine, etc which are not found in other cereals. This makes Ragi a super cereal. And this also is one of the reasons for us to make it a part of our diet.
With the Millet revolution on the go, many people are substituting wheat flour and Refined flour with Millet flours.
The inspiration for these Pancakes, is a packet of Pancake mix my daughter bought recently. A 180 gm pack was so exorbitantly priced, that I considered giving it a try at home.
I have not used Almond Flour or coconut flour in this recipe.  Instead I have used Raw Banana Flour for binding.  Other than that, Palm jaggery, Cocoa powder, baking Soda and milk, gave me the desired results.
Raw Banana Flour – Raw Banana Flour is soon gaining importance as a dietary fiber. It is used as a replacement for wheat flour in people having gluten intolerance. The flour has resistant starch which is why it acts as a dietary fiber. Though earlier it was used to thicken soups and stews, they can be used in making  Rotis(flatbread), Cakes, Pies, and Pancakes.
Palm Jaggery also known as Karupatti is a healthy traditional product made from palm juice (Pathani) without using any chemicals. Palm Jaggery is an excellent source of iron and minerals
Milk- any Dairy or non dairy milk can be used in this recipe. Milk helps in activating the Baking Powder. Milk can be substituted with water for making the batter.
Baking Powder- just a small bit goes a long way to get that porous texture. It also makes the Pancakes soft.
You will find more Pancake recipes on my Youtube channel. Click the Youtube icon on the main page to take you there.
While you are here I request you to try out other recipes like – Besan Ragi Cheela, Vegetable Oats Kichdi, Buckwheat and Raw Banana Flour Hariyali Paratha, Mushroom Daliya Risotto, and more…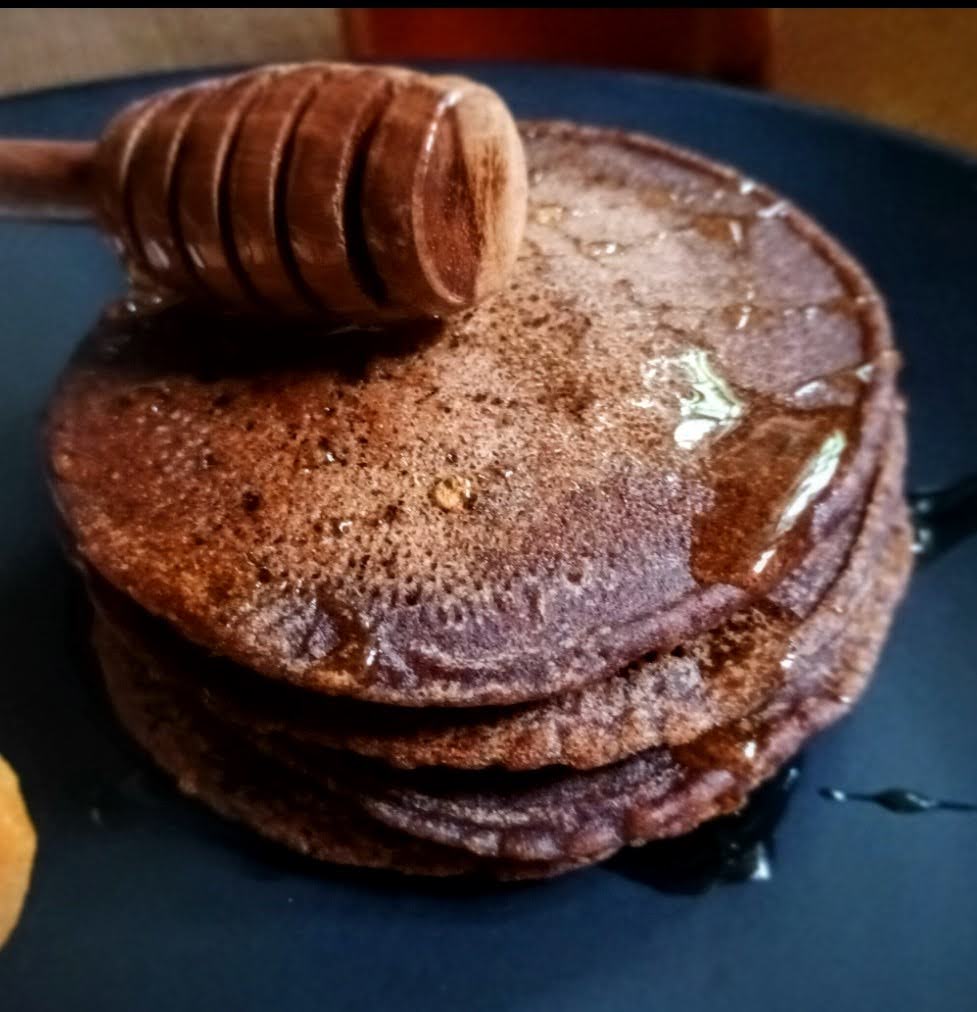 Ingredients
Ragi Flour/Finger Millet Flour 1 cup
Raw Banana Flour 1/2 cup
Cocoa Powder 1 tbsp ( add more for denser flavour)
Palm Jaggery/ Sugar 3 tbsp
Coconut oil/ Butter 1 tbsp
Baking Powder 1 tsp
Milk 3/4 cup or as required
Vanilla essence 1 drop (optional)
Butter/Ghee for cooking the Pancakes
In a mixing bowl take both the flours, add melted coconut oil/butter, baking powder, palm jaggery, Cocoa powder, and mix well with a spatula.
Now adding milk gradually, make a thick yet flowing batter. The batter should neither be too thin, nor too thick. Just enough to spread itself a bit.
Add the vanilla essence now, if using. Let the batter sit for 15 minutes. Though millet batter needs no standing time, I recommend it as it helps the flavours to develop.
Now get the Tava/pan on flame, and grease with ghee or butter. Pour a scoop of batter and let it spread itself. Drizzle ghee/butter on the sides and top. Flip and cook the other side. Continue the process for all the batter. Serve with cream or with a drizzle of honey.
Notes:
The Finger Millet flour can be swapped with any other millet flour. Pearl Millet and Sorghum are good substitutes.
The batter can be made a day prior and stored in the refrigerator if planning for kids breakfast or snack.
Baking Powder can be substituted with 1/4 tsp of Baking soda.
Gallery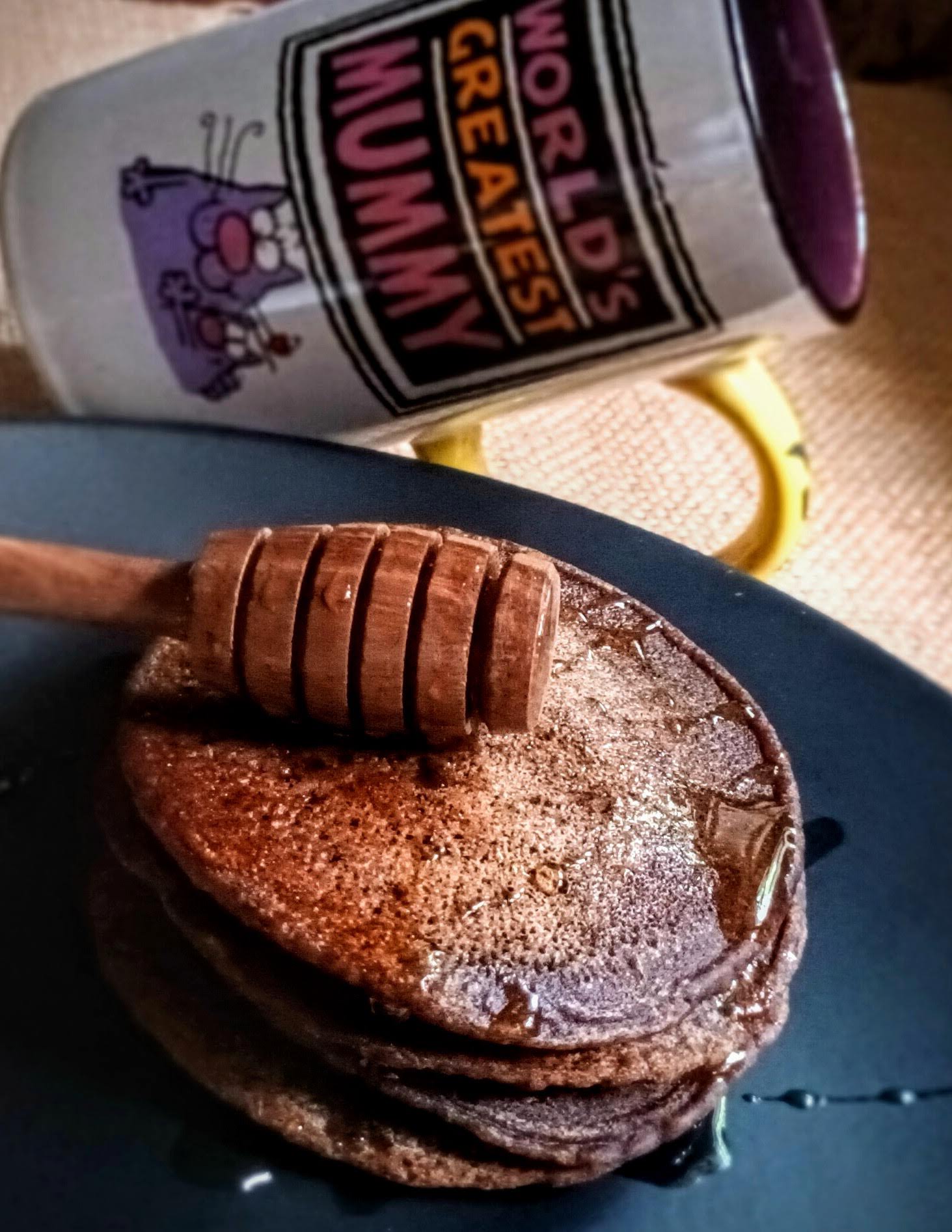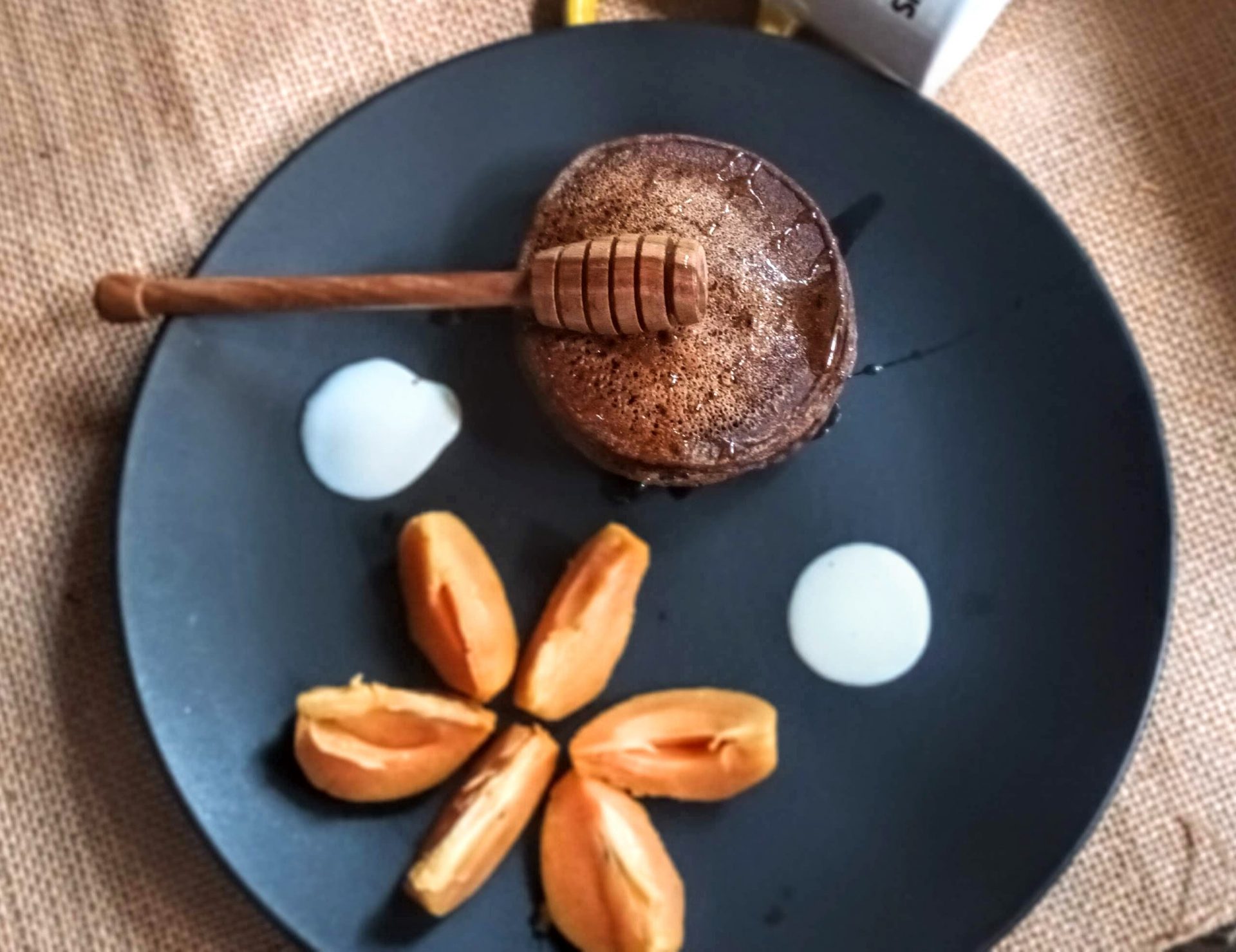 Get yummy recipes delivered to your inbox!
Be the first one to know about our new recipes. Leave your email below and get notified as soon as new recipes are published!