Eggless Mava Cake/ Khoya Cake
Jump to recipe
What do you do when you have a lot of excess milk? Don't ask me why I have excess milk, or if I have excess milk, why don't I not buy for a few days? So, Milk is in excess because when members in the family travel, less coffee is made, ending the night with a glass of milk dose'nt happen, less Curd gets utilized. So that ends up as excess milk. This is also the time when I experiment all the Milk/curd based desserts .
Mava/Koya is evaporated milk solids. usually to make Rabdi (Indian milk based dessert), sugar is added and the flame is turned off a notch before, whereas to make Mava the milk has to get reduced further, until almost no moisture remains. Therattipal, a south Indian Milk sweet is also made similarly, but has a more thready consistency. To this Mava,  I have added no sugar, so that it can be used as required in Sweet dishes, and in Curries to give a rich texture. I have used it Mava Paneer Curry which is  such a luxurious dish to be made for special occasions.
This Mava cake has been on my mind for a while now, and having homemade Mava at hand was the right opportunity to try the dish. Since Mava is mostly milk solids and fats, the use of butter in the cake can be reduced to half. And for the same reason, though the cake is eggless, it still is super moist, as the milk solids give it a great texture.
This Mava cake is so light and fluffy like a Tea Cake. Its mildly sweet and Pistachio give it a little crunch. Do try this classic cake for you family this festive season.
I request you to take a look at  these recipes while you are here- Thengai Therattipal,  Pineapple Rabri, Malpua with Gulab Jamun Mix, Eggless Pineapple Cake, Whole Wheat Blueberry Muffins, Easy Muffins 2 Ways, Pistachio Cake, and more…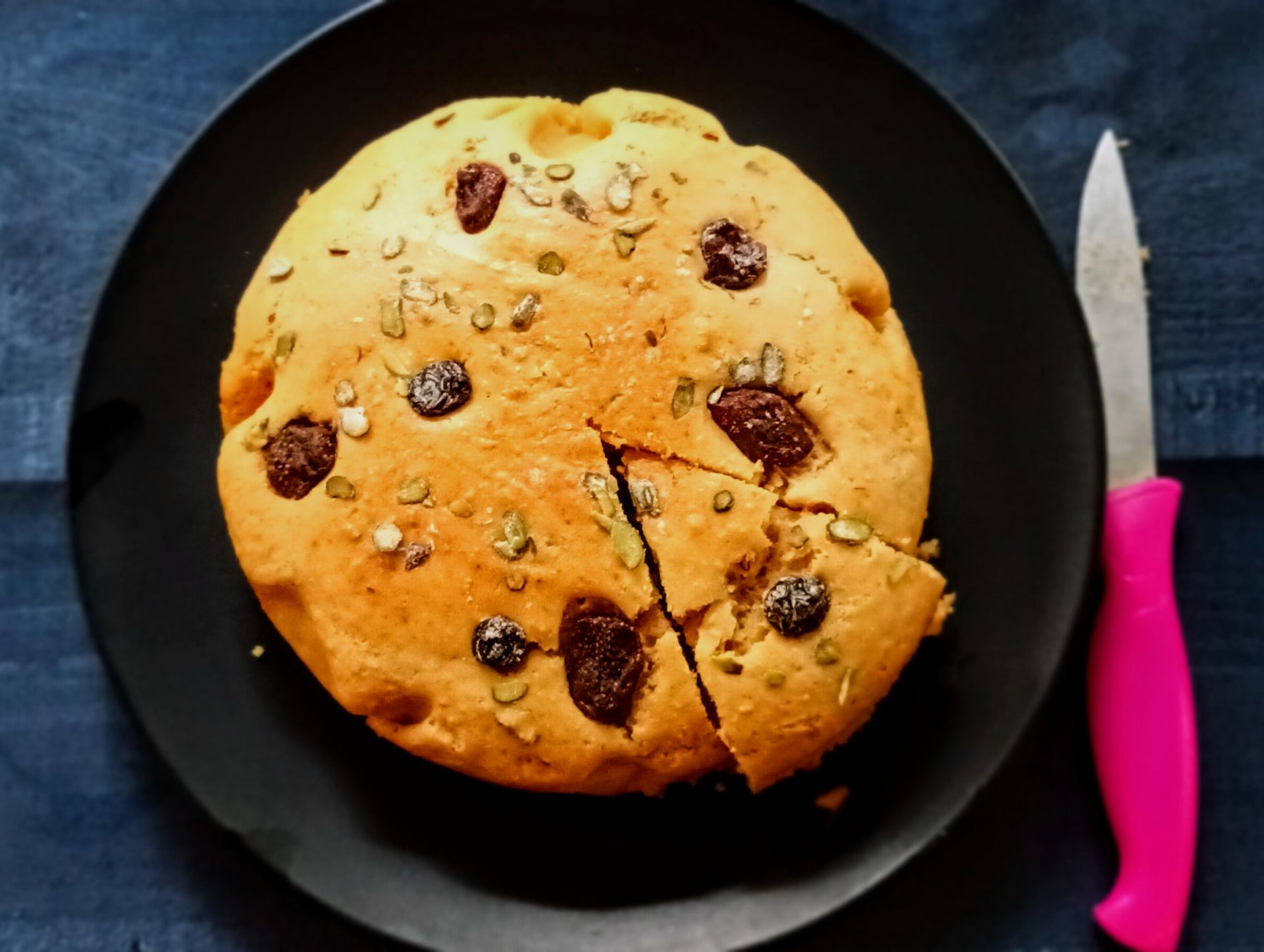 Ingredients
Mava/ Khoya 1/2 cup ( 100 gm)
Whole Wheat Flour 1/2 cup
Maida/ Refined flour 1/2 cup
Saffron strands a few
Warm milk 1/2 cup
Butter 50 gm
Sugar 1/2 cup
Baking Powder 1/2 tsp
Baking Soda 1/2 tsp
Sliced Pistachio 1 tbsp
Vanilla extract 1/2 tsp optional
Preheat oven to 180 C for 10 minutes. Soak the Saffron strands in the warm milk and set aside.
Take the Mava ( at room temperature) in a blender and blend to a smooth paste.
Take the butter and sugar in a bowl, and cream ( whisk) until pale.
Add the milk plus saffron strands, and the blended Khoya to the creamed butter and sugar . Add the vanilla extract now, if using.
Now sift the flours along with Baking Powder and Baking Soda, and add them to the wet ingredients in the bowl.
Add the Pistachio or any other nuts and fold lightly.
Pour the cake batter into a well greases 9 inch cake tin lined with butter paper, and bake at 180 C for 35 minutes or until a skeewer when pricked in the center comes out clean.
Notes:
While I have used homemade Mava, store bought one works fine too.
Butter can be substituted with an equal amount of Coconut oil or refined oil.
If sprinkling nuts and Raisins on top of the Cake, toss them in a little flour to avoid burning during baking.
I prefer to hand mix the cake ingredients with a spatula  instead of an electric beater or processor,  that way we don't work the batter too much.
Gallery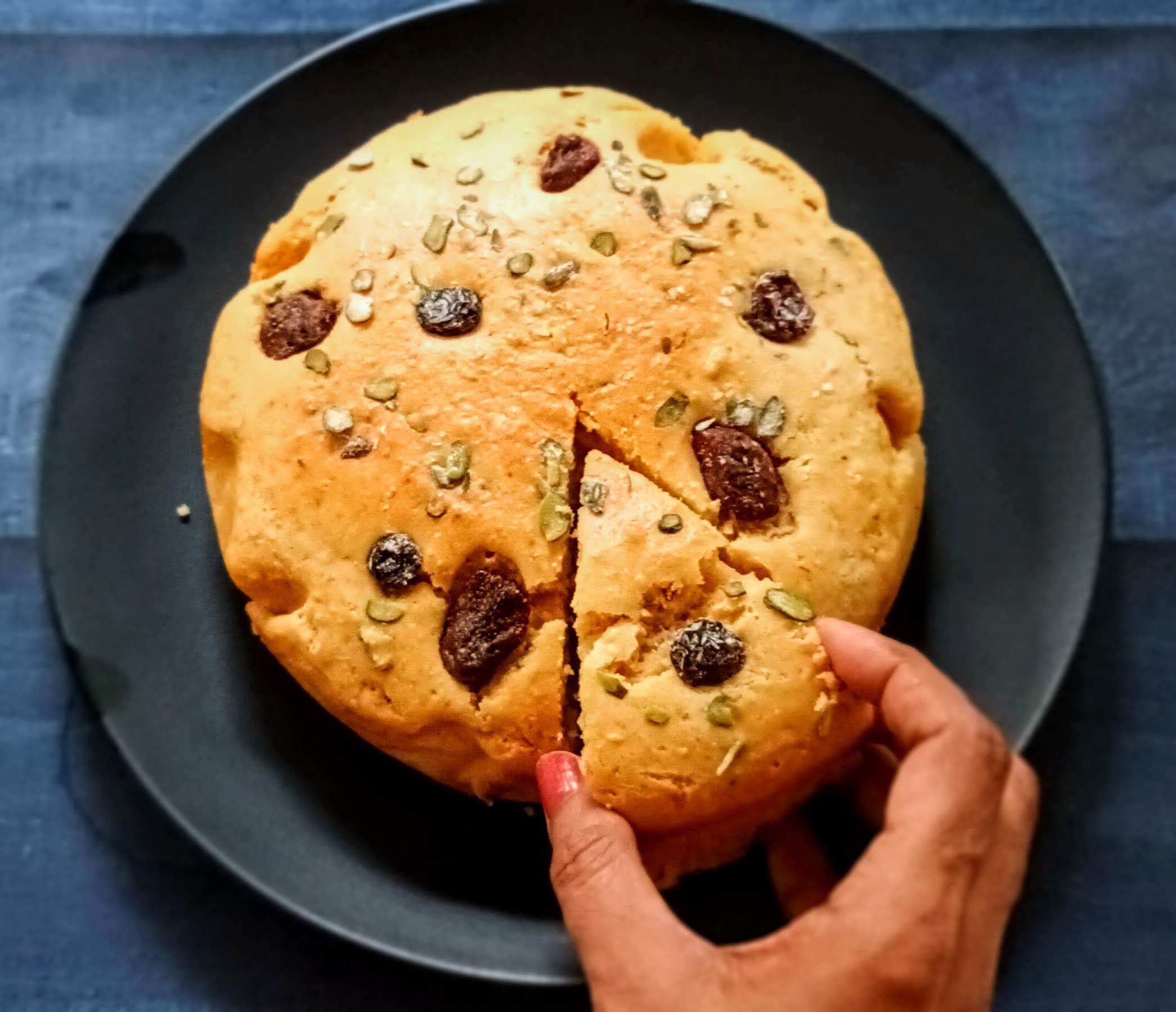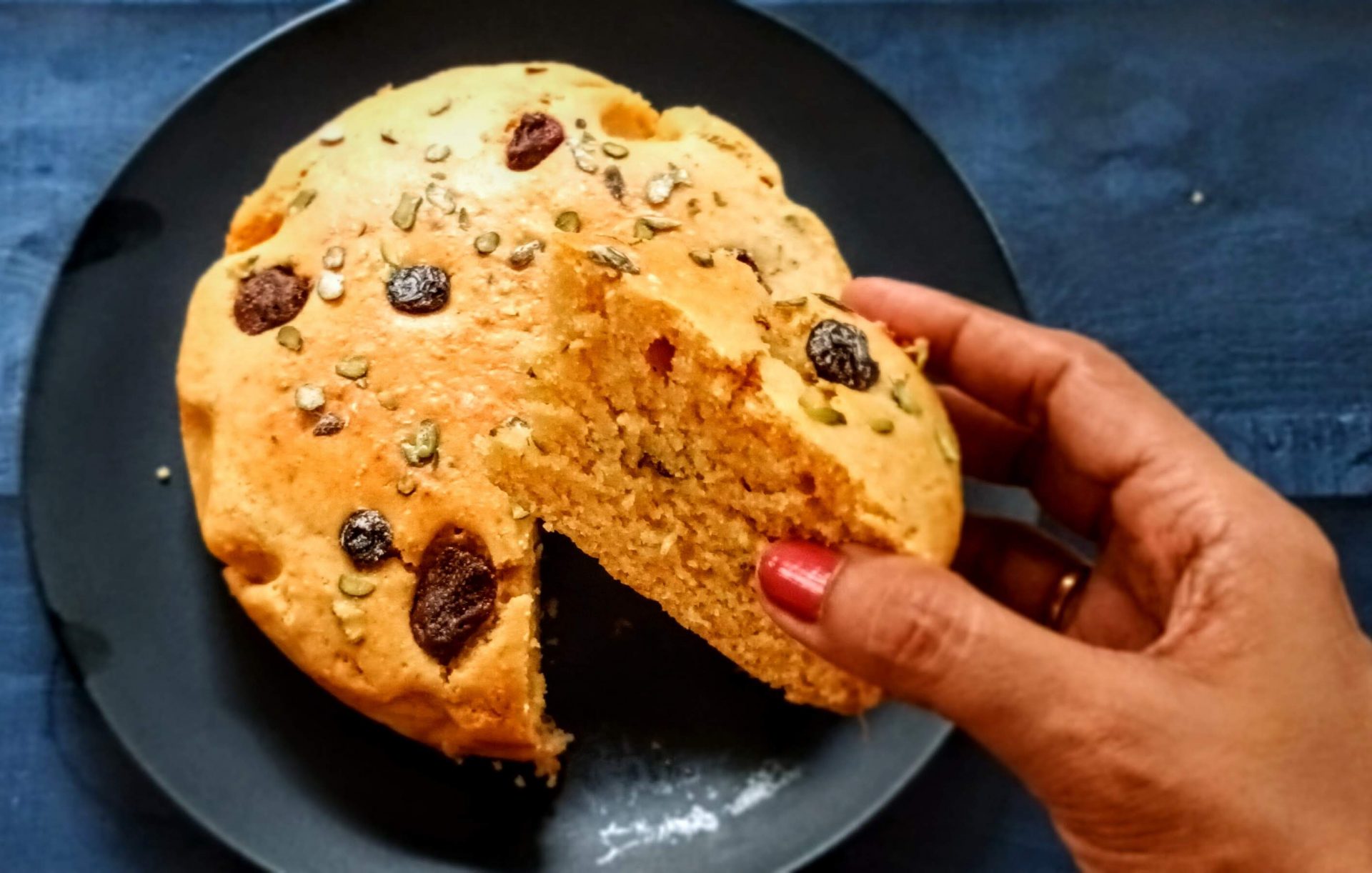 Get yummy recipes delivered to your inbox!
Be the first one to know about our new recipes. Leave your email below and get notified as soon as new recipes are published!