Mushroom Risotto With Daliya (Wheat Brokens)
Jump to recipe
Risotto is an Italian dish made of rice. It is cooked in a broth until creamy and combined with sauteed onions, other vegetables, and cheese.
This recipe of Mushroom Risotto is tasty and healthy at the same time. This recipe was spotted by my girl while browsing the internet and she had been asking me to make it for her. So decided to give it a try, and it really tastes delicious and therefore it gets to feature on my blog. I do make the regular Risotto once in a while but the use of Daliya seemed very novel and different to me.
In this recipe, I have replaced the rice with Daliya(broken Wheat that is coarse). Lapsi or Wheat Rava also can be used. The key to a good Risotto lies in the broth and the Parmesan cheese. A large variety of vegetables can be used in making the broth.
If you are a regular at making Risotto follow the same process as with rice. Beginners may want to follow the recipe carefully. I have put in a video too for guidance.
The Risotto made with rice makes use of wine to enhance the taste. I have kept this wheat Risotto very simple with everyday ingredients. Simple ingredients make for great flavour always.
This recipe requires about 1 litre of vegetable broth. I made the broth at home, if you use broth cubes, that is fine too.
In this recipe, I have not given the stepwise instructions, but I have included a video of the whole process instead. Hope you find the video helpful.
While you are here please do check out my other recipes like Apple Crumble, Blueberry Cheesecake, Nutella Fudge Brownies, Schezwan fried rice, Berry Smoothie Icecream, Creamy Tomato pasta and more…
Here is the recipe of Mushroom Risotto with Daliya for you
Ingredients
Ingredients for Broth
Carrot 1
Cucumber 1
Onion 1 large
Broccoli 4 to 5 florets
French Beans a few
Garlic 4 to 5 cloves
Coriander/ Cilantro few sprigs
Salt as per taste
Ingredients for Risotto
Mushrooms 200 gm
Daliya (broken Wheat) 1 cup washed
Garlic 8 cloves (divided)
Onion 1 cup  (chopped)
Vegetable broth 4 to 5 cups approx.
Salt as required
Pepper powder 1 to 1.5 tsp
Parmesan Cheese 3 tbsp (add more if you prefer)
Directions for broth:
Chop all the vegetables mentioned under Broth, put them in a saucepan, add 1 litre + 1 cup water and salt and boil for 10 minutes. Cool completely and use as required. Other vegetables that you may like can also be added to make the broth.
Directions for Risotto:
In a pan take 1 tablespoon butter and heat, add the garlic and saute on high for 30 seconds, now add the chopped mushrooms and saute for a minute. Flame to be on high throughout sauteeing. Add the salt and continue to saute. The mushroom will release a lot of moisture, continue to saute, and let the moisture dry. When the moisture is almost dry add the pepper powder and continue to saute until all the moisture has evaporated. Transfer the sauteed mushrooms to another vessel.
Now in the same pan add 1 tablespoon butter and heat. Add the crushed garlic and saute for 30 seconds. Now add the finely chopped onions and continue to saute. Saute on high flame. When the onion turns translucent add the Daliya and stir nicely. Add 1 cup of broth, stir, and cover the pan and cook for 5 minutes on low flame. Open the lid after 5 minutes, pour 1 more cup of broth, stir well and cover and cook again on low flame for 5 minutes. Now when you open the pan, the Daliya would be cooked, now we only have to get it soft. Add another cup of broth, and salt, stir and cook on low flame. The pan need not be covered now. As you cook the Daliya keep mashing with the back of a ladle to get a creamy texture. Now add pepper powder and stir well. add another cup of broth, stir and continue cook on low flame. Once all the water is absorbed, add in the sauteed mushrooms and give it a stir. Add the last cup of broth now and cook on a low flame. Now when the water gets absorbed, add 3 tablespoons of Parmesan Cheese, stir nicely, so that the cheese melts and gives the Risotto its gooey and creamy texture. Put off the flame. If you like cheese you can add more than 3 tablespoons too. In all 4 to 5 cups of broth is required to get that creamy texture.
The healthy and delicious Mushroom Risotto is ready. Enjoy hot. Bon Appetit.
SHORT VIDEO OF THE METHOD HERE????
Notes:
Any variety of vegetables can be added to the broth, in addition to the mentioned ones.
Around 4 to 5 cups of broth is required for this recipe. If in case the broth gets over, and you still have to add a cup, plain water can be added.
Parmesan is the most recommended cheese for this recipe, as cheddar will become tough and stretchy once cooked, whereas Parmesan is a softer one.
In place of, or in addition to mushrooms, Broccoli also can be used.
If you tried this recipe and liked it please comment below. I would love to hear from you. If you have a query about the recipe email us and ill respond as soon as I can.
If you would like to receive our recipes on your mail please leave your mail id at the homepage. Every time Rajjo's Kitchen has a new post we will mail the recipe to you.
Gallery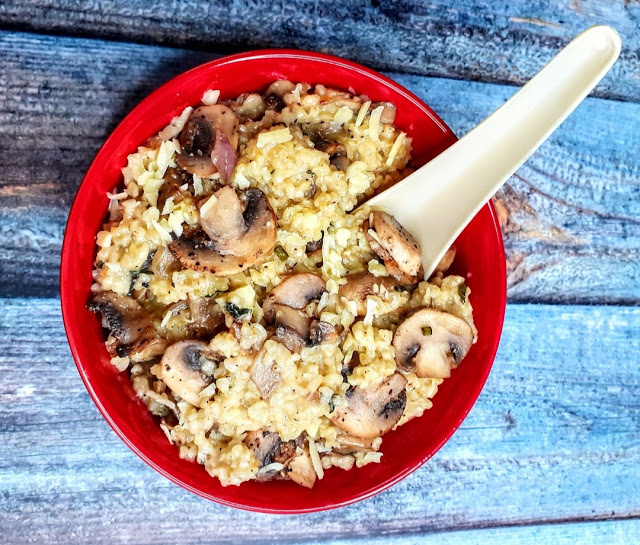 Get yummy recipes delivered to your inbox!
Be the first one to know about our new recipes. Leave your email below and get notified as soon as new recipes are published!